RATING: 4 Keys         RESULT: Won          REMAINING: 2:49 
A dimly lit, narrow staircase is our portal into a ominous supernatural unknown. Seems legit.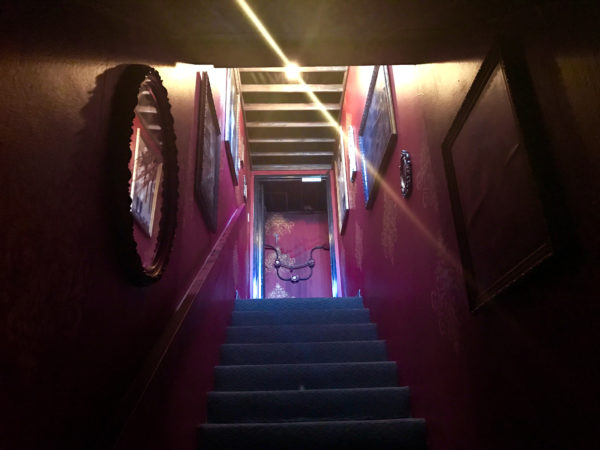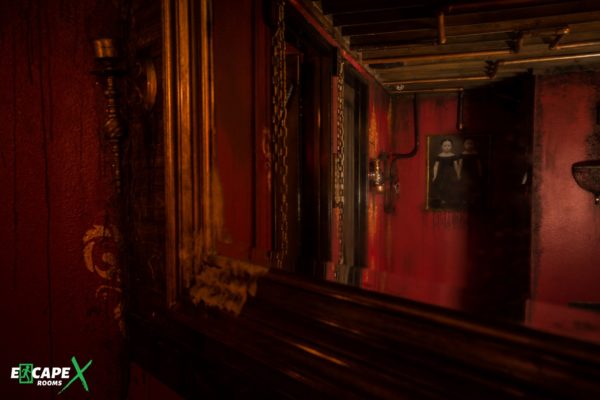 Sixty years after the disappearance of the Cain family, prospective residents have come to the manor… every one of them citing strange behavior in the household. Voices echo from the ceiling and footsteps go pitter-patter across the attic floors.
Though the manor has remained abandoned, those that dare enter the establishment report inexplicable chills that linger in the air and feelings of being followed. Some say the spirit of Master Cain remains trapped in the attic, doomed to stay in the house for all eternity. 
Do you dare explore what lies in the attic?
We've been to the Cain family Manor before. There's nothing to worry about. We'll be fine.
We keep repeating those words in our minds. Sure, we've been here before, but this time is different. This time we're in The Attic. Alone. And local legend claims that is exactly where the damned spirits of the Cain family fester in the shadows.
There's nothing to worry about. We'll be fine.
The Attic immerses us into a world as foreboding as its own legend, creating an intangible sense of urgency and danger, even though we can't quite put our finger on the source. It's as if we're being watched. It's as if we're not quite as alone as we first thought.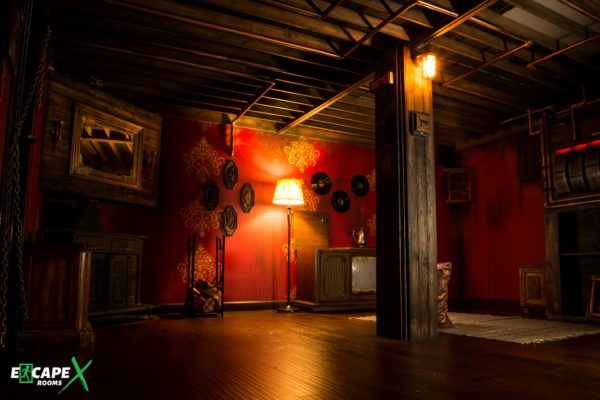 The Attic exists as a sequel game to the EscapeX Rooms' first spooky game in their original location, Murder Manor. As the story goes, sixty years have passed – and a lot can happen in more than half a century.
For starters, The Attic is distressed, filthy and run down. It's clearly sat untouched for decades. The scenic treatment across this game's multiple rooms is convincing and unnerving.
But perhaps the more compelling, though, is that over the course of that imaginary sixty years, EscapeX Rooms has massively stepped up their scenic game, creating rooms that no longer feel like basic office spaces and now easily stand alone on their own as fantastical worlds you simply cannot find elsewhere.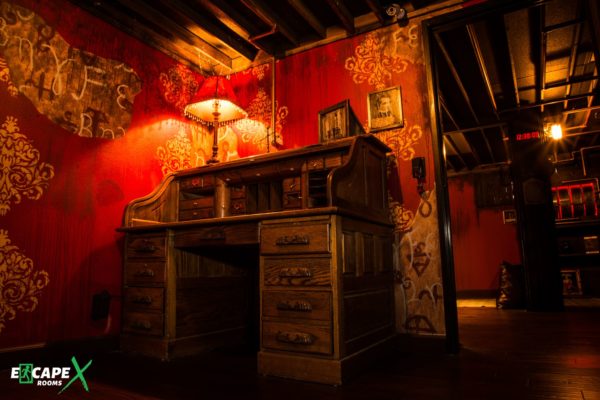 The Attic's puzzles are wonderfully hands on, with a fun mix of physical steps, logic and some nicely hidden tech. From start to finish, the game flows smoothly and intuitively, providing a healthy challenge for experienced players while not proving too daunting of a task for more novice teams to enjoy.
Puzzles are often hidden in plain site, effectively blending them into The Attics setting in such a way that the room is left to still feel authentic – a fact we always appreciate but sometimes rarely find.
But most satisfying of all to us is the constant connection between the puzzle steps and the game's over-arcing story, always keeping us immersed in the shadowy world even to the point of a narrative climax with the finale step.


We touched on the storyworld "sixty years" they've had to evolve, but the truth is it was less than one since our last visit to EscapeX Rooms. Speaking as a designer myself, it's remarkable how much the quality of their product has improved in such a short time span. The venue took advantage of a need to move locations by using it as an opportunity to truly hone their craft.
Our first visit to EscapeX Rooms was an enjoyable one, but simply put if the original product and the current product were placed side by side, you'd never believe they came from the same company. EscapeX Rooms has quickly become a venue to watch in the Southern California region – and with some unique future game themes already in the works, we're confident that they will only continue to evolve and further establish themselves as a shining star in their local market.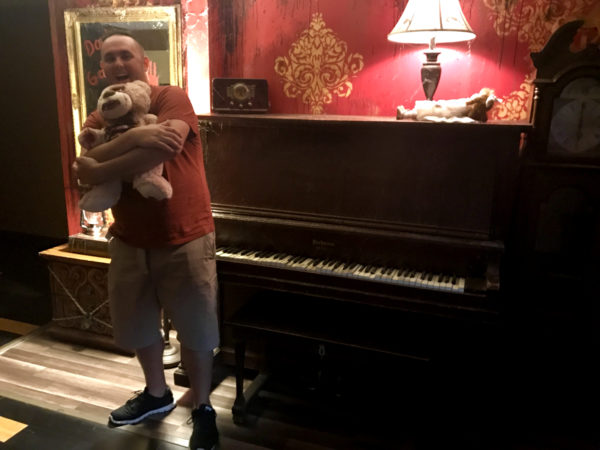 Venue:  EscapeX
Location: Irvine, California
Number of Games: 2
GAME SPECIFIC INFORMATION:
Duration: 60 minutes
Capacity: 13 people
Group Type: Private / You will not be paired with strangers.
Cost: $30 per person (Six person minimum booking is required.)

We thank EscapeX for inviting us to play this game. Although complimentary admission was generously provided, that in no way impacts the opinion included within this review.
Summary
Reviewer
Review Date
Reviewed Item
EscapeX Rooms - The Attic
Author Rating