RATING: 4 Keys          RESULT: Loss          REMAINING: X:XX
Who could have ever imagined that having a relative who traps cursed supernatural spirits could potentially have a negative impact on our long-term safety?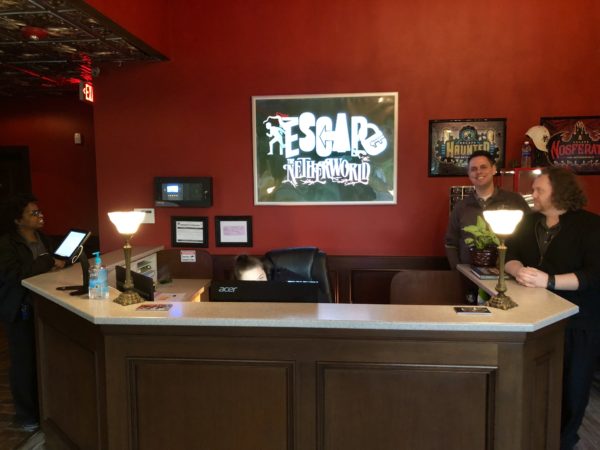 A horrifying secret was revealed during the reading of the Will of your eccentric Uncle, Dr. Thomas Grithem. For over 200 years the Grithems have been haunted by a malevolent entity known only as the Night Hag. Unexplained accidents, and missing family members have often been attributed to this nightmarish creature, but for the last fifty years the family has flourished, the curse seemingly ended.
Now you have learned that your uncle was a genius level parapsychologist who has trapped and contained numerous supernatural creatures in his bizarre laboratory, most notably the horrific Night Hag! But the creature has been growing stronger of late and its evil powers have begun to affect the outside world once more, including causing the untimely death of Dr. Grithem himself.
His notes have confirmed that after fifty years of containment there may be one chance to send the beast away forever, but if the moment passes the thing will escape to take its revenge on your entire family! You have one hour in Dr Grithem's Lab to discover the secret of the Night Hag and send it back to the NETHERWORLD or be HAUNTED for all time!
Haunted – Curse of the Night Hag presents an interesting and entirely unique twist from the classic ghost hunter tropes we've seen in the past. This isn't some innocent haunted house, where we're left to wonder why a spirit chose to take up residence within.
This place, Dr. Grithem's laboratory isn't haunted by accident; much to the contrary, it's been willingly, intentionally stocked with a collection of some nasty supernatural beings. Should it really come as any surprise that one of them is now royally pissed off, and ready to seek its revenge?
Naturally, that revenge needs a target – and thanks to Uncle Tom, and our propensity for escaping countless harrowing curses, I suppose it only makes sense that it may as well be us.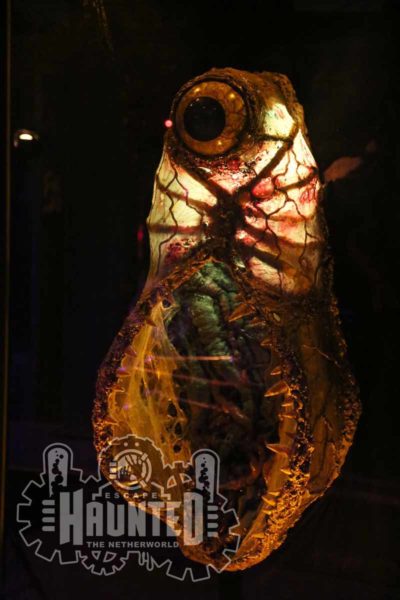 We've mentioned it before – so it should come as no surprise that Escape the Netherworld truly excels in the scenic department. Being one of the world's most well-known stand alone haunt venues certainly comes with many perks, starting first and foremost with its incredibly immersive environments.
Relatively speaking when compared among Escape the Netherworld's other two games, Haunted – Curse of the Night Hag has rooms dressed a bit more modestly. But Dr. Grithem's secret laboratory isn't really about the walls or its furnishings; its about what is kept within them.
It would be difficult to describe some of these creatures in detail, so we'll just go with "nightmare fuel." Everything from the supernatural to the outerworldly is locked up and on display in an environment entirely reminiscent of The Collector's Fortress from Guardians of the Galaxy fame. It's utterly bizarre, and as such, it works so very well to evoke an environment that immerses guests into its storyworld on a very effective level.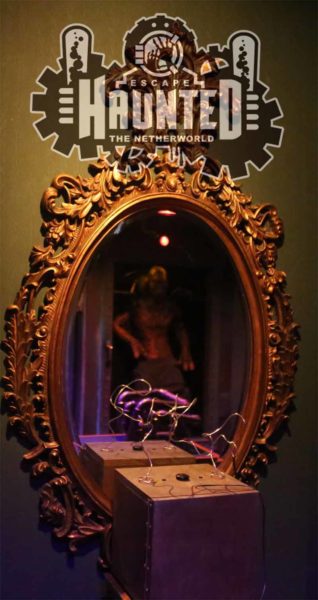 Although Haunted – Curse of the Night Hag is strong across the board, it's one weaker area may be its puzzles. Now, don't take that as a detriment- because this is still a great game highly deserving of it's 4 Key score. But when comparing relatively to the venue's other offerings, the puzzles here do admittedly feel ever so slightly less polished.
We found ourselves in need of a bit more frequent direction to progress towards our encounter with the Night Hag. At times, we weren't entirely certain what we should be working towards, though at other times, we were completely engaged.
Luckily, even in times when we found ourselves a bit lost, Escape the Netherworld finds completely in-theme ways to guide us back on course with yet another clever character driven hint system. Much like the talking raven we encountered in Nosferatu – Van Helsing's Secret, Haunted – Curse of the Night Hag has its own fully functioning animatronic figure that acts as our guiding light – a slightly creepy and sometimes snarky little gargoyle. This type of storyworld interaction guaranteed we never felt pulled from the over-arcing narrative, even when we found ourselves a bit confused with a puzzle – and frankly, in some way made needing a clue something to sort of look forward to rather than be frustrated by.


Escape the Netherworld constantly sets a high bar for the importance of having an immersive storyworld interwoven within any game they produce. One of our favorite aspects of the venue, something that we have absolutely come to very much look forward to, is what each game's "wow moment ending" will be. Make no mistake, Escape the Netherworld has a clear understanding of how to go out on a high note. And although we may still prefer the narrative climax of Sasquatch – Bigfoot's Revenge just a hair more (see what I did there?) Haunted – Curse of the Night Hag has a unique, frightening and very in-your-face ending that is likely to blow you away.
The Night Hag's truest curse is simply being positioned next to the likes of Sasquatch – Bigfoot's Revenge and Nosferatu – Van Helsing's Secret.  Escape the Netherworld unquestionably has yet another great game on their clawed hands, notwithstanding the fact that the other two may be even better – and let's face it; there's no shame in that when your own biggest competition is yourself! At end of the day, no matter which poison you pick, you're destined for an epic supernatural encounter sure to replay in your nightmares.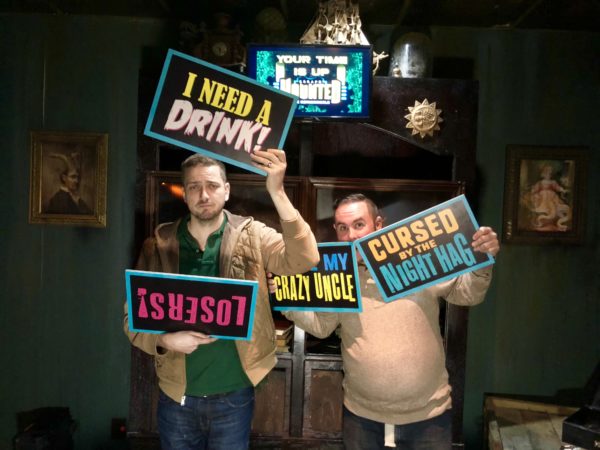 Venue:  Escape the Netherworld
Location: Stone Mountain, Georgia
Number of Games: 3
GAME SPECIFIC INFORMATION:
Duration: 60 minutes
Capacity: 8 people
Group Type: Can be booked either Public or Private.
Cost: $28 per person (public) / $35 per person (private, requires a minimum of four)

We thank Escape the Netherworld for inviting us to play this game. Although complimentary admission was generously provided, that in no way impacts the opinion included within this review.
Summary
Reviewer
Review Date
Reviewed Item
Escape the Netherworld - Haunted - Curse of the Night Hag
Author Rating