RATING: 4 Keys          RESULT: Win          REMAINING: 14:39
Another day, another zombie outbreak! It's just one of the many perils of being an escape game reviewer.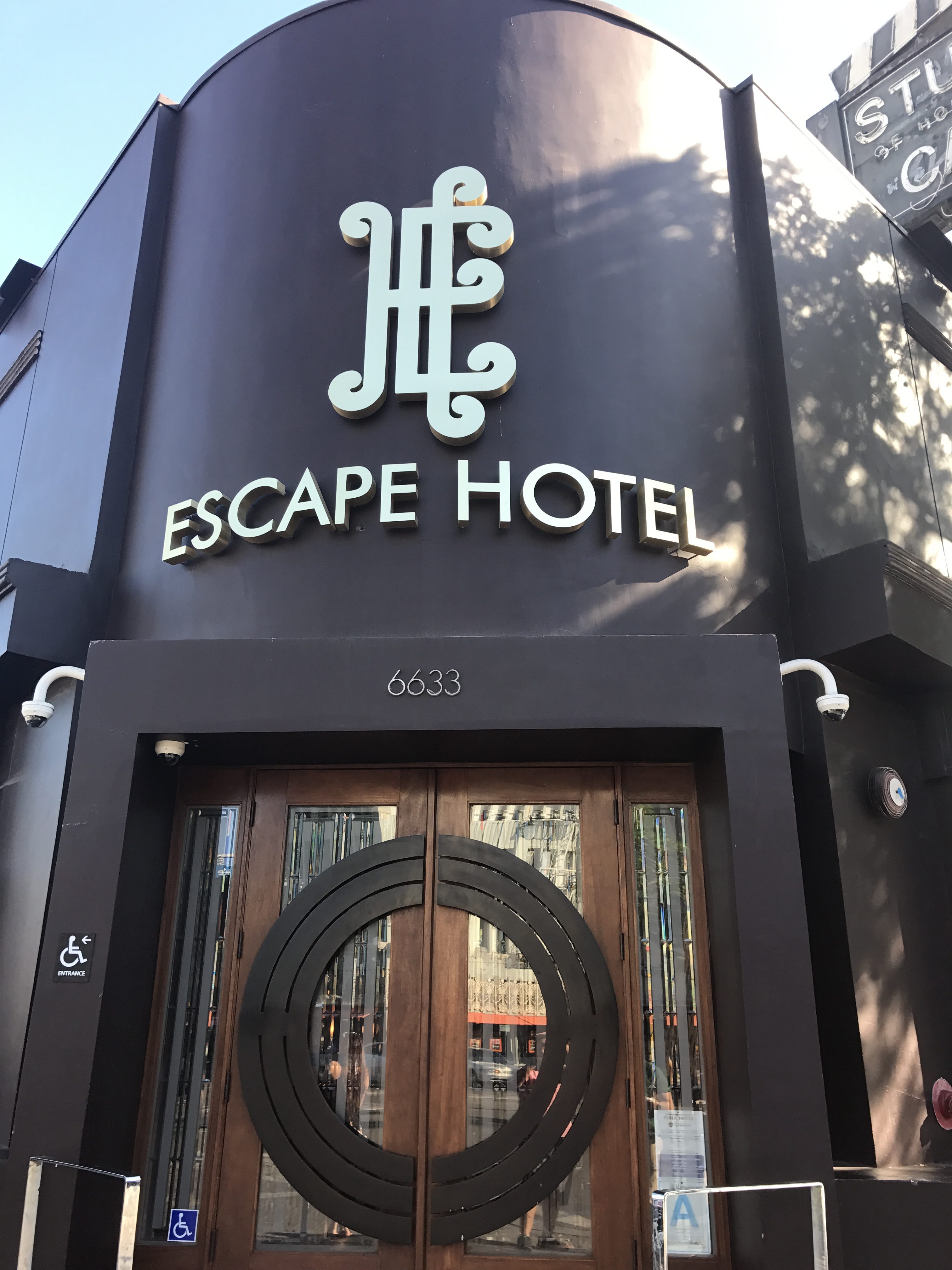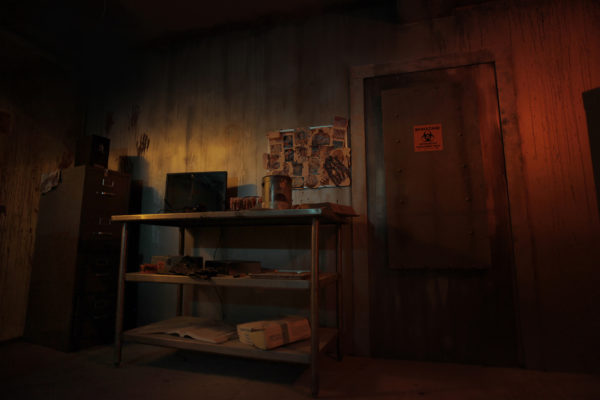 The previous guests in this room were experimenting with different kinds of viruses to create Super-Humans. They were attempting to develop one capable of converting any human into a Slave Working Machine. Unfortunately, instead, the result of their experiments was a method of transforming humans into zombies. Ever since then, they have been trying to develop an antidote that would reverse the symptoms.
However, they all perished before succeeding. You are here, now, to finish their work.
In one hour's time, it will be too late! The destiny of humanity is in your hands. 
In a world of what feels like a million different zombie laboratory games, Escape Hotel's stands out in the sense that its narrative is a bit more complex. This is perhaps the first time we've encountered scientists who have created the outbreak, but now seek penance by finding a solution for the consequences of their actions.
At the end of the day, it's still back to the status quo of being up to us to find the antidote, or the entire world dies. You know, no pressure.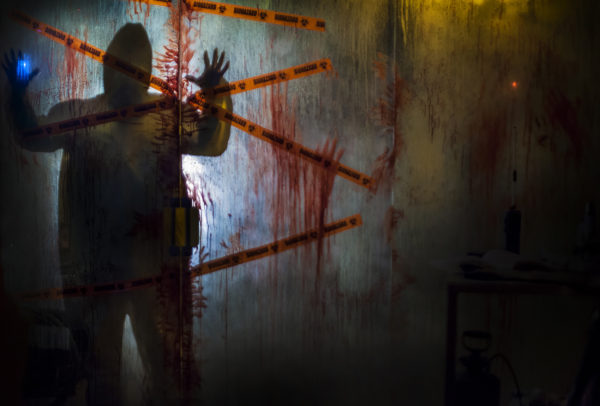 Zombie takes a bit of a different approach scenically which actually worked quite well. Where most games of this flavor stick to the sterile, white lab approach, this one feels a bit more like a military installation. Some type of high tech compound that likely holds far more secrets than just the cure to save the human race from a zombie epidemic.
This game's two rooms combine to form one large working lab space, and interestingly use a glass wall of doors to separate them. This creates a tantalizing "you can look but you can't touch" flavor at the start of the game that's sure to taunt players into finding a way in even faster.
At the time of our visit, Zombie was unquestionably Escape Hotel's goriest game. It should be noted, however, that Slaughter was not yet available for booking.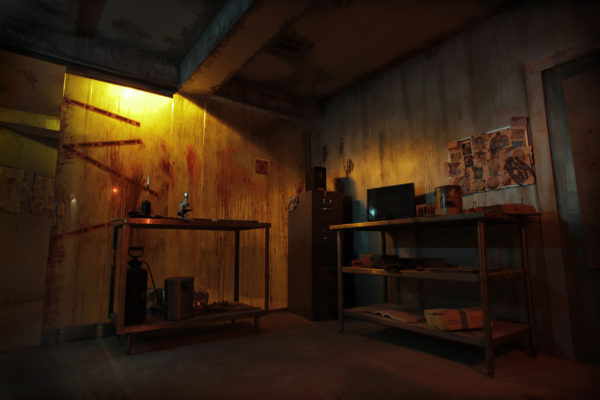 Zombie appropriately makes use of some of the scientific tech items around the room to incorporate them into puzzle steps. Though still a modest use of tech when compared to some other games we've played, it proved satisfying within the context.
The puzzles in this game were certainly challenging – even stumping us once or twice prompting us to ask for a hint from our personal concierge, Scary Gary (it's a family name.) But as the sign of a decent game often is – each instance ended up as a fulfilling "ah ha" moment rather than resulting in frustration.

As we touched on briefly, Escape Hotels original batch of games does tend to be on the lower end of the tech spectrum, relaying heavily on keys and number codes to open various padlocks. While we always like to stress that to us, that is not something we will ever judge a game negatively for, we recognize there are some among our readers who long for a more high tech experience.
Escape Hotel has stated unequivocally that it is their goal to constantly grow and improve. To those readers seeking tech, you'll be happy to know that moving forward they do plan to place a bigger focus in that area, beginning with their new Exorcist game which we sadly missed by just a few days on our last visit.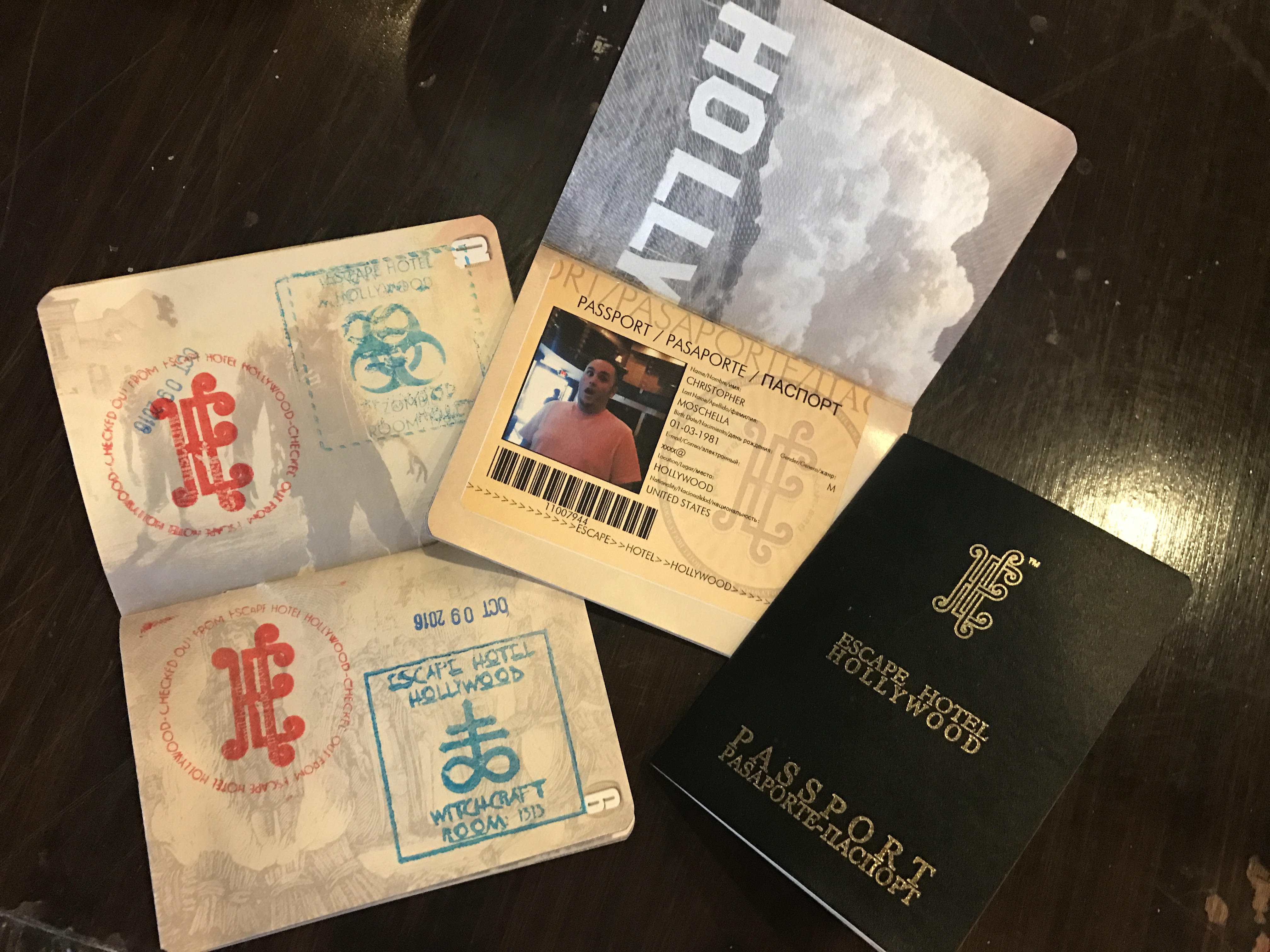 One bit we will share consistently across each subsequent Escape Hotel review is that of the very cool check-in process and unique take away each player receives. You'll be issued a literal passport, complete with your personal information and photograph, in a high quality, gold foil embossed sleeve perfectly reminiscent of an official one that could have been issued by the United States government. In it, you'll collect custom stamps for each room you successfully escape in the Hotel – an absolutely brilliant means of promoting return visits and making for one of the coolest escape game souvenirs we now proudly own.
Escape Hotel's wide range of uniquely themed games makes them a very appealing visit for groups as there really is likely to be something for everyone. Their staff and guest service levels are equally befitting an establishment that portrays itself as an upscale hotel. Once combined together, what results is a solid product that will no doubt leave an unforgettable mark on the Los Angeles escape game market for years to come.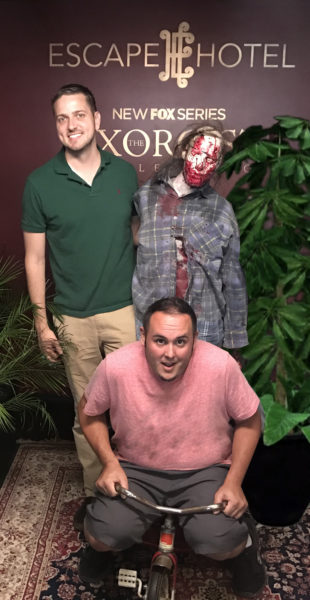 Venue:  Escape Hotel
Location: Los Angeles, California
Number of Games: 6
GAME SPECIFIC INFORMATION:
Duration: 60 minutes
Capacity: 6 people
Group Type: Public / You may be paired with strangers.
Cost: $39 per person

We thank Escape Hotel for inviting us to review this game. Although complimentary admission was generously provided, that in no way impacts the opinion included within this review.
Summary
Reviewer
Review Date
Reviewed Item
Author Rating