RATING: 2 Keys          RESULT: Win          REMAINING: 23:25
A harmless or trivial lie, especially one told to avoid hurting someone's feelings… I guess no one thought about my feelings when recommending this game.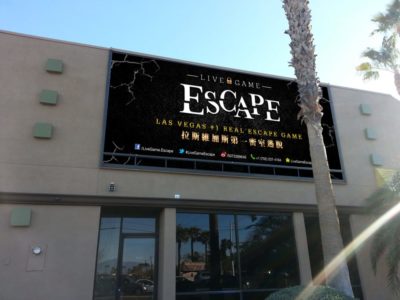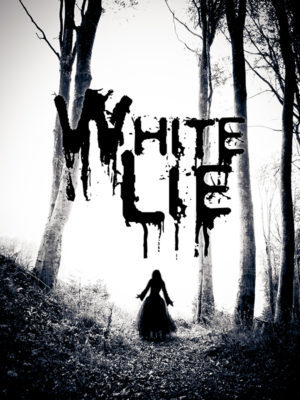 You plan to move to Vegas and you are looking for houses. Your real estate agent brings your family to an abandoned mansion that is extremely cheap. Yet, everyone is not comfortable with the atmosphere inside. All of a sudden, the doors slams shut and locks, and an insidious presence is felt. A cold chill passes, and you realize you strayed into a haunted mansion! Now find a way to escape before it's too late!
So your agenda here is pretty cut and dry… to escape the mansion. Obviously though there should be more to the story that you have to discover along the way. Why else would the title of the game be "White Lie?" This could be a good set up for a twist on themes having to do with the paranormal if done right, but it looks like this one could use some clarification.
I think the story had to do with a boy and a girl that were supposed to be married, but he disappears so, she ends up dying in the house while waiting for him. At least that's what I gathered from clues in the first room. Once you get into the second room the guessing games continue and more clarification would probably be needed. It looks like the boy had died of illness, so that's why he disappeared, but was he in the house the whole time (?). Or, did we flashback to his hospital room? I'll get into that in a moment, but you can't really tell.
So is this white lie the fact that he didn't want to marry her because he was terminally ill even though he didn't tell her so she thought he just disappeared because he didn't want to be with her? [intentional run-on] And now my head hurts…


If we go back to reading the description of the game, it says your real estate agent takes you to an abandoned mansion. There are a few problems here. For starters, the very notion of "mansion." When you think of the look of the interior of a mansion, most would probably picture big sprawling rooms with elaborate decorations and furniture. When entering the first room, it feels more like you're stepping into a thrown-together attempt at an apartment living room at most.
The room itself isn't very big. Now I'm not knocking the size of it, but the least that can be done was to utilize the space you have to create an immersive environment for your guests. The walls were white with no decorations whatsoever and what minimal furniture there was looked mismatched and like it didn't belong together. There was a desk (well table being used as a desk), a TV on a stand with drawers, a saloon-style piano, and two clothes closets – in a living room (?). It really was all bare bones with no detail. Oh! And beware of the "ghoul" in one of these closets… brought to you by Walmart's clearance section the day after Halloween.
Once you get into the second room the scenic quality isn't much greater.
Another point of contention is the notion of "abandoned." The storyworld premise of being abandoned normally gives the mental image of something dirty, run down, dilapidated – and maybe even an overall creepy vibe to it considering it's also supposed to be haunted. Neither room had that feeling.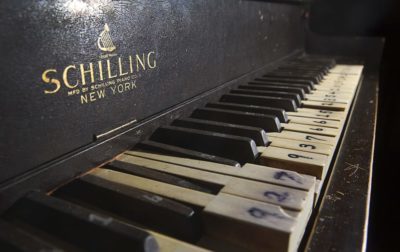 A somewhat redeeming quality about this game would be some of the puzzles. Most of them were of the key and/or combo lock variety, but this didn't hinder the gameplay for me. There were a few puzzles that were actually clever, including one that used a particular lock that I had never seen before in any other game that I've played. It was actually quite refreshing.
The other puzzles were fine for what they were and seemed appropriate for the story that they were attempting to tell.
For the most part everything flowed. Improvements could always be made but there are definitely other aspects this game's overall experience that need more attention first.


The more escape games I play – and the more I discover different types of themes, puzzles and effects being used within them – the higher my expectations sometimes become. In a perfect world, I'd love the quality of each game I play to surpass the previous one. Unfortunately that wasn't the case here.
Live Game Escape is among one of the first escape room venues in Las Vegas. Back when it opened around 2015, most of their guests probably still weren't familiar with the concept of escape rooms. I'd bet that White Lie (being one of their original games) was probably looked at with a much less critical eye since there wasn't really much to compare it to at the time. In just a few short years though, there are now more than a dozen different venues in town with more being developed seemingly each day. If Live Game Escape is going to keep surviving this growth, it's probably time for some upgrades in both their games and in some of the way they do things.
One thing they really need to change is their clue system. If you need a hint during your game, there's a call button that you press by your exit door. With most other places that have call buttons, they're normally connected to an intercom system so your Game Master can answer right away and, since they've been watching you, they can give you a clue with in a matter of seconds to lead you on the right path. Well, that's not the case here. Once you press the call button you now have to wait for your Game Master to come into the room in order to help you, which could take a matter of minutes while your game time ticks away. You also need to catch them up to where you are in the game… because, as it turns out, they haven't actually been watching you.
After talking with some of the staff afterwards, we found out that – believe it or not – there are no cameras in any of their rooms, and they don't have even a control room. Apparently there isn't any room for one in their space. Ringing the call buttons go off at their front desk in the lobby. They try to be as efficient as they can in responding when needed but if there's only one person working while multiple games are running, that's a recipe for disaster. The day we played there were two Game Masters working with all four games running and while we were waiting for our game we saw a guest come out from one of the rooms basically trying to flag down one of the Game Masters. We overheard him say they had hit the button multiple times and had been waiting over five minutes for someone to come help them. We were lucky that the one hint we needed didn't take more than a minute to come to us. When playing an escape room every second counts, so to be waiting for hint for over five minutes is just not acceptable.
We brought this up among other concerns to the manager and we certainly hope that Live Game Escape takes to heart the feedback and suggestions we gave them. For their own longevity, with more venues popping up all the time, they are really going to have to step it up if they want to stay afloat in the future.
Until then I really wish I could recommend this game… but you wouldn't want me to tell a white lie, would you?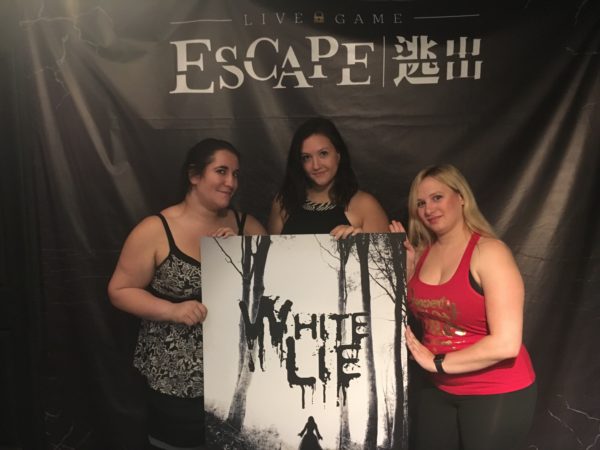 Venue:  Live Game Escape
Location: Las Vegas, NV
Number of Games: 4
GAME SPECIFIC INFORMATION:
Duration: 45 minutes
Capacity: 6 people
Group Type: Public / You will be paired with strangers.
Cost: $35 per person
Summary
Reviewer
Review Date
Reviewed Item
Live Game Escape - White Lie
Author Rating