RATING: 4 Keys         RESULT: Win          REMAINING: 14:36
Trapped on a lower deck as the unsinkable ship begins to unthinkably sink, there's no one left to help us get to life rafts. Surely there has to be enough, right?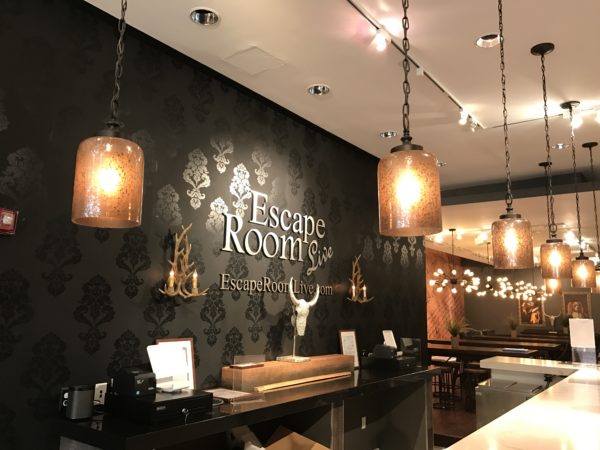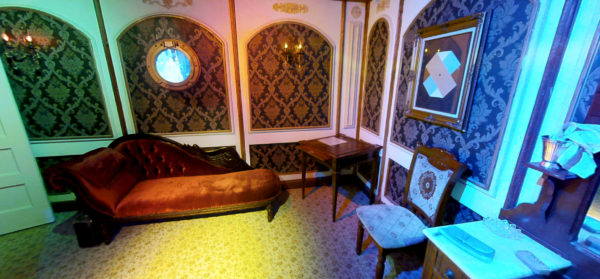 Aboard the beautiful, new Titanic, you are surrounded by opulence on the journey of a lifetime… until you hit an iceberg. Trapped in your state room, can you find a way out using your ingenuity and wits before the water rises above the porthole?
It's become one of the most romanticized tales of tragedy in the history of human existence. The mighty RMS Titanic left port on April 10, 1912 from Southhampton along her trans-Atlantic maiden voyage destined for New York City.
She was unsinkable.
She sank five days later.
Fate has placed us in one of her luxurious first class cabins just before Titanic struck an iceberg in the late evening hours of April 14. She's going down fast, as is evidenced by the porthole windows quickly filling with water – a very clever video effect used in place of our game timer.
The door to our stateroom is jammed, and even if we get it open, we still have to figure out how to get the ship's elevator system back online to make it to the upper deck in hopes of finding a remaining lifeboat. And that's even assuming there's one left for us in their short supply. But one crisis at a time!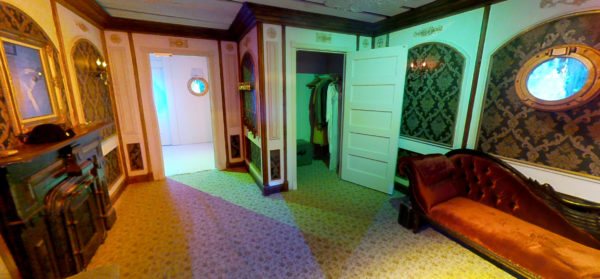 Our time aboard Titanic is far too brief to truly appreciate her grandeur, though at least we do get to spend half of it in our luxurious, spacious first class stateroom. Similarly furnished to evoke the romantic spirit of the film, this room would be the height of decadence if it wasn't, you know, quickly filling up with frigid ocean waters.
The door is jammed, but once we make it into one of the ship's crisp, clean white hallways, we're left on our own to ultimately figure out how to get the elevator back into working order to make it topside.
As a clever added touch, the elevator itself is this game's exit door, and functions as you'd expect, automatically sliding open to safety – that is if you're lucky enough to be among the less than one third to live to tell about her maiden voyage.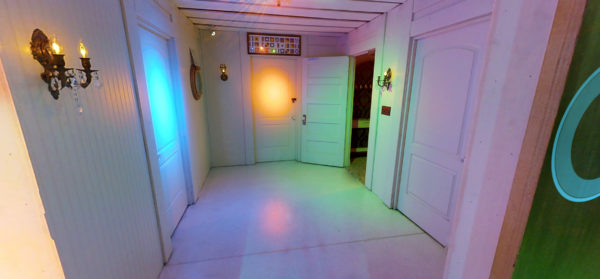 Titanic's puzzles link to the storyworld of the ship and are defined by the rooms you're in at the time. While in your stateroom, puzzles will connect to personal belongings found in luggage, for example. And just because the ship is on its way down doesn't mean it's a bad time to call for room service – after all, you did pay for first class accommodations!
From the hallway you'll gain access to one of the ship's control rooms – though it may be too late for your Morse code message to be received in time.
As you race against time, your only semblance of a clock are the porthole windows on the side of the ship which slowly and steadily display a rising water level as the ship submerges.
We had a few small hiccups along the way with one or two puzzles which we shared with the venue, and were happy to learn they were quickly addressed to avoid future confusion. Beyond them, our experience aboard Titanic was as enjoyable as it could have been given the tragedy, with logical and intuitive puzzle steps that created a sense of urgency for us to seek the safety of a lifeboat as quickly as possible.


Titanic tackles a tricky subject matter, taking a major historical tragedy and thrusting its players aboard as active participants. It does so, however, in a way that's completely tasteful, paying respect to the past and lives lost without ever making light of the situation.
The game is detailed from start to finish, and does well at creating an immersive environment that carries a natural sense of urgency for players.
Escape Room Live continues to prove they are masters of taking iconic stories from some of our childhood favorites like Ghostbusters! and Teenage Mutant Ninja Turtles to horror icons like Friday the 13th,  and translates them in a way that makes us the main characters of fresh new adventures. Their games deliver a level of story-immersion that many others should strive for, resulting in a very memorable visit regardless of which room you choose.
With two locations currently open in the Washington, D.C. market and ambitious plans for expansion, it's no doubt that Escape Room Live is a venue worth keeping an eye on in the future.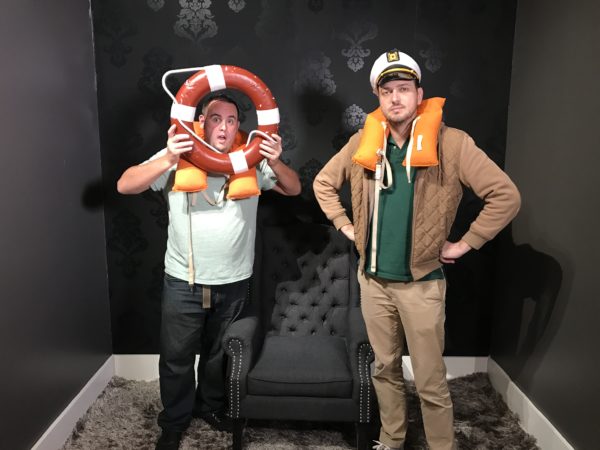 Venue:  Escape Room Live
Location: Washington, D.C.
Number of Games: 5
GAME SPECIFIC INFORMATION:
Duration: 45 minutes
Capacity: 8 people
Group Type: Public / You may be paired with strangers.
Cost: $28 per person

Escape Authority readers save 15% Sunday through Thursday using code ERLEA15
Summary
Reviewer
Review Date
Reviewed Item
Escape Room Live - Titanic
Author Rating