RATING: 5 Keys         RESULT: Win          REMAINING: 8:11
It's the Greatest Show On Earth – unless you're forced to become one of the mutilated freaks that star in its most popular act!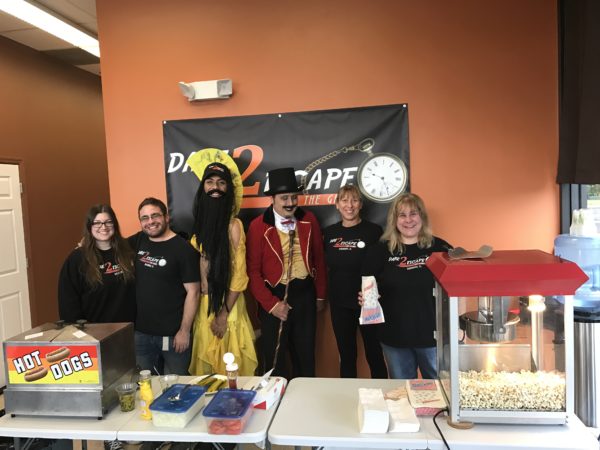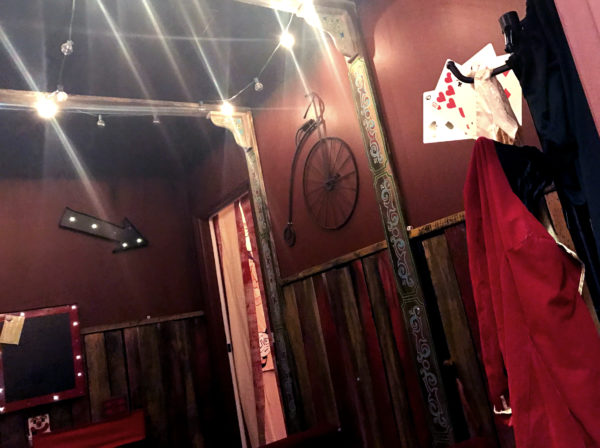 Dare to enter the domain of the elusive RingMaster and his Freak Show? It is Halloween night, and you and your friends are enjoying the sights and sounds of the traveling Tillman Brothers' Carnival, which is known for its twisted Freak Show and its mysterious Ringmaster. Intrigued by the macabre, you are among the first in line for the nightly freak show, featuring the unbelievable, the unthinkable, and the unknown.
The Ringmaster approaches you in line and invites you to have the best seats in the house. As the lucky ones, you and your friends follow him to his dressing room. As you step inside and turn around, the last thing you remember seeing is the Ringmaster's scarred face before he hits you with his cane. In the background, you hear his cynical voice: "Welcome to my carnival, where the lucky ones become part of the show!" When you awaken, you realize that this Ringmaster doesn't find his freaks; he makes them. You find the door locked and know that you must escape the grasps of the morbid RingMaster..
A twisted take on a dark circus – The RingMaster draws you into its storyworld by establishing an instant sense of urgency: find a way out, or be mutilated and maimed – left still alive, but just barely – as a prisoner in the most demented Freak Show on Earth! This very urgency inspires players to assume the lead role of the story, making The RingMaster a delightfully devious immersive adventure from start to finish.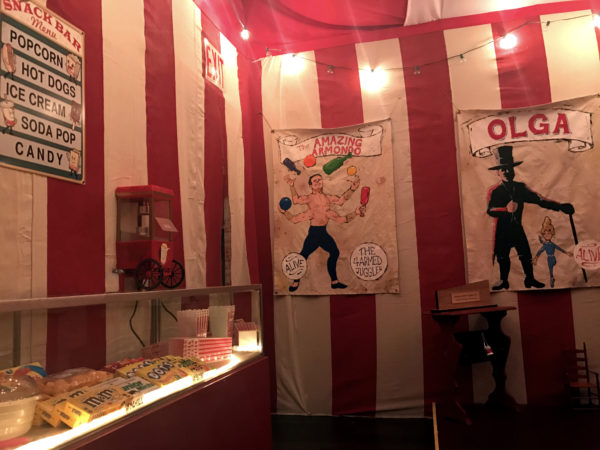 Being the latest game in Dare 2 Escape's trilogy, it should come as no surprise that this is yet another example of some great attention to detail.
Beginning in The RingMaster's very own dressing room – a sort of gypsy wagon that clearly has traveled from seedy town to seedy town before setting up shop in your own, the level of scenic detailing is high – with authentic finishes that really sell the old world circus mystique.
Further on – if you're lucky – you encounter the main tent area itself, complete with a fully stocked concession stand which actually smells like popcorn – literally. A center ring stage for the show itself is surrounded by posters spotlighting the various freaks this infamous carnival employs – yet oddly the last poster lacks a face. It's almost as though he or she hasn't been selected quite yet.
And the remainder of your next hour may just determine whether or not that is soon to change.
A truly delightful scenic surprise unlike any other escape game we've seen awaits the most daring of you who actually manage to escape.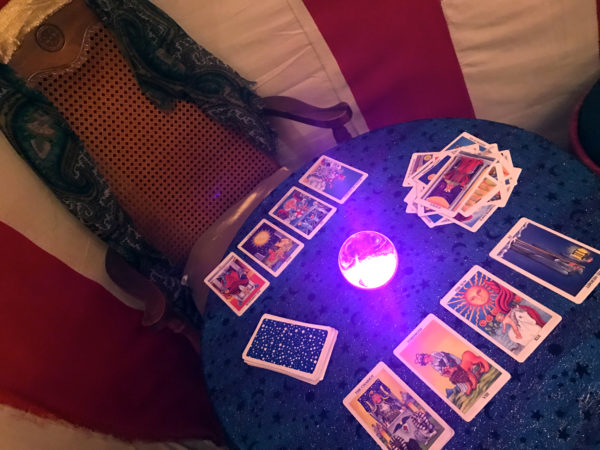 Each puzzle is logical and intuitive, and they all flowed as smoothly as butter(-drenched popcorn for sale in the big top's concession stand.)
This game required a lot of thought – in a good way. It was just challenging enough to really keep us on our toes without becoming too over-whelming for a lesser experienced team.
I'd be remiss if I didn't mention something of a staple in Dare 2 Escape's three games – and something that it's no secret we are actively against: math "puzzles." Each game here has one, so we were fully expecting it in The RingMaster, with eyes fully prepared to roll.
In what I can assume was an attack against me personally, Dare 2 Escape found an approach – this time – to use math in such a way that it actually fully fit the storyworld context in which it was used, and actually almost added to the plot.  I still don't think math problems should ever be "a puzzle" that someone pays for a ticket to an attraction to play – but The RingMaster comes the closest I'll likely ever see to doing it justice.  We were not *entirely* offended to see it included here.


Dare 2 Escape proves that you don't need million dollar budgets to have million dollar attractions. Their games remain in the top tier of the Orlando market's offerings. Their highly story-driven nature and keen attention to scenic detail, plus puzzles organic to their respective storyworlds – despite the math (sorry, but you know I need to say it!) makes their various adventures easy to get immersed into.
The staff here is beyond enthusiastic, starting at the top with the venue's pair of home grown mom & pop owners, all the way down to their front line employees – anyone who steps foot in their lobby is guaranteed to feel instantly welcome and completely at home. Being fans of the industry at their own cores, they have a clear understanding of how to run a game from behind the scenes – catering the experience to each individual guest. Newer players receive more help, while experienced ones receive the respect of silence unless they're asked to speak. They've even created a means by which they can throttle just how "scary" an experience may be — offering more scares for the daring, or none at all for the timid — making the overall player experience at Dare 2 Escape perhaps the most versatile we've ever seen.
Montu would also like to stress that he appreciates how dog-friendly the venue is, because he was getting tired of only being allowed to play home games despite his long-standing position as Escape Authority's Vice President, Dog Affairs.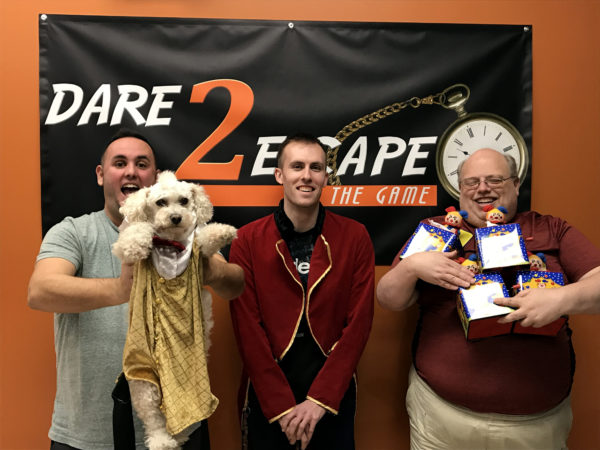 (Hey everyone that wears venue-provided costumes for their photos – did it ever cross your mind that a DOG might have worn it before you?
Because a DOG wore this vest before you.)


Venue:  Dare 2 Escape
Location: Orlando, Florida
Number of Games: 4
GAME SPECIFIC INFORMATION:
Duration: 60 minutes
Capacity: 8 people
Group Type: Public  / You may be paired with strangers.
Cost: $30 per person

We thank Dare 2 Escape for inviting us to play this game. Although complimentary admission was generously provided, that in no way impacts the opinion included within this review.