RATING: 1 Keys          RESULT: Win           REMAINING: 3:00
We never thought we'd be bored while in the middle of robbing a mansion, yet… here we are.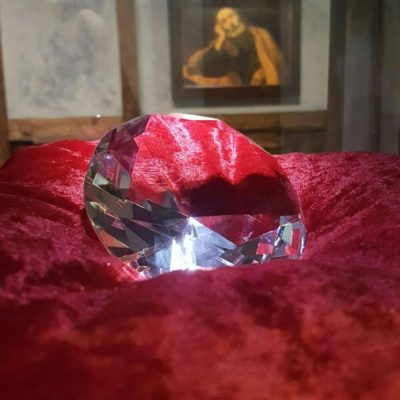 You and your team have acquired the plans to rob a wealthy recluse, who has millions in priceless art and artifacts hidden in his mansion. Your job is to figure out the plans, deactivate all the security measures, and escape with the priceless artifacts he keeps in his private gallery.
After being given the official story for this game, some clarification makes it clear that our team of robbers does not in fact need to escape the rich dude's mansion.
We simply need to get the diamond out of its protected display case to win the game.
We're not sure what the plan is after we deactivate the multiple security measures, but plans be damned we will rob this house.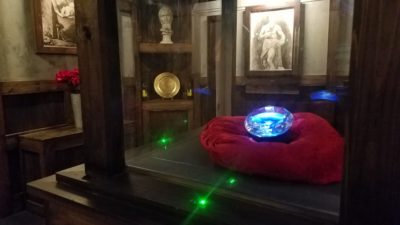 We entered this grand mansion through two massive, beautiful oak doors adorned with expensive looking stained gla… oh wait, no we didn't. The beginning of this heist consists of walking through a non-descript office door. Maybe the recluse doesn't like to flaunt his wealth to outsiders?
Once inside the "mansion", we found ourselves in a single square room. A few paintings on the walls, shelves in the corners, and the coveted diamond encased in a plastic box rounded out the scenic for this game.
The owner of all these riches was wealthy, but not wealthy enough to finish building his home. A large amount of darkened, non-themed space extended above the decorated walls. This clearly clashed with the scenic of the room itself.
There were several "Do not touch the lights" or "Do not remove painting" pieces of paper taped around the room. The space was worn down and beaten up, but not in the "old house that hasn't been cared for" kind of way. More in the "two year old escape room that has been abused by too many frustrated groups and not well maintained" kind of way.
There were items around the room like bronze statues, some vases, bottles, etc. They had price stickers still on them.
Also, the soundproofing here is non-existent. We could hear every word spoken in the hall outside the room and in adjacent games.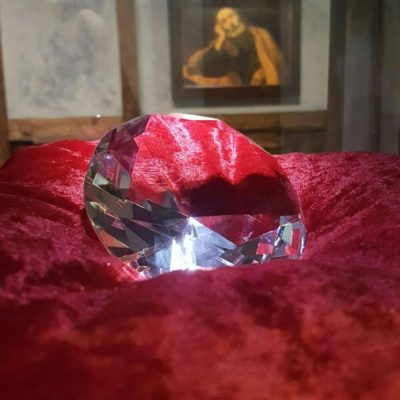 The Heist is a non-linear game. To be exact, there are four distinct puzzle paths that need to be completed in order to win the game.
The diamond is sealed inside a protective display case with a red light on each side. In order to steal the precious gem, heisters must turn each light green by solving the individual puzzle routes that correspond to the four sides of the encasement.
This style of game design can work really well with good puzzles that engage the entire group. Unfortunately, the puzzles were bad.
They were either incredibly easy or impossibly difficult. The easy ones were not rewarding and didn't provide any big "ah ha!" moments. The difficult ones were illogical, poorly designed, and frustrating.
Five combination locks or keypads were spread throughout the room with little direction on what answers went to what lock. In addition to that, one of the keypads didn't do anything until all other puzzles were completed. This wasn't clear, so it led to some confusion when we put the correct code in early on and nothing happened.
One puzzle that we needed to waste a clue on was particularly annoying. **Slight spoiler here, but this game is now closed so spoil to your hearts content**:
There was a small analog clock tucked up at the very top of the wall, but it was in the dark area above where the fake wall of the room ended. It was hidden in an area that we would not have ever looked because looking up there took us out of whatever illusion of immersiveness, however small it was, the rest of the room created.
We included the same picture in this section so that we can focus on the guy in the background. That is how our team felt throughout much of The Heist.


First let me note that The Heist has since been removed from Escape Room Challenge and has been replaced by a new game. Part of the issue with our experience was the rundown nature of the space. We understand that when a game reaches the end of it's multi-year run at a venue it will naturally show it's age, but The Heist should have either been scrapped earlier or spruced up for it's last several months in operation.
Another important note is that Escape Room Challenge makes guests lock their cell phones in large trunks outside each game. They let customers hold onto the key, but that does little to make this policy a good one. As we here at Escape Authority have discussed before, requiring paying customers to leave their $1,000 mini computers which hold all of their personal data, email access, bank info, etc. in an unsecured or lightly secured locker is terrible. Instead, venues who are hell-bent on enforcing this type of rule should place the lockers inside the game space so that customers know their property isn't being tampered with or stolen.
Although we did not love The Heist, we are looking forward to returning to this venue as they have a brand new game and others that regularly receive better praise than this one did.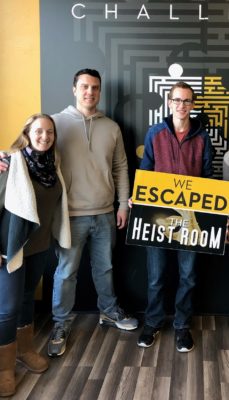 Venue: Escape Room Challenge
Location: Marlton, New Jersey
Number of Games: 3
GAME SPECIFIC INFORMATION:
Duration: 60 minutes
Capacity: 10 people
Group Type: Public / You may be paired with strangers.
Cost: $28 per person
Summary
Reviewer
Review Date
Reviewed Item
Escape Room Challenge - The Heist
Author Rating