RATING: 4 Key         RESULT: Win          REMAINING: 8:02
An evening of opulence and alcohol usually only leads to a massive headache, but this party was one to die for!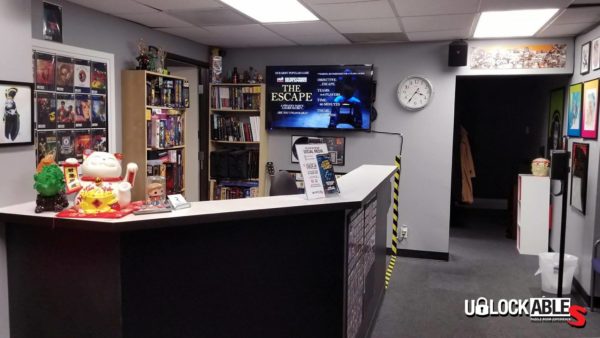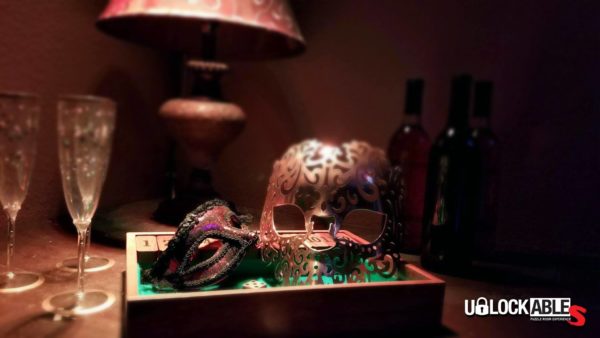 You are invited to one of the most prestigious parties at a Mansion in San Diego. Beautiful people and drinks are plenty, and there is no shortage to the endless amount of entertainment around you. The host invites you to join them in their VIP area, but once you get there you get a sinking feeling that something is not right. You and your friends have been kidnapped…
Why you? You don't know. All you know is that you need to find a way out and escape your captors. You weren't the only ones they've kidnapped, some of the captives before you left clues to help anyone else who gets caught by this group to help them out. It's up to you to figure out these clues and escape before you find out what they want from you… Are you Unlockable?
The Escape starts out a wee bit different than most kidnap stories. The idea that we were invited to a party only to essentially walk ourselves into our own demise is a different approach, and I personally like that touch. It would honestly make me more weary of accepting invitations to parties. (If, you know, I was ever actually invited to any…) It felt like the owners knew that the story has been done but wanted to make theirs just a bit different.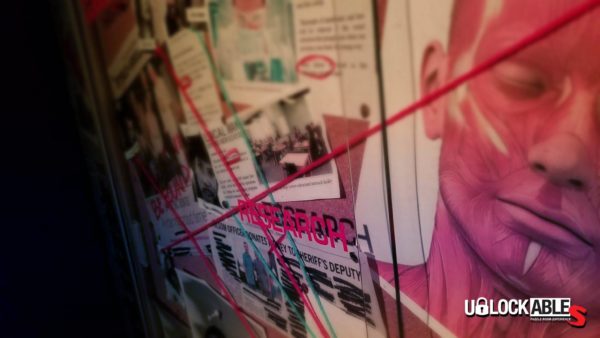 The Escape did very well immersing you into the storyworld, for example, when our team first entered the room we had no idea where we actually were. We were blindfolded and marched to some holding cells and instructed to not take off our mask until we heard the game started.
Once the blindfold came off the room did not disappoint, the first thing I saw was a dingy holding cell that I had (quite literally) been locked in.
Here is part of the beauty of this particular game, players start in different areas so everyone has something different to do!
Once you make you make it out of your area and help your teammates from theirs you are met with the realization that the escape from your cell was merely the beginning of what appears to be a very twisted game. There is a great piece of game personalization that really shook a couple of us and took us from playing the game, to being part of the game rather quickly.
As you progress there is a couple of different transformation moments that change the mood, there is one point where you think you may be caught and suddenly things become very panicked for the players escaping that was very effective. There is also a very well done transition from dark, dingy, prisoner holding area to a suddenly completely different feeling based on the architecture of the room alone. That moment was very ominous and gave me reason to pause and check my surroundings to make sure I wasn't actually about to step into some sort of trap.
The ending of this room was very well done and like a few other rooms, was based on the decisions made by the team. This "choose-your-own-ending" was extremely satisfying and after talking to the owner and learning about the alternate endings I can honestly say they all would have been fun to experience.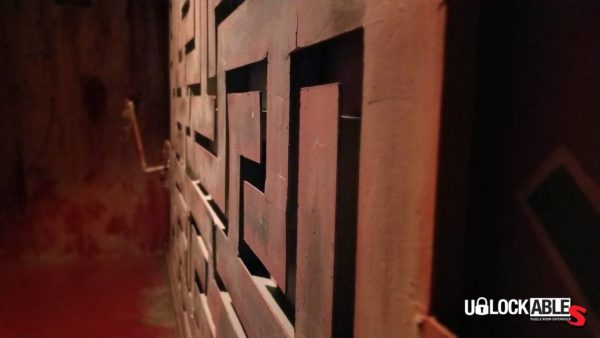 The puzzles for The Escape were well done and the answers made sense. While this was a non-linear room and you could do things in almost any order you pleased, there were some answers that clearly lead to certain puzzles to continue to progress.
The puzzles were clever, some were well hidden, a couple used a nice combination of technology and mechanics to work.
There were a couple of puzzles that didn't necessarily fit logically into the storyworld but they were few and far between and the passion they put into the story and scenic more than makes up for a couple of small "because, escape room" puzzles.
While I enjoyed the puzzles themselves, it's what they did with the results of those puzzles, that was really great!
The answers, themes and mechanics of these puzzles not only provided you with a clue to continue progressing through the room but they also provided you to a clue about what the true nature of the story is and advanced the narrative while you kept searching for your way out.
What started out as a random kidnapping was revealed to be a much more sinister, sick story that had a more far reaching impact than we originally had thought …and it's all fed to you piece by piece from these puzzles until the "Aha" moment finally happens and your true purpose becomes evident.


Overall The Escape was a very well-constructed room that not only showcased the owner's passion for the escape room industry but their experience in set design and ability to cause customers to feel emotions.
When I had played this game it was, at the time, the best I had ever played….
Looking back after playing some of the big name games in the industry, I can confidently say this is still a GREAT game.
It does some things I had never seen before (and still rarely see now) and wove in a great story that took a couple of turns that I did not see coming. If you are in the Southern California area or are planning a trip to San Diego make sure you take the time to check out this room, it was definitely worth the time!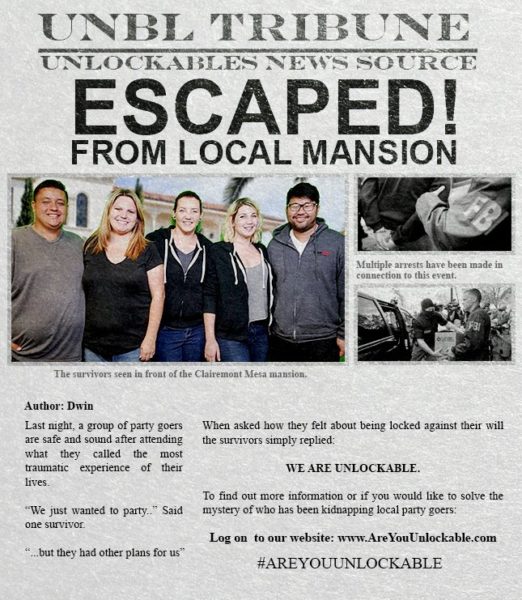 Venue:  The Unlockables
Location: San Diego, California
Number of Games: 2
GAME SPECIFIC INFORMATION:
Duration: 60 minutes
Capacity: 8 people
Group Type: Private / You will not be paired with strangers.
Cost: $30 per person

Escape Authority readers save 10% using code EAUnlockME
Summary
Reviewer
Review Date
Reviewed Item
The Unlockables - The Escape
Author Rating