RATING: 4 Keys          RESULT: Win           REMAINING: 11:00
Life, liberty, and the pursuit of saving America's most iconic bell all rely on you!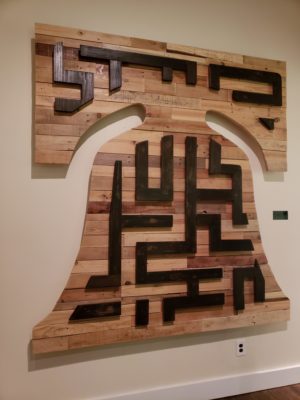 The Sons of Liberty have hidden a crucial secret… and the fate of a nation is in your hands.
It is the frozen winter of 1777. British troops, led by General Howe, have occupied Philadelphia and are seeking out the rebellious Sons of Liberty – men who would become the fathers of a nation. The Sons have hidden the Liberty Bell somewhere near the city and the secret of its location is hidden behind layer upon layer of enigmatic puzzles. If General Howe and his troops discover its location before you do they will destroy this symbol of freedom.
Can you and your squad of would-be heroes solve their clues and find the Liberty Bell in time? The fate of the revolution hangs in the balance.
With puzzles inspired by the most brilliant of America's first heroes, including George Washington, Thomas Jefferson, Benjamin Franklin, and Alexander Hamilton, REVOLUTION is an escape game you truly can't miss.
If the Liberty Bell is what it's all cracked up to be, then this mission is incredibly important! Luckily there will be some help from a co-conspirator named Elias who may feed important information through the mail to those working on saving the monument.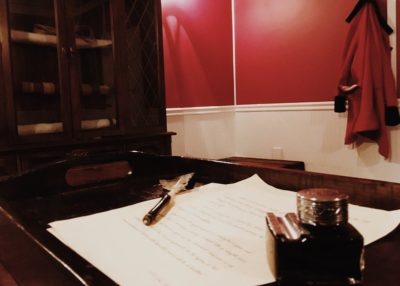 Liberty Escape Rooms is housed in a real life Old City Philadelphia building that was once owned by one of the Founding Fathers. Before even entering the building guests must walk down a cobbled alleyway and through a courtyard that hasn't changed much in a couple hundred years. The location is surrounded by historical structures, monuments, and lore of the Revolution.
Entering the actual game is akin to stepping through a time portal back to 1777.
With only one small exception of a more modern word lock, every detail throughout Revolution stayed true to the time period and theme. Beautiful furniture, perfectly distressed wood, and plenty of old documents, including the Declaration of Independence itself, help to truly set the mood.
Floor to ceiling brick and decorated walls, excellent lighting, and a dramatic soundtrack further create a very immersive experience.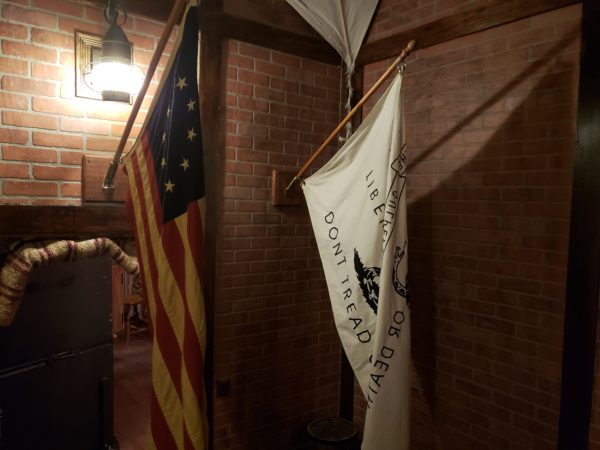 Revolution's puzzles stay impressively on theme and in the storyworld of a clandestine 1777 mission to save America's symbol of freedom.
Honorary Sons of Liberty will need to navigate well weathered maps, scour over the Declaration of Independence, and assist Benjamin Franklin in one of his iconic experiments.
The puzzles in Revolution flow in a linear fashion and are very intuitive. While there are several lock and key puzzles, a few of the roadblocks are solved using perfectly hidden technology.
Unfortunately, two of the challenges along the way become lengthy process puzzles. At both of these points the game bottle necks as two or three team members work through deciphering the code while the rest of the group stands by hoping the British Troops don't bust through the door. Guests who are turned off by flipping through lots of pages of text to crack codes will not enjoy some of the puzzles within this game.
If help is ever needed, a Sons of Liberty accomplice will send some mail into the building. This friend will also give updates through the same delivery system on the time remaining before the British arrive.


Liberty Escape Rooms focuses on historical themes for all of their games. It can be challenging to make a believable space with puzzles that stay true to the time period and theme of 1777 Philadelphia, but they really hit the mark well here. Being located in what is called "the most historic square mile in the United States" certainly doesn't hurt the cause.
From the venue actually being housed in an authentic 250-year-old structure, to the immersive scenic, to the appropriately themed puzzles, this game throws players into the revolution from start to finish!
While there were two sequences in the room that slowed us down with long deciphering, overall it kept our entire group engaged and excited.
Seeing as it was a main part of the story, we were hoping that finding the hidden Liberty Bell would be the finale to the game, but it never actually made an appearance.
Liberty Escape Room's Old City Philadelphia location will permanently close on January 1st, 2019 so that the owners can focus on expanding their other locations in Ocean City, NJ.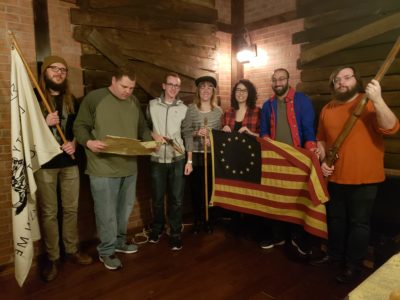 Venue: Liberty Escape Rooms
Location: Philadelphia, PA
Number of Games: 2
GAME SPECIFIC INFORMATION:
Duration: 60 minutes
Capacity: 2-8 people
Group Type: Public / You may be paired with strangers.
Cost: $33 per person
Summary
Reviewer
Review Date
Reviewed Item
Liberty Escape Rooms - Revolution
Author Rating