RATING: 5 Keys         RESULT: Win          REMAINING: 22:51
Avast ye landlubbers! It's time to set sail aboard the SeaDog in search of Bonefish's infamous treasure – but honestly, we'd be just as happy taking a cruise on this stunning ship.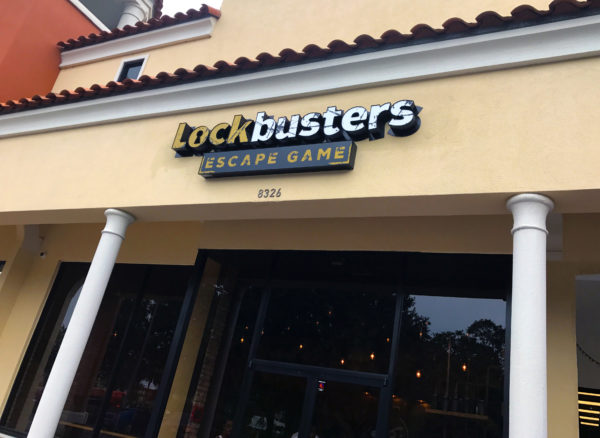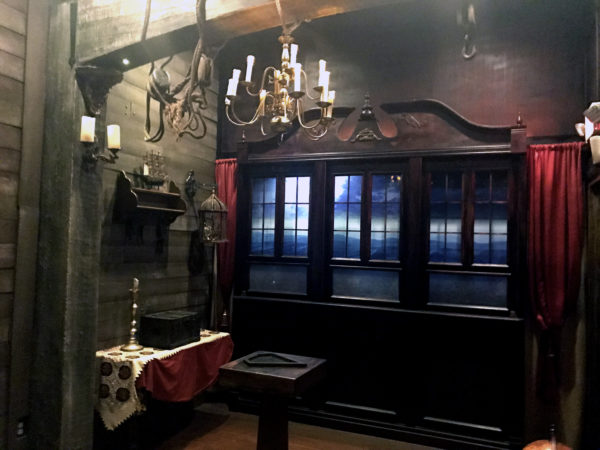 Set sail in the briny depths of the Atlantic Ocean aboard the SeaDog, – Captain Benjamin "Bonefish" Barclay's infamous ship – to find his hidden treasure. A lover of gold and jewels, Captain Bonefish's main targets were Spanish treasure fleets sailing from the Caribbean to Europe. It is rumored that his treasure was stashed on a remote uncharted island east of Barbados. Do you have what it takes to unlock the secrets of the SeaDog and locate the Captain's long lost treasure?
A classic swashbuckling story that instantly aims to make us the main characters, Pirate Adventure does a wonderful job of immersing players into its storyworld. Where many other pirate-centric games we've encountered simply use the plot device as a scenic justification, Lockbusters Escape Game really puts effort into making guests active participants the second they actually board Bonefish's gorgeous old ship on a single mission: Don't leave until we find the priceless treasure.
Gone are the clichés of "You have just 60 minutes to…" or "escape before the pirates return from their lunch break (What? Even pirates have got to eat!)" The true sense of urgency here is the very best kind — whether or not we'll get dirty stinking rich! If that isn't enough to motivate you, I don't know what will. Oh – maybe the booby traps and lost souls of treasure hunters before you who weren't quite as successful, but I digress. We're gonna be rich!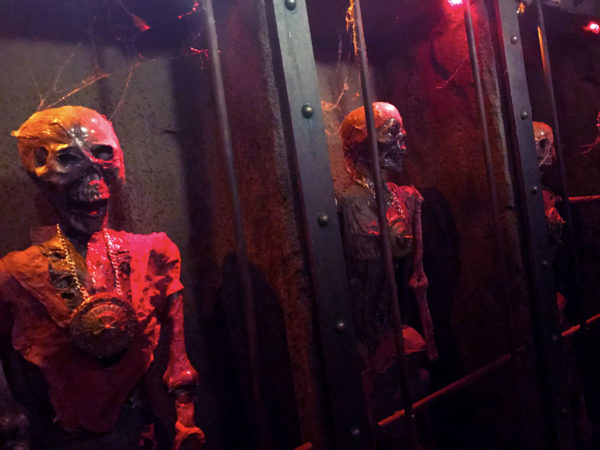 Every venue has its strongest point – and holy cow if Lockbusters Escape Game's isn't their scenic quality. Absolutely gorgeous set pieces that are instantly competition for the best-themed escape rooms in not just Orlando, but the entirety of the Central Florida Market.
It should come as no surprise that when part of your core design team's resume includes set direction for Universal's Halloween Horror Nights that you're going to encounter something special here – and let me tell you, they definitely do not disappoint once you board the SeaDog yourself.
Pirate Adventure spans a whopping five rooms – more than any in a single game in the Orlando market – and the attention to detail and scenic quality stays consistent throughout them. Your adventure will begin in an ornate portrait gallery aboard the ship, before making your way into Bonefish's lavish Captain's Quarters – home to more than one scenic "wow" moment.
From there, your adventure takes a decidedly dark turn to a realm of lost souls before finally reaching the treasure cave itself – *if* you make it that far.
Theatrical lighting, a custom soundtrack and significant set-dressing really make this space feel "lived in" – so to speak. Countless props and knick-knacks bring the spirit of the SeaDog to life in a way that makes it absolutely possible to suspend disbelief and become lost within its stunning storyworld.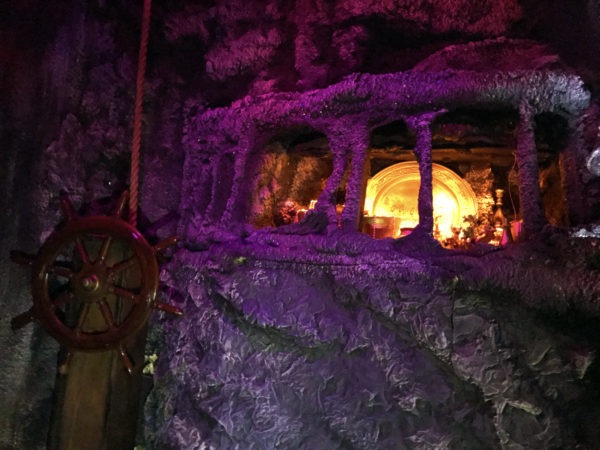 Pirate Adventure's puzzles are – for the most part – entirely intuitive, logical and try their best to stay true to the storyworld. (There are a few moments where landlubbers may find themselves assembling a physical puzzle that I could have done without given the context, but they did not necessarily detract from the mood of experience.)
Contrary to the venue name, Lockbusters delivers a game in Pirate Adventure that has very few actual locks and a whole lot of well-integrated tech – something that will no doubt make many of our readers very excited. Though much of it at its core is simple magnet switches, it blends seamlessly into the narrative making for a truly satisfying experience.
Toward the very end of the game, we found one unfortunately un-intuitive moment that admittedly tarnished the otherwise constant flow of Pirate Adventure. To help future treasure hunters a bit, let's just say the riches you seek are far more than you could fit inside a small pouch – though it still doesn't change the logic-leap that follows.
That being said, Pirate Adventure from start-to-almost-finish is a satisfying game that is enjoyable for experienced players, but also extremely approachable for new ones – something important for those traveling from all over the world to the Orlando market.


As a team we debated heavily how to score Pirate Adventure. The truth is that even while playing, up through the fourth room all I could think of was "holy cow, this is a really sold 5 Key game!" Unfortunately the final room was a major speed bump to that progress. The truth is that logic leap we mentioned above was so much so that we legitimately believed we had won the game, because there was simply nothing left for us to do, and we had what we assumed at the time was the treasure we sought in our hand — or so we thought. It was at this point that we exited the room with what we thought was our treasure, before our gamemaster was forced to call to us on the room's PA system and ask us to return, because "you're not done yet!"
And here's the thing – there's no way to sugar coat this — that's bad. We should never think a game is over before it's actually over — and have never run into that before, to be honest. The debate, for us, became a matter of whether or not we could give a 5 Key rating with that in mind – and, at the end of the day, the rest of Pirate Adventure was so good that it seems unfair to not give it the nod. It's truly one of the best games in Orlando – but it's also proof that being among the best doesn't necessarily make one perfect.
The good news is the speed bump is one that could be fairly easily addressed, and as a venue Lockbusters Escape Game seems very eager to accept any and all feedback.
The better news is that Lockbusters Escape Game is an instant contender for one of the top venues in the Central Florida region. Their rooms are absolutely beautiful. Their staff is incredibly enthusiastic and welcoming (and thanks to some really neat steampunk-esque costumes, the staff actually looks as good as the rooms themselves!)
This is unquestionably a venue to watch, and absolutely a venue to visit. Speed bumps and hiccups are all part of the learning curve when designing these types of attractions – and the fact is even with them, their product is superior to many other well-established venues here in town. We eagerly await seeing what Gearson Lockbuster (oh, he's the some-kind-of-robot Founder, apparently) has in store for us!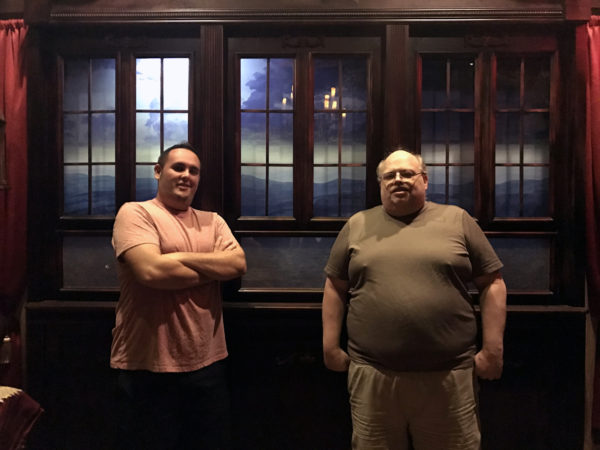 Venue:  Lockbusters Escape Game
Location: Orlando, Florida
Number of Games: 5
GAME SPECIFIC INFORMATION:
Duration: 60 minutes
Capacity: 10 people
Group Type: Public / You may be paired with strangers.
Cost: $29 per person

We thank Lockbusters Escape Game for inviting us to play this game. Although complimentary admission was generously provided, that in no way impacts the opinion included within this review.
Summary
Reviewer
Review Date
Reviewed Item
Lockbusters Escape Game - Pirate Adventure
Author Rating