RATING: 3 Keys          RESULT: Win          REMAINING: 7:03
Lesson learned: never follow your friends with no sense of direction into a pharaoh's tomb.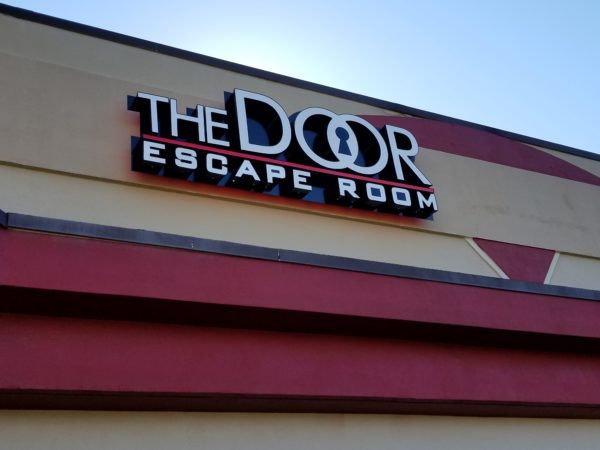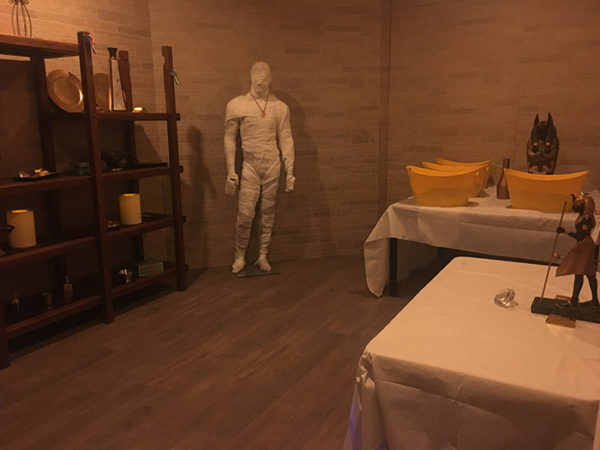 On your expedition with some fellow archaeologists, you started your journey in a part of the ruins of King Ramesses' tomb that has been well traveled.  Your group takes a few wrong turns and you suddenly find yourself in an unfamiliar part in the depths of the pyramid. Luckily you left one of your assistants back at base camp and she's there to assist you when possible. You and your fellow archaeologists must find a way out before you lose all the breathable oxygen in 60 minutes. While you are down there find the treasures locked away, but make sure you don't get too greedy before you escape, and the way out closes for good!
Before we even knew what had happened, our team of archaeologists have been wrangled into another Egyptian tomb, this time that of King Ramesses. Despite our extensive experience at this point inside tombs – and our knowledge of what dangers await within them – we blindly have taken several turns and ended up in unfamiliar territory inside the pyramid. We must find our way out before we run out of air, possibly grabbing treasures along the way.
The Door Escape Room successfully applies the story throughout the entire experience in The Pharaoh's Tomb. While trying to find an escape route back to fresh air, players will find plenty of riches and spoils to loot along the way. Although the story is not completely unique, it never veers off course at any time during the quest.


Let us first address the not-so-fresh fruit that has somehow made its way into this unfamiliar area of the pyramid. Either it has been mummified, or the ancient Egyptians liked to decorate with a variety of perfectly inedible plastic fruit. Perhaps there is a secret garden somewhere in the dark, dank depths of this area, because there is also a green palm tree or plant that seems to be doing pretty well without light or water.
The first section of the chamber contains a set of colorful curtains printed with hieroglyphics. Why paint it when you can just hang it, after all? While at first we were surprised, because we had not heard of ancient Egyptian curtain rods before, we did find out later that there was a purpose for them. Other treasures we observed seemed to be more commonplace than extremely rare. Trinkets scattered about the room await discovery, while statues keep their glossy gazes fixed on players as they explore the dry-walled containment.
In the second chamber, the focal point of the room is a rare sight for burial chambers: a standing mummy striking a JCPenney pose. We would have half-expected to see a pair of Hanes briefs under his bandages, had we been allowed to unravel his surprisingly fresh and white bindings. This mummy must have truly been in great shape to have his muscle tone hold up so well in death.
In other areas, sand is appropriately and sparingly used for both decoration and function. It was clear that the second chamber is the staging area for the excavations that took place before we found ourselves in this space. A huge shelf system along the wall provides the perfect place to catalog treasures and discoveries, in addition to the ones that are already present when players arrive.
Overall, this is another standard Egyptian room as far as aesthetics go. Everything in the setting seemed to fit the theme, but nothing truly took our breath away that would make The Pharaoh's Tomb stand out among all the other pharaohs' tombs out there.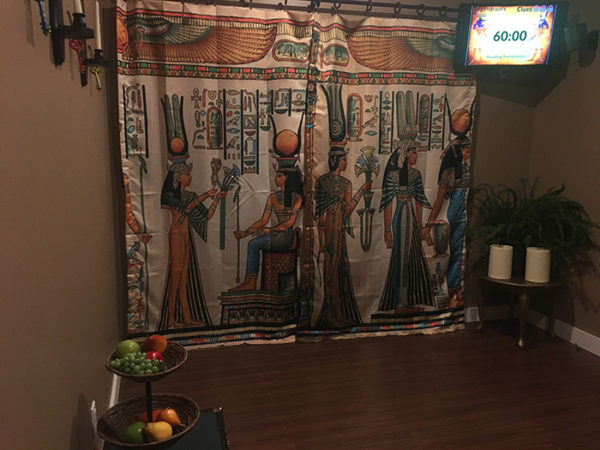 The aforementioned hieroglyphics drapes did prove to come in handy and were actually part of a puzzle and the mechanics of that challenge. The rest of the first chamber really proved to be more part of the discovery phase which led to uncovering codes and identifying patterns that were needed to advance further in the game.
In the second room, we found at least two sand-related challenges and got to roll up our sleeves and even do a little excavating for hidden treasures. No matter how old you get, digging in the sand never gets old or stops being fun. One of these particular puzzles had a pretty creative design, for which we'll give props to The Door Escape Room.


Our biggest complaint in The Pharaoh's Tomb involved the hint system. At the time we played, we received an iPad and had to ask for hints via video chat. We were not huge fans of this at all, as even walkie-talkies would have been preferable and more on topic than an iPad, which (let's face it) requires an in-store tutorial before most consumers know how to use it.  That aside, we didn't mind The Door Escape Room thinking outside of the box when it came to the process of giving hints, but it would have seemed more fitting in a high-tech room or a theme that wasn't set in an ancient, historical setting.
 Overall, this is a fun game and will be a huge hit with families and less experienced players who haven't seen more of what there is to offer in the category of Egyptian rooms available in the escape world. It is enjoyable and has a relevant story and on-topic scenic executions. When our game had ended, we earned a pack of Smarties the venue offers to those who successfully escape. If you don't escape, you get – you guessed it – a Dum Dum. We have to admit… that's kind of cute.


Venue: The Door Escape Room
Location: Charlotte, NC
Number of Games: 4
GAME SPECIFIC INFORMATION:
Duration: 60 minutes
Capacity: 8 people
Group Type:  Public / You may be paired with strangers.
Cost: $25 per person
Summary
Reviewer
Review Date
Reviewed Item
The Door - The Pharaoh's Tomb
Author Rating