RATING: 3 Keys          RESULT: Win          REMAINING: 6:49
You never realize how difficult pharaoh is to spell until #MUMMYWEEK!!!1! comes along.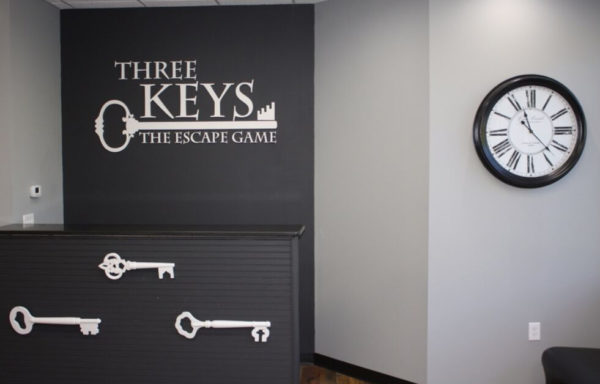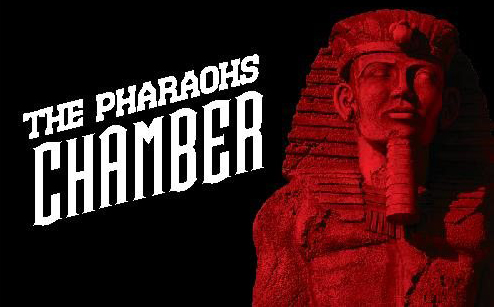 You have discovered The Pharaohs Chamber designed by the master architect, Imhotep. Legend says that Imhotep designed this secret chamber to hold the mummies of the greatest pharaohs inside it. Escaping from the chamber won't be easy, as Imhotep was known for his clever and deadly traps. Do you have what it takes to navigate through The Pharaohs Chamber to find the golden capstone to escape?
On our way to the mall, we uncovered Imhotep's secret chamber built to keep the remains of Egypt's greatest mummies safe. While it sure was easy to make our way into the heavily guarded tomb, it seems like once you're in, your exit is booby trapped with all of Imhotep's ruses designed to keep there.
Three Keys Escape Game wrote the background story for The Pharaohs Chamber around the basic premise of an escape room: being trapped inside a chamber with an established need to get out. On the way out, we must also grab the golden capstone. It's not clear why we want it, but it probably has something to do with the fact that it's made of gold.
Beyond that, there really isn't anything additional to the story and not much more to be learned by the end of the game.


The scenery contains the token visual elements seen in many Egyptian-themed experiences. Decent hieroglyphics adorn the walls, which are finished in an appropriate sandstone color. It is obvious that a lot of research and time went into making the paintings as accurate as possible. A somewhat typical collection of Egyptian items are found throughout the gamespace, because Imhotep liked for everything to be in its place and wanted to present an inviting atmosphere to guests as they attempted to escape his traps.
The Pharaohs Chamber takes you on a journey encompassing two rooms and a closet-sized mini-chamber. Between the first and second spaces is a fairly un-Egyptian door that serves as a portal when running or sometimes yelling back and forth during gameplay.
As far as scenic goes, the aesthetics look good overall and are certainly appropriate for the period and theme. While nothing in particular truly surprised us or made us stop and take note of something out-of-the-box, the presentation was fitting and showed a dedication to immersing players in a well-themed environment.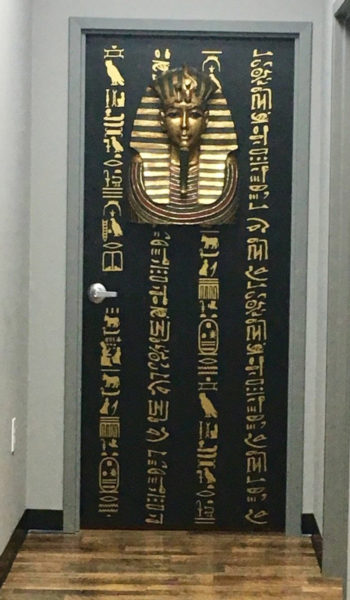 Among the Egyptian props in the game were some rustic lock boxes and challenges that aligned well with the theme. One rarely seen puzzle made for a surprising element of fun for those players in our group who had not seen something of this type before. A sarcophagus – of course – also played a major role in the gameplay and kept the tasks on theme. A pencil and paper were provided for working out solutions, though a reed, ink, and sheet of papyrus would have possibly been more fitting. We suppose those items would not be very cost efficient, so we'll let that slide.
At one point, we had to work with our teammates to gain access to a large cabinet which required deciphering symbols before it gave up its secrets. The hand-painted hieroglyphics proved useful during some of the challenges and again required teamwork and coordination to solve in an efficient manner.
Within close reach of the finale of the game, the mini-room provided a thought-provoking task for the most patient players in our group. Luckily, we quickly identified the strengths (and matching weaknesses) of the members of the team and gave way to those who possessed the most appropriate skills for completing the task. This allowed us to move on and complete our adventure within the given time.


While the theme of The Pharaohs Chamber within the escape room industry is a bit over-done, we did enjoy ourselves and were happy with our experience, as well as the overall presentation and level of challenges.
It is somewhat ironic and fitting that this venue has Three Keys in their name given our score for this experience. We do hope that their other offerings and their aspirations overall equate to more keys in the future. We'll certainly be back one day to assess if they should have called themselves Four Keys or better yet, Five Keys Escape Game.


Venue: Three Keys Escape Game
Location: Suwanee, GA
Number of Games: 5
GAME SPECIFIC INFORMATION:
Duration: 60 minutes
Capacity: 10 people
Group Type: Public / You may be paired with strangers.
Cost: $28 per person
Summary
Reviewer
Review Date
Reviewed Item
Three Keys Escape Game - The Pharaohs Chamber
Author Rating