RATING: 3 Keys          RESULT: Win          REMAINING: 6:03
You must call informants before this case goes cold … hopefully they answer this time.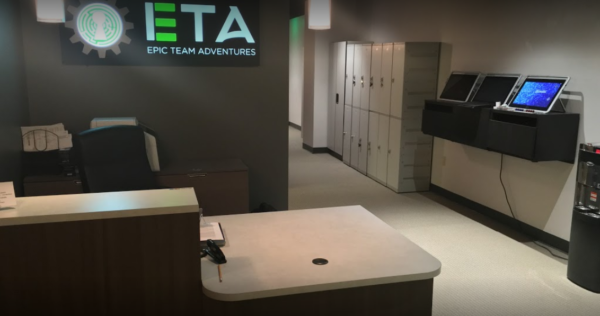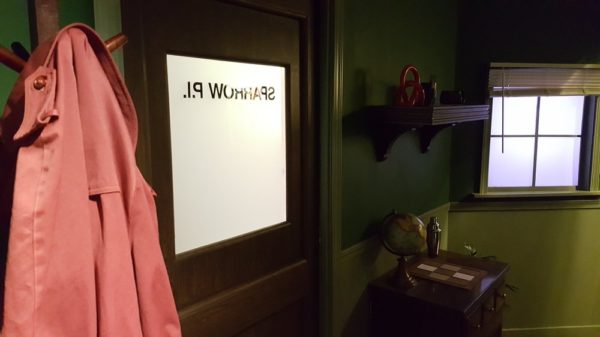 All of Carmen Sparrows' troubles started with this case. Now you are in her office, retracing her steps in the investigation, hoping to piece together the mystery of this infamous case. You know there's danger lurking around every corner, but who can you trust when nothing is what it seems? You must act fast and work together before the trail goes cold and the case is forgotten forever.
While Carmen Sparrow was investigating the case of The Peking Dragon, she inexplicably got amnesia.  Now, it's up to us to trace her steps and unravel the story.  We will call informants, look through case files, and ultimately close this case once and for all.  Hopefully we will get The Peking Dragon – a dragon statue – to its rightful owner.
The Sparrow Files tells a film noir style narrative through the use of audio and visual effects.  The story unfolds inside a realistic looking P.I's office.  While the mood and story are well executed, many of the tasks are repetitive and aren't as interesting the second … or third … time.  It is never clearly explained why The Peking Dragon has such importance, but we surmise it has extraordinary monetary value.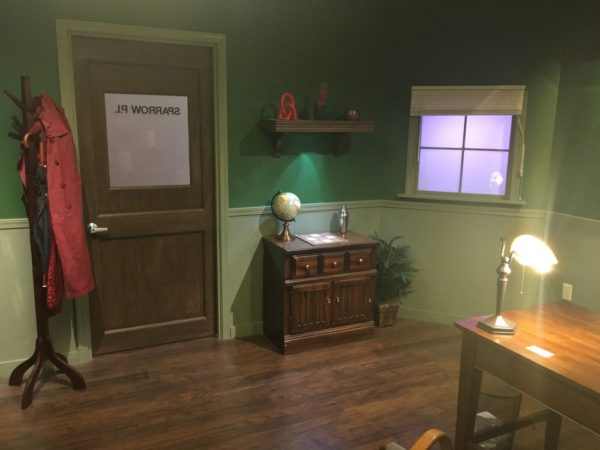 The Sparrow Files takes place in a single room.  The lighting and decor made us feel like we were in a 1950's P.I.'s office you'd see in the movies.  The walls were painted green with a lower white wood trim, and there is a single window with pull-blinds.  The door we enter through has the words "Sparrow P.I." written on the glass.  One wall contains a couple of movie posters congruent with the time period.
In the corner, there is a small wooden cabinet with a globe and cocktail shaker on top along with a few items on a shelf above it.  Carmen Sparrow's desk is fitted with a reading lamp, a rotary phone, and a Rolodex.  Next to her desk, there is a waste basket with a couple crumpled pieces of paper.
There is a bookcase full of classic literature, and there are a few other random items hidden inside. Tucked into another corner of the room is a metal filing cabinet.  One side is covered with magnet letters … it may be a good way to take notes.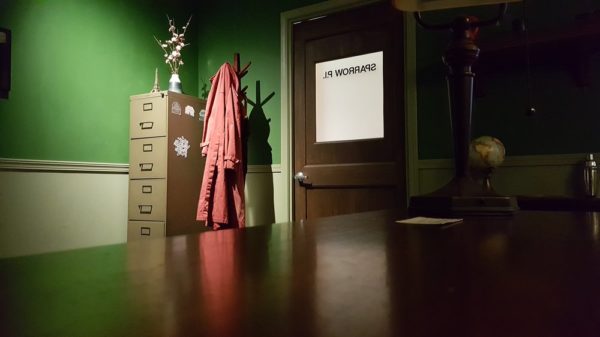 The Sparrow Files does a great job at revealing more of the story for each puzzle that is solved.  This is mostly done through audio commentary by Carmen Sparrow as she regains her memory about the case.  There are a couple puzzles that can be solved in any order, but it's mostly linear due to the story-telling nature of the room.
We had to return to the phone and the case file cabinet time and time again.  Both of these props are a double edged sword.  On one hand, they are the tools used to build the story, and they work really well for that purpose.  Unfortunately, the tasks become a bit repetitive and predictable because they are used more than once.
There is not a whole lot of variety to the puzzles in The Sparrow Files.  Two of them were different in execution, but the concept was exactly the same.  On a positive note, all of the actions connected to the narrative and helped tell it at a steady pace.


The Sparrow Files tells a film noir narrative inside of Carmen Sparrow's office.  The storytelling is done in a fantastic and creative way, and it is pieced together as we helped Carmen Sparrow regain her memory.  The story feeds off of puzzles, so we felt like we were taking an active role in helping her fill in the blanks.  While the puzzles helped push along the narrative, this caused for several repetitive tasks and some that were too similar to one another.  We had to dial a few too many phone numbers and go through a few too many case file.
There is nothing inherently wrong with having a single room.  In fact, it worked well for the story.  However, what made this case go cold for us was that the game master stands in the room and observes … awkwardly.  The Sparrow Files redeemed itself with a memorable and surprising conclusion.  


Venue: Epic Team Adventures
Location: Seattle, Washington
Number of Games: 7
GAME SPECIFIC INFORMATION:
Duration: 55 minutes
Capacity: 6 people
Group Type: Public / You may be paired with strangers.
Cost: $30 per person
Summary
Reviewer
Review Date
Reviewed Item
Epic Team Adventures - The Sparrow Files: The Peking Dragon
Author Rating