RATING: 5 Keys          RESULT: Win          REMAINING: Not timed
After being the first escape games to ever operate on the IAAPA Trade Show Floor, Pale Night Productions returns in 2016, bigger and better than ever!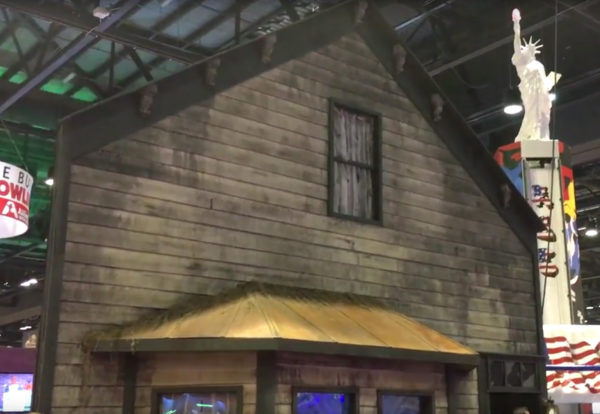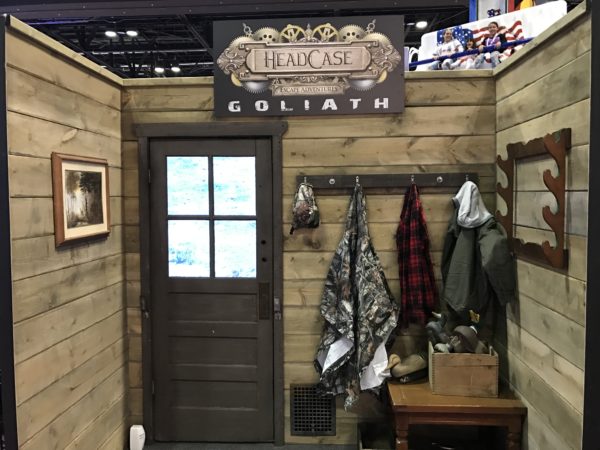 For the uninitiated, IAAPA stands for International Association of Amusement Parks and Attractions. Basically, it's a giant four day theme park convention that literally takes over Orlando each November.
It's essentially the mecca for theme park fans, designers and owners. Literally every aspect of the industry is represented, from theming companies, to roller coaster designers, to popcorn vendors, to carnival games, to water slides, to ticketing media – I could go on. The event has literally miles of aisles of industry vendors from literally every aspect of the business you could imagine.
There was but one noticeable piece of the amusement industry puzzle missing from the show floor: Escape Rooms. In 2015, Pale Night Productions made history, becoming the very first mini-games to ever operate at the IAAPA trade show.
In 2016, they returned in a big way – with three brand new mini-games produced to an even higher quality than their debut year.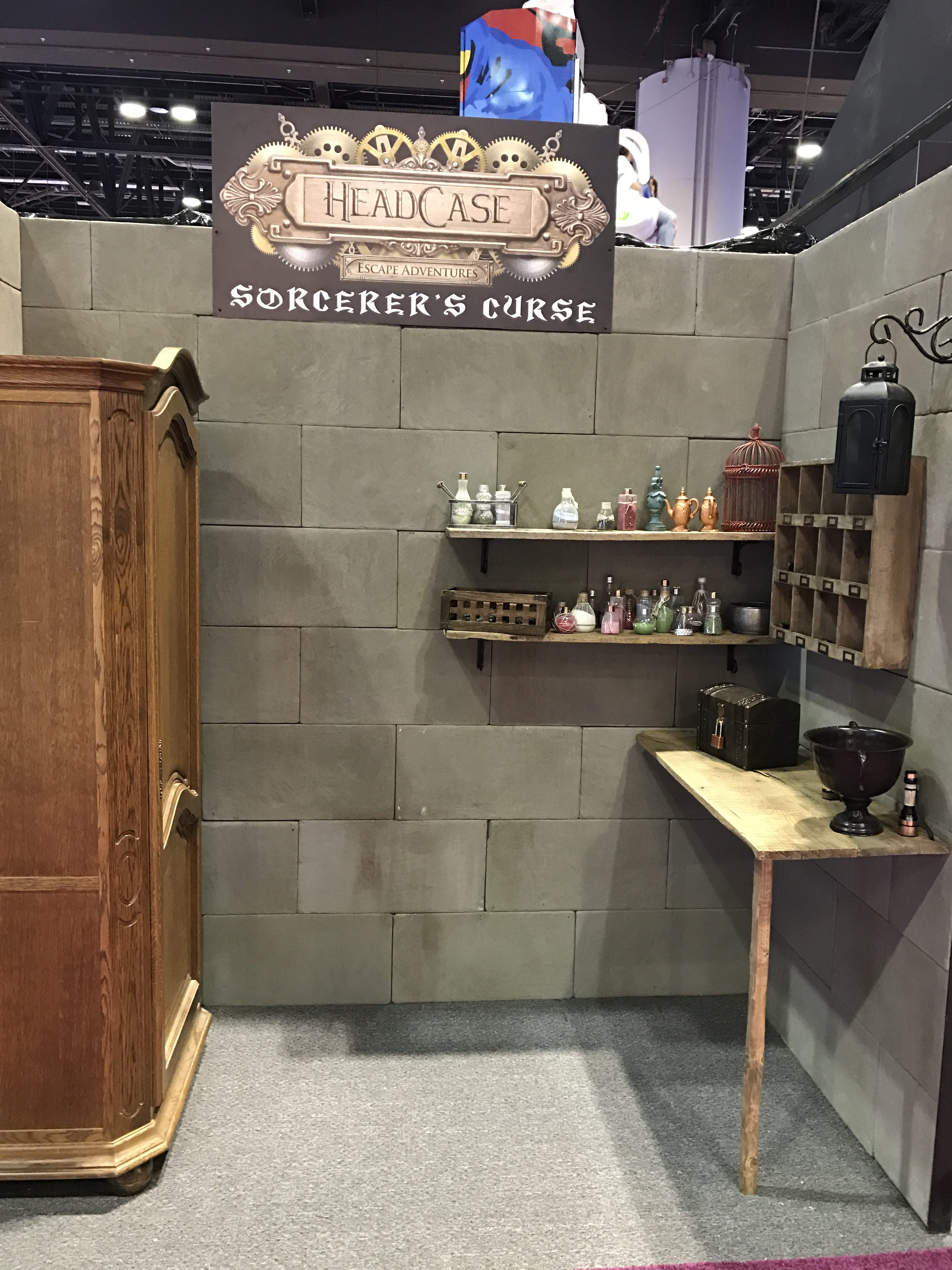 An established haunt design brand headquartered in St. Louis, MO, Pale Night Productions is no stranger to IAAPA. In 2015, they changed the game by not just showcasing their haunting skills, but also putting the newest offering of their company front and center on display to the world: Escape Games.
The return to the show floor in 2016 with a whole new set of mini-games, each loosely based on their newly expanded partnership with Headcase Escape Adventures. Each of these three games will soon be expanded into full length escape room attractions.
After visiting their booth last year, we fully expected to find a collection of games that were highly scenically detailed, and Pale Night Productions did not disappoint. The honest truth remains that more effort was put into the scenic for each one intended to run for just four days than you'd find in an average permanent venue elsewhere in Orlando.
Goliath finds us trapped inside a cabin amid a blizzard, preventing us from getting out, but not enough to stop a dangerous grizzly bear from trying to get in.
Sorcerer's Curse is a fantasy adventure wherein we must use our own magic to reverse an evil wizard's spell.
Candy Chaos drops us into whimsical factory where we must stop a villain from not only stealing the world's candy supply, but turning it into ….. yuck…. vegetables!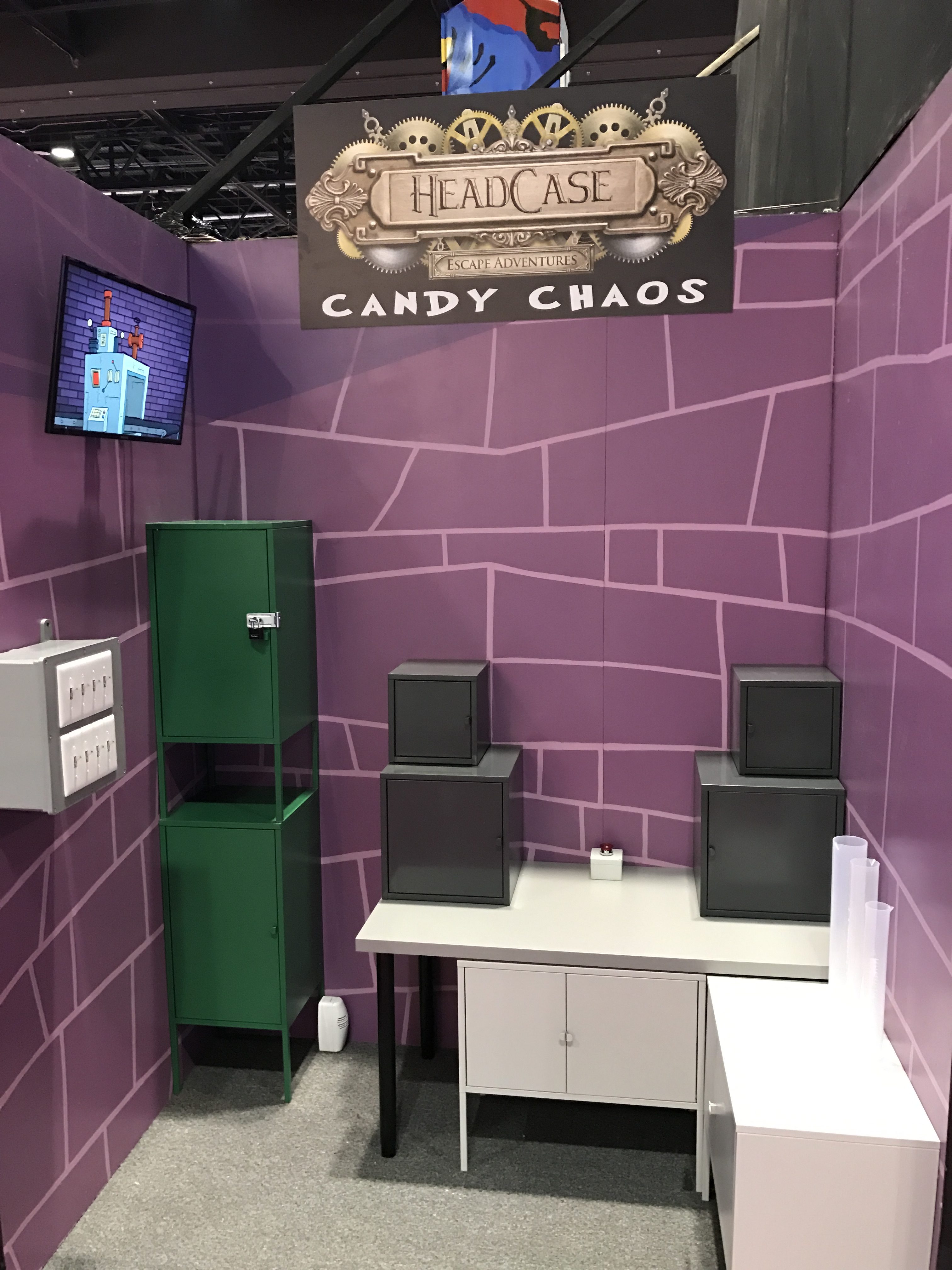 Consistent with last year's batch, each mini-game carry its own distinct, unique feel, as did their respective puzzles. More importantly, the puzzles all connected to each individual story world. Each step across all three games was entirely intuitive.
Pale Night Productions continues to embrace the use of tech-based puzzles, with sensor driven gags and even the inclusion of one of our personal favorites, a Gantom torch!
Each game was obviously short by intentional design; after all tens of thousand of people attend IAAPA daily, so key to success is to be able to host as many visitors as possible in each scenario.
The games were not timed, but each lasted somewhere in the neighborhood of five minutes – at least for our experienced group. It was just enough for a perfect taste of what Pale Night Productions has to offer our industry.


In an industry with such a non-existent barrier for entry, it's only natural that some new venues will seek out design assistance in hopes of making their business dreams a reality. We think it's important to share the occasional updates on some of the companies doing just that to help guide those critical choices toward a direction that will benefit both the venue and its players.
Pale Night Productions continues to impress us with their new product offerings. As in 2015, their 2016 batch of games were fun, story driven, intuitive and incredibly well detailed. Now, thanks to a new partnership with Headcase Escape Adventures in Gatlinburg, TN, Pale Night Productions is able to deliver their already stellar product on a much grander scale – and more importantly to much wider audience that can in turn spread the world of their quality.
Purchasing pre-designed escape rooms can be a tricky thing – so it's entirely refreshing to us to see a company like Pale Night Productions deliver a product we are confident new owners will be able to trust and greatly benefit from. We're excited to continue to follow their progress and definitely look forward to checking out some of their full length games soon!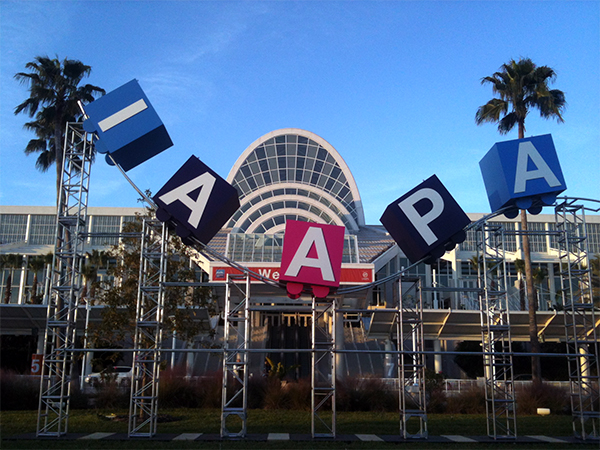 Venue:  Pale Night Productions
Location: Orlando, Florida
Number of Games: 3
GAME SPECIFIC INFORMATION:
Duration: N/A
Capacity: N/A
Group Type: Private  / You will not be paired with strangers.
Cost: Free playtesting for all IAAPA attendees
Summary
Reviewer
Review Date
Reviewed Item
Pale Night Productions - Escape Games
Author Rating