RATING: 5 Keys          RESULT: Win          REMAINING: 5:35
A hefty inheritance will help us travel to more escape rooms – as long as the ghosts don't get us first!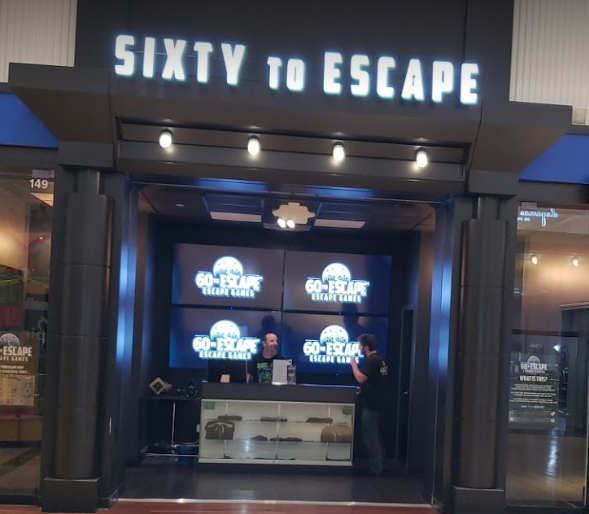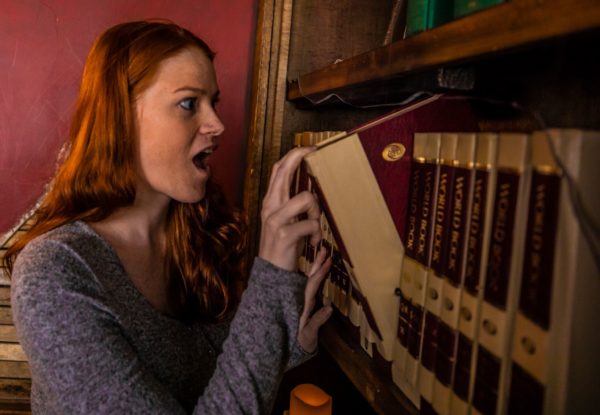 An eccentric family has apparently left their entire fortune (and an incredible mansion) to their only living relative… YOU. Uncover the mysteries that surround this bizarre home and take home an immense fortune, or suffer a fate worse than death! This ghostly adventure is packed full of incredible effects and is sure to lift your spirits!
This adventure takes many twists and turns as we solve mysteries that lead us to the valuables hidden within the manor. If we feel the hairs on our neck rise, that's just the ghosts that live here. They do not like us learning about their past and uncovering their favorite possessions.
60 to Escape has created a highly immersive narrative with many surprises throughout. They have given much thought to the characters involved as we trek further into the house instead of creating a generic ghost tale that we have heard a thousand times.


Mystery Manor begins in a dimly lit room that looks like a study. There are pieces of furniture with candles – every haunted manor needs candles! The walls are ornately decorated, and the space successfully gives off a haunted mansion vibe.
Further into the house, there is a long dark hallway containing large portraits of the family. The house has not aged well as some walls are cracked and have holes in them. Cobwebs can be seen hanging from the corners.
As we enter the den, there are many deer heads decorating the walls – there is no doubt this family was eccentric. We find a ouija board in the corner to contact the ghosts living in this manor, and just like the rest of the house, lighting is kept to a minimum to enhance the spooky atmosphere.
Through the window, we can see trees outside along with mounds of dirt. There is a special effect that is so incredibly executed that it takes us off guard because we are simply in awe. Once we make it into the backyard, the ground even feels spongy like real dirt. 60 to Escape has not taken any shortcuts while creating the set of Mystery Manor.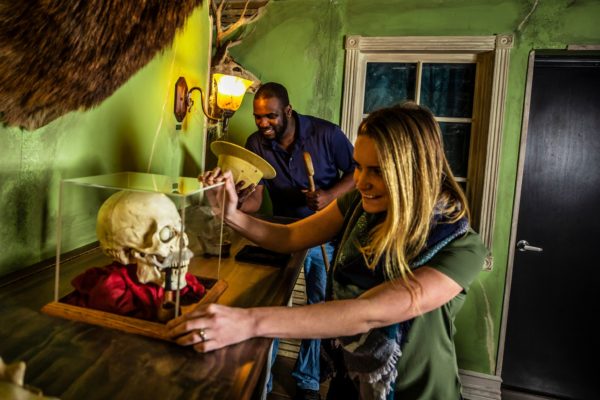 The steps taken to uncover the mysteries of this mansion are mostly linear with a few non-linear parts. Therefore, we believe this game works best with smaller groups.
One of the first puzzles involves interacting with the environment and props in an exciting way that also organically furthers the story about the family. Some of the game requires discovery in dark places, which causes a little bit of trouble and "difficulty by darkness". However, it is not to the point of feeling unfair.
Mystery Manor contains a good variety to the tasks at hand. There are observation and logic puzzles along with steps that require using tools in creative ways. There is something new and exciting at every turn.
Every step continues to organically build the narrative until the satisfying conclusion, so there are no out of place or tacked on puzzles here. 60 to Escape does a brilliant job creating a fun and engaging experience that is always congruent with the story.


60 to Escape is one of the Chicago area venues with a lot of buzz around it, and they have certainly delivered with Mystery Manor. They have created an exceptional product through the use of clever puzzles and special effects along with the detailed set design.
60 to Escape has displayed tremendous growth with Mystery Manor. That's not to say that their other rooms are not enjoyable, but Mystery Manor exceeded our expectations after playing a couple other games at this venue. Come collect your inheritance… if you dare.


Venue: 60 to Escape
Location: Gurnee, Illinois
Number of Games: 6
GAME SPECIFIC INFORMATION:
Duration: 60 minutes
Capacity: 8 people
Group Type: Public / You may be paired with strangers or Private  / You will not be paired with strangers for groups of 4 or more
Cost: $28 per person

We thank 60 to Escape for inviting us to play this game. Although complimentary admission was generously provided, that in no way impacts the opinion included within this review.
Summary
Reviewer
Review Date
Reviewed Item
60 to Escape - Mystery Manor
Author Rating