RATING: 4 Keys          RESULT: Win          REMAINING: 3:34
Hmmm …  strong with the force, this room is.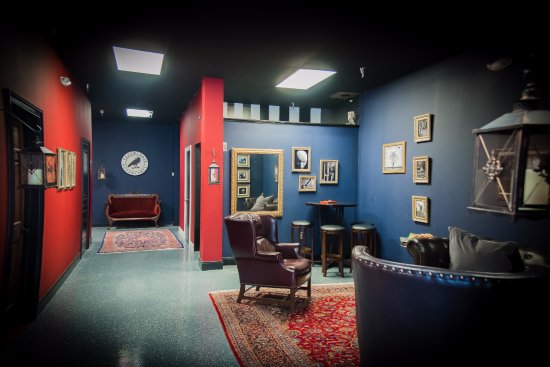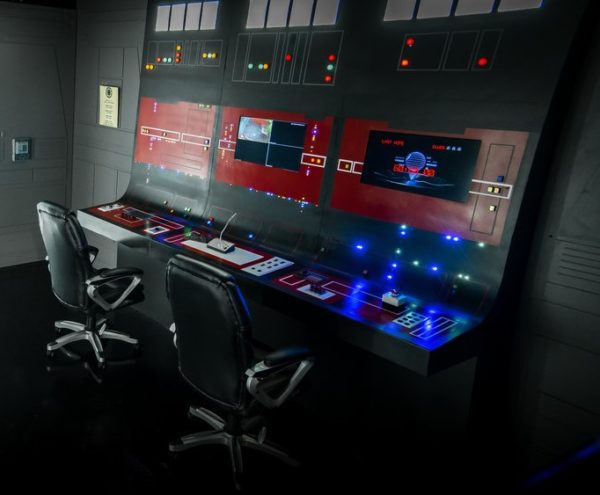 The armored space station DS-1, is under attack by a small group of ships.  Those rebel scum probably don't stand a chance, but you're not waiting around to find out.  Something about that thermal exhaust port just doesn't feel safe. Now fulfill your destiny, and get to the escape pod before it's too late.
We are holed up inside the DS-1 space station, which has been attacked by a fleet of do-gooders set out to stop us evil-doers from doing … well, our evil stuff.  Our own mission is not very surprising for bad guys – we need to put ourselves first and get the heck out of dodge using what sounds like the only existing escape pod.
The story in Last Hope stays right on track all the way through to the end. It's a good thing it does, too – otherwise, we weren't getting out! We had to make our way to the blasted escape pod, before the rebel scum blasted us to pieces.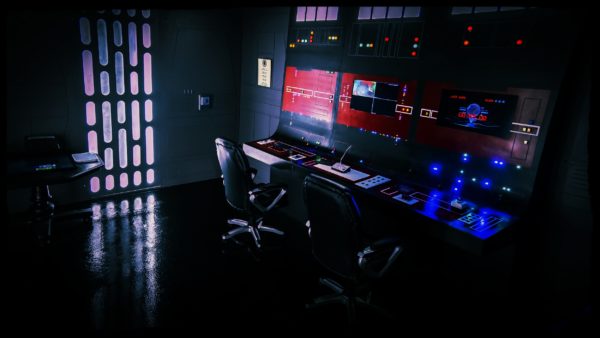 Last Hope's scenic execution is right on par with what one might imagine a control room should look like in a battle station. The scenery is perfectly suited for a room full of bad guys and will have your dark side coming out faster than you can don a shiny, black helmet.  The theming is definitely reminiscent of a space station, complete with a massive panel of blinking lights, each with its own seemingly important meaning or purpose.
To create the illusion of a fully-functional control board for flying and blasting objects in space, there were real buttons to push, real switches to flip, and even more satisfyingly real buttons to push. Players also have the option of several humorous light-speed settings to choose from, giving a respectful nod to the Spaceballs movie in a way that would even please Dark Helmet himself.
Camera feeds help players keep an eye on the action, but also play an important role in the game itself. There are more than a few very fan-pleasing and familiar visual references to the Star Wars franchise beyond just the Last Hope's room name.
The spaced-out theming continues throughout the entire experience, worming its way through different parts of the ship on the journey to the escape pod. The game's finale wraps up the aesthetic presentation with a realistic and exciting visual, but only if you succeed in your mission.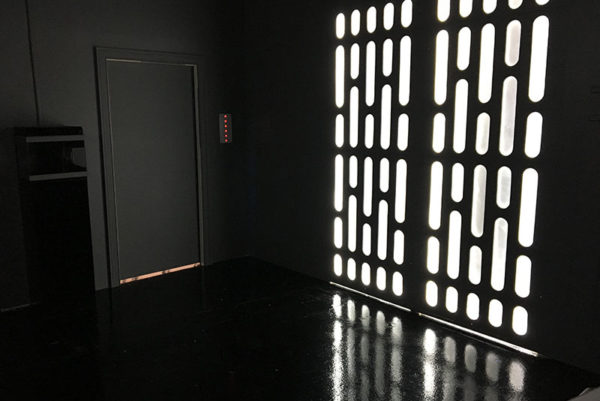 There are a plenty of puzzles in Last Hope that are designed to easily satisfy and maintain the level of enjoyment for all players, fans of space movies or not. There is plenty to do in this room, so it is a good thing that teamwork is recurrent theme in this experience. We really enjoyed both having the opportunity to fire laser blasters as part of one challenge, while another high difficulty teamwork puzzle tested our communication skills to its limits.
We teamed up again to employ a map of galactic trade routes for another puzzle, while individually we could knock out tasks such as decoding alien characters, repairing vital life-sustaining systems on board, and finding replacement parts to finish some overdue maintenance where and when it was needed.
When at last we reached the end of the adventure, we were required to make some final preparations before the escape pod could undock and be piloted away from the main station. This last room has a very important and dominant centerpiece that we found to be pretty cool and well done. The concluding challenge involved interacting with this central element in a really enjoyable and inventive way before we could complete the mission. We were very pleased with the final moments of the gameplay and greatly appreciated the creativity and craftsmanship that went into it.


Ravenchase Adventures, who owns and operates Escape Room Herndon, has a history of putting out some extremely entertaining and imaginative rooms. They have an artistic eye and really keep the game experience in mind when designing their rooms. They understand and implement the idea that the gameplay must be great, and it's also great when the scenic components are dead-on as well.
Star Wars and Spaceballs fans will truly appreciate this game and really have a great time geeking out to all the references within the experience. We are somewhat concerned that this room may veer a bit too closely to the dark side of IP infringement, which we do not and cannot support. We'd caution the venue to continue doing what it does extremely well: giving respectful nods to, but not drifting beyond  the outer limits of, copyrighted movies and franchises.
That said, this was a great room and a very enjoyable space-themed adventure. Doesn't matter whether you get there by speeder or Winnebago – just get there and have fun.


Venue: Escape Room Herndon
Location: Herndon, VA
Number of Games: 4
GAME SPECIFIC INFORMATION:
Duration: 60 minutes
Capacity: 10 people
Group Type: Public / You may be paired with strangers.
Cost: $28 per person
Summary
Reviewer
Review Date
Reviewed Item
Escape Room Herndon - Last Hope
Author Rating