RATING: 5 Keys          RESULT: Win          REMAINING: 11:14
[Obligatory "Welcome to the Jungle" reference goes here.]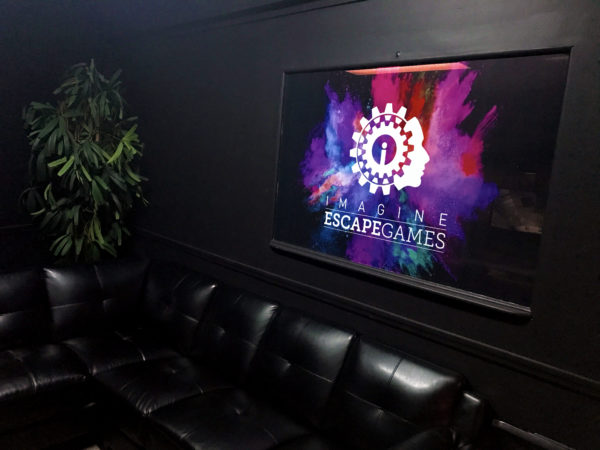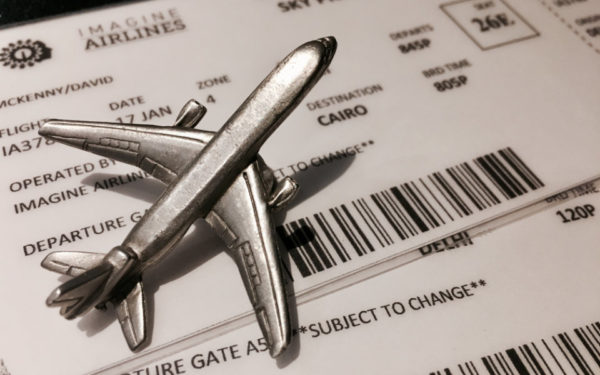 It's time to turn the page to the first chapter in our journey at Imagine Escape Games – one of our favorite new story-driven adventure venues in Central Florida. If you have not already read our review of The Introduction: The Alleyway mini-game, we highly recommend you start there. Each of Imagine Escape Games' rooms follows a flowing climatic story – of which we touch heavily on the background of in our first review of the venue.
When we last left our story, we learned that the nefarious GameMaster had trapped Neil Savage in the pages of The Book – and was working on a plan to seal him for all eternity. One of the items The GameMaster sought to achieve his wicked plot was a mystical gem stone – one strong enough to sufficiently power his evil contraption.
All that's known of its location is that the gem is hidden somewhere deep in the jungle. And as if on cue, the story goes:

Deep in the jungle, the Raza tribe has hidden a powerful source of energy, a rare gemstone called Electra. You are on a mission to retrieve Electra before the natives return, as they do not take kindly to strangers… especially ones escaping with their treasure!
And the natives are far from the only threat we need to be concerned with; The GameMaster himself is on his way to the very same jungle, seeking the very same gem of Electra. It's time to pack our bags and hop a plane before he beats us to it, solidifying Neil Savage's fate forever.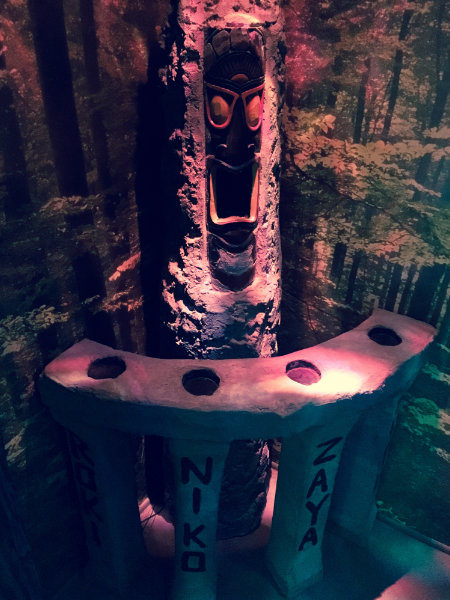 I'll admit, I entered this room expecting "jungle" and was truly surprised at how much more story-driven it as than that. In hindsight I realize that really should come as no true shock for a venue as solidly rooted within their established storyworld as Imagine Escape Games.
Jungle Gem's adventure takes place across several rooms – the first of which is actually the airplane you'll be boarding to travel to the jungle itself. The scenic is convincing, decked out with authentic vintage passenger seats, carry-on luggage and even a snack cart! (Unfortunately, like virtually all major airlines these days, no food was provided during our short flight into the unknown.)
Just outside the plane is the jungle itself. Upon first setting foot "outside," it becomes evident that there is native presence nearby. Tribal markings adorn several trees. An ancient idol sits patiently awaiting tribute.  A mysterious bamboo hut hides secrets we cannot wait to uncover.
I'd be remiss if I don't mention the vinyl tree-pattern wallpaper. It's no secret that I'm no fan of such an approach. It's difficult to truly make look good, because it on its own doesn't really look good in the first place. In all fairness, Imagine Escape Games did it as much justice as one truly can with vinyl graphic wallpaper. This – in truth – is thanks to some convincing trees and stumps they literally carved by hand, as well as dimmer light levels to draw your attention away from the print itself.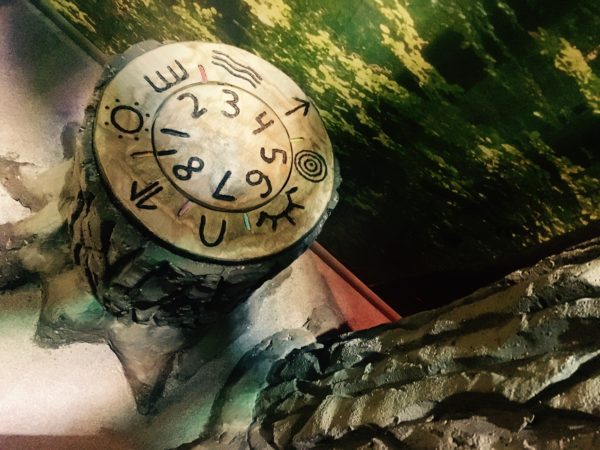 We knew from our time in The Alleyway that the folks at Imagine Escape Games could pull together a nice flow of puzzles – but Jungle Gem was their first chance to show off how they can handle a full-fledged 60 minute experience. Needless to say, we boarded our flight excited, and were most definitely not disappointed.
Jungle Gem is yet another logical, intuitive, story-drive and – perhaps most importantly FUN chapter in the Imagine Escape Games story.
The game flowed even more smoothly than our imaginary flight itself – with no intellectual turbulence jarring our progress. Each puzzle cleanly built from one to the next, giving us a very satisfying journey of discovery into this lost Jungle.
The puzzles themselves were as rooted in the storyworld as any tree in its jungle setting could hope to be. From the start of the game, each step was heavily airline / travel-centric, creating a believable and satisfying launch to our mission. Once into the jungle, the puzzles took on a decidedly tribal flavor of ancient symbols and hidden objects. This stark contrast painted a very clear picture that we were in a completely different world from where we started.
Jungle Gem flows the way a great, story-driven game should.


It's very rare for a brand new venue in this industry to instantly become one of our favorites, but that's exactly what Imagine Escape Games managed to achieve. They really do produce the perfect storm of everything we look for – checking off all the proverbial boxes so to speak, creating the experiences we ourselves might create if given the task.
Not only are their games solidly themed, but they all exist in a singular over-arcing yet interchangeable storyworld – meaning they really can be experienced in any order, but are naturally best if played in sequence. The themes themselves are unique ones that you won't find elsewhere. Gone are the days of cliché bomb defusals or bank robberies – at least for the few hours you spend lost in The Book.
Each room – no matter how large or small – has a scenic attention to detail that ensures it could organically exist within the established storyworld. The puzzles follow that same narrative focus, ensuring that absolutely nothing is ever going to be a "puzzle for puzzle's sake."
Perhaps best of all, the wizards behind the curtain at Imagine Escape Games are a young mom and pop ownership team more enthusiastic and more passionate than the likes of any you may ever encounter again. And at its core, the root of their passion is simple: they do this because they are fans of this same industry which you and I both love.
So yes, Imagine Escape Games truly is the perfect storm – an inconvenient fact to consider for those like me who turned the page to steal a hint at what adventure awaits our next chapter… gulp…at Sea! Well, no storm is big enough to stop me from setting sail further into the storyworld of The Book very soon!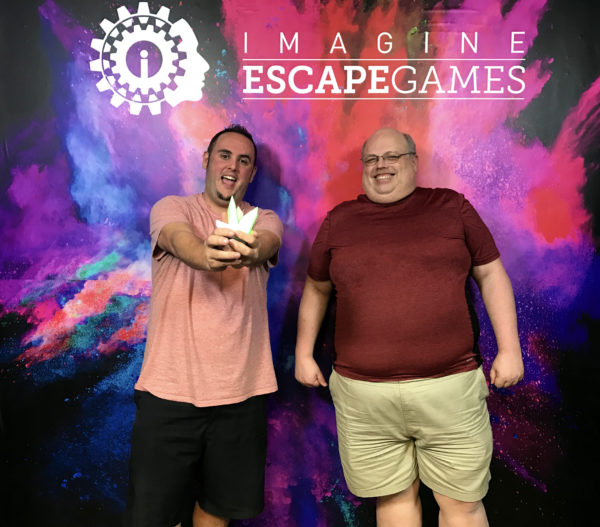 Venue:  Imagine Escape Games
Location: Tampa, Florida
Number of Games: 3
GAME SPECIFIC INFORMATION:
Duration: 60 minutes
Capacity: 8 people
Group Type: Public  / You may be paired with strangers.
Cost: $24 per person

Escape Authority readers save 15% on private games using code ESCAPEAUTHORITY15

We thank Imagine Escape Games for inviting us to review this game. Although complimentary admission was generously provided, that in no way impacts the opinion included within this review.