RATING: 6 Keys          RESULT: Win          REMAINING: 14:28
Please return all tray tables to their upright and locked position, ensure your seatbelts are securely fastened and prepare for landing.
Except I don't know how to land.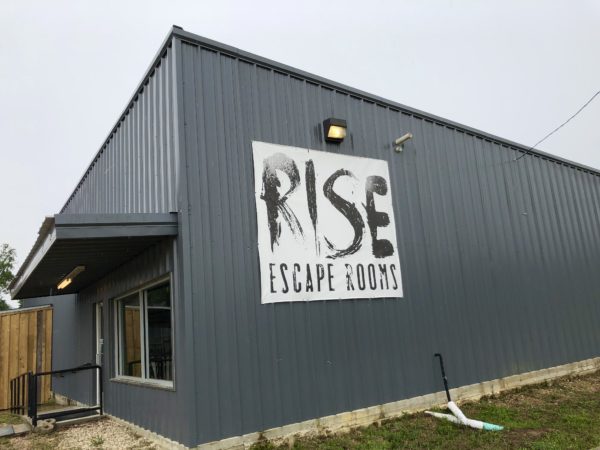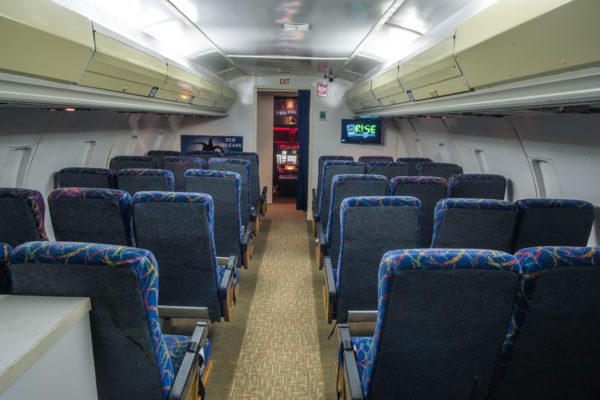 Welcome aboard RISE Airlines.
You've just boarded Flight 722 set for your personal travel destination and the flight attendant has just finished giving the safety presentation. You fasten your seatbelt, sink back into your chair, and find yourself dozing off in no time at all.
What seemed to be peaceful skies is but a shattered illusion as you awaken to find out that your worst nightmare has come true. Cries of panic and a sense of urgency surges throughout the cabin. Fear has taken hold of you as reality of what is happening begins to settle in… you've been HIJACKED!
With sixty minutes of fuel remaining and the flight staff trapped in the cargo hold below, it's left to you and the remaining passengers to take matters into your own hands. You must hack your way into the cockpit and secure the plane for a safe landing.
RISE Escape Rooms is cleared for takeoff with one of the most unique escape games we've even seen in Hijacked. Not only is the theme completely different, but it's equally as immersive.
I think we've all wondered at some point how we would react if we found ourselves as passengers aboard a hijacked commercial airliner. Well, now it's our chance to prove we have what it takes to save the day. But it's not going to be as easy as just stopping the terrorists; they're inexplicably gone, and with them, so too are the pilots and flight crew – trapped beyond our reach in the cargo bay.
Also we're running out of fuel fast.
Also there's a bomb.
Boy, when it rains at 30,000 feet it pours, huh? Well, by now you know we're skilled at averting every type of doom and/or disaster; how hard could landing a plane be?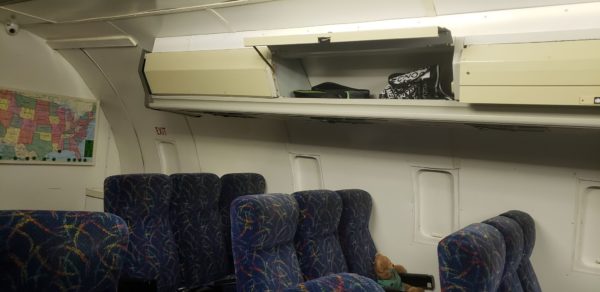 Hijacked takes place inside an airplane. No. Literally. This is actually an airplane. Needless to say, it's a pretty believable set!
Once we board the plane, we're left with seatbelts fastened in the main cabin area. Rows of seats line both sides of the narrow center aisle, dotted with small windows that look out to the night sky. The use of legit commercial plane passenger seats brings the authenticity of this environment up into the clouds.
At the rear of our cabin, a cramped lavatory sits with its door locked. To the aft, a flight attendant's station stocked with snacks and drinks waiting to be sorted for in-flight service.
Naturally beyond it, secured by a locked door apparently not quite up to TSA standards lies the cockpit, full of everything you'd expect to find in a real plane – blinking lights, switches, levers – everything, you know, except our pilots. The view ahead through a nighttime storm only serves to add further urgency, and reason #382 that we're probably not going to survive this flight.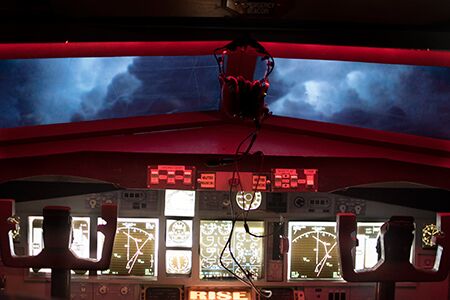 From the moment we board our flight, a tangible sense of immersion and authenticity is evident. Locked in our seatbelts, we meet our first challenge. But that's the easy one.
Every action to follow is perfectly organic to the airplane narrative – from accessing the carry-on bins to breaking into other traveler's luggage in hopes of finding supplies that may benefit our mission of survival. In the seatback pocket, a word search awaits — normally a dreaded puzzle type in any average game, here presented as the one and only time it actually makes perfect sense to be a part of an escape room. After all – we've long said that the only time most people want to complete a word search puzzle is to kill time on a long flight. And here we are.
Tasks which on land might be a bit more easy to tackle are made amplified to the next level thanks to the constant presence of – you guessed it – turbulence. That's right; the entire plane rocks side to side at key moments throughout our flight, enough so to genuinely become disorientating.
Assuming you can make it up and down the aisle without the help of an air sickness bag, further tasks will involve accessing all areas of the plane – and defusing the bomb – before ever even stepping foot into the cockpit.
And then you get to land the plane – we hope, anyway.


RISE Escape Rooms – and Hijacked specifically, came to us very highly praised. We'd been repeatedly told by both our readers, other designers and venue owners that this was a must see game. There was enough buzz surrounding this one that it became one of our bucket list escape rooms.
So, did it live up to the hype?
No.
It exceeded it.
If you, like us, are tired of finding the same handful of cliché themes, pack your luggage, book a flight to Louisiana and then board RISE Airlines Flight #722 with non-stop service to one of the most unique escape game adventures you'll ever depart on. Unless, you know, it crashes. Or explodes.


Venue: RISE Escape Rooms
Location: Tickfaw, Louisiana
Number of Games: 3
GAME SPECIFIC INFORMATION:
Duration: 60 minutes
Capacity: 7 people
Group Type: Public / You may be paired with strangers.
Cost: $28 per person

We thank RISE Escape Rooms for inviting us to play this game. Although complimentary admission was generously provided, that in no way impacts the opinion included within this review.
Summary
Reviewer
Review Date
Reviewed Item
RISE Escape Rooms - Hijacked
Author Rating