RATING: 4 Keys          RESULT: Win          REMAINING: 5:52
It's not really haunted, but it is pretty much a real house.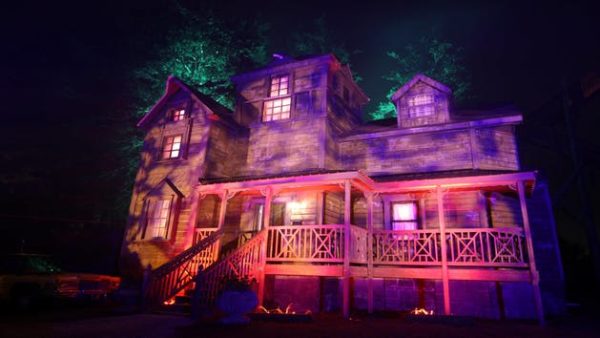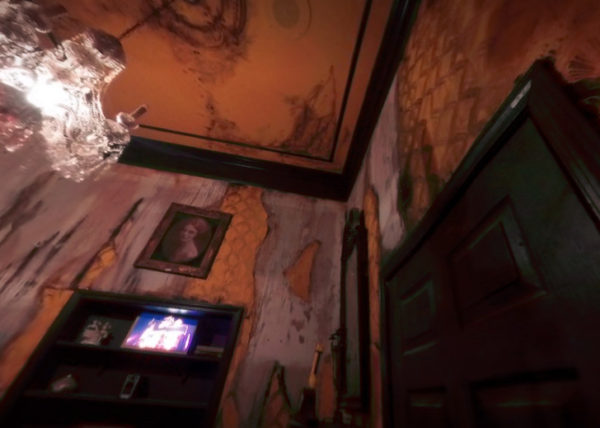 The highly detailed haunted manor is the entrance to Spookywoods haunted attraction, and now you can come experience it as a multi-room haunted Escape Game. The hardest puzzles that require the entire groups brain power. Expect startle scares, loud noises and times of total darkness.
We have been tasked with entering the haunted manor to help free a trapped spirit. The ghost of a woman who died in the house years ago has been bound to the spooky residence and is unable to ever leave – unless just the right conditions are met. If we can successfully discover her full name and speak it at the right moment, we will set her imprisoned spirit free. But first, we must make our way through the manor and plot our own escape before our spirits join hers forever.
Everything about this experience screams "haunted manor." From the moment we arrive, we are fully immersed in the story from floor to ceiling. The journey takes us deeper into the world, supported by excellent applications of scenery and mostly relevant puzzles.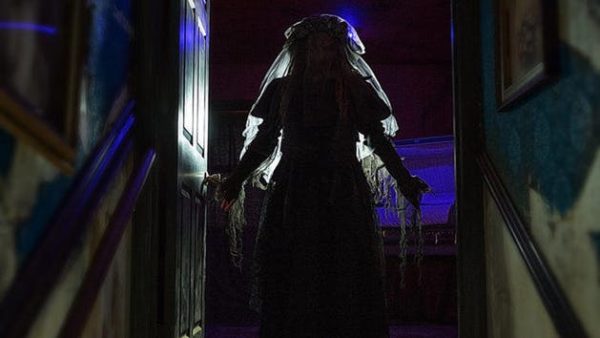 The manor is a free-standing, multi-room escape experience. The venue owners built the house from scratch, as they do almost everything else at this location (more on that later). The exterior is expertly painted to appear impeccably old, spooky, and mysterious, with just the right touch of moldy greens and faded grays on the facade. If we cast our eyes upward, a lonely ghost can be seen hanging out in the upstairs window.
The two-story, split level house serves both as the escape room for most of the year, as well as the main entrance to Spookywoods during the haunt season. As one would expect from a veteran of an award-winning haunted attraction, the interior scenery is excellent and very detailed, from the old, rustic furniture to the theatrical lighting to the cobwebs that seem to have naturally occurred throughout the environment. At one point, we find ourselves in the dismal company of a casket, flowers, and cobwebs, then soon in an autopsy back room complete with a dead body. Further along, the strength of our stomach is tested as realistic roaches scurry along in a nightmarish projection on the floor.
The interior rooms and walls seem so authentic as to surely have been abandoned ages ago, leaving their contents and décor vulnerable to the effects of neglect and decay. Dirty, old wallpaper peels off and the ceilings show years of water stains caused by a leaky roof. Except all of that is a farce, because this is all new construction decorated and themed by highly-skilled artisans. If we hadn't seen this structure rise from nothing with our own eyes, we'd swear it had all been there for years.
As advertised and demanded by the nature of the room theme, there are several well-placed, jump scares that are sure to keep players – and their hearts – going at a good pace.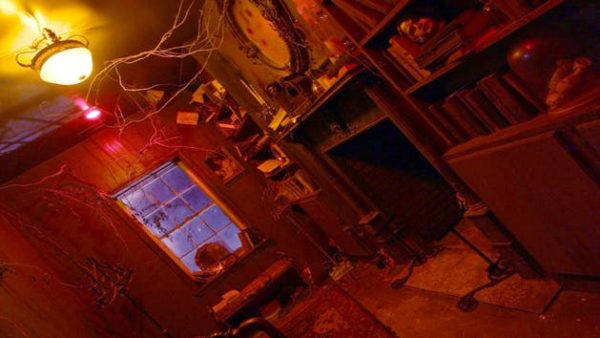 Many of the puzzles do well in driving the story forward, as players pursue the dual tasks of finding out the woman's name and finding a way out. There are a few puzzles just because, though … some of them big and not pertaining to the story.
We started out in the foyer and had to solve our way through a secret passage into the next chamber. A little bit of search and find helped us advance into a long hallway leading to the second level. Before being granted passage up the stairs into the room that lies beyond, we had to first play a random game of dominos to aid us in their quest.
In the chamber at the top of the stairs, the successfully hidden tech used for the puzzles appears to be otherworldly. A black light puzzle, while not the best execution we've seen, is challenging enough to steal away some time from the clock. We then needed to crack a few door codes to make our way towards the end of our journey. A large puzzle on the ceiling – not withstanding a crick in our necks – was the last challenge that stood between us and our freedom – but remember, players must also have discovered the woman's full name and call it aloud before exiting in order to truly solve the game.


If there were a little more polish to the puzzles and they were more aligned with the story, this could certainly be a 5-key room. As it is, we have given it as solid four keys because it really is a great, entertaining experience. It did have the unique aspect of including an additional mission in order to record a true win by identifying and calling out the spirit's full name to set her spirit free.
This is simply a cool and distinctive venue to visit. Throughout the year, it is home to a number of activities including a zipline, rock climbing wall, outdoor laser tag area, ropes course, and many activities for the kiddies. During the Halloween season, there is a corn maze, pumpkin painting, and a nationally-recognized haunted attraction. To accommodate all of these activities and, of course, feed hungry visitors while they are there, an old west "town" offers up shopping, food and snacks, souvenirs, and other things to do. Each building features stunning décor and its own custom, three-dimensional signage designed in-house with only the highest professional quality. Apply that concept of excellence in visual design to the escape room scenery, and that's what players can expect. While there is a little room for improvement in the puzzles area, this venue absolutely slays in scenic execution.
Tip: if you plan to do this room during the Halloween season, definitely plan to make it an all-day affair and take advantage of other activities at this location, including the haunt. An even better tip: if you do not plan on attending the haunt but do go during the Halloween season, make sure you are well clear of the venue as dark approaches. The haunted attraction is extremely popular and traffic starts building fast as people come from far and near to attend.


Venue:   Kersey Valley Escape
 Location:  Archdale, NC
Number of Games:  5
GAME SPECIFIC INFORMATION:
Duration: 60 minutes
Capacity:  10 people
Group Type: Public / You may be paired with strangers.
Cost:   $28.00 per person
Summary
Reviewer
Review Date
Reviewed Item
Kersey Valley Escape - Haunted Manor
Author Rating