RATING: 4 Keys          RESULT: Win          REMAINING: 16:30
Perhaps the person who blatantly misnamed this great game spent a little too much time trapped with the moonshine it's actually about – because the only thing missing from this Haunted Cabin was the haunting.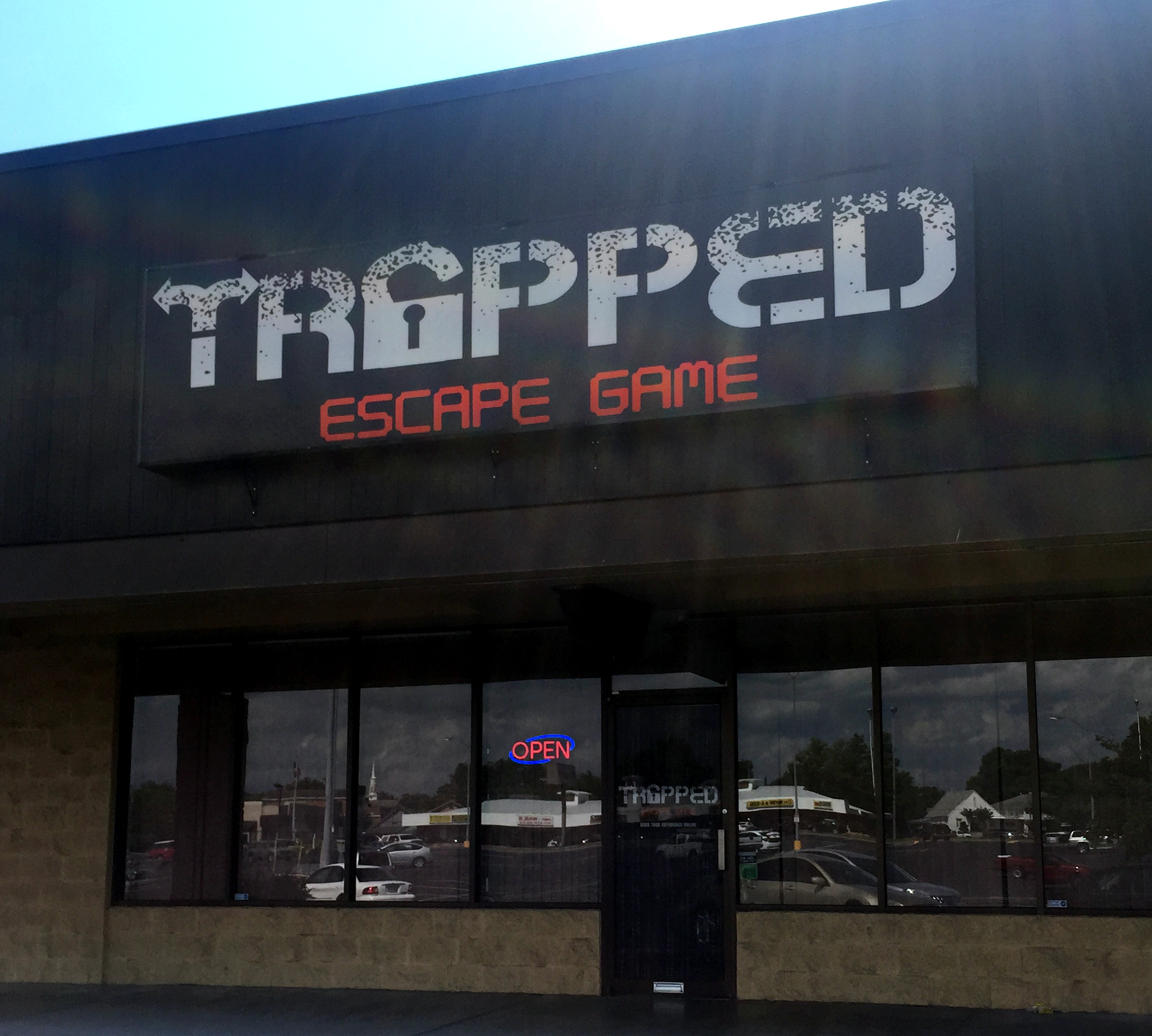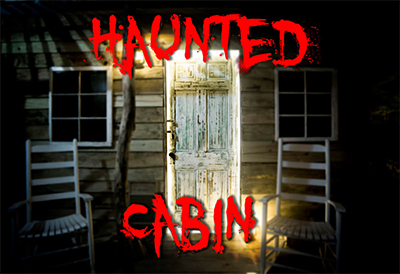 I'm not sure if this even counts as addressing the 800 pound gorilla in the room with as much of a no-brainer as it is, but if you're going to call an attraction "Haunted Cabin" it probably should have *something* to do with some kind of supernatural *something.* Haunted Cabin does not.
Haunted Cabin is a moonshine-themed game. Interestingly enough, even the story description from the venue's own website reflects that:
"It's rumored that old man Tinkersley had a secret moonshine recipe that made him filthy rich, but all was lost when he had a tragic accident. Or was it? Break into his cabin and see if you can find his stash of money and moonshine but get out of there before you find out if his accident was really a rumor or not."
I know this cabin isn't haunted. You know this cabin isn't haunted. Why are you selling this game as a haunted attraction?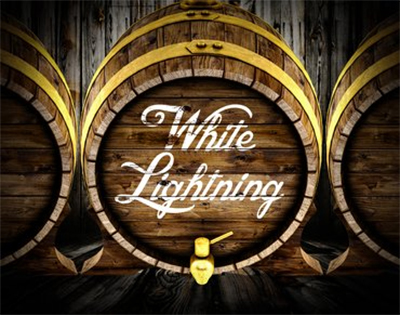 Haunted Cabin's scenic quality was decent. The first scene finds you outside Tinkersley's shack, tasked with finding a way in. As one might expect from any self-respecting hillbilly's mountain home, an outhouse sits in the yard.
The second scene of this two room game takes place inside the shack itself – appropriately lined with uneven boards and littered with moonshine jugs.
For a moonshine-themed game, the scenic is rather decent. For a haunt-themed game, it's a complete misrepresentation of what players are led to believe they will encounter.
Here's where the trouble comes in – this game started its run as "White Lightning," a moonshine-themed game that makes sense of both the story and the scenic. Somewhere along the way, Trapped Escape Game made the decision to re-brand it Haunted Cabin, and have players tackle the existing White Lightning room with flashlights.
Apparently haunting a house is now as easy as flipping a light switch, because that's literally all that Trapped Escape Game did.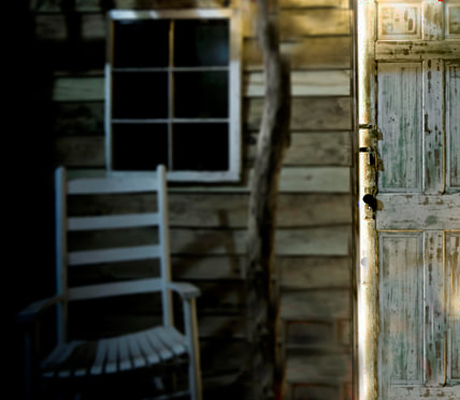 The puzzles here were actually well done – and all on point to the storyworld.
Except they were on point to White Lightning's storyworld, not Haunted Cabin.
See – that's a problem. While everything makes use of the hillbilly surroundings; while everything builds to finding pieces of a secret moonshine recipe and collecting what you need – there's no logic to carrying out those activities in a haunted house.
That's not to say the puzzles were not fun – because they were. It's not to say the puzzles were not intuitive- because they were.
Albeit low tech, the gameplay was enjoyable from start to finish. The issue was the satisfyingly story driven gameplay became a constant reminder that this attraction didn't seem to understand its own story.
Had it been left to its own devices, White Lightning would have been a game that checks many of the boxes we look for in an attraction. And though Haunted Cabin still does, it cannot be denied that it's checking those boxes on someone else's survey.


I was impressed with the gameplay experience at Trapped Escape Game. It was fun – which is important. Another testament to that point is the family of strangers I was paired with – all first time players who had no idea what to expect. In their first escape game experience, they had a blast.
But that very same family only further proves my bigger point. After the game, the mom looked at me and said "That was fun, but what about that cabin was haunted?"
At the end of the day, it's this very identity crisis that knocks Haunted Cabin down to a 4 Key game, because it very well could have inched its way to a solid 5 Key experience. And while it's important to remember that 4 Key rating is the mark of a GREAT game, there's no reason for this one to not be among the BEST.
Had Haunted Cabin still been called White Lightning, and carried the moonshine shack theme from start to finish – even if it continued to be played by flashlight – instead of falsely representing itself as a supernatural thriller, every guest walking through its door – myself included – would have known exactly what to expect and found a much easier time becoming immersed in its storyworld.
Though another big step to get it into that 5 Key level of immersion would be the dire need for a background musical score. It's surprising how often venues who really do well on most levels miss this vital show aspect.
Go into Haunted Cabin actually expecting to receive White Lightning and you'll really enjoy yourself – because it IS a great game. Just be sure to use the rest room first; I was surprised to learn Trapped Escape Game does not have one for its guests, and a bit shocked when the staff – without a doubt a wonderful group of enthusiastic, friendly folks – told me to just "walk across the shopping plaza and use the one inside Kmart."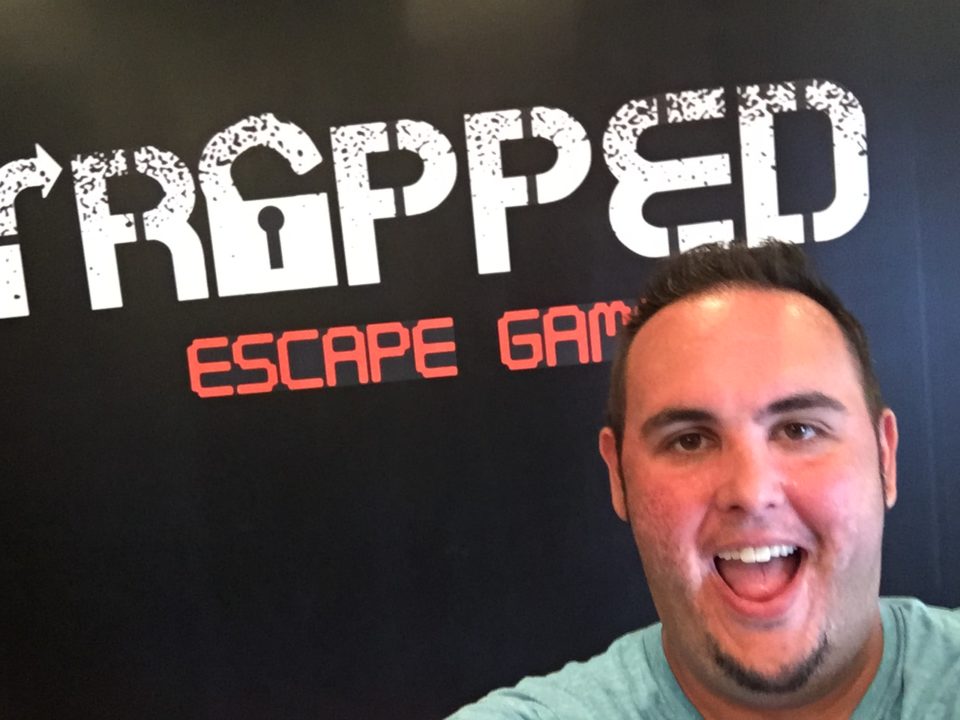 Venue:  Trapped Escape Game
Location: Pigeon Forge, Tennessee
Number of Games: 3
GAME SPECIFIC INFORMATION:
Duration: 60 minutes
Capacity: 8 people
Group Type: Public  / You may be paired with strangers.
Cost: $24.99 per person
Summary
Reviewer
Review Date
Reviewed Item
Trapped Escape Game - Haunted Cabin
Author Rating