RATING: 6 Keys          RESULT: Win          REMAINING: *Not timed in the traditional sense
Imagination plays a vital role in our journey through life – and although much will change from our childhood days there is one universal, indisputable truth: the floor is lava.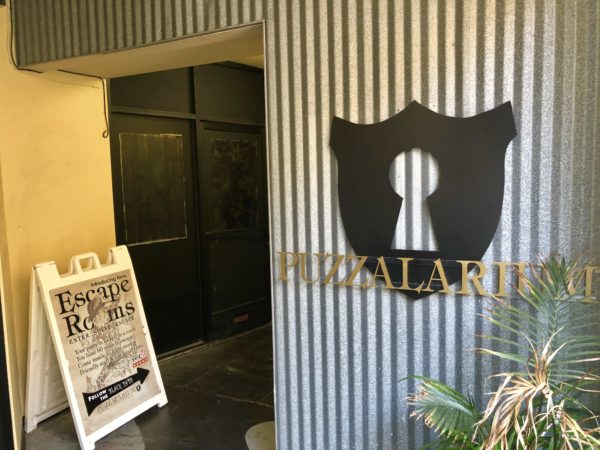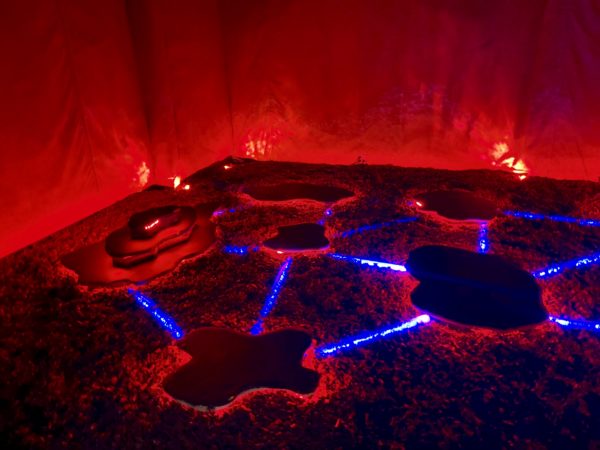 The Floor is Lava is a hidden roles game for between 7-25 players at once. Players are dealt roles and secretly assigned to one of two teams. Players must work together, lie, and cross-examine each other in order to figure out who is and is not on their team, all the while with players attempting to eliminate each other by making them step in the Lava.
At the end of the game, the team with the most players still alive wins.
The obvious, immediate disclaimer here is that The Floor is Lava is not a traditional escape game. It is, however, very much a team driven, interactive game-based attraction, so it without question belongs on Escape Authority.
The Floor is Lava is a brilliant "grown-up" take on the classic childhood imagination game we've all played when we were little. Jumping from couch to chair to table, only to get yelled at by our parents – nothing mattered beyond the simple fact that contrary to popular belief, the very floor itself was, indeed, actually lava. And nobody wants to fall into the lava!
The Puzzalarium gives an incredibly unique twist to this classic concept, evolving it into a highly competitive round-based battle between two secret teams. Each combatant is randomly equipped with their own super power that only they know, while going head to head against the rest of the group – some friends and some foes. The true magic is figuring out which is which – because, as we mentioned, team identities are also hidden while in play.
And when you think you've found an enemy – the real fun begins. But more on that in just a bit. The Floor is Lava is different from anything else you've played before it, so to help illustrate the nuances of its gameplay, we'll include a peek at the official Orientation Video below (spoiler alert – it's pretty damn funny!) –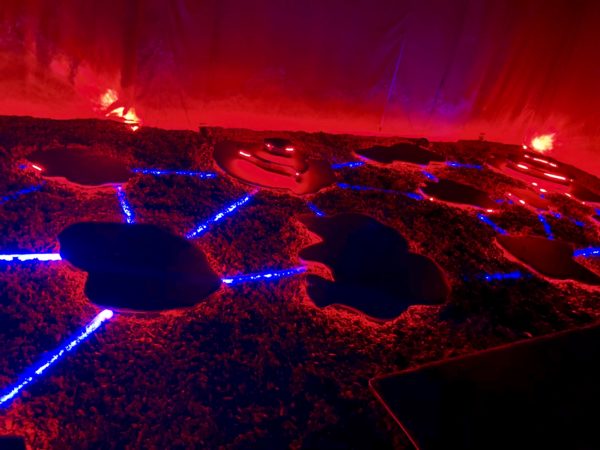 The Floor is Lava exists in a fairly compact rectangular single-room space, though the beauty of its design is that it really can be laid out to accommodate any given venue. Perhaps more than any game we've discussed before it, the scenic really is just background noise. It certainly adds a tone to the overall experience, but it's far less vital than a traditional escape game.
The "lava rocks" are simulated perfectly (and more safely, mind you) with a deep layer of rubber mulch covering the entire floor. Above it floats the "islands," random shaped platforms each of varying size. Some are easy to stand on, while others are, well, easy to fall off of.  A few multi-tiered islands which sink in stages add an extra layer of gameplay challenge.
The room is lit by the fiery glow of combined red spots and flame projections. There's no question that the mood within the space is distinctly volcano-flavored.
An old-timey microphone allows the game master to transform into vintage game show host, calling the action as both a referee and commentator in such a way that they almost become an actor in the timeless story of our epic imagination battle.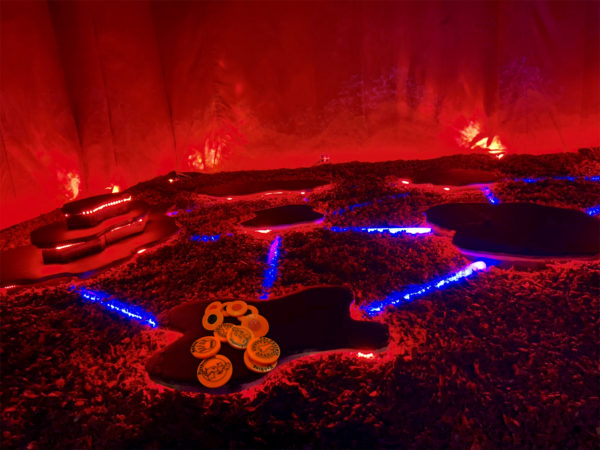 The Floor is Lava is a game of deception and social deduction. Don't expect to find riddles to crack or locks to open; there's none of that here. In a literal sense, you are the puzzles.  At the start of each game, each player will randomly draw a chip which on one side displays their team affiliation (either red or black) and on the other, their specific super power. The objective is simple: cause every member of the opposing team to … no longer be alive. This goal is achieved when any part of their body touches the floor or walls.
So, how do you do it? Simple. You encourage them into the lava.
That's fancy talk for figure out who the enemy is and push them.
Now, of course it goes without saying that excessive force is never allowed – but even with the most gentle of shoves, your opponent is likely to go toppling into the lava thanks to the small, awkward shaped islands beneath their feet.
But it's really not that simple. The Floor is Lava is far more than a game of playground rough-housing. First, you'll need to figure out just who the opposing team even is! There's serious strategy to be had, based on how you move (determined in part by the glowing blue lines between islands) and where you move. Landing on an already inhabited island will require you to share one piece of information – be it your team identity or your ability, so choose wisely. It's also critically important to be discrete in your communications, as giving away your teammates could quickly lead you both to a fiery death.
And then there's the super powers. At the start of the game, each player will randomly receive a unique special ability known only to them – giving them an advantage in specific situations. Let's take a look at some of the abilities that may be presented to you:
CLERIC
You may resurrect one dead player of your choice each round.
CLINGER 
You may deny the passage of any player once they step foot on your island, effectively holding them hostage.
FIREBREATHER 
You have the ability to grant everyone sharing your island the use of one fireball each. 
GUARDIAN
You have the ability to save other players from danger.
INFERNAL ANGEL 
Upon death, you receive two fireballs – one to use yourself and the other given to a player of your choice.
INQUISITOR
You have the ability to force the reveal of a chip.
LIAR
Falsely identify your team affiliation (your chip will show red, but you are actually black – or vice versa.)
MAD KING 
Earn double points for your team at the end of the game.
PHOENIX 
Rise from the dead one time, allowing you to return to the game.
PSYCHIATRIST
Choose a new super power for any one player per round.
SOUL THIEF 
You may steal the chip of a dead player, claiming their super power as your own.
UNCLEAN 
At any time, you may announce "I'm Unclean!" and everyone you touch thereafter will become infected and instantly die.
VINDICTIVE
Upon death, you have the ability to kill one additional player of your choosing.
Each game is made up of three 90 second rounds. One hour long reservation will include multiple games for your team – and trust us, you won't want to stop playing once your allotted time has run out!


The Floor is Lava is such a unique concept for us to present on Escape Authority. Not only is it a very different style of gameplay, but it's one of, if not the only game we've ever shared that not only encourages repeat visits, but almost demands it. Unlike traditional escape rooms where once you know the answers, it's difficult to ever have the same "ah ha!" sense of excitement again, The Floor is Lava is a game where players will inherently become better each time they visit.
There's a certain learning curve to this game, but don't let yourself become frustrated at first; Even we found ourselves asking many questions early on, slightly confused by the game mechanics. But that's not because the rules are difficult; they're just different. And once you become accustomed to the flow, The Floor is Lava will quickly become one of the most addicting games you've played.
The Puzzalarium wisely structured this game in such a way that it can accommodate teams wildly ranging in size from anywhere between seven and a whopping twenty-five people – and thanks to the lack of standard escape room puzzles, this is one of the only attractions where we fully agree that a bigger team can make for an even more enjoyable experience. At the time of our visit, the venue made an exception and slightly restructured things to allow for a smaller-than-average team of five, which became six thanks to one of their staff playing along. (It's not always easy roping together six other people when you're visiting from the other side of the country!)
But where things really became over-the-top-fun was when we started to get more and more comfortable with The Floor is Lava's gameplay mechanics. Later in our hour, we started to tinker with different abilities, bending the traditional standard rules to create a dynamic, entirely customized experience. Each round, we'd trade out what super powers were in play, eventually creating an unholy offering of far more than our small team size should have had access to on paper. We then took things a step further, engaging our game host in the fun by giving them a super power of their own that we invented on the fly: the ability to raise and sink islands at random, without warning, any time they want.
The true key here is that The Floor is Lava is entirely flexible to both your team and just how your team wants to play it – and that's exactly the way it should be. You'll never have the same experience twice – and you'll never be satisfied experiencing it just once. The Floor is Lava is a ridiculous amount of fun, delivering an experience that surpasses the absurd expectations its premise creates. We laughed, we screamed, we went out of our way to burn each other alive.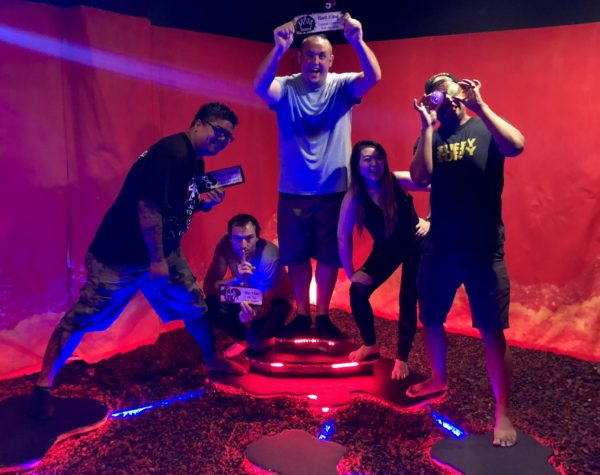 Venue: The Puzzalarium
Location: San Diego, California
Number of Games: 3
GAME SPECIFIC INFORMATION:
Duration: 60 minutes
Capacity: 25 people
Group Type: Private  / You will not be paired with strangers.
Cost: $30 per person (minimum 7 people are required to play)

Escape Authority readers save 15% using code AUTHORITY2BURN
Summary
Reviewer
Review Date
Reviewed Item
The Puzzalarium - The Floor is Lava
Author Rating