RATING: 5 Keys          RESULT: Win          REMAINING: *score based
Are you afraid of the dark? Can you allow yourself to trust your teammate with your survival? Be prepared to put that to the test, in yet another outside the box, incredibly innovate interactive game-based offering from Sinister Pointe!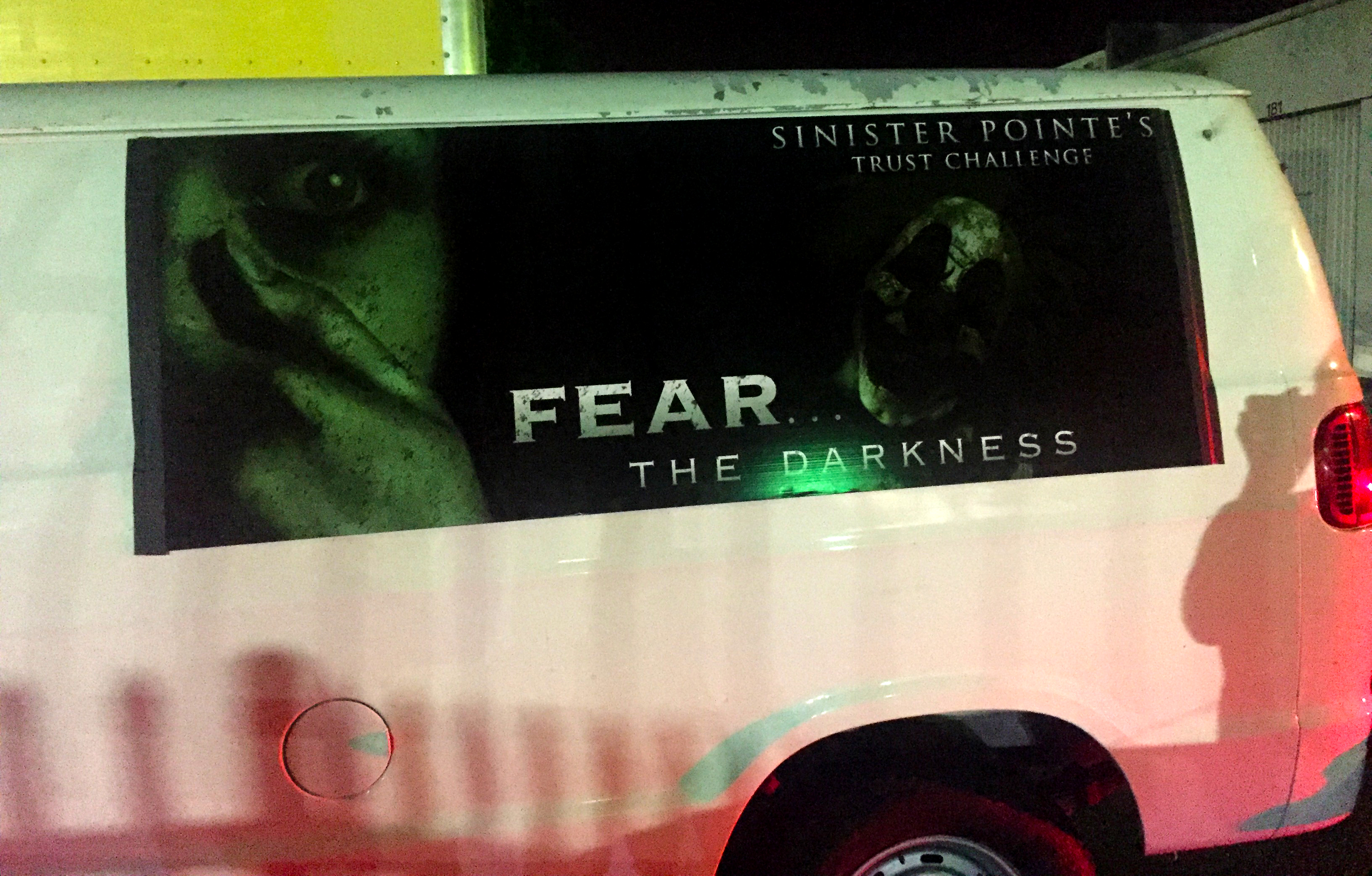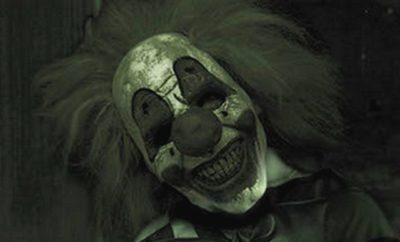 Do you have the courage to stand up to your greatest fears?
That's exactly the question Sinister Pointe posed during the limited run of its interactive FEAR… The Darkness attraction last fall. In this world of nightmares, nothing was as you might expect, and the darkness itself was only the beginning of the terrors that awaited the bravest challengers.
Presented as a "Trust Challenge," FEAR… The Darkness dared teams of two to face their deepest phobias, alone, while also racing against the clock and each other.
Ever hear the phrase, "pick your poison?" Well – that's exactly how it starts. What's more terrifying to you?
Being trapped, alone, in a pitch black circus tent, surrounded by demented clowns?
Hiding, alone, in the shadows of a haunted house, knowing possessed demons are coming for you?
Lost, alone, in the darkness of an unknown place, hunted by bloodthirsty undead zombies?
Whatever form you choose, you're going to have far more than a marshmallow to worry about while you're by yourself in the dark. But then again, you're not by yourself in there at all. 
And though you can't see what haunts you, they can see you.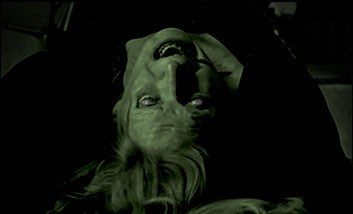 One might expect, given the premise – that the scenic within the space would be non-existent; a series of black walls and nothing more.
One would be wrong.
We were certainly surprised to learn that each room was uniquely themed, even though it's completely in the dark.
Props, decor and even some full set pieces – all shrouded by total darkness added a very tactile and very real layer to this psychological gameplay experience.
Combine that with a custom scored soundtrack and not one but two live actors (that makes two of them against one of you!) and you truly had the recipe for something special here.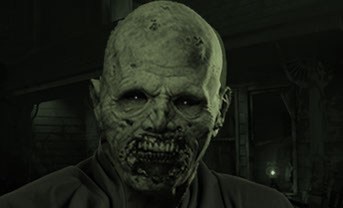 At its core, FEAR… The Darkness was most similar to the discovery phase one might be familiar with in a traditional escape room experience. And though that's certainly where it took its inspiration from, this game-based attraction was anything but traditional.
Though teams entered the attraction together, they were immediately split up. The bravest was placed in the darkness, surrounded by all they fear most, while the other was taken to a control room of sorts to monitor progress.
What was so very innovative here, among many other aspects, was that the player in the game room was essentially blind, leaving the player in the control room to act as their eyes. Communicating via microphones, the control operator gave players instructions on how many steps to take, what direction to turn and where to search for items needed to gain points in this score-based competition.
Unbeknownst to those in the room, the walls were lined with hidden, scrambled words – only visible to the control room's night vision cameras. Once the control operator unscrambled them, they would send their team mate rushing through the darkness to locate those specific objects hidden within the room and retrieve them.
Every aspect of this game was fun on a level few traditional games could ever hope to match.

After having just completed construction of my first home haunt – an evil circus full of sinister clown scareactors, it should be no surprise which "fear" our team selected. Upon entering, there was no doubt we made the right choice. Especially when I was wrist-deep in an actual cream pie digging for hidden coins to earn myself some precious bonus points!
This experience actually had three actors in total – two more traditional haunt "boo-scare" actors lurking in the darkness of the game room and one more interactive character who stayed with you in the control room. Ours – the fine gentleman pictured below with a green mohawk – was absolutely fantastic. He stayed in character perfectly the entire time – erratically switching between cracking jokes and making sinister threats.
And by the way – all the while, he did this as the control operator tried to guide to the player in the pitch black room.
It was extremely distracting,  impossibly frustrating and entirely satisfying.
The attraction itself started with a team briefing, and then was comprised of essentially two rounds – allowing each player eight minutes to experience each role. My teammate elected to start in the control room, which was fine with me as I was more than eager to venture into the darkness to explore on my own. I learned that through a combination of a lower speaker volume level and my teammate having difficulty navigating me, it became a bit more productive for me to just search the room on my own.
Upon switching roles, we were surprised to see there was a completely different room waiting for the second player- themed more to a creepy dollhouse than my haunted circus tent. There's little reason Sinister Pointe needed to build completely different rooms, but the fact that they did shows how much they wanted to go above and beyond with this original concept.
Oh, and remember how I said I had difficulty getting direction from my teammate? As my green-bearded shoulder devil quickly pointed out to me once in the control room, it was my opportunity to get a little revenge.
Sinister Pointe frames FEAR… The Darkness as a "Trust Challenge," and my teammate learned on that night that he put his trust in the wrong partner. Although it is a team-based activity, in the end scoring was solidly every man for himself.
I walked out of the darkness with the highest score for our team, but my teammate did not leave empty handed. He got to hug a lot of monsters. Thanks to my directions, literally.
Sinister Pointe's FEAR… The Darkness was a limited run event only ever intended to operate through the 2015 Halloween Season, and was the second of their game-based boutique haunt experiences we had the chance to visit last year. Both were beyond stellar, and some of the most clever, original, outside the box interactive fun we've ever had in a game of any type. If you find yourself in Southern California any time they happen to be running a limited time game/haunt hybrid, run to it – not from it.
You definitely won't regret it.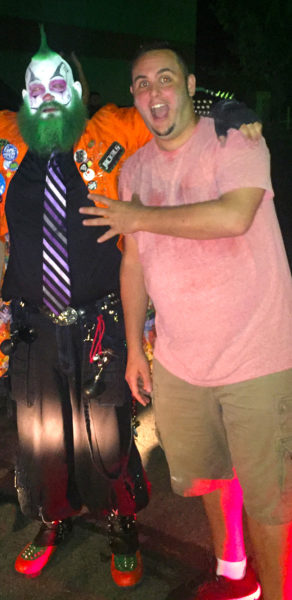 Venue:  Sinister Pointe
Location: Brea, California
Number of Games: 0
GAME SPECIFIC INFORMATION:
Duration: 60 minutes
Capacity: 2 people
Group Type: Private / You will not be paired with strangers.
Cost: This game's limited run has ended.
Summary
Reviewer
Review Date
Reviewed Item
Sinister Pointe - FEAR... The Darkness