RATING: 4 Keys          RESULT: Win          REMAINING: +1:30
Among New York City's more enjoyable games – intuitive puzzles, clever gags and an incredible staff make Mission Escape Games a must visit.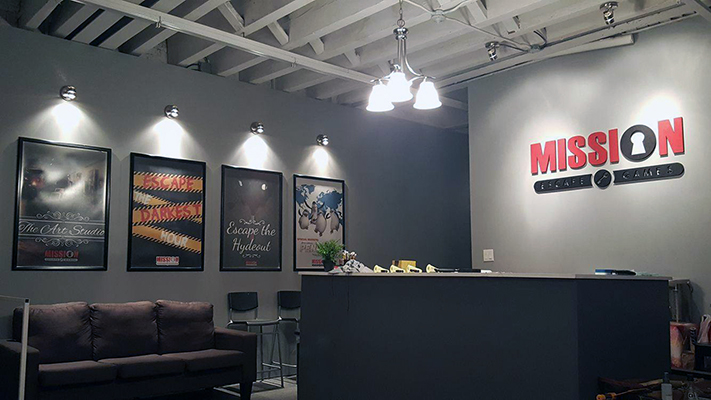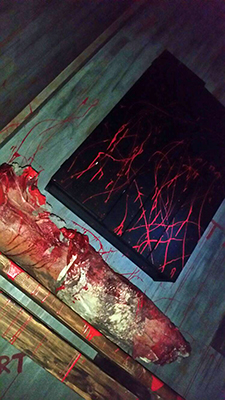 Escape the Darkest Hour Part II: Slaughterhouse is a dramatic horror based game which is, in fact a sequel to one of Mission Escape Game's original rooms.
Formerly set in an insane asylum, you're now hopelessly trying to escape a serial killer in the heart of his run-down slaughterhouse lair.
To enhance the intimacy, this is currently Mission Escape Game's only private room, meaning you are guaranteed to share the thrills with only your closest friends.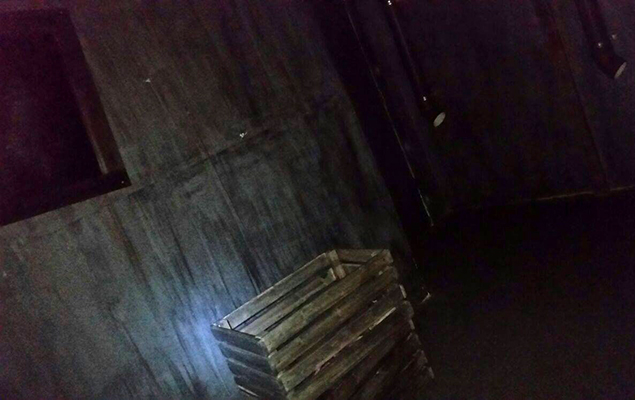 This game maximizes use of the tried and true theatrical phrase "light it with darkness." The scenic is leaps and bounds more compelling and more frightening because the entire game is basically pitch black.
Each guest has their own flashlight to investigate and discover the secrets hidden within the slaughterhouse, but make no mistake – the atmosphere is tense and more than a little unnerving with only a few dim flashlight beams as your guide.
Bloodstained walls, some well placed haunt-style "jump scares" and a host of sound effects really make Escape the Darkest Hour Part II: Slaughterhouse a game that will make the timid second guess their willingness to participate.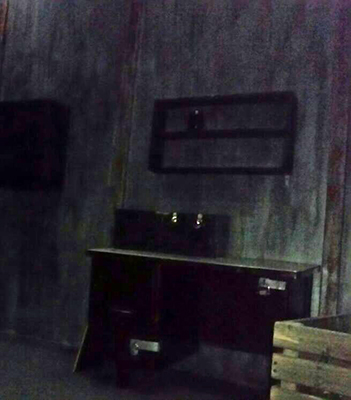 The puzzles throughout this game – like both we played at Mission Escape Games were really quite intuitive, and they fit the story world well.
Inspecting severed body parts for clues and following bloody trails to determine your next step – as gory as it may seem – really is an organic unfolding of a slaughterhouse psychopath storyline.

We were impressed by both rooms we managed to visit at Mission Escape Game – but for us, Escape The Darkest Hour Part II: Slaughterhouse definitely was tops. I love a game where you can immerse yourself into the story world – and this one does a good job of that.
The puzzles and progression were really fun. The steps were logical yet quite challenging, and there were some neat physical effects that really enhanced the overall experience.
The staff (and owners) also deserve recognition – as they were perhaps the friendliest and most welcoming we encountered in all the games we visited around New York City – making Mission Escape Games one of the first I'd recommend to anyone visiting the Big Apple!
Perhaps you'll also notice that our game time was a minute and a half past 60. Turns out four straight 10-12 hour days of non-stop games really takes its toll on the human body; who would have thought, huh? Apparently it was also quite noticeable – and the staff was nice enough to invite us to play each game until we finished, rather than cap it at 60. The sad truth is the only thing that prevented us from being under 60 minutes on our own was reading a few numbered tick marks that would determine our exit code. Single digit numbered tick marks. As in we were so tired by the end of this game that we could not tell if there were 6 lines or 7 lines on a clearly marked wall. To be clear, the game's ending was entirely intuitive; we were so completely punchy that we couldn't even see straight. Huge thanks to the staff for recognizing that without even being prompted and going the extra mile to accommodate us!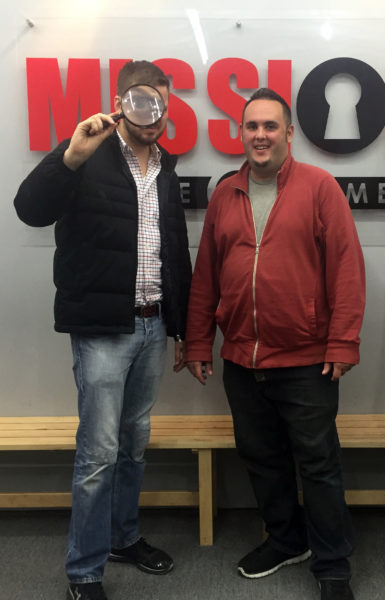 Venue:  Mission Escape Games
Location: New York, New York
Number of Games: 4
GAME SPECIFIC INFORMATION:
Duration: 60 minutes
Capacity: 6 people
Group Type: Private / You  will not be paired with strangers.
Cost: $180 (for up to six players)

Escape Authority readers save 20% Monday thru Friday using code ESCAUTH
*Valid on all games except Escape the Darkest Hour Part II: Slaughterhouse
Summary
Reviewer
Review Date
Reviewed Item
Mission Escape Games - Escape the Darkest Hour Part II: Slaughterhouse
Author Rating