RATING: 5 Keys          RESULT: Win          REMAINING: 6:52
Like something you'd expect to find in Wonderland, a 10.5″ x 8.5″ x 2″ box hides an entire escape room ready to play in the comfort of your own home!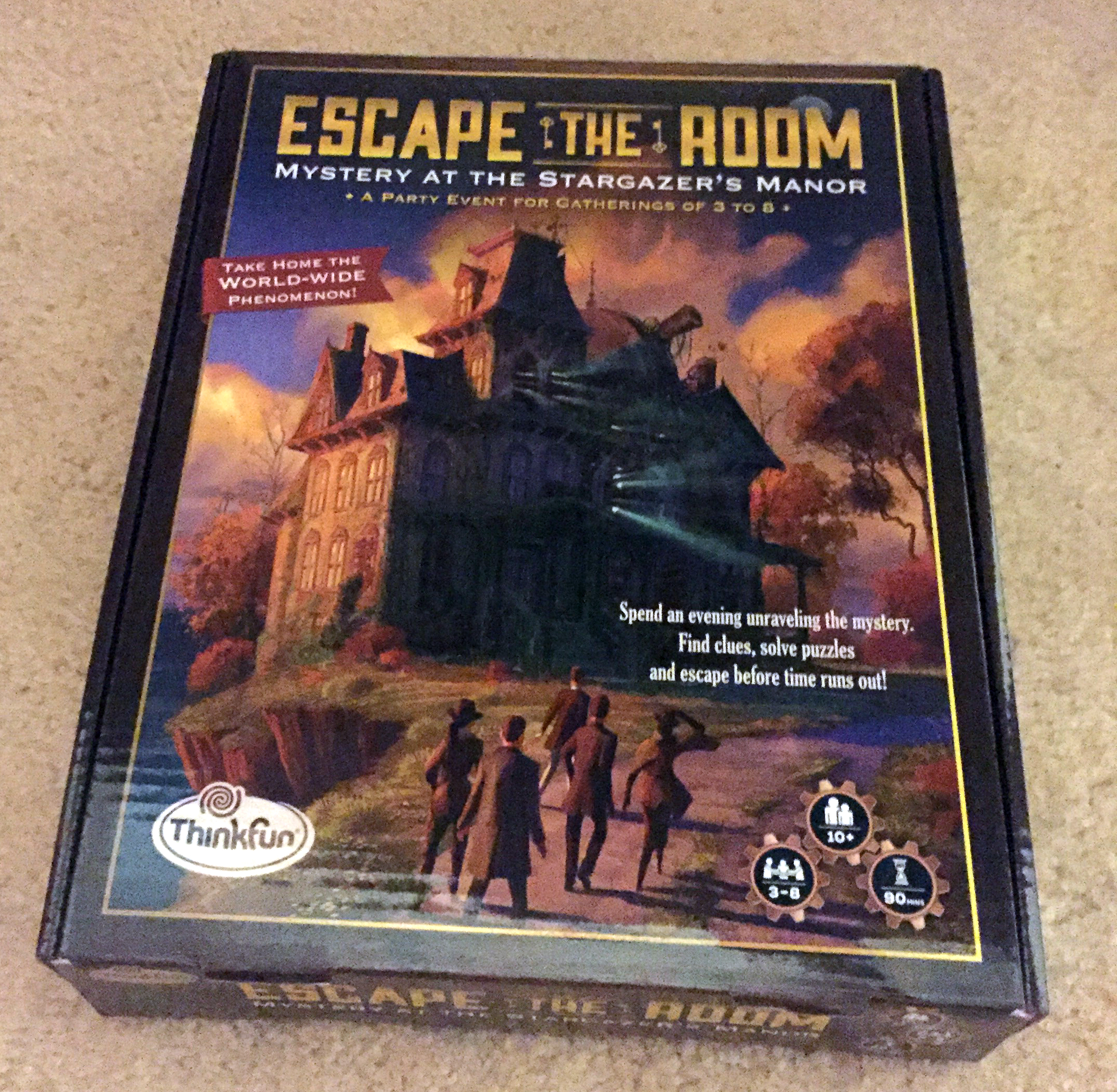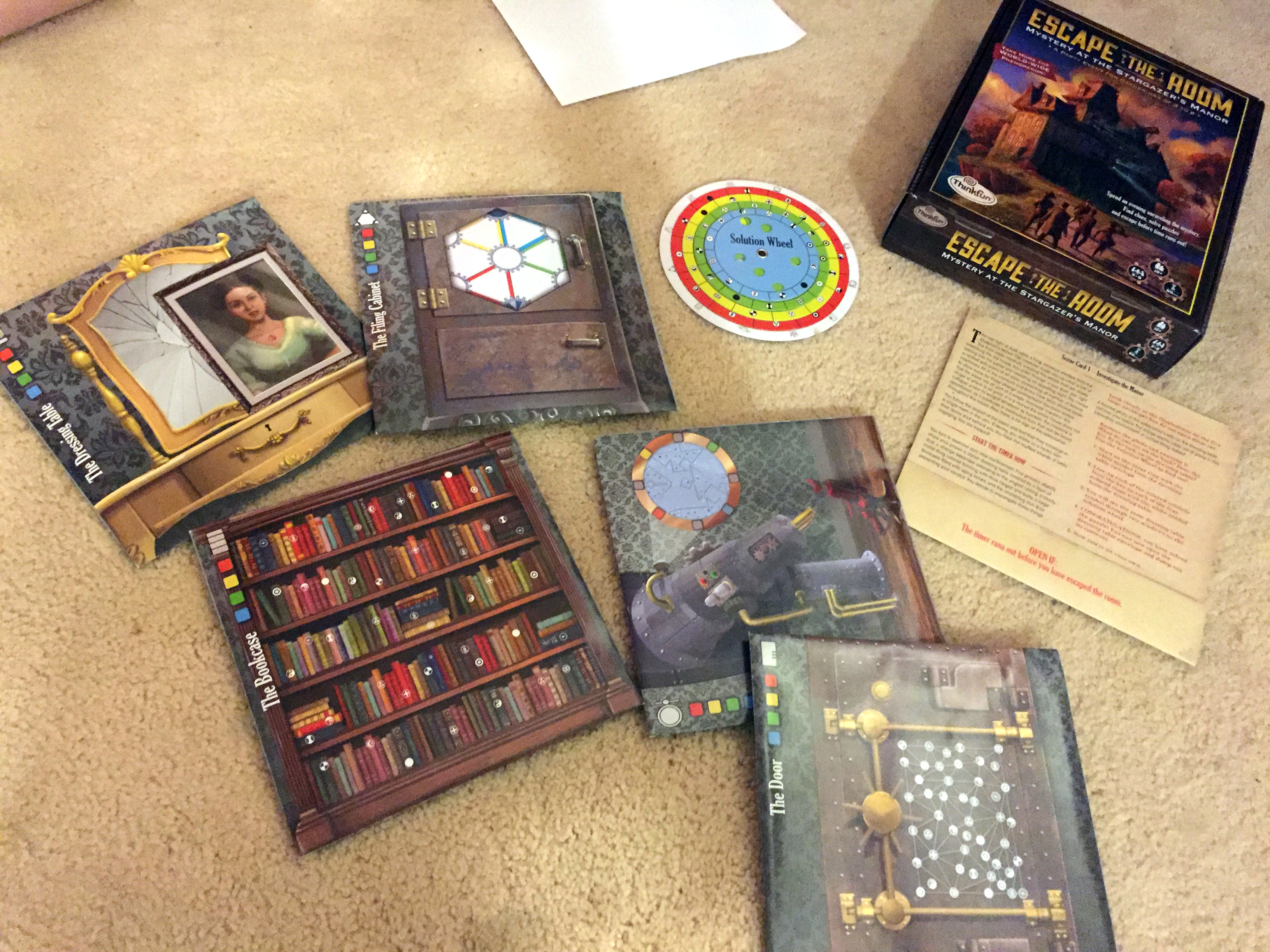 As if cramming an entire escape room into a little box wasn't ambitious enough, ThinkFun aims high by making it more story driven than many physical rooms you'll find out there. Like a good book, Mystery at the Stargazer's Manor is a world easy to get lost within.
It's 1869 and the town's well-respected astronomer has not been seen since the untimely passing of his wife. Recently, strange things have been happening at his manor – loud and unfamiliar noises, an unpleasant smell, and smoke billowing from the observatory. It's up to you and your guests to solve the mystery at the Stargazer's Manor!
This story unfolds with each "room" you unlock – as more and more story documents – some that drive the game further and others that really just enhance the level of immersion become available to you.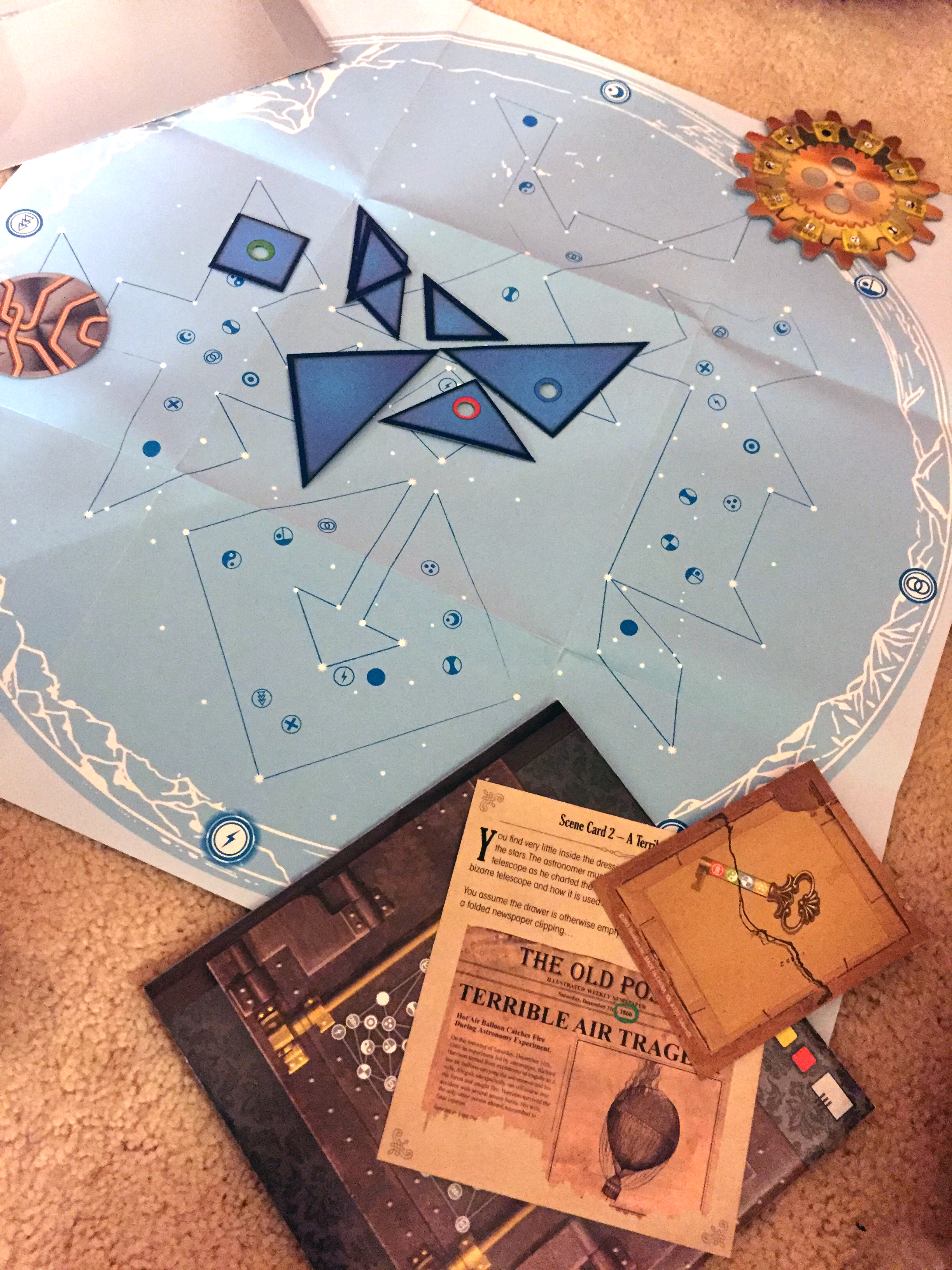 "Scenic," in this case takes on a whole different meaning. Obviously without any physical sets, we need to look at things purely from a graphic design perspective – something that happens to be one of my professional strengths.
I'm the type of guy that will judge a business by the font used in their logo. Graphics are something I take seriously, because I've been paid for quite some time to take them seriously. ThinkFun did a fantastic job of putting together a quality-looking product that is very visually appealing.
The content in the box – all the pages, envelopes, puzzle pieces, etc, are thick and solid. They don't feel like cheap pieces of paper. Glossy graphics make things truly pop.
The only issue we found quickly was the "rooms" – sealed envelopes that are taped shut, can tear easily when opening them. We solved this immediately by simply grabbing a scissors and cutting open each with care, beginning with the second "room."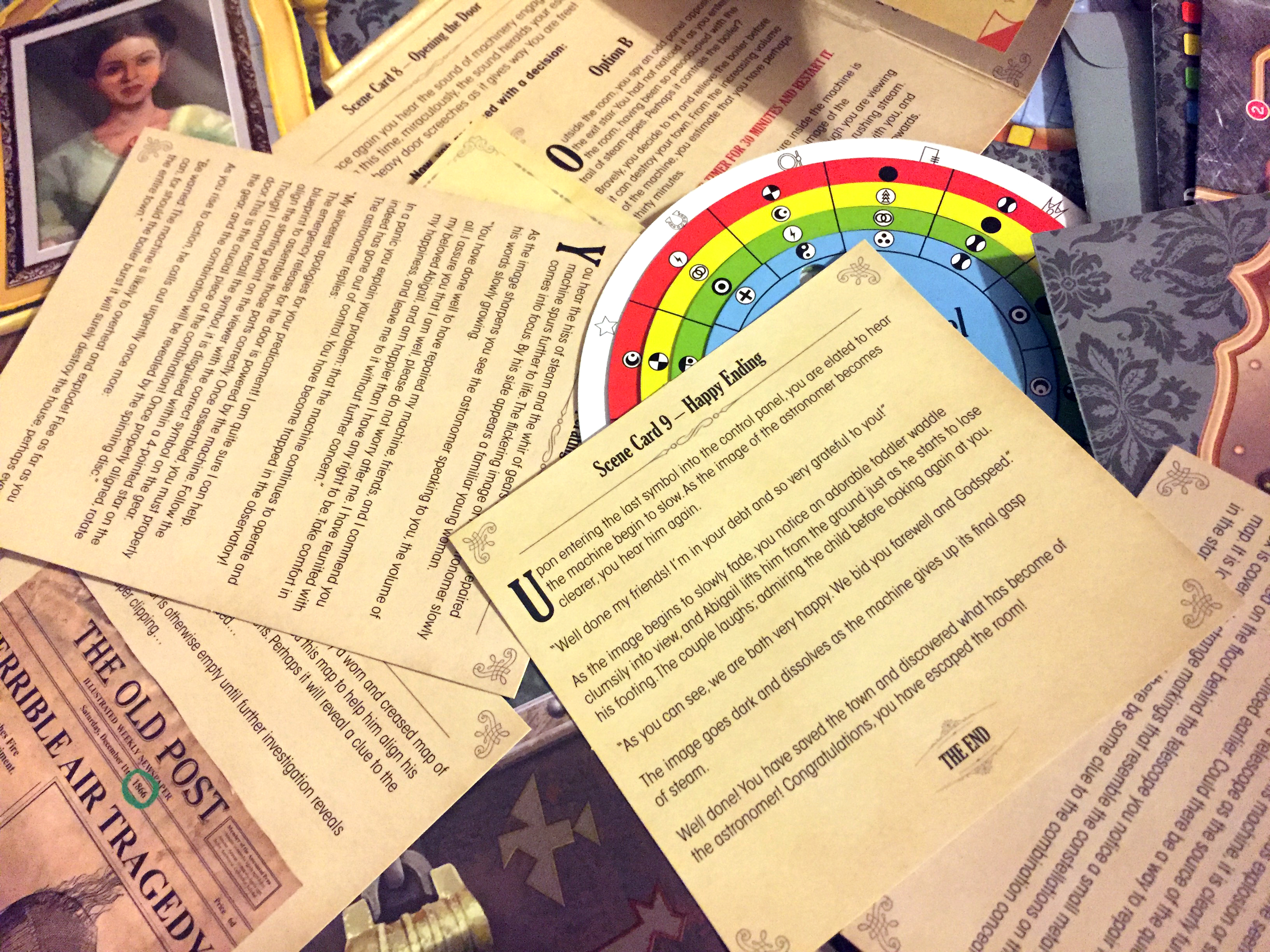 Mystery at the Stargazer's Manor is a classic-style escape room full of combination locks – but instead of padlocks themselves, everything is solved through a solution wheel. The outside white ring corresponds to the room you're attempting to unlock. The subsequent red, yellow, green and blue wheels are the four respective dials on your virtual padlock. If the symbol of the room displays correctly two times in the center of the solution wheel, you have unlocked that door and are free to open the envelope.
Like a real game, each "room" lead us to more story discoveries, as well as more puzzles. Some puzzles could be solved as soon as we entered the "room;" others required us to backtrack to previous "rooms" to connect them to something we'd seen before.
Most of the experience is solving for codes, but there is actually some discovery involved along the way, which we were both surprised and happy to find.

We'd been looking forward to giving ThinkFun's Escape The Room home game a try for a while, but as is often the case in life – finding free time at home isn't always the easiest thing to do. We'd heard good things about this game from users on the Escape Authority forum, which made it a must try for us, and something we knew would be beneficial to review.
The game itself is structured in layers, where you can essentially take as long as you'd like depending on the difficulty level your team is up for. ThinkFun recommends 3-5 players take a 2 hour total time limit (90 minutes for the main game and 30 minutes for the bonus puzzle) and 1.5 hours total time limit for 6-8 players (60 minutes for the main game and 30 minutes for the bonus puzzle.) We elected to play "like a real escape room," giving ourselves 60 minutes to complete everything, all in. Our group of four (myself, Jeff, Sarah and Montu The Dog) successfully completed the game, including bonus puzzle with 6:52 remaining on the clock from our original one hour (meaning technically by ThinkFun's instructions, we would have actually had 36:52 left.)
On the subject of time limits, it should be noted that this game does not include a timer – so be sure to have a clock or iPhone handy to track your game play.
Though the box advertises up to eight players, we all felt that any more than four would likely be too many chefs in the kitchen. Montu stressed that there most certainly should not be more than one dog on your team.
I'll be honest – sitting down on the floor to play, my expectation was that it will likely be a fun board game, but not feel anything like a "real" escape room. Boy was I wrong – and I couldn't be happier to admit that! Every second of this experience flowed like a actual, physical escape room game. This is the real thing – and ThinkFun figured out how to deliver it perfectly.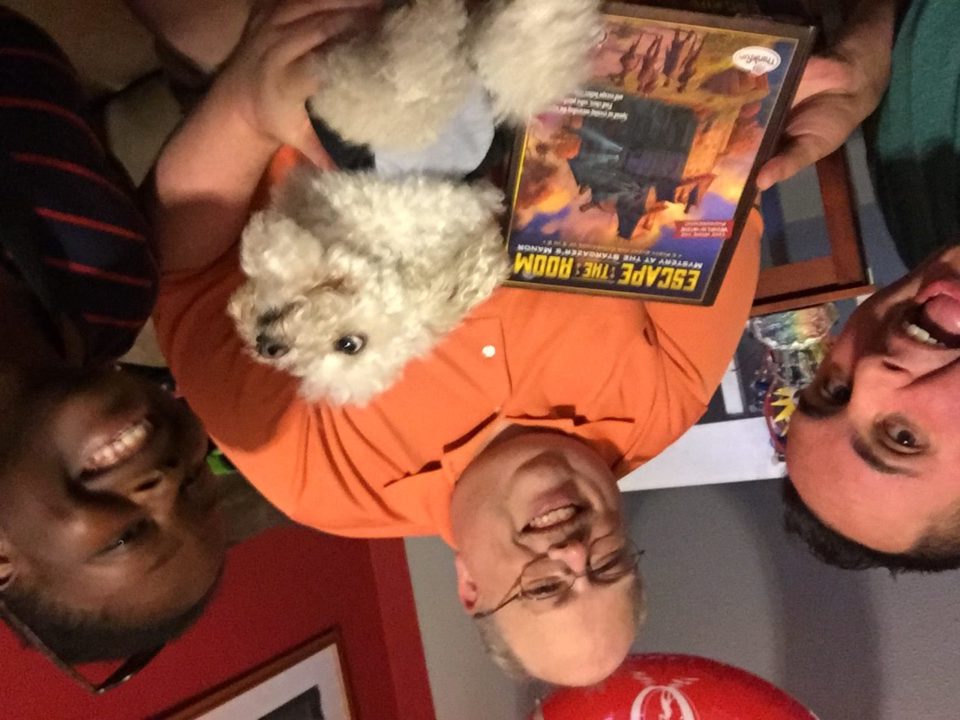 Venue:  ThinkFun Games – Escape The Room
Location: At Home Game
Number of Games: 2 (available, each sold separately)
GAME SPECIFIC INFORMATION:
Duration: 90 – 120 minutes
Capacity: 8 people
Group Type: Private / You will not be paired with strangers (but if you are, call 911 immediately to report a home invasion.)
Cost: $21.99 (Amazon.com)
Summary
Reviewer
Review Date
Reviewed Item
ThinkFun Escape The Room - Mystery at the Stargazer's Manor
Author Rating