RATING: 6 Keys          RESULT: Win          REMAINING: 11:00
The consistent benchmark for scenic and story-telling in an interactive game-based attraction, 5 Wits goes above and beyond to deliver us a world of fantasy that literally jumps straight off the pages of a fable to grab us and pull us right back in with it.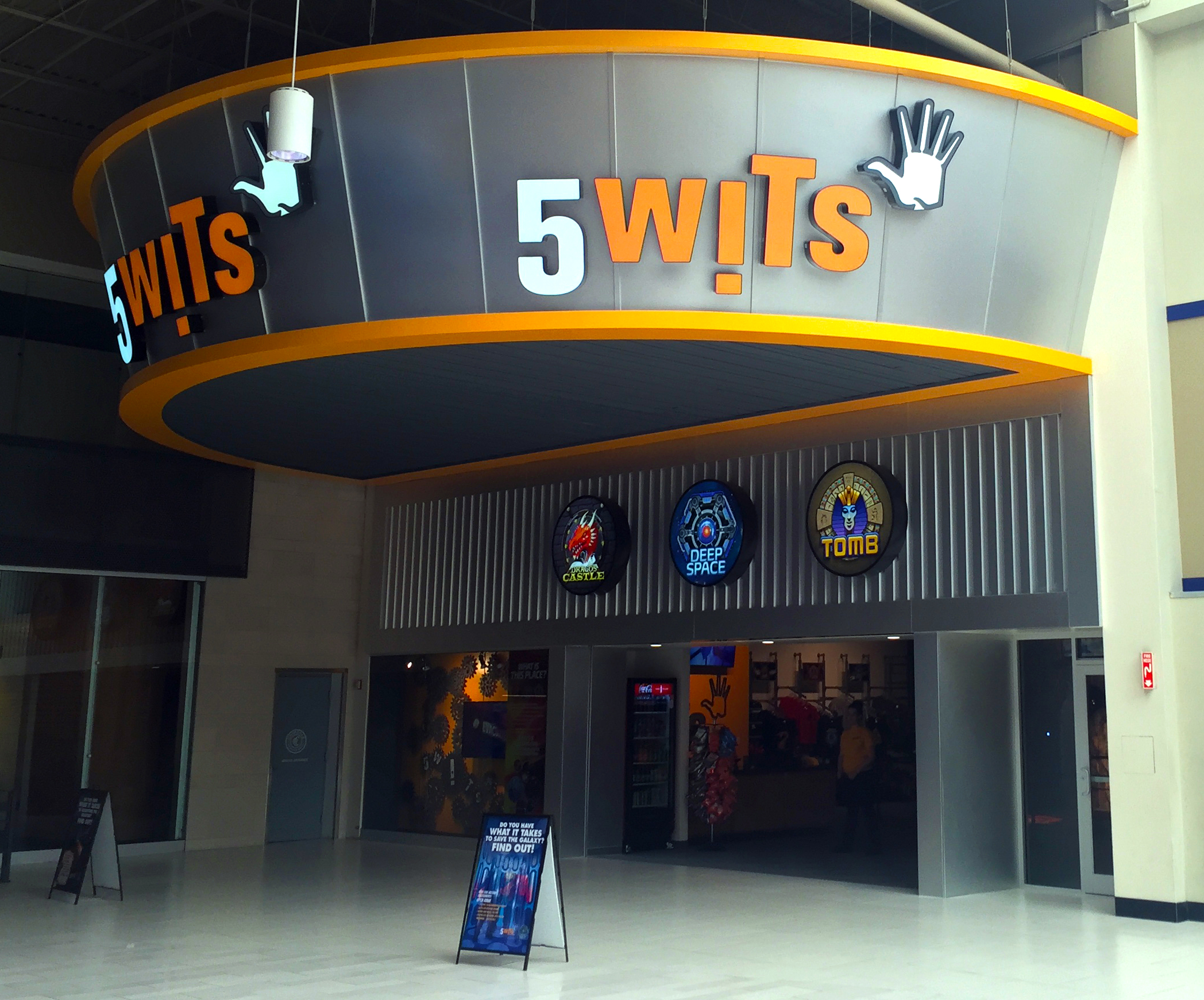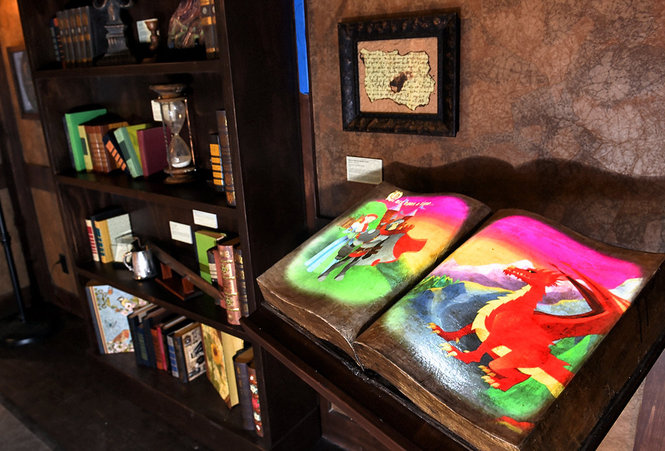 As a company, 5 Wits perhaps has the strongest understanding of the importance of story you'll find anywhere within the Escape Room industry. In every single one of their adventures, story is key – and you, the player, are the most important character. Nothing is ever a passive experience. It's hands on all the way, and typically chalk full of surprises.
Drago's Castle is quite possibly their best of the best.
This game uses the most brilliant pre-show presentation I've ever seen to set up its backstory. We've found our way into a magical castle, but in doing so, allowed the dragon trapped within to escape. It's now our job to help the princess to recapture him.
It's up to us to find a way to escape the dungeon, solve ancient riddles, discover secret passageways and chase down the giant dragon! Otherwise, there may not be a storybook ending…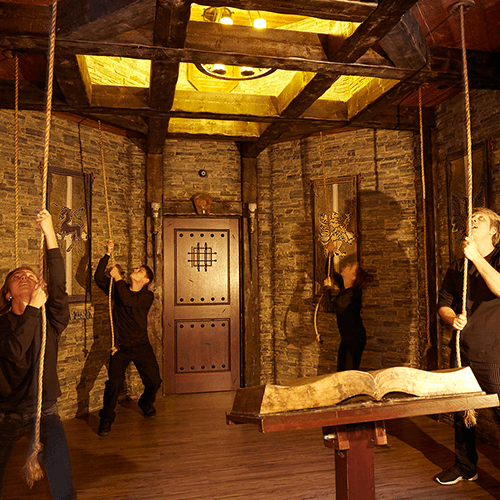 If you've read any of our other 5 Wits game reviews, you know that as a player, you probably should walk in with lofty expectations for the quality of scenic one can expect to encounter within.
You won't be disappointed.
Drago's Castle feels both authentic and magical. Stone work walls accented by thick wooden beams easily transport players into a medieval world, while theatrical show lighting, sound effects and a custom score take it to an enchanting other level.
Incredibly themed secret passages lead to what is without a doubt the coolest ending of any escape room I've ever seen – an encounter with a massive animatronic dragon!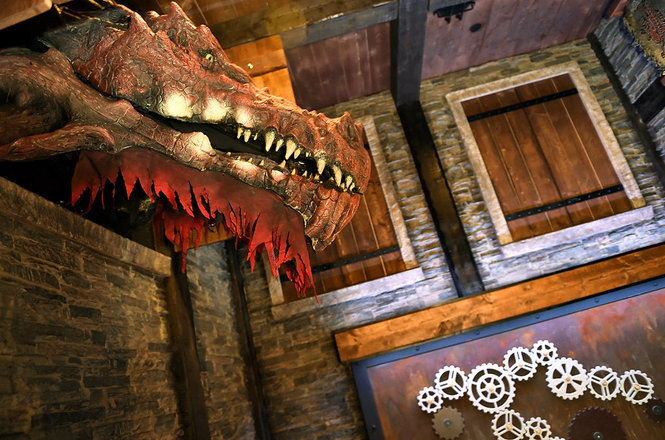 Every single puzzle connects one way or another to the story world, making Drago's castle a true standard bearer for everything an escape room should want to be.  Here, unlike 5 Wits' larger venues that utilize live actors, players are guided by audio and in some cases projection effects used as a means of gaining communication with the princess of the realm.
The puzzles in this game do trend toward the easier side of the spectrum – which is a good thing by design. 5 Wits prides themselves on being very family-friendly attractions – and I can tell you speaking for our experienced group of adults that we had an absolute blast just the same as a family with younger adventurers would. They really do manage to find a fantastic balance.
There wasn't a puzzle I didn't enjoy – though without a doubt my favorites were in the finale room. Here you'll find a few really clever gags that build to the story's climax – even with a few unexpected surprises.


I just don't think I'd be able to say enough positive things about Drago's Castle. My fourth 5 Wits-designed experience, Drago's Castle was my first of their smaller scale games that don't include live actors. I wasn't certain how this would work, and actually expected it to not live up quite as much to the "full experiences" offered in Foxborough and Pigeon Forge (though not internally owned.)
My expectations could not have been more wrong.
It's difficult to decide which my favorite 5 Wits adventure is – as they're all without a doubt 5 Key experiences, but Drago's Castle takes things to an even higher level and may very well be the best.  One thing is for certain – it absolutely has the best ending sequence you'll find in an escape room.
5 Wits is the perfect choice for anyone interested in experiencing their first escape room-style attraction, for experienced fans as well as those who are just fans of high quality, Disney-level adventures. The ideal mix of story, scenic and puzzles make anything 5 Wits produces instantly among the best of the best.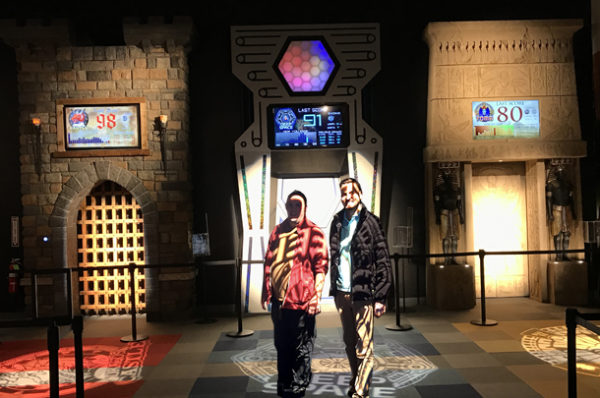 Venue:  5 Wits West Nyack
Location: West Nyack, New York
Number of Games: 3
GAME SPECIFIC INFORMATION:
Duration: 35 minutes
Capacity: 12 people
Group Type: Public  / You may be paired with strangers.
Cost: $19.99 per person ($25.99 per person for two show combo ticket)
Summary
Reviewer
Review Date
Reviewed Item
Author Rating