RATING: 1 Keys          RESULT: Win          REMAINING: 55:15
Gluttons for punishment, we hesitantly return to one of Orlando's worst venues to see how much they've improved. Spoiler alert: none.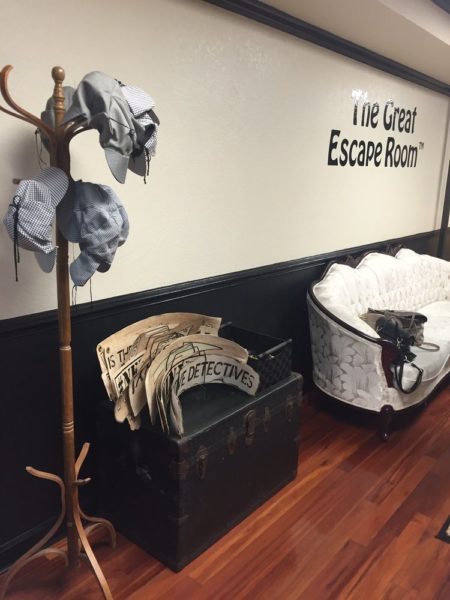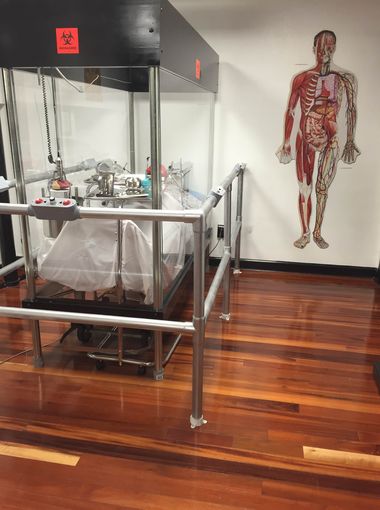 Dr. Watson and his team of elite cardiac surgeons have been locked out of the operating room. Now, it is up to you to perform the heart surgery before the patient expires!
Taking a break from his day job of being loyal sidekick and confidant to Sherlock Holmes, Dr. Watson returns to his roots as a surgeon in a tiny one room hospital in downtown Orlando.  But as we learn in the impossibly awkward preshow audio, he's unable to make it to the operating room in time, leaving him to make the only rational choice he can: ask untrained amateurs to perform open heart surgery.
As awkward as the premise is standing on its own, nothing is more out of place than seeing the game master plug in a portable speaker to an iPod and press play to initiate it. Literally. For this whole set up to work at all, it really has to be implemented as a permanent piece of the room itself – perhaps a vintage looking hospital intercom system on the wall.
But honestly, when has The Great Escape Room ever truly worried themselves with creating an immersive, story-driven experience?

Comparatively speaking by standards The Great Escape Room has previously exhibited, this room is a thematic paradise. Relatively. Standing on its own, the empty room is still of rather embarrassingly low quality production values.
Still with nearly no decor to speak of, a few anatomy posters, a handful of medical books and some "doctor-like objects" sit on the shelves. If this were anywhere else, we'd really point out how low rent it feels.
But for this place, who has clearly never tried before, we'll pat you on the head and say "Wow, look how good you did!" as one would do to a crudely scribbled blob of crayon drawn by a young child before hanging it on the refrigerator.
The Great Escape Room takes the concept of "puzzle for puzzles sake" to a whole new low, often times dumbing them down to the point of using kids toys as parts of a game not at all tied to a children's theme. In Dr. Watson's Infirmary, one such nonsense puzzle featured a collection of Hot Wheels cars. I don't think I even need to point out how this makes no sense in a hospital operating room. For quite literally the first time ever, The Great Room Escape tries to justify its story by hanging a "staff parking" sign above the puzzle – so as to imply, I suppose, that the hospital's parking lot is located inside the operating room, and in miniature? To make matters worse, at its core, the puzzle itself was full of some pretty huge logic leaps that were impossible for us to accept once explained by the game master.
Another puzzle centered around a "casino night" themed hospital fundraiser – so again, I give them credit for finally at least making an effort to connect a cohesive theme, even if it results in a rather poor execution. This one was muddled by misleading clues, printed twice in error (I'd like to assume?) giving players an entirely different objective to work towards as a result. The bigger point of contention is the lengthy math conversion step that was not an intuitive connection I would have comfortably made.
And don't even get me started on lengthy mathematical equations used as quote "puzzles" in games. Between the several different math equations you're forced through at different times in this game, Dr. Watson's Infirmary enters a territory that feels far more like homework than a fun evening out – and no one wants to pay $30 to do homework.
The game culminates in the actual heart surgery itself – and here's the surprise of the day – this was a fun tech-based gag the likes of which I've not seen in a game elsewhere. Frankly, this should be the new standard for The Great Escape Room moving forward. It's a highly interactive, physical, memorable moment that connects directly to the story while prompting major communication skills and teamwork. Simply put, this one lone puzzle moment was the only reason Dr. Watson's Infirmary received a 1 Key rating rather than joining Professor Moriarty's Gameroom in 0 Town, USA.

If all the games at The Great Escape Room managed to have four or five innovative, custom built gags like the finale of this one did – between low tech steps and logic puzzles, it would truly bring the entire presentation to a whole new level, though unfortunately this is the only shining star in their current repertoire. Using the machine was fun – evoking the spirit of a classic old school arcade game. For me, the puzzle being fun is equally as important to the fact that it makes 100% total story sense in the world that this game exists in. Well done there.
Unfortunately the rest of this game really was the typical negatives we'd come to expect from the brand, and as such it's almost of no use to further harp on those fundamental gameplay flaws.
The flow of this game is greatly hindered by the room's lack of a time clock. Having the time solely on the game master's cell phone feels cheap and unprofessional – as well as kills some of the game's excitement – what little it manages to have. Who doesn't love to glance back at the clock every ten seconds towards the end to see how much you have left, and feel the intensity and pressure build? That's lost in the Infirmary. It also creates / encourages a bigger problem I witnessed–
There were quite a number of times during our experience that our game master was on her phone, either reading / responding to emails or texts messages. That's impossibly unprofessional. What resulted, for us, was more than one occasion where we literally had to catch the employee up to speed on what puzzles we'd already completed any time we needed a hint, even though she was physically in the room with us the entire time.
The real problem here is that having the operator run the game time OFF their phone promotes them to continuously look at their phone, which in turn encourages and enables them to text / email / Facebook / internet / etc while they're on it. It's human nature. We're all obsessed with our phones. None of us wants to be parted from our phones – but I can tell you in a professional environment, you should never be pulling it out and even worse using it to text or email in front of a paying guest.
At the end of the day, Dr. Watson's Infirmary represents a baby step in the right direction for The Great Escape Room – but a very small one that isn't enough to make visiting worth your money or time. And while this game is clearly improved over Professor Moriarty's Gameroom, it's not nearly enough to be viable competition with the rest of Orlando's games. I believe they are trying, and I know they have some big plans moving forward. I truly hope they can up their "game" with their next rooms, but it will take a whole lot to ever get me back to see them.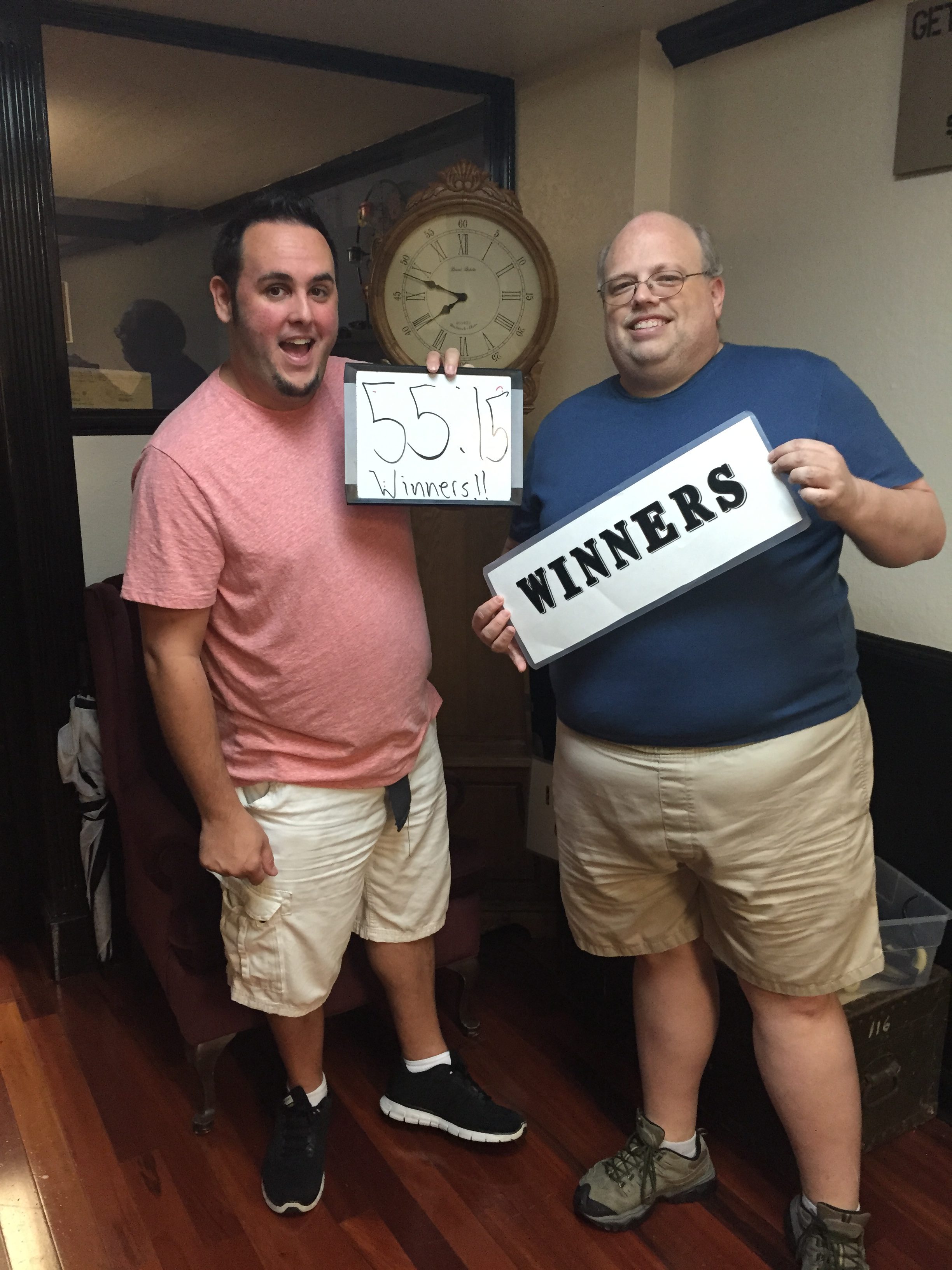 Venue:  The Great Escape Room
Location: Orlando, Florida
Number of Games: 3
GAME SPECIFIC INFORMATION:
Duration: 60 minutes
Capacity: 10 people
Group Type: Public / You may be paired with strangers.
Cost: $23+ per person (prices vary between weekdays and weekends)
Summary
Reviewer
Review Date
Reviewed Item
The Great Escape Room - Dr. Watson's Infirmary
Author Rating