RATING: 4 Keys          RESULT: Win          REMAINING: 5:06
While it's not the first old west room we've visited and won't be the last, this one is as good as gold, so mosey on down!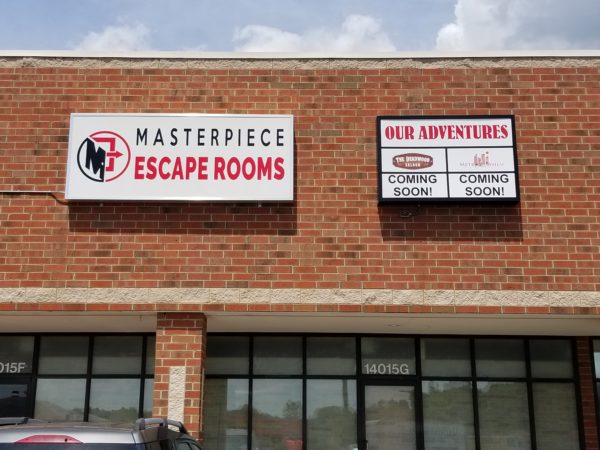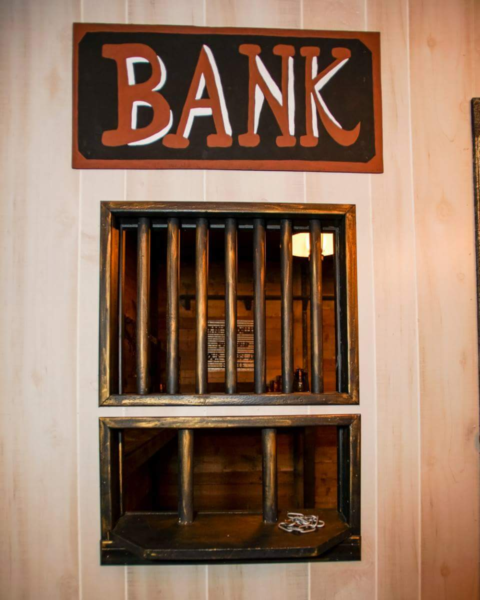 Back in the 1800's my uncle Cyrus was known to have mined a bunch of gold. However, he disappeared one day, and he or his gold was never seen again since. He was known to frequent the Deadwood Saloon and we have just gained access. But, the building is about to be torn down. Can you discover where he hid his fortune in time?
Good ole' Uncle Cyrus! Always telling us nieces and nephews tall tales about how he racked up all kinds of nuggets while prospecting for gold. Given that he disappeared long ago and we're just now waiting until the saloon is being torn down before looking for that dadgum gold, I'd say we are either really old by now or just really patient. Either way, it sure would be a shame to let all that gold fall into the wrong hands or be lost forever under a pile of rubble. We must hightail it in there and recover what's rightfully ours before we miss our chance and are forced to rely on our own meager life savings to survive in our old age … but, we'd rather have that pile of gold!
Masterpiece Escapes successfully interweaves this Old West story with all the elements throughout the entire experience in Deadwood Saloon. While not overly complex, the backstory stays closely woven within the elements along your journey from start to finish, making it an enjoyable western adventure for cowboys and cowgirls alike.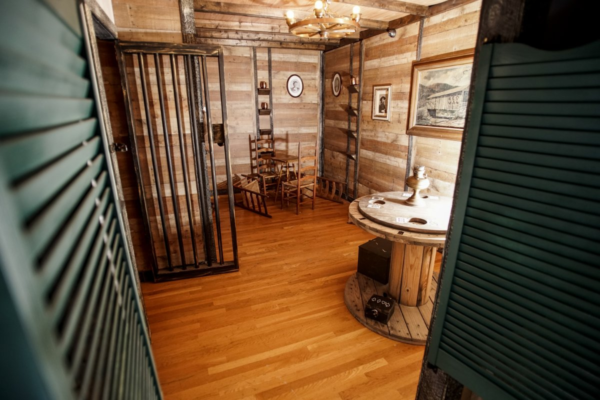 If you're going to play a western-themed escape room, it's always great when you can enter it the good, old-fashioned, authentic way; Stepping inside the Deadwood Saloon with the doors swinging behind us made us feel like the town sheriff, right before busting up the gang of outlaws – or, maybe we were the outlaws that were about to bring some real trouble to this one-horse town. Either way, we felt the part and immediately liked what we saw.
Before we went into the room, by the way, there was a little bit of actor engagement helping to set the tone and get the immersive quality of the adventure started. That saturation continued throughout the multi-chambered experience as well.
Looking around, we couldn't help but ask ourselves: They're tearing this building down? What fer? This saloon is too nice to tear down. The setting was decked out to the nines in fresh wood, Old West props, a rustic saloon bar, and a snazzy little card table made from a large wooden spool. Portraits of people from days gone by beg fascination about the mysterious lives of their subjects, and an oil lantern stands ready for use as a light source come nightfall. An iron fortress of a bank teller window awaits its next dust-covered customer fresh from the saddle. Hand-painted signs typical of the era add a little charm to the room, while liquor bottles and tin drinking mugs remind us of the purpose of the establishment.
Above our heads, a rustic, wagon wheel chandelier rounds out the western scheme. All in all, Deadwood Saloon is a nice example of successful scenic execution, and it was right on par with what we were expecting to see.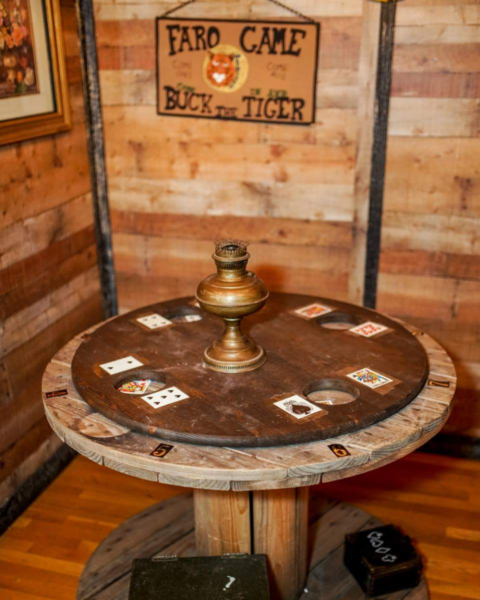 Many of the rustic elements seen in Deadwood Saloon's setting meld into the challenges and puzzles in some fashion along the way, as well as a few that are not seen at all. An incredibly well-hidden, secret passage awaits players when they solve a task correctly, so much that it surprised even us, who can spot one about a mile away. Before we proceed to the secret chamber, though, we must – of course – raid the bar and see what challenges must be solved from the non-alcoholic wonders it holds.
Just like in the comics, we needed to fish for some out-of-reach items that were tucked away safely in the bank vault. Another fun challenge involving some rope definitely required us to work together and communicate effectively to succeed. We also had to assess the saloon's last game of cards left right where they were played out.
Once we made our way inside the vault, we encountered a mysterious old-timer that had long since passed away. His skeleton did come in handy for us, though … may he rest in peace. A final and fun element of play that was introduced in this area was having to activate cartoonish explosives with a TNT plunger detonator – certainly fitting for the relatives of a prospector.


Deadwood Saloon is a family-friendly adventure, chock full of entertainment and a few surprises. Its home is a standard office space facility, which when you walk through the door is deceivingly underwhelming. At the time we played, the lobby was still under construction and honestly, was a huge mess. Previously, the venue was a haven for gamers, so the seamless move to becoming an escape room venue made perfect sense. However, the location had to undergo a major overhaul and there was much work left to be done at the time of our visit.
Given this first impression, we were a little worried, for lack of a better word, of what offerings could possibly await us at Masterpiece Escapes, but were very pleased and pleasantly surprised when we walked through those swinging doors and saw that the venue had not pulled out any stops where the rooms were concerned. We played all the rooms that were open at the time and enjoyed them all. They each contained a creative twist that appealed to the gamers in us.
Flash forward to the present: the renovations to the lobby and venue have since been completed and things outside the rooms are looking as good as they do inside. We enjoyed talking to the owner about his future plans at the time, and found he had a real passion for bringing quality entertainment to families. Judging from our experience in the Deadwood Saloon and the other rooms we played there, we definitely look forward to visiting Masterpiece Escapes again.


Venue:   Masterpiece Escapes
 Location:  Indian Trail, NC
Number of Games:  4
GAME SPECIFIC INFORMATION:
Duration: 60 minutes
Capacity: 8 people
Group Type: Public / You may be paired with strangers.
Cost:   $25.00 per person.
Summary
Reviewer
Review Date
Reviewed Item
Masterpiece Escapes - Deadwood Saloon
Author Rating