RATING: 5 Keys          RESULT: Win          REMAINING: 14:39
A creepy old hotel in the heart of Hollywood's tourist district, full of rooms which each hide their own dark secrets – and each of them a uniquely themed escape game aiming to raise the bar for what a theatrical, immersive story-driven experience can be. Can I please arrange an early check-in?!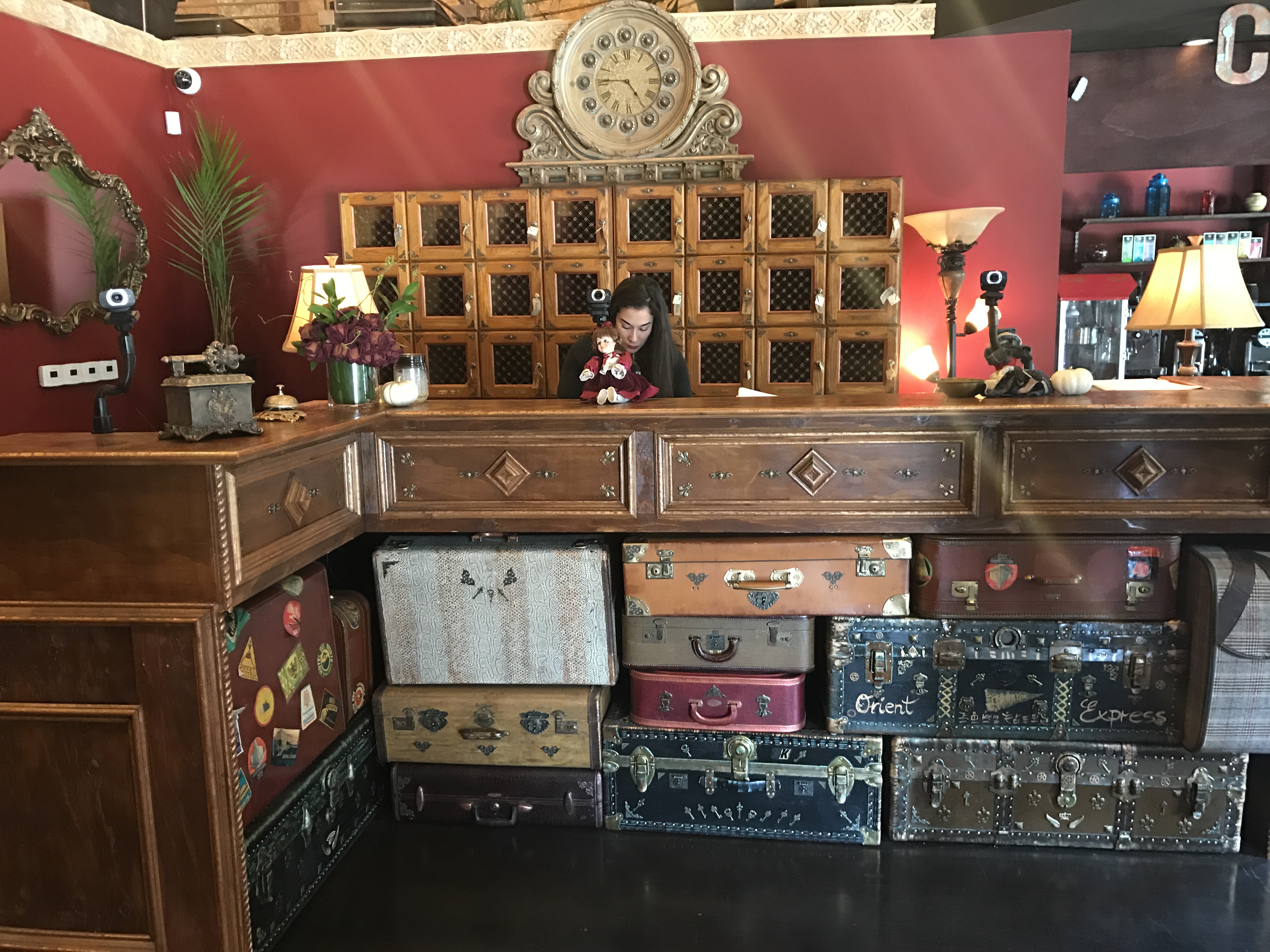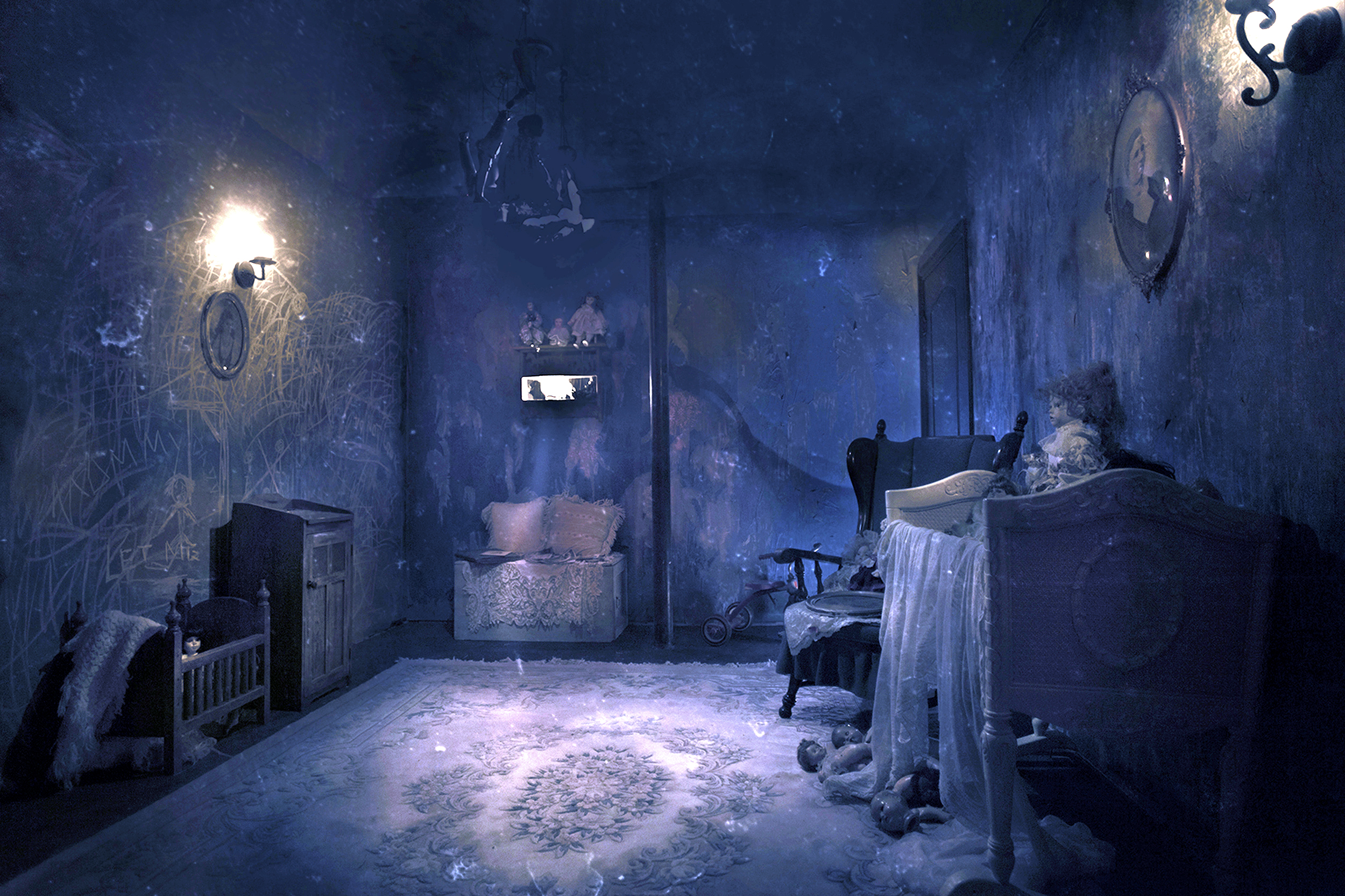 Unfortunately, all the darling little girls we previously accommodated in this daycare have either disappeared or are dead. Since 1919, when this facility was abruptly shut down, we have been trying to reveal the truth behind their mysterious deaths and disappearances.
Unluckily, all our efforts have been unsuccessful. And now, sadly for you, you are locked up inside this very same room. If in 60 minutes, you have not been able to solve the mystery and stop the curse, your destiny will be no different than of those little girls who used to live here, or of the guests that were here before you.
Story is the cornerstone to a compelling immersive experience – a fact that Escape Hotel clearly understands and embraces. Daycare weaves an unsettling tale that's easy to get lost in, and in doing so creates a type of tension that will make even the bravest of your group a bit uneasy to be left alone.
This is one of the more unique game themes we've come across in quite some time – and let's be honest, there's just very few things more creepy than ghost children!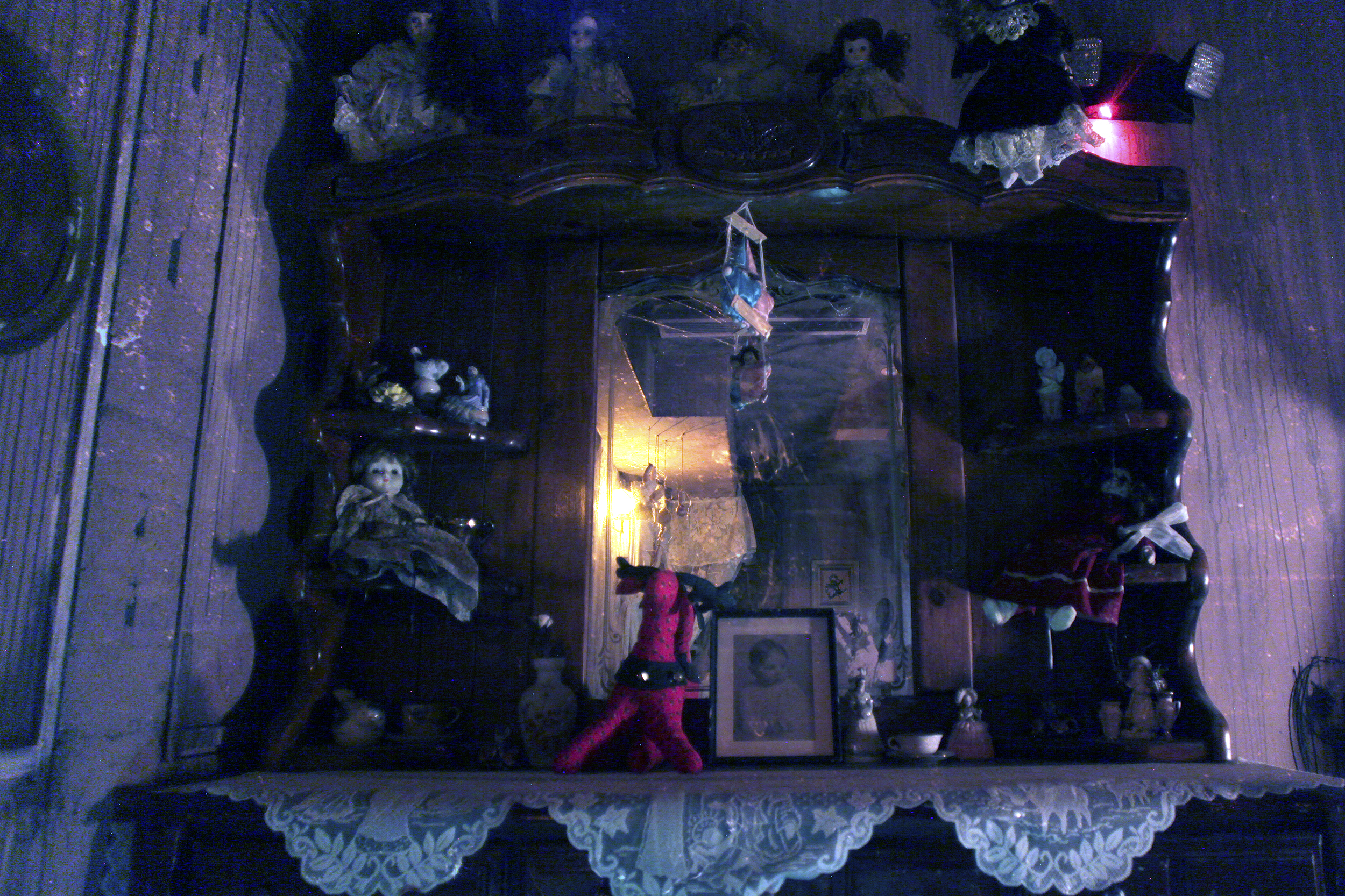 Escape Hotel does a lot of things well, but there's simply no question that if one were tasked to pick the specific thing they excel most at, it's absolutely the quality of their scenic. A visit to this spooky hotel, long frozen in time will reward the daring with some of the most scenically compelling escape games they're likely to ever encounter, and thanks in part to the uniqueness of the theme, Daycare may well be the best of the best of their original five rooms.
Room 1919 might as well be a movie set. Gone are the days where a square what box and a handful of puzzles are what's needed to create an escape room. Daycare transports you to a forsaken world decades forgotten, haunted by the spirits of little lost souls longing to play.
Walls, ceiling, floor. Textures, furnishings, decor. Every single inch of this space is period appropriate, and absolutely beautiful in the most uncomfortable of ways. A custom created soundtrack and ominously dark theatrical lighting (which, admittedly at times may have been a bit too dark to comfortably see) further transform this world once meant as a home for those darling little girls into the sinister world that traps you in a nightmare you cannot seem to wake up from.
It's easy to get lost in the storyworld of Daycare, whether you want to or not.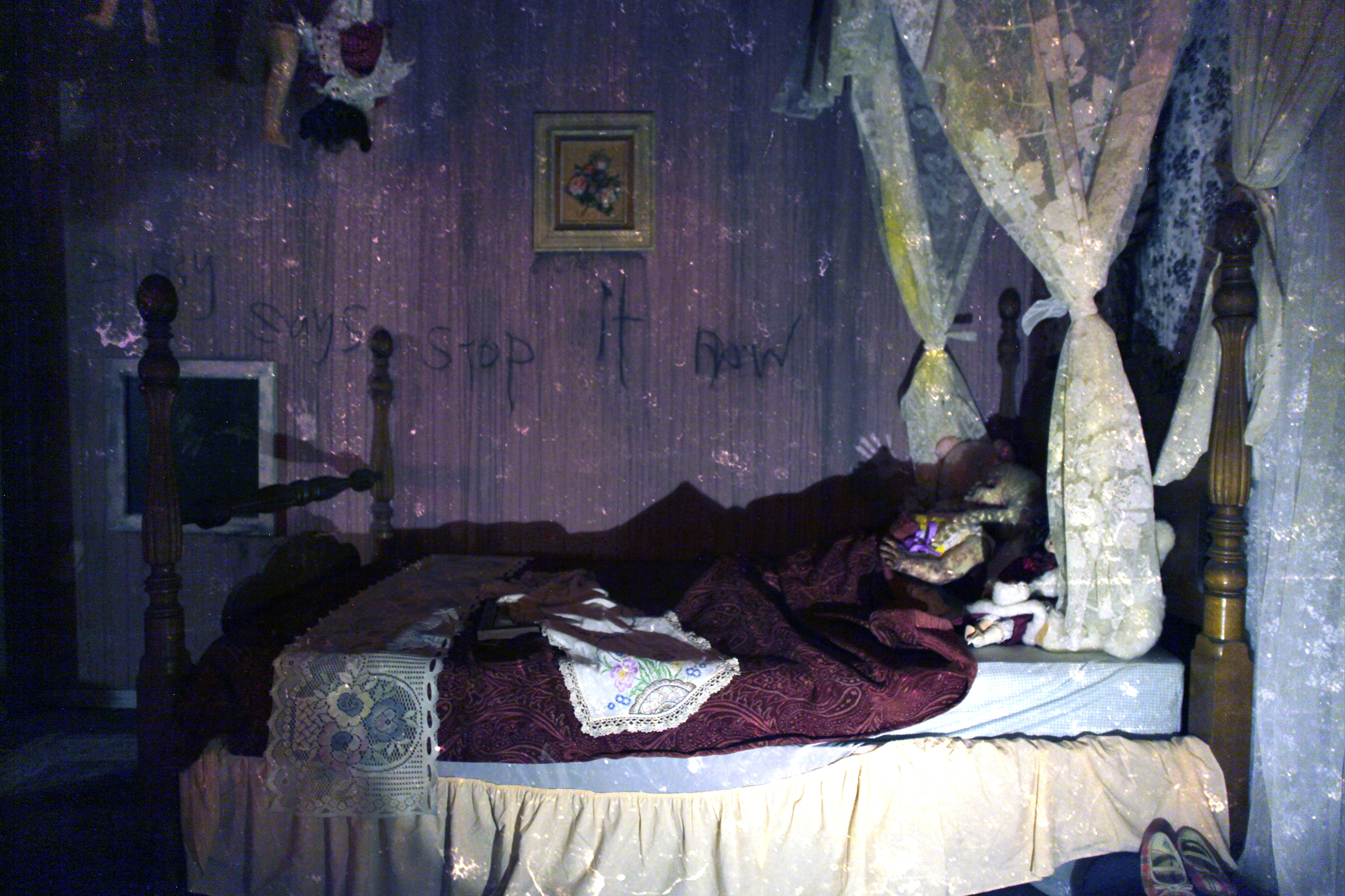 As is the case with Escape Hotel's other five original rooms, Daycare's puzzle selection is on the lower side of the technology spectrum – however, that doesn't necessarily translate to being a bad thing. While tech is nice, and can certainly add a lot (especially in a spooky supernatural setting like this one) the world-building Escape Hotel achieves is so solid that lower tech puzzles don't at all feel out of place.
More importantly, and something that we bring up often here at Escape Authority, all of the puzzle steps encountered throughout the course of Daycare further the central narrative in a way that is both logical and story-driven. Every puzzle fits within this world, and they join together to form a century's old mystery left for you to solve much more so than a collection of puzzles in an escape room.
Even puzzles that, at their core really are just basic escape game discovery of "find the hidden object" take on a whole new character when that scavenger hunt is through such a rich, immersive environment. Daycare left us feeling more like paranormal investigators than jaded escape game players.

We have a firm policy at Escape Authority; we always form our own opinions about new games – not based on the opinions of others who played before us, but based solely and solidly on our own experience playing that game. That being said, even we try to keep an eye on the general consensus of what's out there – especially for a big new venue that's on our short-list of places we hope to see. Escape Hotel was near the top of that short list, and the honest truth is that early buzz wasn't the most positive. Sticking true to our policy, I cautioned my team that I wasn't honestly sure what the next five straight hours of our day would be like while we played all five original games back to back, but urged them one last time to form their own opinions based solely on their own experience.
Escape Hotel is proof why that policy is such a vital fundamental principle of how we run things here at Escape Authority. Their games were great, and left even our overly experienced, difficult to impress group of industry professionals impressed. Nothing about our experience at Escape Hotel matched any of the negative hype we were led to believe we would encounter, which frankly left us all scratching our heads trying to figure out why such hype exists in the first place.
Luckily, thanks to their absolutely killer location, Escape Hotel will no doubt have little trouble getting people in the door – with or without the hardcore fans of the medium. Located right in the center of the famed Hollywood Boulevard, the Hollywood Walk of Fame is quite literally their sidewalk. Millions of tourists will pass this ornate venue each year, and many of them will likely peek their heads inside and ultimately have their very first taste of an escape game. We witnessed several who fit that description on our visit, and they all walked out impressed by the experience they received.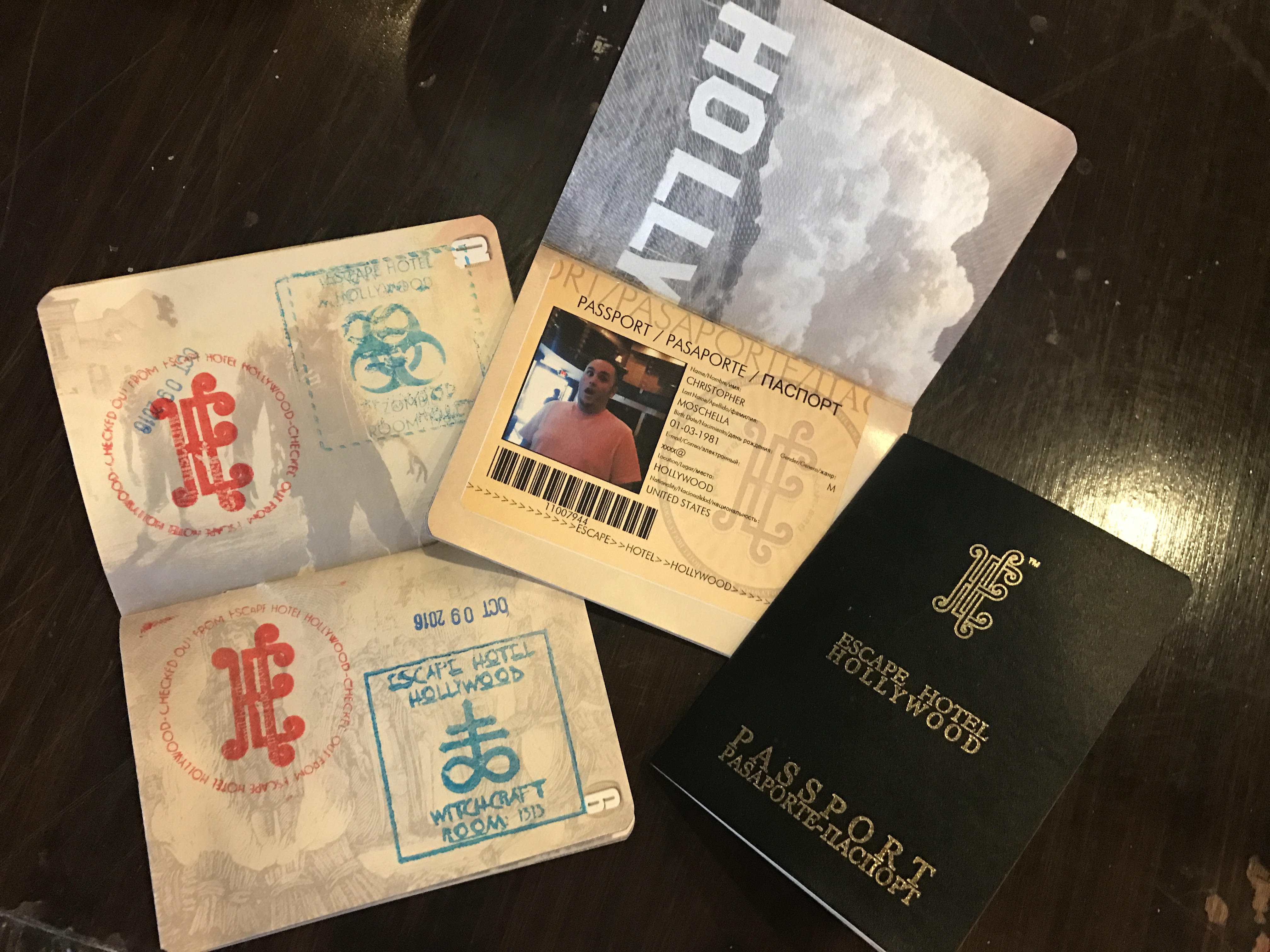 Another thing that makes this venue so unique is their staff– not only do they exhibit a world class standard of hospitality, but they interact with guests in themed roles that enforces the vintage hotel motif. You'll be greeted at the door by a hostess in a 1930s flapper dress. Checked in – literally – at the hotel's front desk where you'll be issued a literal passport, complete with your personal information and photograph, in a high quality, gold foil embossed sleeve perfectly reminiscent of an official one that could have been issued by the United States government. In it, you'll collect custom stamps for each room you successfully escape in the Hotel – an absolutely brilliant means of promoting return visits. From there, you're escorted to your room by a creepy bellhop who clearly has not seen the light of day in some time. That bellhop doubles as your game master, who stays in character even when delivering requested hints to assist you in your mission.
Stripping aside the pomp and circumstance (though I'm not sure why you'd want to do that, as it was deviously delightful) what we found at its core was a team eager to grow, and one who enthusiastically welcomed our feedback. That may seem like common sense, but the truth is it's not something we really encounter as often as we'd hope – and when we do, it's proof positive that the venue has high hopes to become a major industry player.
On our way out, our personal concierge Scary Gary invited us for a private tour of Escape Hotel's newest room, The Exorcist. Unfortunately, we missed playing it by just a few days, as their design team was very busy at work transitioning it from a 20 minute preview for the new Fox TV series into a full scale permanent game. Let me tell you – this sixth room, with some of the effects and technology we were able to preview raises the already high bar for immersive settings that Escape Hotel has set for themselves. The space is massive, and comprised of far more rooms than any their original five games each have, each dressed in even higher level of attention to detail. If The Exorcist is any indication – and I bet it very well may be – Escape Hotel has a very bright future ahead of them.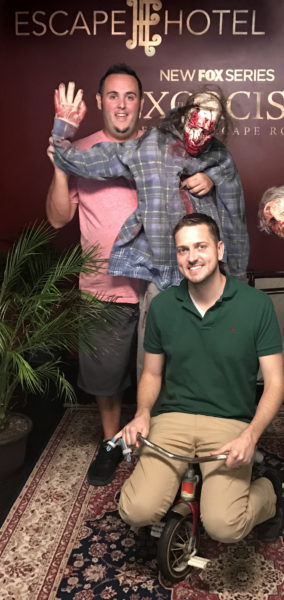 Venue:  Escape Hotel
Location: Los Angeles, California
Number of Games: 7
GAME SPECIFIC INFORMATION:
Duration: 60 minutes
Capacity: 6 people
Group Type: Public / You may be paired with strangers.
Cost: $39 per person

We thank Escape Hotel for inviting us to review this game. Although complimentary admission was generously provided, that in no way impacts the opinion included within this review.
Summary
Reviewer
Review Date
Reviewed Item
Author Rating