RATING: 5 Keys          RESULT: Win          REMAINING: *
Being the world's worst Egyptologists, we've been trapped in more than our fair share of tombs by this point. We're just glad this particular Pharaoh has such good decorating taste!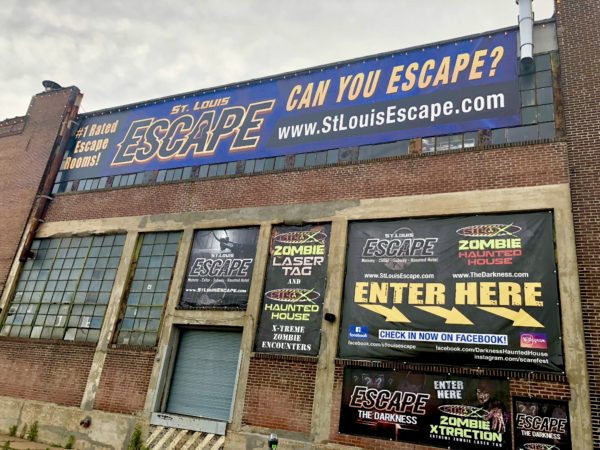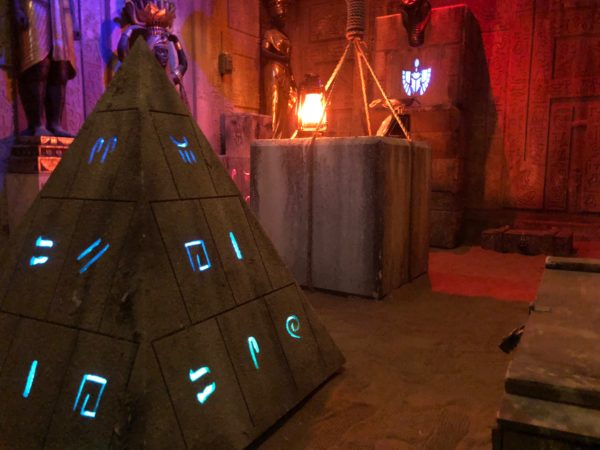 You are part of an archaeological excavation of an CURSED Egyptian tomb. Traps have sealed your fate, doors have closed and you will run out of air in less then 60 minutes. 
We've all heard the tale before; trapped in an Egyptian tomb as part of an archaeological dig gone array. One might think that by now there would be higher insurance requirements set in place to protect budding Egyptologists like us, though I digress.
But once the stone slab seals shut behind us, St. Louis Escape really does drop us in the middle of a highly immersive adventure. Throughout our journey across the sands of time, we narrowly avoid ancient booby traps while uncovering secrets left behind by explorers who came before us – and ultimately never saw the light of the hot Egyptian sun again. (That's right folks, there are actually WORSE Egyptologists than us!) 
Secrets are unveiled as we progress deeper into the Pharaoh's tomb, leaving us to feel more like stars of our own adventure-driven action movie than players in an escape game.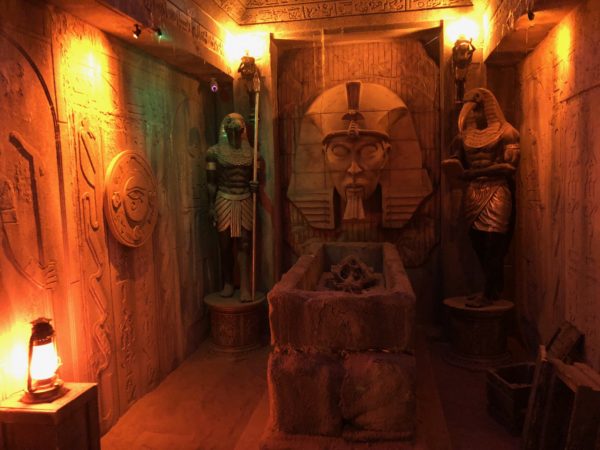 St. Louis Escape's parent company, The Darkness, is home to one of the country's best known haunted attractions. As such, it should come as no surprise that Curse of the Mummy is nothing shy of scenically stunning. And though unlike their neighboring haunt this game has no live actors – make no mistake that it's full of unexpected surprises and several true "wow" moments.
Stone-like walls trap us deep within this ancient pyramid – theatrically lit with dramatic splashes of color that leave us both to marvel at its Hollywood-esque quality while simultaneously becoming lost in the authenticity of its storyworld urgency.
Very natural-looking cobwebs string across the space giving the clear implication that no human has stepped foot within its walls in centuries. And let's be blunt – we're not talking cotton Halloween decoration cobwebs here; this is the real deal.
Life-like statues stand as tribute to the mighty pharaoh who slowly rots away in his sarcophagus, under the watchful eye of a massive stone idol who just so happens to also be a fully functional audio-animatronic figure.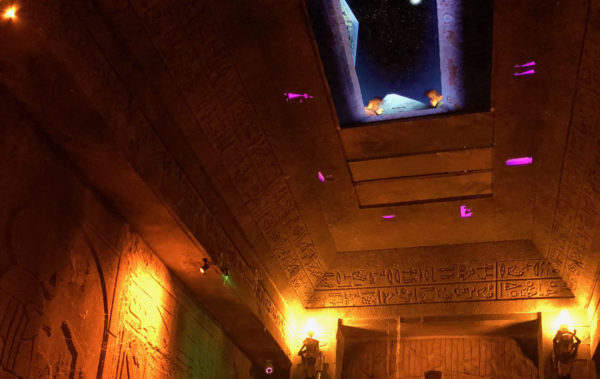 From the moment we enter the mummy's sacred burial chamber, every puzzle step is intricately interwoven into the storyworld in such a way that it is an organic extension of the over-arcing narrative. Steps are clearly laid out, and tasks are intuitive.
Led by a journal left behind by an explorer who didn't quite escape himself, we always find ourselves with a clear sense of what task should be accomplished next. Although it may admittedly be a bit wordy for some, it does do its part to keep us immersed within the storyworld as we progress.
Curse of the Mummy includes a mix of all the "classic Egyptian puzzle types" you may expect – from decoding hieroglyphs to arranging ancient objects to, yes, digging through the very sands of time themselves.
But one shouldn't assume that to mean you've seen any of this before; St. Louis Escape does a great job of mixing these common thematic puzzle tropes with fresh new ideas, some even written in the ancient stars themselves – resulting in a fresh, unique over-all experience that stood out from other Egypt / Mummy games we've played.


If Curse of the Mummy seems familiar to some degree, it probably should; We've previously reviewed two versions of this game in other venues – Escape Room Live in Washington, D.C. and Xscape in Hudson, NC. Each of these games was originally designed by the team that heads up St. Louis Escape, but that's not quite where this story ends. Interestingly each of the three versions of Curse of the Mummy that we've played have been pretty significantly different games, hence representing them with multiple reviews.
But it's the St. Louis Escape version that stands out as the true shining jewel on this Pharaoh's sarcophagus. The attention to detail and quality of scenic found at the St. Louis venue simply cannot be matched in the other iterations of this game. And perhaps even more importantly, St. Louis Escape has the superior gameplay, perhaps thanks in part to the fact that its puzzles were recently completely re-written.
That's right; In March of 2018, Curse of the Mummy was completely reimagined, utilizing feedback from its past players to introduce a highly improved puzzle flow and more immersive story-connected tasks. Truthfully, I almost opted to skip this game in St. Louis as I'd personally experienced the Washington D.C. version a few years prior. Thankfully, the team at St. Louis Escape insisted that I check it out – and boy was I glad that I did!
And the best part? Every single game at St. Louis Escape carries the same phenomenal attention to detail, Hollywood-quality sets and narrative-driven puzzle steps – meaning that as a player, you just can't go wrong regardless of which game you choose to experience.
*You perhaps may have noticed that the escape time for Curse of the Mummy is simply an asterisk. Traveling alone with limited time between two very long drives, St. Louis Escape was nice enough to offer one of their managers as a sort of "private tour guide" to join me in several of their games. Although we did in fact play through each puzzle, it doesn't seem appropriate to give an actual escape time for this one.


Venue: St. Louis Escape
Location: St. Louis, Missouri
Number of Games: 4
GAME SPECIFIC INFORMATION:
Duration: 60 minutes
Capacity: 10 people
Group Type: Public / You may be paired with strangers.
Cost: $25 per person

We thank St. Louis Escape for inviting us to play this game. Although complimentary admission was generously provided, that in no way impacts the opinion included within this review.
Summary
Reviewer
Review Date
Reviewed Item
St. Louis Escape - Curse of the Mummy
Author Rating