RATING: 4 Keys          RESULT: Win          REMAINING: +3:00
Can you remember a time back when you were a kid that you wished you lived in a world full of fun and games? I can – because I was lucky enough to relive it again at the world's undisputed utopia for game lovers!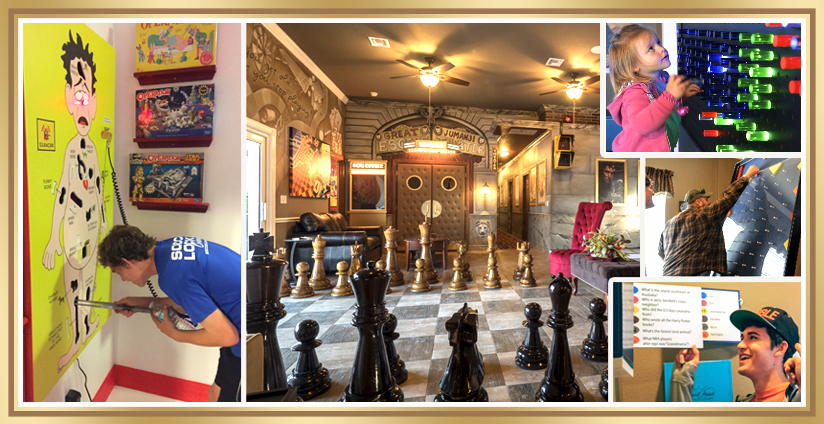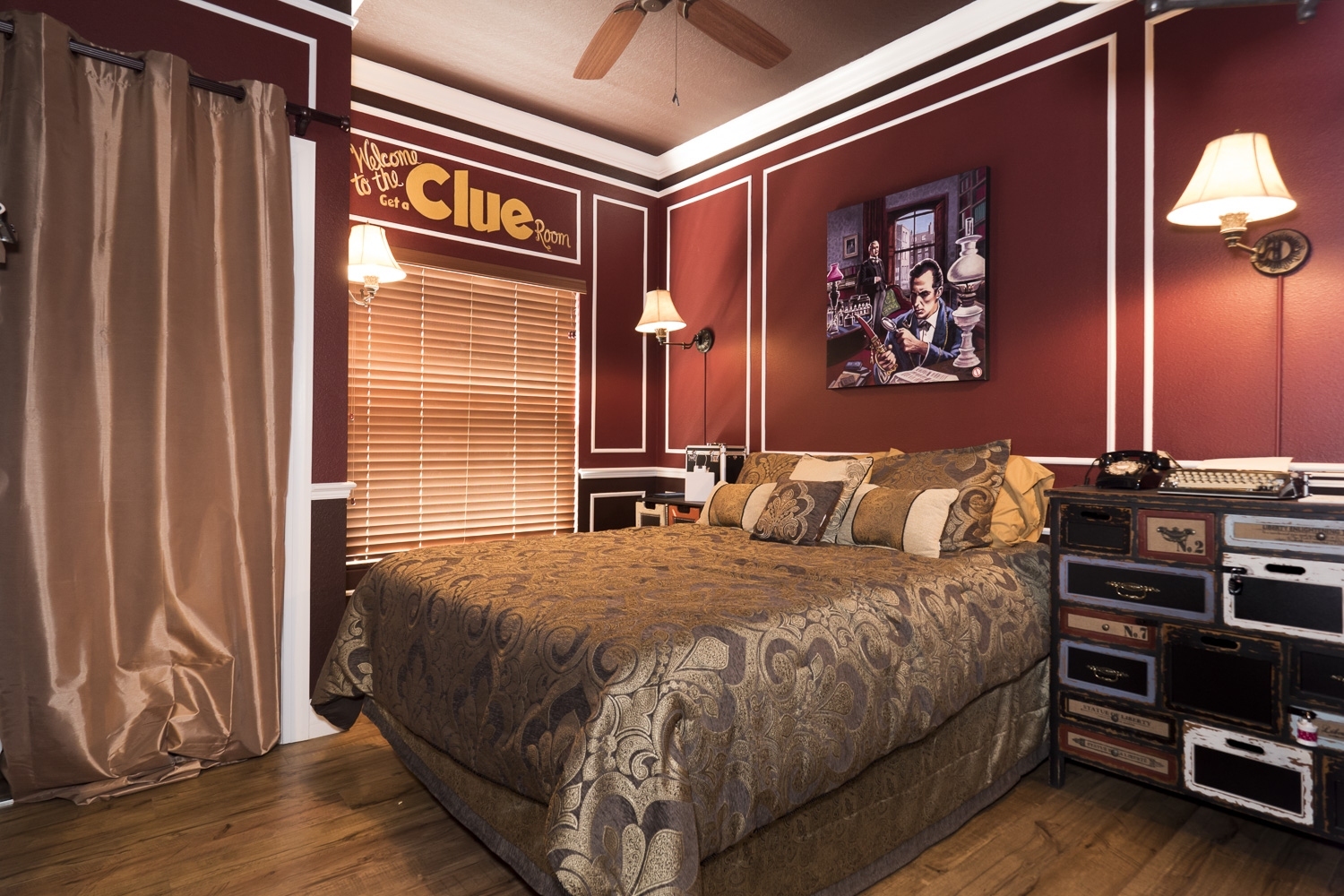 The game of CLUE is a classic murder mystery that I think we're likely all quite familiar with. A group of high-society dignitaries gather together in a mansion, only for the host to wind up dead – and now everyone is a suspect.
CLUE Escape brings that timeless world to life and makes you the main characters in this infamous whodunit case. You're tasked with searching the mansion, narrowing down the suspects, determining the murder weapon and scene of the crime.
The board game literally comes to life around you as your experience stays true to spirit from start to finish, creating a sense of urgency that you must solve the crime before it's too late to catch the criminal.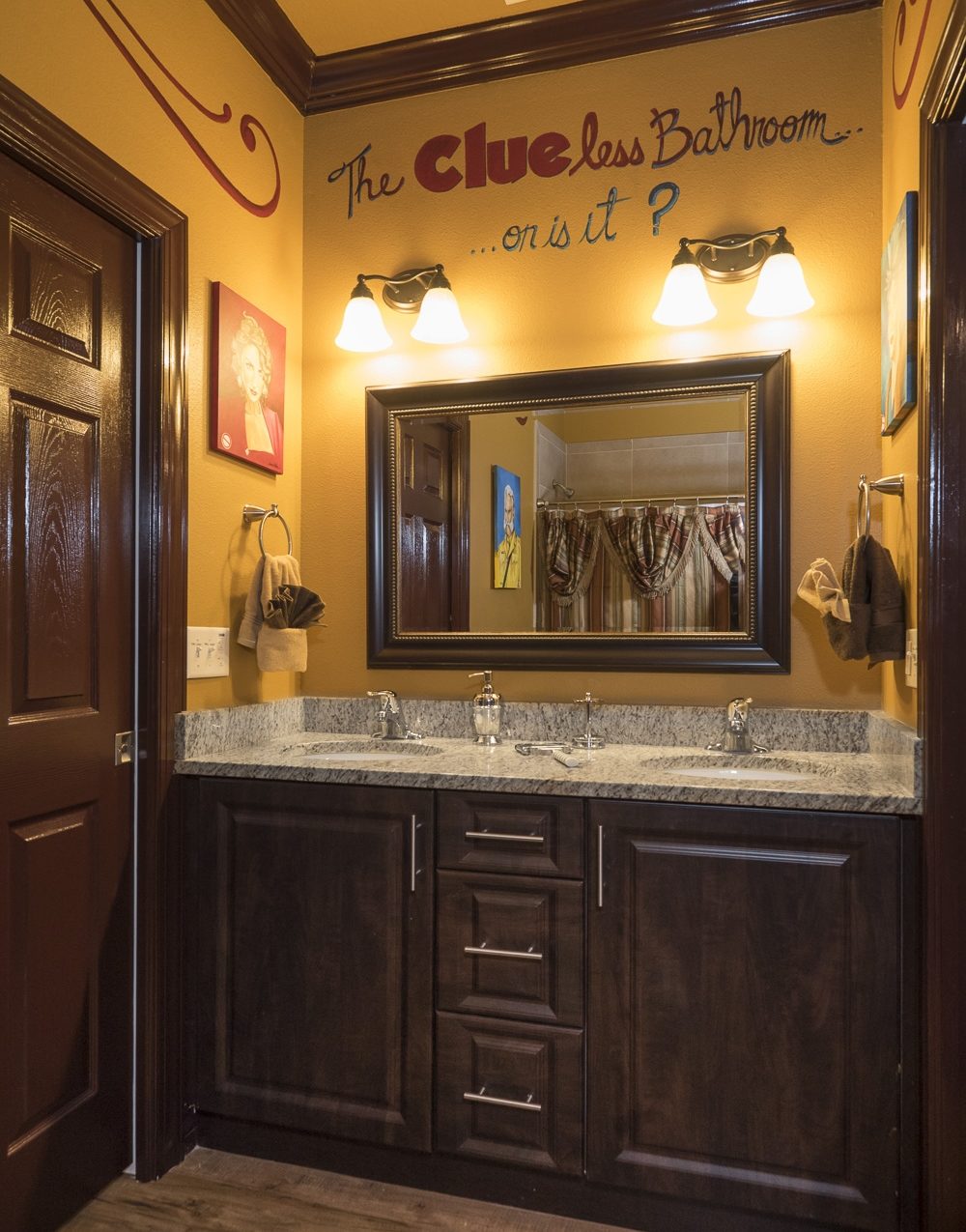 Every single square inch of The Great Escape Lakeside is intricately themed to every single game you can imagine. Card games, board games, and even casino games are represented. The CLUE Escape game takes place across a two bedroom, one bathroom wing of this incredible estate. Appropriately, each of the game's three rooms is themed to resemble not only a lavish mansion, but even utilize the color palate of the classic CLUE board game's color scheme.
Portraits of familiar suspects, from Professor Plum to Colonel Mustard and Ms. Scarlet line the walls, while familiar weapons like the knife, the candlestick and the rope are scattered throughout the space.
There's no question that you have been magically transported from the real world directly into the CLUE game board – and normally that would be the best part, but not here.
Who among us hasn't dreamed of having your own private Escape Room in your house? Rent a few nights at The Great Escape Lakeside and that dream, which otherwise may have seemed impossible, will come true. The CLUE Escape game takes place in actual guest rooms of this stunning thirteen bed, eleven bath mansion, meaning you can literally sleep right in the middle of an escape game. The beds are for your use, as is the bathroom, and even the shower.
A fully immersive environment, that seamlessly hides a really fun escape game themed to my very favorite board game from my childhood?
I don't EVER want to go home.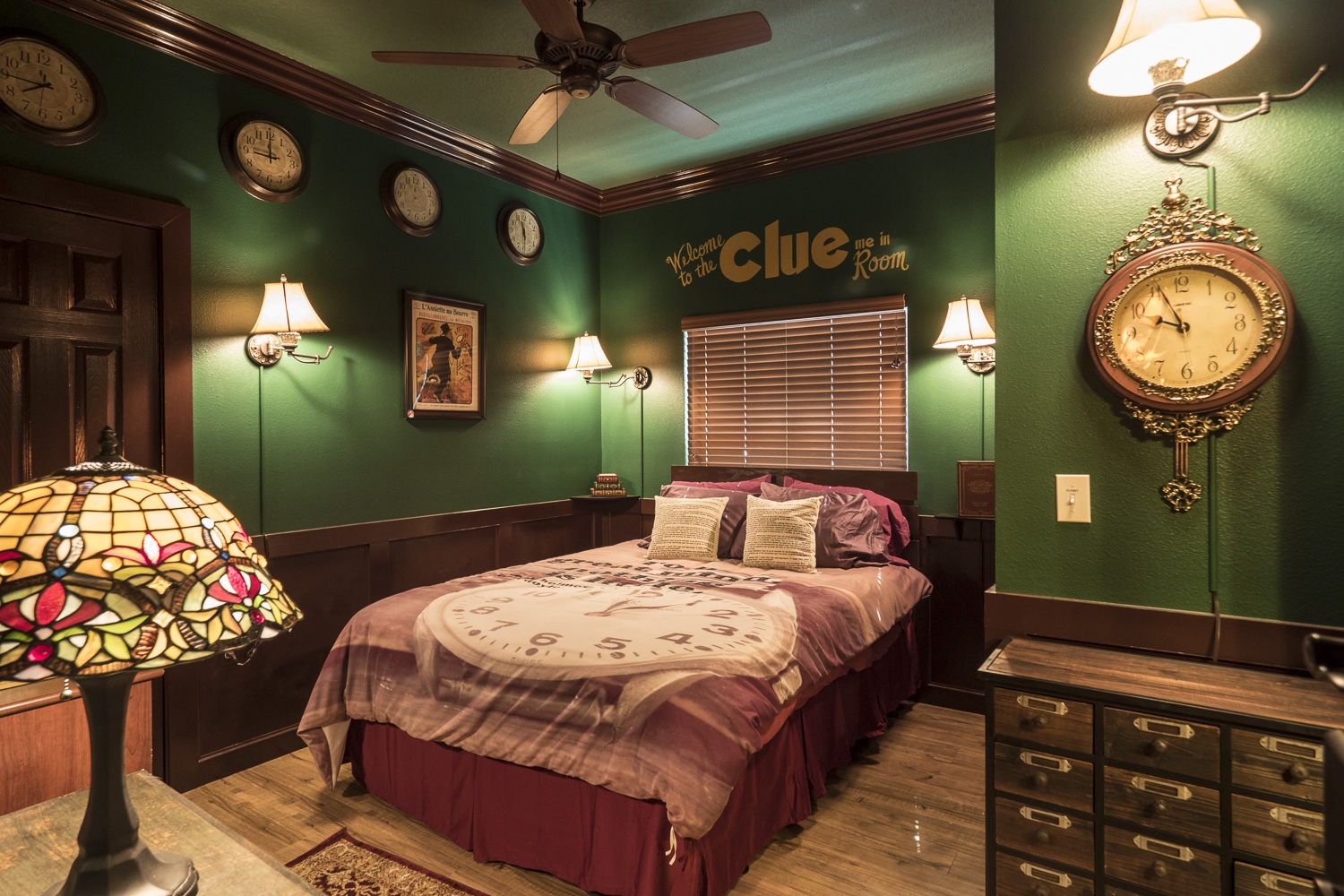 CLUE Escape begins when players literally lock themselves into the two bedrooms of the CLUE Wing, to find puzzles which each lead you to combination locks, codes and keys – but that's not a bad thing. After all, guests sleep in this space each night. It wouldn't exactly be prudent to have something full of crazy technology which could in turn compromise the living space.
From start to finish this game – which, did I mention it's in a HOUSE? – is completely intuitive. There's a solid discovery phase, as well as clever puzzles that really make you think, without ever frustrating you.
Any of these things would impress me in a game, but what really made me fall in love with this experience was the fact that so much of this game really furthered the storyworld created by the classic board game. I've always loved the game of CLUE, and thanks to The Great Escape Lakeside, I got to live it in real life.
Each puzzle solved leads you to another suspect, weapon or location card, straight out of the board game – and just like the real thing, your goal is to narrow down your lengthy list to just one card of each category to determine the murderer, weapon and scene of the crime. The game's final step has you recovering a mobile phone and entering your deductions into a custom-made app to obtain the final exit code.
There's something very interesting we must address about this game as well – though The Great Escape Lakeside is unquestionably a world class attraction in itself, at its core it is a luxury rental home, and the escape game is just one of countless incredible amenities available for guests to enjoy. As such, it wouldn't really be prudent to staff a game master full time in the event that a family was ready to play at some point during their stay.
CLUE Escape was designed to be fully self sufficient, right down to it's tablet-based hint system designed in-house (no pun intended.) A quick and user-friendly process allows you to check off each card you find as you go in order to track your progress. While doing so, the software also is intelligent enough to know what your next puzzle step will be, allowing players to easily access up to date hints without even needing to specify the puzzle they're stumped on. Even better, the hints are presented in story-inspired riddle format, adding another layer of fun to the challenge while furthering the immersion of the overall experience.
Another unique feature: after playing, guests have access to a reset checklist so they may correctly reassemble the game back to its starting point as a courtesy for others staying with them in the estate who may wish to also play.

The Great Escape Lakeside is just one of the coolest places I've ever seen. Each room is literally a chapter of my childhood, with homages to Donkey Kong, Pac-Man, Operation of course CLUE, amount countless other game themes.
AND THEY'RE ALL PLAYABLE.
Every single room of those sprawling estate is full of literally every single game you'll ever hear of, dating back to when you were a kid all the way up to modern classics. Video games, arcade games, slot machines, card games, a movie theater, a lazy river, a whole host of our door amenities including an actual private lake and dock, and, of course, the CLUE Escape Room make The Great Escape Lakeside a pure paradise dream come true for every member of the family. Stay tuned to Escape Authority in the near future for a full, dedicated post highlight everything else this epic resort has to offer!
Even better, this property is actually a mom and pop run business, owned by a young couple with a passion for creativity. And that CLUE Escape room? The owner's eleven year old daughter Kayden fell in love with the genre as we all have ourselves, so her parents added one to The Great Escape Lakeside as a tribute to her.
How. Cool. Is. THAT!
I just cannot say enough good things about this incredible resort home – and while unfortunately CLUE Escape is not open for public books as an individual ticket, it's worth mentioning that The Great Escape Lakeside has a flat rate per night regardless of party size and sleeps up to FORTY FIVE members of your family and friends, making it incredibly affordable with the right advanced planning.
Perhaps it's time for TransWorld to consider Orlando as a future site to host an Escape Room City trade show. I have a feeling I know where quite a few enthusiasts will be sleeping – myself included even though I live just down the road!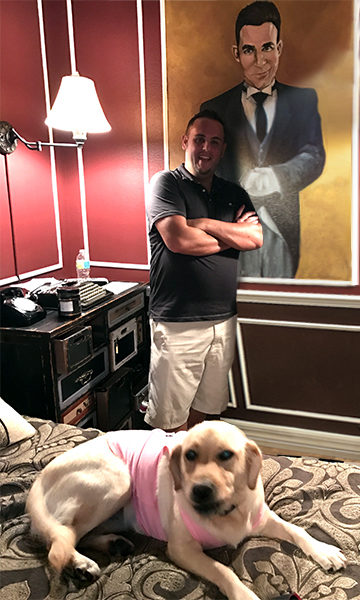 "The Official Mascot," the family's adorable dog Skylar makes a cameo appearance somewhere in one of the game's puzzles, and like a true celebrity, she was gracious enough to take the time to pose for a photo with some of her fans.

Venue:  The Great Escape Lakeside
Location: Groveland, Florida
Number of Games: 1
GAME SPECIFIC INFORMATION:
Duration: 60 minutes
Capacity: 12 people
Group Type: Private / You will not be paired with strangers.
Cost: Property rental / Base rates start at $1295.00 per night, and booking does require a three night minimum stay (although shorter stays are allowed when schedule gaps arise.)
Summary
Reviewer
Review Date
Reviewed Item
The Great Escape Lakeside - CLUE Escape
Author Rating