RATING: 3 Keys         RESULT: Left Before Completion          REMAINING: —
Blindfolded and tossed into the back office of a nightclub by a punk rocker chick with a thick Russian accent. So it's a pretty common Tuesday for us.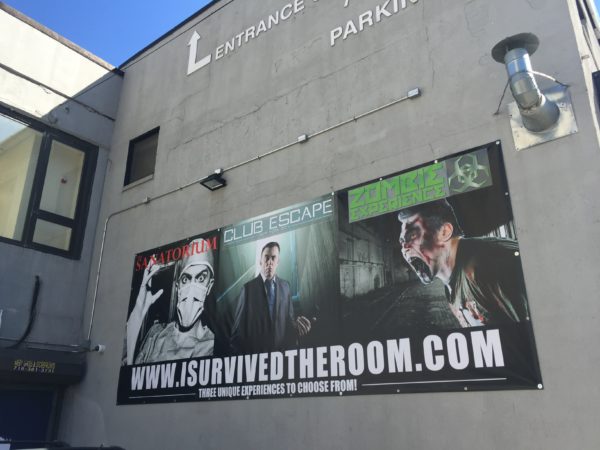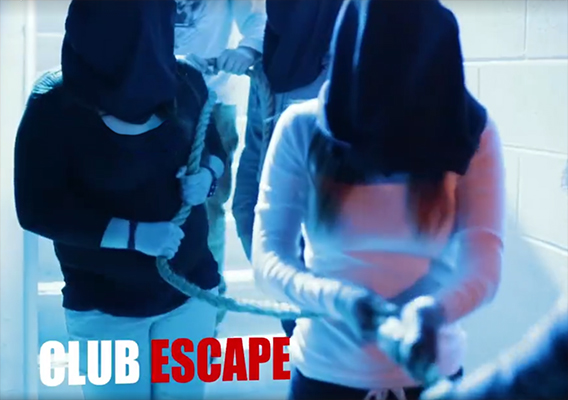 When the notorious Russian Bratva crime operation opens Long Island City's newest nightlife hot spot, Club Escape, a new breed of clientele comes to town. Seizing the opportunity, you attempt to infiltrate their ranks and broker a deal that could make you wealthier than in your wildest dreams. However, when the "perfect opportunity" falls apart, you must fend for yourself and scramble to escape before the Boss comes back and your last hour on Earth ticks by. Can you make your getaway in time, or will you be left to swim with the fishes?
I Survived the Room creates another immersive storyworld to engage us in as active participants. Things don't go as planned for us, and to say they fall apart would be the understatement of the year. We find ourselves with bags over our heads, being walked single file by an armed Bratva agent into the Club's back office where we're to be held hostage until the leader arrives.
Fortunately for us, our captor is actually a double agent – and though she must deliver us as instructed to keep up appearances, she'll be working behind the scenes to offer us hints and clues along the way to add in our attempts to foil the Bratva's criminal plans.


Existing in back of house areas, the scenic in Club Escape is rather basic, especially when compared to the venues original room, Sanatorium. It does seem like a somewhat missed opportunity to eventually make it into the lavish nightclub itself on your way to freedom. Without question that would pose a very unique back drop for an escape game.
Sadly, that is not to be with Club Escape. Our challenges are regulated solely to back offices, supply closets and access hallways. From a story perspective, yes, it still works – but it's difficult to not look at this as a case of "what could have been."
At the very least, a cool touch – you can hear the pulsing music through the walls of the presumably active club in the next room. This definitely helps paint a bit of realism into our surroundings.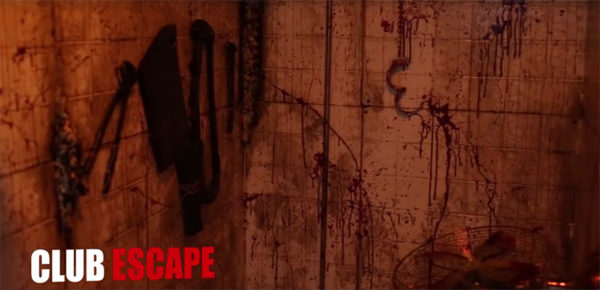 Club Escape's puzzles exist almost exclusively on the lower side of technology. In fact aside from a laser security system standing between us and freedom, there's not much in the way of tech at all in this game. I maintain that is not necessarily a bad thing, and I'm not personally turned off by being limited to numerical padlocks and keys – but recognize there are others who find themselves longing for something a bit more.
For the most part, each step was fairly intuitive to follow – though none really generated any "ah ha!" moments of solution.  The finale puzzle, presented in a sort of "choose your own adventure" quickly evoked the unpleasant flavor of a time-sink, as it became clear with it's many branching paths and literally no logical beyond taking a blind guess and trying each one that this step was designed to lessen the number of groups able to successfully escape the game.


I'd like to be clear that our need to leave this game prior to its completion is not by any means a reflection of its quality. The truth is we wished that we could have stayed to see it through.
It is likely that we would have walked out of Club Escape victorious, as we were well into that finale puzzle step with more than five minutes remaining on the clock. Unfortunately, our game was started a bit late due to an overlap in our time at the Sanatorium, leaving things too tight in our over-booked schedule to stay in Club Escape for the full 60 minutes. With hard-to-obtain tickets to not one but two different immersive theatre productions immediately following, it was more important we left our last game with enough time to spare.
It should be noted that we played Club Escape as a group of three – five less than the venue's maximum capacity in a public game that typically does indeed pair players with strangers. As a group of three, several of the rooms felt rather confined and really didn't leave us much space to move around. Add to that there really were not enough puzzles for more than the three of us to be working on, and even worse at times there were moments where one or even two of us were left watching the third work on something. I cannot imagine playing Club Escape at full capacity, and definitely would recommend that if you do wish to play it, you aim to visit on a slower time midweek in hopes of securing a smaller group size by game time.
Though Club Escape technically did include an actor, really she only played a role in the beginning to walk us into the club and at the end to escort us out. Beyond that we'd not see her once (unless you count via radio communication when we were in need of a hint.) This is a fairly stark contrast to Sanatorium, where not one but two different actors played such key roles in the gameplay experience.
I Survived the Room, as a brand, is on the cusp of greatness but not quite there. And while we hope they continue to polish their product and its production in an effort to reach their true potential, they're still very much worth a visit even as is, if for nothing else how unique their experience is to other games in the NYC market.
(Needless to say, in our rush to make it to our next show we were sadly unable to snap a team photo after Club Escape.)


Venue:  I Survived the Room
Location: Long Island City, New York
Number of Games: 2
GAME SPECIFIC INFORMATION:
Duration: 60 minutes
Capacity: 8 people
Group Type: Public / You may be paired with strangers.
Cost: $25 per person (weekdays) or $30 per person (weekends)
Summary
Reviewer
Review Date
Reviewed Item
I Survived the Room - Club Escape
Author Rating