RATING: 3 Keys          RESULT: Win          REMAINING: 10:00
What would have happened if instead of wishing upon a star, Ghepetto went crazy and built an escape room? This. This is what.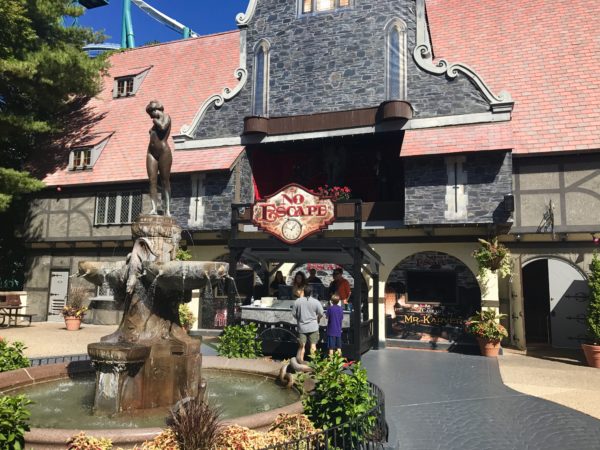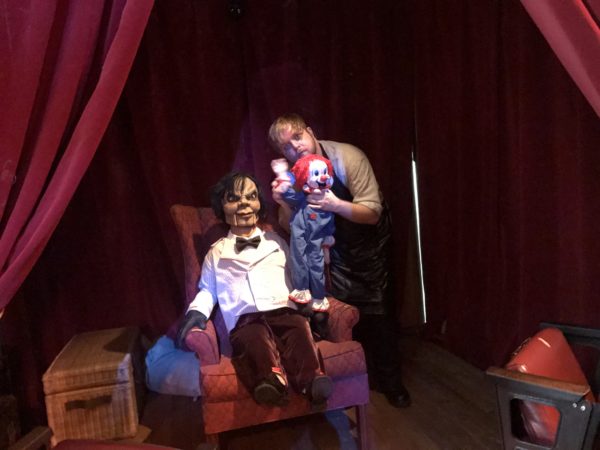 Mr. Karver, the creepy puppet master, has created new works of art for his evil encore, and it's up to you to stop his wicked plans from becoming reality. Searching for clues, you will try to uncover the location of his secret workshop. If you're skillful enough to find it, try to stop him from making any more of his monstrous dolls.
No Escape's Case of Mr. Karver locks us into the world of Howl-O-Scream's 2016 icon character. We were excited to finally get the chance to enter Mr. Karver's creepy workshop, as all representation of it was distinctly missing at the Busch Gardens Tampa event.
This devilish dollmaker guarantees that his dolls are the most realistic of all – thanks no doubt to the fact that he creates them using the severed body parts he collects from his victims.
There's a clear sense of urgency – maybe even a little panic once the door shuts behind us in Mr. Karver's workshop. Perhaps that's because Karver himself is in the room with us – hobbling together dolls that are more stuffed Frankensteins than precious collectibles.
He makes no secret of his intentions for your ultimate demise. In fact at one point while I was searching the room, he literally measured my skull, then matched doll eyes to my actual, blinking eyeballs.
Much like in No Escape's Case of the Haunted Hotel, the actor portraying Mr. Karver is highly interactive, always fully in character but never a hinderance to our gameplay. He truly adds a great value to the overall experience.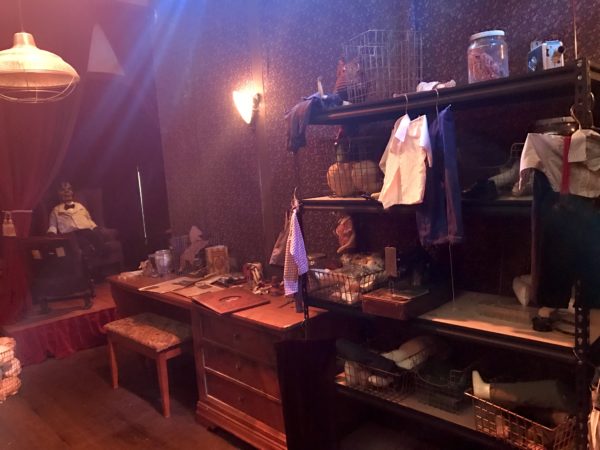 Case of Mr. Karver exists in a fairly large single room, clearly decorated to bring his wicked workshop to life. Dolls and puppets line the shelves, with their severed limbs – as well as a few other severed limbs that were once far more distinctly human – casting a highly unsettling flavor on our surroundings.
Everything about Mr. Karver's workshop feels authentic – with clutter everywhere – all of it linked in one way or another to the storyworld.
In one corner of the room is Mr. Karver's workbench – with his latest creation already in progress. In another corner sits a make-shift stage, on which Georgie (Mr. Karver's favorite doll, and 2016's Howl-O-Scream mascot) its. Watching us. Judging us. Occasionally… moving?


Here, unfortunately, is where Case of Mr. Karver gets the proverbial hook. The puzzles within this game are at best terrible, and at worst potentially not even puzzles at all.
Case of Mr. Karver is, from start to finish, nothing more than a discovery phase scavenger hunt. The thing is, I don't entirely have a problem with that – especially when considering the audience thanks to it's location within a major theme park.
The problem with Case of Mr. Karver lies in its execution of the scavenger hunt. Convoluted riddles direct players toward each hidden object they're tasked to find and deliver to Mr. Karver. Unfortunately none of those riddles give clear indication of what you're actually looking for, and the answer could essentially be anything in the room at first glance.
It becomes up to the actor to steer you toward what you should be seeking, but even with that prodding, the process becomes frustrating and tedious. From a puzzle perspective- this is from start to finish they entirety of Case of Mr. Karver.

We struggled with what to ultimately rate Case of Dr. Karver. As a pure escape game, it's utterly terrible. However, as a big picture attraction, it's actually kind of cool. The setting and story are strong, and the quality of the actor portraying Mr. Karver adds a great deal of value.
At the end of the day we follow precedent set by Halloween Horror Nights' The Reposity – another example of strong story and scenic burdened by bad puzzle design. In these specific examples, we recognize that though marketed as escape games, these attractions are clearly designed first and foremost to be a good Haunt, and that's not necessarily a bad thing at all. So, we feel it is fair that our Key Rating splits the difference.
We also need to remind you that, as we mentioned in our review for Case of the Haunted Hotel – these No Escape games are expensive, even when you disregard the need to pay for high-priced theme park parking and gate admission. At $30-50 per person (depending on the date and time of your selected  slot), No Escape sits at the high side of industry standard – mind you, for a 60 minute game, twice as long as what you'll receive here. Are they enjoyable experiences that make for a unique addition to Howl-O-Scream? Yes, absolutely. But for many – as we witnessed on own own visit, these just may prove a bit too cost prohibitive for Busch Gardens Williamsburg's family audience.
Cost not withstanding, No Escape is an ambitious move for any major theme park, and that leaves us excited. Although Case of Mr. Karver – originally a 2016 game – is far from without its flaws in the Puzzles department, 2017's Case of the Haunted Hotel proves that Busch Gardens Williamsburg has made great strides to evolve the offering.
The future of No Escape looks dark and shadowy (the Halloween event equivalent of looking bright.) We hope they continue get better and better with each coming year – and perhaps even expand the No Escape brand to other locations in the SeaWorld Parks & Entertainment family!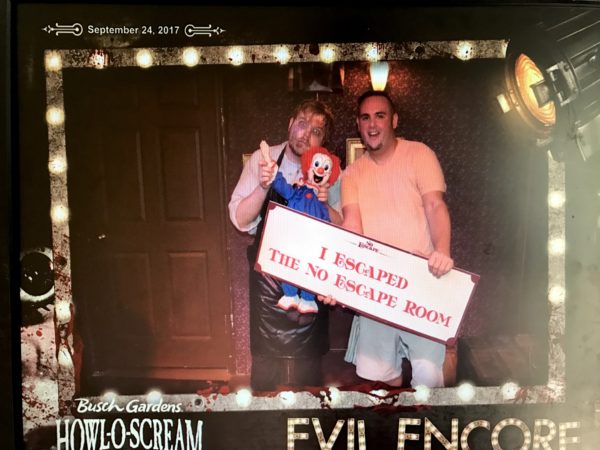 Venue:  Busch Gardens Williamsburg
Location: Williamsburg, Virginia
Number of Games: 2
GAME SPECIFIC INFORMATION:
Duration: 30 minutes
Capacity: 6 people
Group Type: Public  / You may be paired with strangers.
Cost: Varies – $30 per person before 4pm, $40 per person after 4pm. Saturdays are an additional $10 per person. Separate Busch Gardens Williamsburg admission is required (starting at $60 per person.)



Summary
Reviewer
Review Date
Reviewed Item
Busch Gardens Howl-O-Scream - Case of Mr. Carver