RATING: 5 Keys          RESULT: Win          REMAINING: 2:05
I'll take words that end in "urple" for $1000, Alex.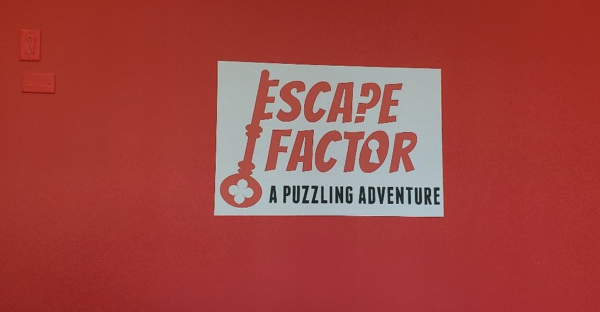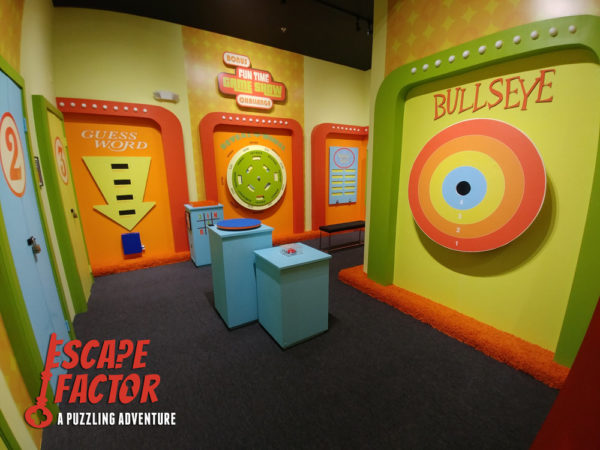 Play an escape room on the set of a game show! As a contestant on this vintage set resembling a game show, you've made it to the final round and have just minutes to win the grand prize!  The plot thickens, however, in a bizarre turn of events.  Can you channel your inner game show contestant and solve your way into the winners' circle?
Our hearts race as the audience goes dead silent, and all we can hear is the Jeopardy™ theme song. We surround the center podium to solve the puzzle that separates us from a huge grand prize. Little do we know, there will be a turn of events…
A bomb rises from the podium, and the host goes into a frenzy. It is our job to hit the final red buzzer, or this show will go up in flames.
It has always been our dream to be on a game show, and Bonus Fun Time Game Show Challenge is probably as close as we will get to crossing this off of our bucket list. It's colorful, it's humorous, and it's down right entertaining. Cue the applause.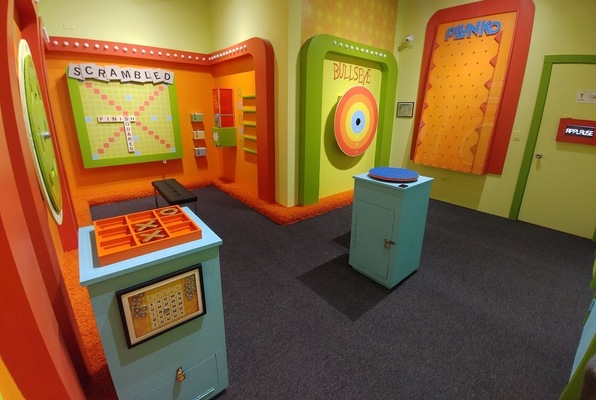 Bonus Fun Time Game Show Challenge is one of the most colorful and bright rooms we have witnessed. It looks cartoony, which makes us giddy from the start.
The fuzzy orange carpet along with the limited color palette of blues, greens, and reds enhances the vintage feel. A stream of yellow lights flash across the border of the room, and a sign tells the audience when to applause.
Any Price Is Right fan will immediately appreciate the giant Plinko board. There are many other familiar games scattered around the room such as Tick-Tac-Toe, Bingo, and Scrabble. One wall contains the famous three doors – tell them what's behind door number one, Bob.
Escape Factor has utilized the space without any distractions – well, other than sometimes the host. While the game is played in a single room, it is still packed with many exciting surprises throughout.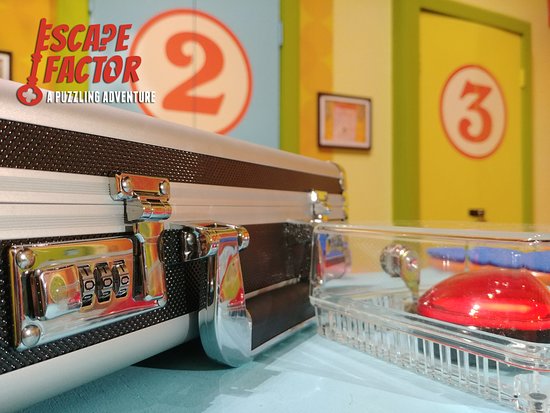 Just like the set, the puzzles keep the cheesy game show spirit alive. The tasks will keep a team of two or more working in parallel for a majority of the time until the final few steps. While the ending is linear in nature, a team effort is still required, which makes hitting the final red buzzer that much more satisfying.
Bonus Fun Time Game Show Challenge contains a wide variety of puzzles from physical to deduction to wordplay. It makes use of familiar games with enough of a twist to solve them in unconventional ways, and a couple of the more physical steps are implemented to be entertaining as opposed to frustrating – we've come across plenty of the latter. 
The game show host is utilized as the hint system, which we believe to be brilliant. It fits so naturally with both the puzzles and the overarching theme. Too many rooms fail when it comes to clever hint delivery, but that is not the case with Bonus Fun Time Game Show Challenge!


Bonus Fun Time Game Show Challenge is not only fun to say, but it is a blast to play. The theme is unique, and the execution of the theme would be hard to top. The pacing and flow make it feel like a real game show as surprises are revealed behind doors number one, two, and three.
Escape Factor has created an experience that never deviates from the narrative. The set design and puzzles naturally fit together as a cohesive package. Even the game show host walks around with a microphone in his hand and a cheesy grin on his face in true host fashion. He won't be grinning for long if that red buzzer isn't pressed in time. Now a word from our sponsors…


Venue: Escape Factor
Location: Forest Park, Illinois
Number of Games: 4
GAME SPECIFIC INFORMATION:
Duration: 60 minutes
Capacity: 8 people
Group Type: Public / You may be paired with strangers.
Cost: $32+ per person / $172.95+ for private
Summary
Reviewer
Review Date
Reviewed Item
Escape Factor - Bonus Fun Time Game Show Challenge
Author Rating