RATING: 4 Keys
This is the first of our two part look at the most physical escape room-style attraction you'll find anywhere in the United States – Boda Borg.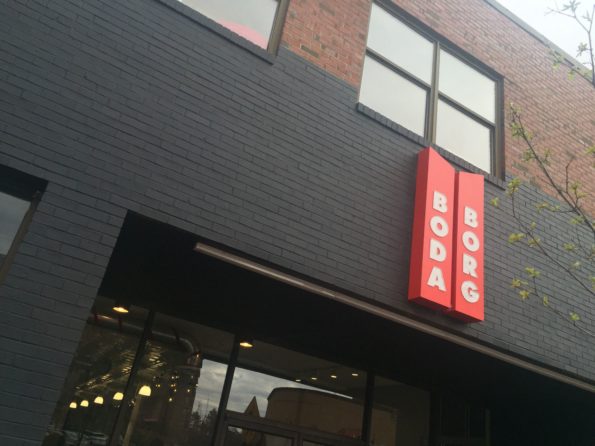 This review will take a bit of a different form than our usual posts. Because of the large quantity of quests at Boda Borg, we are reviewing the venue as a whole split across two posts. We'll briefly touch on each quests' story, scenic, and puzzle merits as usual and then speak to the venue as a whole.
Boda Borg is a Swedish import that arrived in the United States in the fall of 2015. Originally started in the mid-1990s, Boda Borg was one of the originators of the live gaming genre long before the rise in popularity of escape rooms. Each Boda Borg venue holds many quests. Tickets are sold for the venue as a whole and for a length of time instead of to each individual quest. Quests are broken up into three or four rooms or "levels" and must be completed in sequence. Completing the objectives in level one opens the door to level two and so on. All quests are fully automated and sensor driven. No combination or key locks here.
Players enter the first level of the quest without instructions for what the objectives or rules are. Perhaps a rule is that players can't touch the floor. This rule won't be known until the players fail the level and learn the rule by recognizing what action caused the failure. Each exit door has a screen above it showing the status of the current quest. If guests fail, and they will fail a lot, a sound plays and a red icon blinks on the screen. Players then exit the room and get back in line to try the quest again starting back at the first level. On the night we visited most quests did not have lines until later in the night and weren't longer than five minutes.
Boda Borg is based on the premise of success through failure. Trial and error is the only way to solve many of the challenges. There's no hint or clue system in place, and talking with other groups to get tips on how to defeat rooms is discouraged. If your group completes a quest you'll be greeted with an unlocked box holding a stamp to immortalize your success on your Boda Borg card.
Quests

Alcatraz
Escape from the infamous prison and avoid detection. To succeed one must employ the mindset of a prisoner. This quest is one of the best applications of a story world at the venue. The gameplay steps really feel like "game-ified" versions of what a prisoner might go through to escape and more importantly avoid detection.
Scenically this game is among the higher quality at Boda Borg as it was produced with help from the locally based 5 Wits. The opening scene takes place in a behind the walls style mess of pipes and conduits that players must use their balance to traverse. Scenic lighting and ambient prison sound effects also play a large role in building the tense atmosphere. The first rooms require only minimal physical effort and should be completable by most teams.
We ran out of time at the venue to beat this quest.
Platoon
In this military-themed game players prepare for war then set out for the battlefield. As with every quest at Boda Borg, getting into the mindset of the story world is the best approach for solving puzzles. This story first design to gameplay is the strength of Boda Borg's best games, and also the element that hurts its worst games.
Platoon works well to evoke the feeling of a battle zone with its second scene taking place during a bomber raid.
We had a bit of difficulty getting the our "answer" to register in this second room. Despite being fairly confident we had the right solution— it was the logical one— something seemed to not quite trigger correctly here. This is an issue with the no-hint/no-supervision style of gameplay as we didn't have a way to check if we were doing the right thing but the sensors themselves were just broken. Ultimately we gave up and moved on to another.
We were unable to solve the second room.
Pirates
It's a pirates life for you, but this pirate game should've stuck to the shore.  Pirates is a good looking game with its first two rooms decked out in wood beams forming the structure of a ship. Unlike the two previous quests, pirates doesn't have much of a story to its gameplay. The name really only has an effect on the surface theme of the room. The first room started as an enjoyable enough ball-rolling game but became overly repetitive past the third time completing it after our repeated failures in room number two.
In the second room we reached a breaking point of frustration. Despite every possible attempt to solve the room's puzzle we came up empty. The clues the room provided to us didn't lead us in any direction that felt like progress. This is yet another place where the "no hints" system really hurts the venue.
We were unable to solve the second room.
Roll and Rock
A game without a story. The thought behind this one is you are inside of a pinball machine. At least that's what the quest poster would have you believe. Instead, the quest is three small rooms painted in fluorescent colors each holding carnival style ball dexterity games. Place the balls in the right places before time runs out and you win.
Roll and Rock is among the small handful of games at Boda Borg that feels like filler. There's not much artistic intent here. It's just a packaging of dexterity games into a brightly painted room. Taking some of these challenges and placing them in a different context would be a much better use of space. If you are among those who enjoy dexterity challenges this quest will provide some enjoyment, but beyond the tactile, this quest doesn't offer much.
We completed this quest.
Dansa Pausa

A music based quest with the most minimal of scenic and the slightest of story in its final room.
One issue with this quest is some prior musical knowledge is required to successfully complete one room. Thankfully our group knew the information, but this quest could be impossible for some. Another puzzle involved a crudely made Dance Dance Revolution-style game. This particular challenge seemed to go on for quite a long time mainly because the dance steps didn't really match up with the music in the way in which one expects a DDR-type game to work.
I did enjoy the final room in Dansa Pausa with its slightly dark story nod amidst an upbeat activity, but that was the only highlight of the quest. If you're running low on time at Boda Borg, Dansa Pausa can be skipped.
We completed this quest.

Farm
Old McDonald's built a farm, and as it turns out you're an animal. This playfully themed quest is a kid-friendly jaunt through three farmhouse rooms. The decorations are reminiscent of what could be in an upscale kids bedroom. Completing this quest requires some basic reasoning and observation skills. There's a bit of crawling and climbing involved, but nothing more than what would be in a kids play place.
Farm falls pretty low on the difficulty scale and acts as a good introduction to how some of the sensor based puzzles work at the venue. The staff is quick to recommend both Farm and Rats as good first quest options, but I think Farm is the superior choice. We were able to finish this quest on our first try without failing any of the sections.
We completed this quest.
Tough, Tougher, Toughest
A physically challenging quest without any story or scenic. This is the jungle gym from your elementary school playground converted to adult challenges. Rock wall holds, metal bars, thin ledges, maybe a bit of acrobatics. Most groups should be able to make it through Tough, but in this quest, winning comes in different forms.
After we seemingly completed the quest by opening the stamp box we were presented with two doors. One with the way out, the other leading to further physical challenges. This tiered win structure is a good way of taking a quest that likely most won't be able to physically complete and making it so the majority of people can at least register some type of win.
I personally loved this all physical quest, but some group members weren't as excited by it. If you're into the more athletic side of Boda Borg quests you'll enjoy this one.
We completed Tough, but ran out of time at the venue to complete the rest.
Infra
Not everything can be seen with the naked eye and infra shows it's got something to hide. This quest is entirely built around Infrared light sources and different ways information can be hidden or obscured. There's not any story or scenic in these rooms. It's all about solving the puzzles.
Communication between team members is key to success. Many teams seemed to struggle with this quest. Our main problems were directly tech related. Although we knew the correct solution in the first room—evidenced by us later being able to move on—getting that solution to register was sometimes finicky. Once we completed the first room we were able to quickly solve two and three. Infra falls somewhere in the middle on the difficulty spectrum. Once players get the "trick" of the quest it should all click.
We completed this quest.



Boda Borg's product is of varied quality. Some quests are incredibly fun to play with puzzle and gameplay elements unique to the United States. Other quests seem impossibly difficult or underdeveloped. We've rated Boda Borg 4 Keys based on the overall feeling of the experience we had and because of its unique concept.
In part two of our review, we look at the remaining eight quests and further analyze Boda Borg's quest types and the positives and negatives of its Success through Failure design philosophy.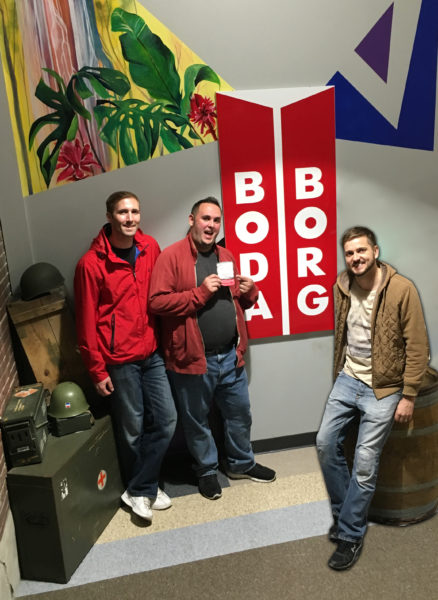 Venue:  Boda Borg
Location: Malden, Massachusetts
Number of Games: 17
GAME SPECIFIC INFORMATION:
Duration: Variable
Capacity: 3-5 people
Group Type: Private  / You will not be paired with strangers.
Cost: Two hours: $18 per person / Unlimited: $28 per person
Summary
Reviewer
Review Date
Reviewed Item
Author Rating