RATING: 3 Keys          RESULT: Win           REMAINING: 17:00
With imminent death nearing, the Wizard is relying on you to navigate through his workshop to create a lifesaving magic cure!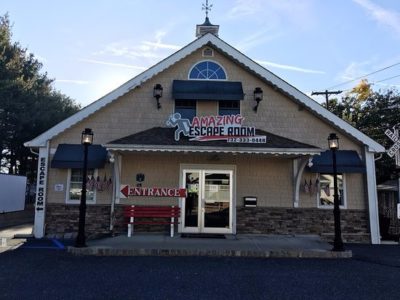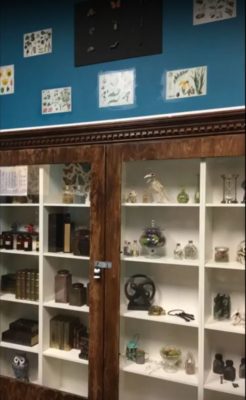 "The Wizard's ailment took a turn for the worst! As his apprentices, only you have the skills and know-how to find the cure. But beware! His workshop has been set with traps and tricks to protect it from those who would use his powers for evil. Have you been taught enough by the Wizard to surpass his spells and find the cure-all? Or is it too little, too late for the Wizard? You only have 60 minutes before the curse takes him over!"
This backstory gets players ready to explore the magical world of The Wizard. The story sets up many possibilities for exciting puzzles and surprises. Will the Wizard's apprentices be mixing potions and casting powerful spells or will his "traps and tricks" foil their attempt to save him?
There is no lead-in to The Wizard's storyworld other than the short blurb on their website. A deeper introduction to the story or explanation from the game master would go a long way in making The Wizard's world more immersive.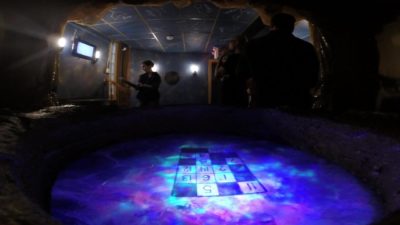 Amazing Escape Room succeeds in creating a space that looks like a wizards workshop, but it didn't leave a lasting impression on our team of apprentices.
We were a bit overwhelmed when we first entered The Wizard as there is so much to take in. The walls are thoroughly covered with posters and tools necessary for being a successful practitioner of magic. Consisting of three sections, each with their own distinct vibe, The Wizard believably transports you to the workshop of, well… a wizard. From a glowing cauldron, to a cabinet full of mysterious potions, this enigmatic workshop has all the makings of the intended setting.
Although it somewhat worked in the storyworld of an old wizard's workshop, the room looked a bit worn down in places.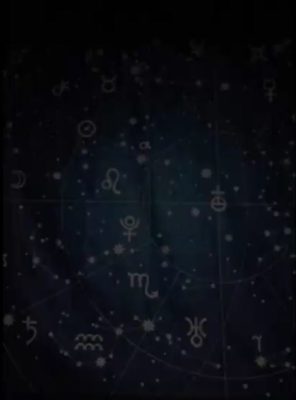 The puzzles in The Wizard stayed very much within the storyworld of a sorcerer's workshop. A few red herrings kept us occupied on dead ends, which we didn't love.
There is some nice tech intertwined throughout the puzzles, but we were hoping for a bit more in a game themed to wizardry and magic.
One puzzle was poorly designed and confusing, even with the help of a clue. Unfortunately that less than ideal puzzle is what we most remember from this room. We spent more time trying to decipher what had to be done to advance past that challenge than we spent on any other portion of the room.
A highlight for us was a puzzle near the end of the game that required all three apprentices to work together from different areas of the space. This puzzle highlighted the importance of communication, teamwork, and clarity.


One nice touch that is found at this and other Amazing Escape Room venues is that customers' gameplay experience starts while they are waiting for their escape room to begin. The lobby has a fun little trail of lock boxes and super easy puzzles that acquaint players with different types of locks they may encounter in the games. This is a great way for first timers and experienced escape room fans alike to warm up their brains or familiarize themselves with some light puzzle solving tasks before they jump into the full adventure.
Creative features added to the waiting area made us hopeful for the adventure we were about to embark on. The lobby kept us entertained until it was our time to go save the ailing sorcerer.
The Wizard was an enjoyable game but left us wanting more. The experience lacked any big "ah ha!" moments which is really important in a good escape room. For a game with a storyworld revolving around wizardry, it unfortunately didn't deliver much magic.


Venue: Amazing Escape Room

Location: Freehold, NJ
Number of Games: 6
GAME SPECIFIC INFORMATION:
Duration: 60 minutes
Capacity: 10 people
Group Type: Public / You may be paired with strangers.
Cost: $28 per person
Summary
Reviewer
Review Date
Reviewed Item
Amazing Escape Room - Freehold
Author Rating