In it's twentieth year of fear, Busch Gardens raises the bar with three new haunts, two new terror-tories and two new escape games, ensuring this will be the biggest Howl-O-Scream yet!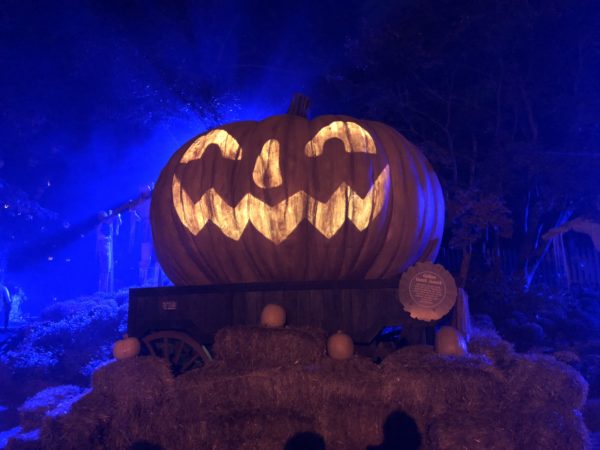 Howl-O-Scream, located at Busch Gardens Williamsburg, is a special event included with regular park admission that runs nineteen select nights between September 21, 2018 and October 28, 2018, every Friday, Saturday, Sunday as well as the last two Thursdays of October. Of note, this year the event will not be offered on Halloween night itself. In its twentieth year, Howl-O-Scream features seven different haunted houses – three of which are brand new for 2018, while the other four are back again from previous years, six scare zones (known here as Terror-tories), three live show as well as all of your favorite Busch Gardens Williamsburg thrill rides, including Alpengeist, Apollo's Chariot, Verbolten and the park's newest coaster, InvadR – all in pitch black darkness. Unique to the Williamsburg Howl-O-Scream are two separate ticket full-fledged No Escape rooms – Jack's Nightmare and Case of the Haunted Hotel (returning from 2017 with all new puzzles.) Those No Escape rooms will be reviewed separately from the event in our Games section.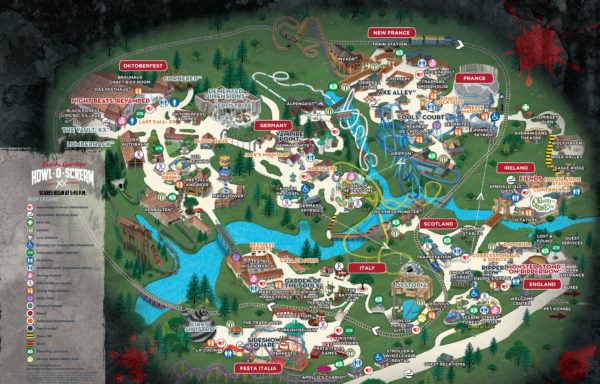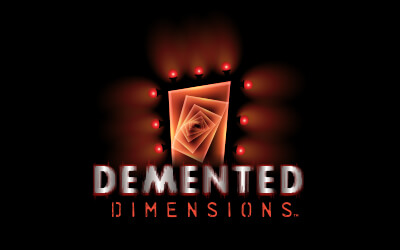 Demented Dimensions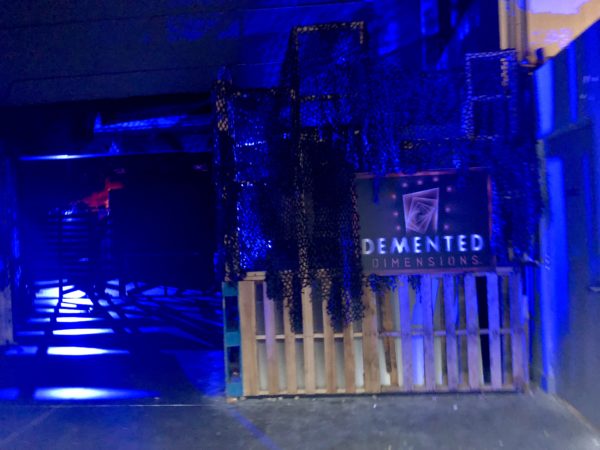 Sterling Manor, a massive estate, is home to more than meets the eye and is sitting on unspeakable terror. The energies of a dimensional vortex have opened portals to dreadful realms where unearthly creatures reside and humans are at the bottom of the food chain. Each new portal takes guests deeper into the terror.
Demented Dimensions aims to be the literal portal into some of the most warped and devilish dark worlds outside of our own. Oftentimes, this sort of disjointed collection of themes is difficult to pull off effectively- but it truly does have a satisfying flow this time around.
From the moment you step foot into the dilapidated Sterling Manor, it's clear that we've crossed over into another dimension. And with each turn we take, we jump from one wicked world to another. Some may even be familiar stories from our own world, with a fresh, dark twist.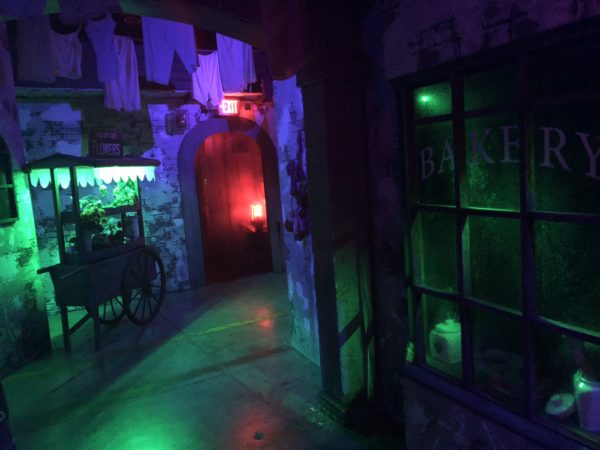 Demented Dimensions actually began as a new for 2017 haunt at sister park, Busch Gardens Tampa. While it's not at all uncommon to see Howl-O-Scream repeat mazes throughout the years, this is the first time we can think of where a maze started in one park and was shipped to another the following year. And while its loss may be sad for the Florida Park, Busch Gardens Williamsburg absolutely benefits from its arrival.
From bent, warped unknown worlds to more familiar themes like Jack the Ripper and Alice and Wonderland, Demented Dimensions has them all- and executes them in a fresh way that in turn boosts scenic standards of the event. Each scene is completely different from the one before it, yet the attention to detail and high quality decor remains constant throughout.
We certainly do miss one particularly cool scene found from the Tampa version that has mysteriously vanished in Williamsburg, wherein a room is teetering on the edge of two different dimensions, literally cut down the middle by a laser-like portal with half of it just…. gone. A very convincing, and very off-putting effect!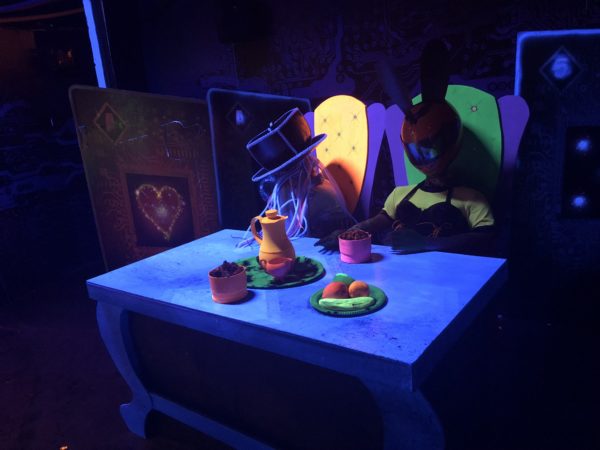 As unique and original as it's story and scenic, so too are the scares. Demented Dimensions is full of some truly cool scareactor hidey-holes- notably bending and twisting common objects air vents and more. Sadly, another casualty of the move to Virginia lost a great hiding place underneath a lifting staircase – one of our favorites at Busch Gardens Tampa last year!
Another small detriment to Demented Dimensions in its new home is its location itself. Inside the back half of the massive show building formerly used for the parks 4D ride, The Curse of DarKastle, this haunt has suddenly found itself trading in a tighter venue with lower ceilings to a giant space that actually makes Demented Dimensions feel a bit more "out in the open." Light leaks from the nearby Frostbite haunt make some scenes a bit brighter than they should be, while the more spaced out nature actually serves to make it feel ever so slightly less threatening.
Although the original version at Busch Gardens Tampa's event gets the nod, Demented Dimensions is still a great addition to Williamburg's line-up.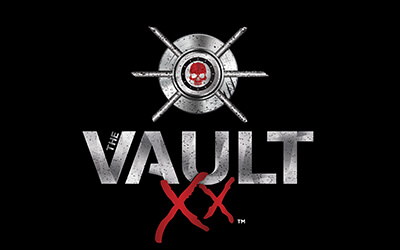 The Vault: XX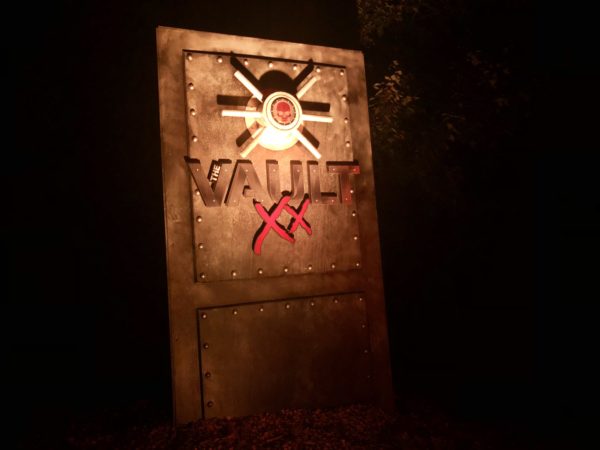 We're inviting back some old friends to celebrate the 20th anniversary of Howl-O-Scream. Favorite creatures of the night from classic Howl-O-Scream experiences are locked up in one location. Enjoy your walk down memory lane.
The Vault: XX is a sort of love letter to loyal Howl-O-Scream visitors. If you're one to visit this event year after year, this haunt, in honor of Howl-O-Scream's twentieth anniversary, is absolutely guaranteed to have something you'll remember from years past.
Structured as a sort of scrap book clip show through the event's history, The Vault: XX doesn't really have a flowing story of its own, but instead acts as the stage for a welcome nostalgia act of some of the event's most memorable moments we still talk about today.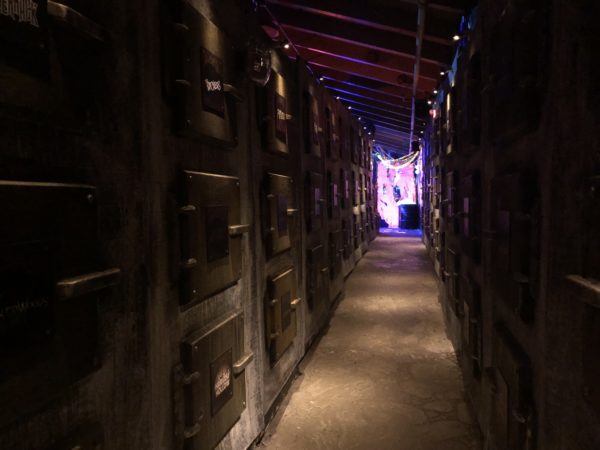 By its very nature, The Vault: XX does not have any cohesive scenic stylings from one scene to the next – and nor should it. Beginning with a long hallway of morgue draw "vaults" containing the remains of past haunts, each disjointed room that follows harkens back to a past Howl-O-Scream fan favorite scene.
Some connect to event icons, while others serve to recreate actual scenes from past haunts. With some scenes more modest in their decor, to others full of detail, there really are surprises around every corner within The Vault: XX that is sure to inspire a lot of "Hey, do you remember that year…" conversations while walking down its exit ramp.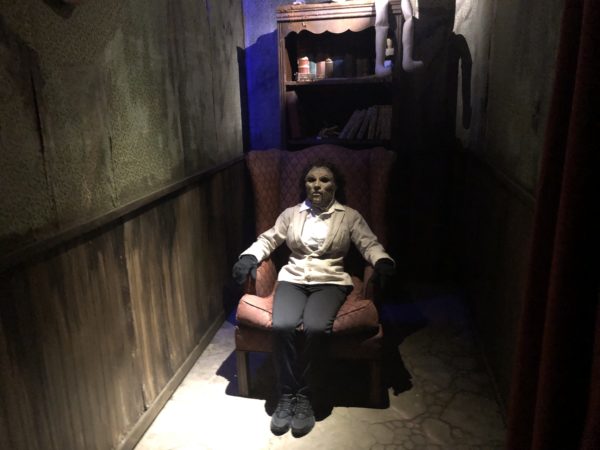 The Vault: XX's scares are made up of a who's who of past iconic Howl-O-Scream characters, beginning, appropriately with prior event mascots. Scarlett, with her demon horns stalks one scene, while Mr. Karver and his trusty dummy Georgie await in the next. Further on, the Lady of the Garden lurks in the roses (each with a seeing eyeball, of course.)
From there, classic scenes from past haunts make a return, including the scareactors who made them popular. Expect to see the Executioner from Dark Tower, the Mummy from Curse of Pompeii, the Pirate Captain Ghost from Sea Dog Cemetery,  Little Dead Riding Hood from Deadtime Stories and a Werewolf from Hunted, just to name a few.
Perhaps most surprising by his absence, this year's returning Howl-O-Scream icon, Jack is no where to be found in The Vault: XX. Perhaps he's just too busy terrorizing his own No Escape room.

Dystopia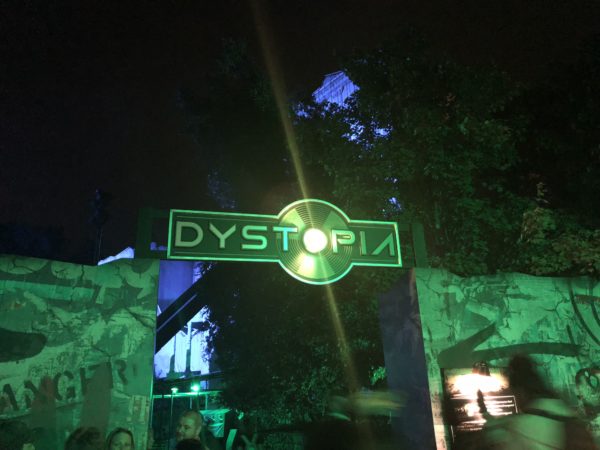 In a futuristic post-apocalyptic world, a new world order has risen. In this new system, you have a choice—join or be forgotten. Surrender to the utopia, and don't worry—you won't feel a thing. Ever again.
Dystopia drags guests into its story by instantly establishing that this new world order holds all the control.
Thanks to splitting paths (which we'll discuss more below) it becomes instantly apparent that we no longer hold a hand in forming our own future. Dystopia will do it for us, whether we agree or not.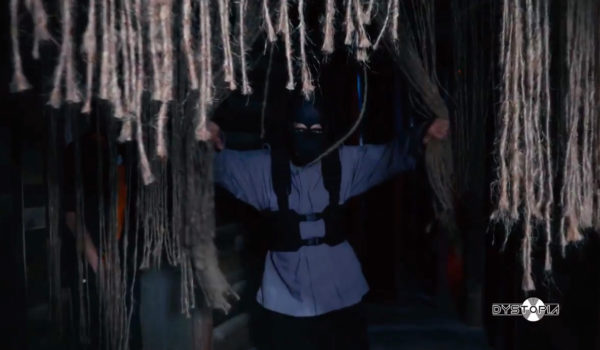 The underground society of Dystopia exist literally underneath the show building for the park's Escape from Pompeii shoot-the-chutes attraction. As such, it should be noted that Escape from Pompeii does not operate during Howl-O-Scream. It's location within a (sort of) existing day-time attraction allows for an imposing and impressive entry facade.
Dystopia's sets are somewhat modest, but what makes this haunt truly compelling are it's splitting paths. Now, this is certainly something we've seen in other haunts before it – but never to this degree. Dystopia splits groups down different routes multiple times throughout the experience. As such, one would need to experience it three or four times just to potentially see everything is this hellish, apocalyptic world.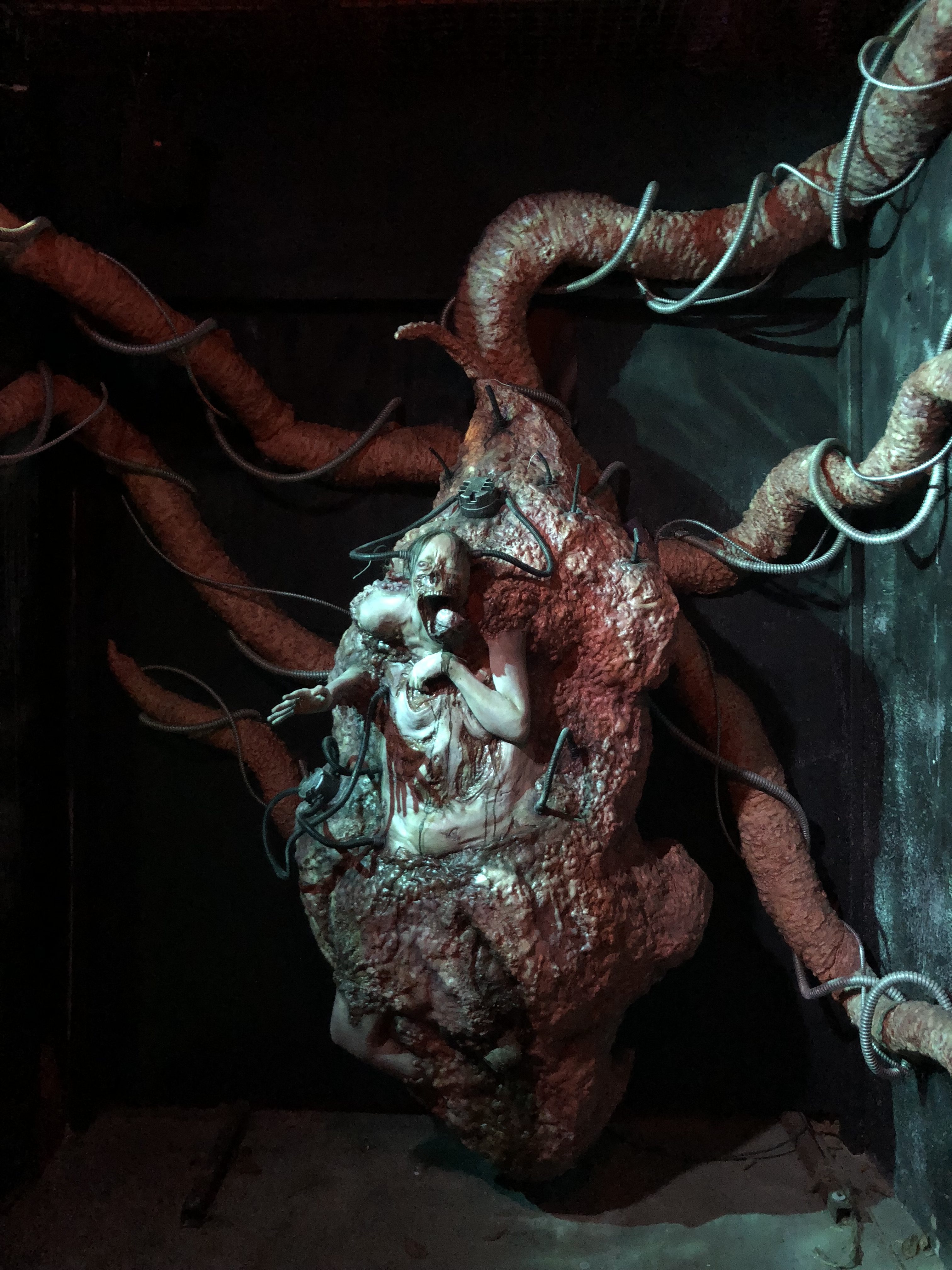 Powered by its multiple splitting paths, Dystopia's scares thrive on the unknown. There's simply no way to tell what lies ahead – even for returning guests; to the contrary, that control is firmly in the hands of its scareactors.
What results is a tense environment of uncertainty – not only whether or not you'll find yourself traveling down a new, unknown path, but if you'll be doing it with or without your friends.
Howl-O-Scream created an instant repeatability with Dystopia, inspiring guests to get right back in line to face the mystique of "what did I miss down all those other paths?!"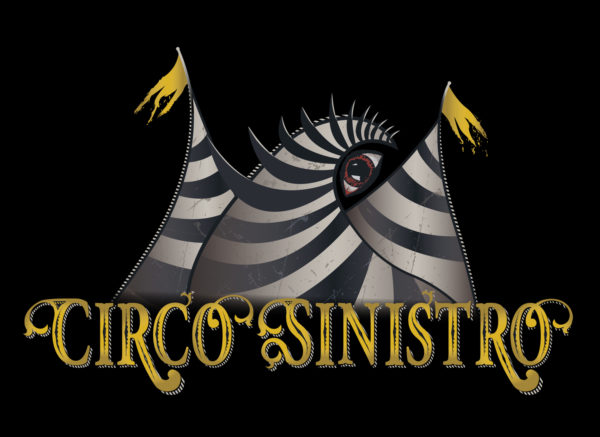 CIRCO SINESTRO


It doesn't take much to get me excited to find a haunted circus. Circo Sinestro, situated deep off the beaten trail of the park's Festa Italia area very much has an aura of foreboding about it.
There's a clear sense of "We probably shouldn't be here," yet we proceed under the tent just the same.
Circo Sinestro starts – or at least, attempts to – with a preshow moment, where large groups of guests are gathered in the first big top tent. What follows, unfortunately, fells unpolished, in a bad way. Almost as though someone was pulled from their break to cover a spot without any time to prepare. In the end, this preshow added nothing to the overall experience through the otherwise great haunt – and if anything, it hindered it by creating a much more slowly moving queue to get inside.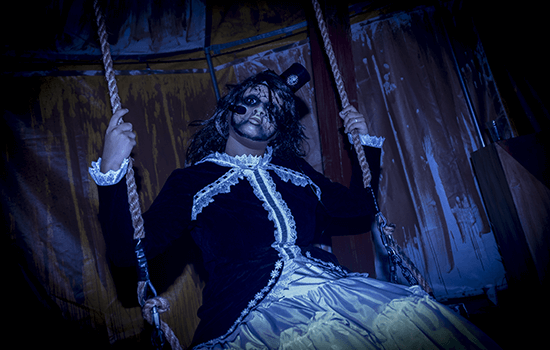 Circo Sinestro exists, quite appropriately, within a series of tents set up in a wooded clearing outdoors. As such, keep in mind that should you enter this particular haunt before sundown, your experience may be impacted by light leaks.
Moments within this haunt were actually disorienting. A well placed, duplicated tent instantly makes one question whether or not they somehow got turned around.
In fact there were one or two where even we inadvertently took a wrong turn and needed a bit of direction to get back on the intended path, adding to the allure Circo Sinestro was aiming to achieve.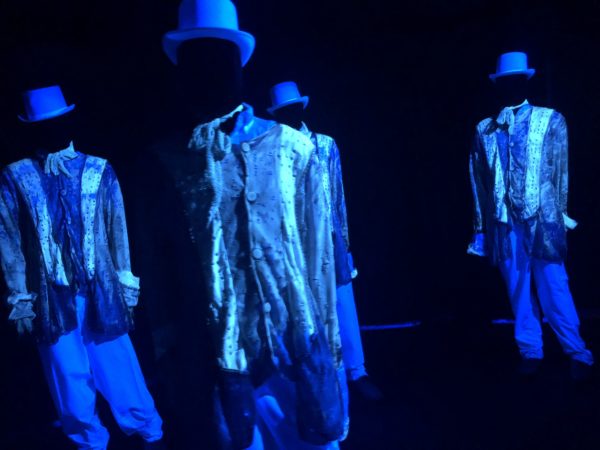 These scareactors clearly ran away to the circus – and more importantly away from the traditional flavor of the rest of Busch Gardens Williamsburg's Howl-O-Scream event. Circo Sinestro feels different – in a good way. We found them to be a bit more interactive and fun – almost like what we've come to expect from their Florida sister park in terms of character-based interaction rather than just screaming "boo!" scares.
Appropriately, the cast of Circo Sinestro put more effort into acting odd and goofy, which helped bring the storyworld to life.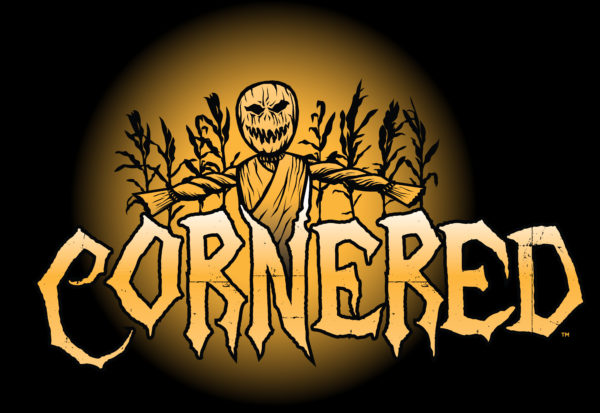 CORNERED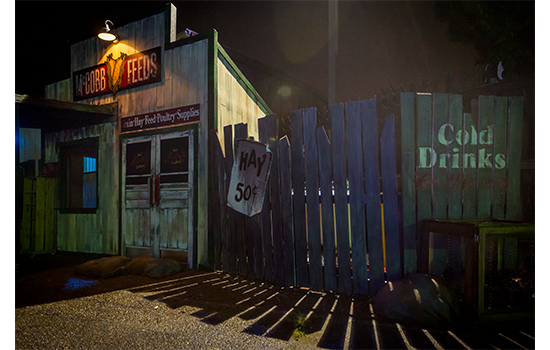 It's 1977 and a picturesque farming community is in an uproar over the ongoing disappearances of its residents. Each time someone goes missing, an intricate corn husk doll is left behind leading many to suspect local corn-farmer Jasper McCobb. The McCobb farm has fallen into disrepair since the death of Jasper's mother.
Could the missing townspeople be somewhere in the maze of maize? Join the search party and find out.
It's a simple premise, yet effective enough. People have gone missing. Local legend points towards the cornfield – which by day seems innocent enough but after dark takes on a whole new character of its own.
Once inside, minimal connect to McCobb farm, including its barn and silo await, though little mention of the missing townsfolk can be found. Essentially, the story becomes "walk through a corn maze."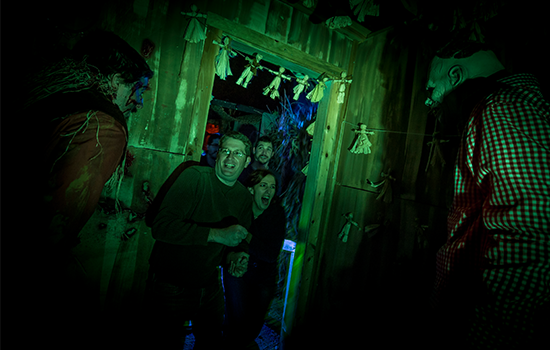 Last year, we raved most about the cornstalks themselves – beginning smaller, they quickly seemed to overtake you the further you get into this Haunt. At one point they were probably nine feet tall, on both sides of you. Without question, the most compelling moment came from the finale section, where the corn was actually bent over you creating tight passages – literally made of real corn – that you need to duck under and squeeze through if you hope to escape.
That was last year, and frankly, we're just not sure what happened this year. The massive corn maze is G-O-N-E, gone. In its place, hay-textured carpet walls of nothingness. Even the shorter height corn passage at the start is missing in action, replaced, even more questionably with walls covered with very fake looking rubber rats and snakes.
And while there is a very small section of cornstalks that form Cornered's exit statement yet again, the magic that made this haunt special is, at least for 2018, gone. It's important to note that while we have no idea if Cornered started off this season in the poor shape we found it during our visit, days prior, the remnants of a massive hurricane blew through the area, so it is possible these changes were not entirely planned.
This haunt exists entirely outdoors – so keep that in mind when deciding what time you visit during your time at the event.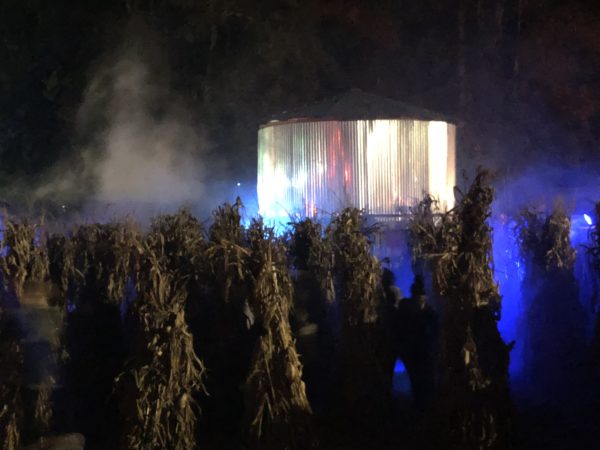 The corn is the story, the setting, and sadly also the scares – and without it, you're just not left with very much. We found the scareactors in Cornered to not be very active, and honesty many simply stood around.
I suppose we'll give them the benefit of the doubt and say that's what scarecrows do.
We can only hope that if Cornered returns for the 2019 season, it will bring with it the thousands of cornstalks that made it so compelling.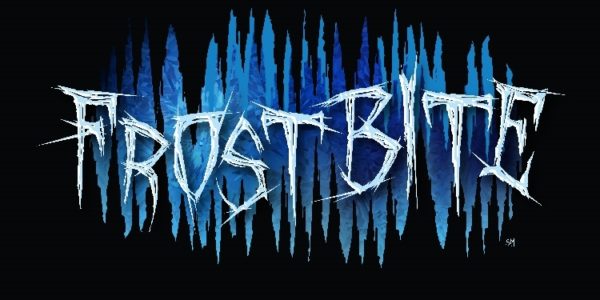 FROSTBITE


Last year, Frostbite began with a preshow video which we felt didn't really serve the haunt any favors. This year, that video was thankfully absent, at least during the time of our visit.
Once inside the haunt, its story feels largely abandoned. Frostbite quickly becomes not about an immersive storyworld, but rather some vaguely ice-themed sets inside what is now a large, empty warehouse.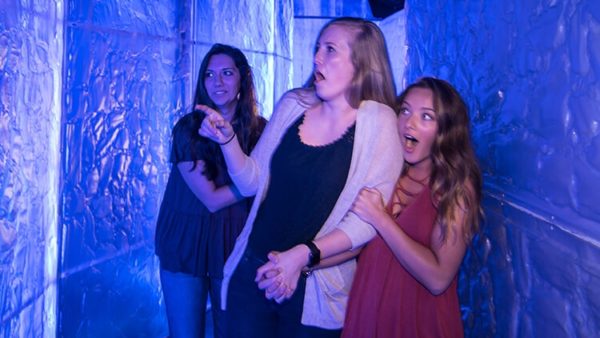 In its second year, Frostbite's biggest hook in 2017 was the rare opportunity to actually walk along the ride track, and see – and even touch – some of the elaborate sets used in the park's 4D ride, The Curse of DarKastle. Massive projection screens from the ride were in use during the haunt, featuring custom footage, book-ended by impressive physical set pieces inherited from the ride itself, including castle interiors, caves and the iconic sinister forest.
But my, what a difference one year can make. With The Curse of DarKastle now permanently closed and a yet-to-be-named replacement in the design phase, the ride's former show building has been completely gutted, removing all of the strongest aspects from Frostbite's debut year, and almost, in a sense, leaving Howl-O-Scream to substitute them with what feels like a nearly new haunt.
Unfortunately those new scenes seem to embrace what worked worst about 2017's version, with generic hallways of ice textured vacuform panels glowing blue "because ice." And although Frostbite does at least try to begin with a similar flow, throw a new make-shift dining room scene within the castle, it quickly melts into plain plywood and white camo-netting, leaving a haunt that becomes memorable for all the wrong reasons – namely, "remember when Frostbite used to be better?"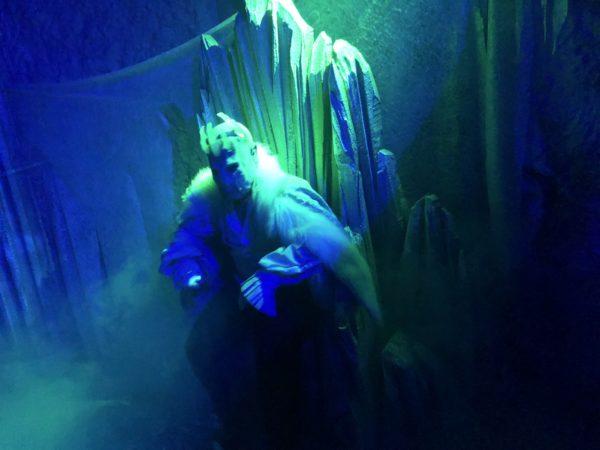 Much of Frostbite previously relied on its location- and with that location stripped away, its scares are most certainly impacted. Large sections of empty space tarnish the flow of what, on paper, really is a pretty cool, unique haunt story.
Most frustrating, those scareactors we encountered really did seem motivated to perform, but without a suitable setting, there's only so much they can do.
We feared the loss of The Curse of DarKastle might directly hinder this Haunt. Sometimes it's just not fun to be right.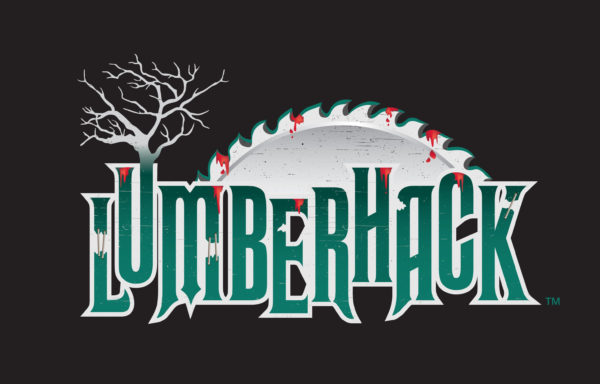 LUMBERHACK


It should come as no surprise that if something has been abandoned in the middle of the woods, we're obviously bound to stumble upon it. It's kind of what we do.
Lumberhack crafts a mood of "local legend come to life" dropping us right into the middle as we not only find that logging camp, but also encounter the infamous saws that ripped those unlucky enough to come before us limb from limb. And there's a lot of saws.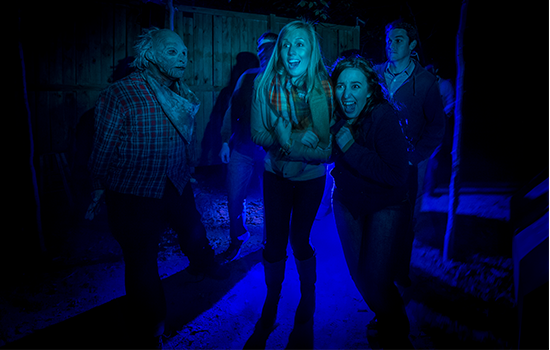 Minimal set pieces and decor takes a backseat to the real star of Lumberhack: the actual densely wooded forest behind Busch Gardens Williamsburg. And after dark, they're creepy as hell!
Lumberhack exists entirely outdoors – so keep that in mind when deciding when to visit during your time at the event. Intentionally, we passed through twice — one by day and another by night. The experience simply cannot compare. As with any outdoor haunt, Lumberhack is clearly designed to be experienced at night – and as such you definitely should wait for the sun to fully set.
Much credit is owed to Mother Nature for working her magic over decades of Busch Gardens Williamsburg's existence, making the setting for Lumberhack truly unique – not only to Howl-O-Scream, but to many big budget theme park haunts across the country.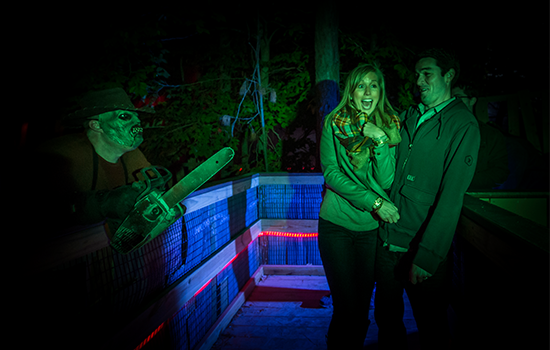 In a sense, Lumberhack's location is its greatest scare. I don't think I need to tell you how effective a walk through a dark forest can be.
Mix in fog and some theatrical lighting and you already have a winner for scares, even before the actors step foot inside.
And if that doesn't get you, the battering ram or chainsaws probably will.

Staying true to their thematic roots, Busch Gardens Williamsburg refers to their Scare Zones as "Terror-tories."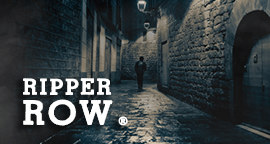 RIPPER ROW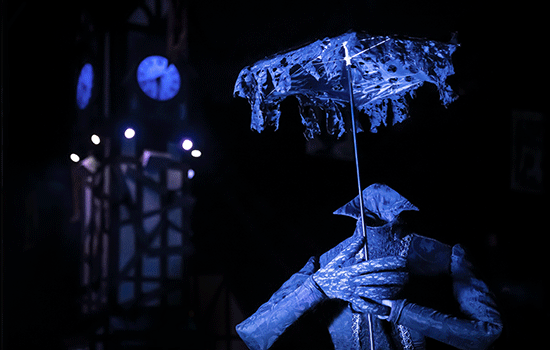 Things are looking a bit unsettling in England with a murderer on the loose plucking unsuspecting victims from the city streets to satisfy his grizzly curiosity. No one knows what Jack the Ripper looks like or who he will strike next. Authorities hunt furiously among the crowds in search of the killer nabbing anyone who looks at all suspicious. Keep your head down and your wits about you or you might not make it out alive.
The event's entry statement sees decor throughout the England village, plus the addition of fog and roaming characters. Don't expect much in the way of scares, as this area really is more about overall atmosphere and setting the mood of things to come throughout Howl-O-Scream.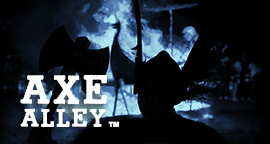 AXE ALLEY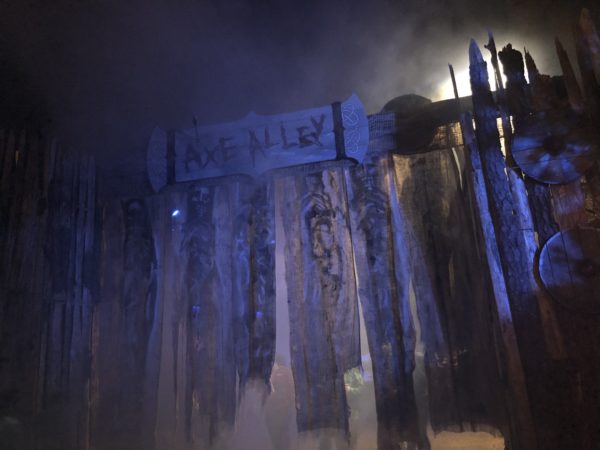 The Norsemen came to invade, but what they got was their own Viking funeral. For this was no ordinary raiding party, but an unleashing of power so grotesque that even those mighty Viking warriors fell prey to its devices. The remains of this horrible attack are strewn among the desolate ruins of smoldering timbers and axe-slashed oak. There's more hidden among these terrifying artifacts in Axe Alley ™. The spirits are restless and under the control of this madness. They walk the world of the living once more to unleash terror upon the land.
Framed by two impressive, log-structured entry gates, New France is returned to the time of  Vikings. Battering rams, viking ships and those left behind litter the path, transforming this terror-tory after dark.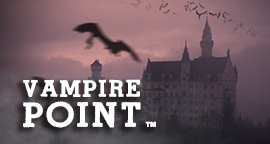 VAMPIRE POINT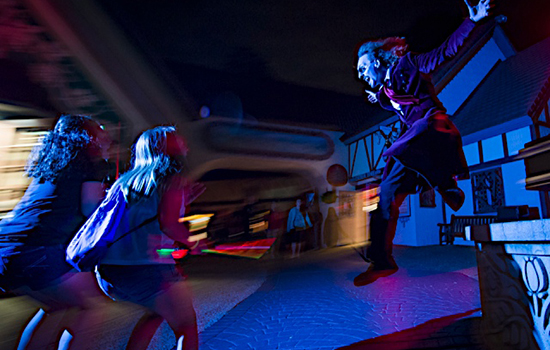 Even vampires need a vacation once in a while and Vampire Point ™ is the perfect destination for bloodsuckers. Watch your step and your neck or you might end up being their beverage of choice. Dawn is hours away, so your last salvation lies in escaping the vampire village before the inhabitants sink their fangs into you.

Some light decor, red and black bunting and chains slightly transforms the existing Germany games area for this seasonal overlay. While it's certainly nice to have something, this doesn't at all read as a vampire village without the inclusion of physical sets to sell the tone.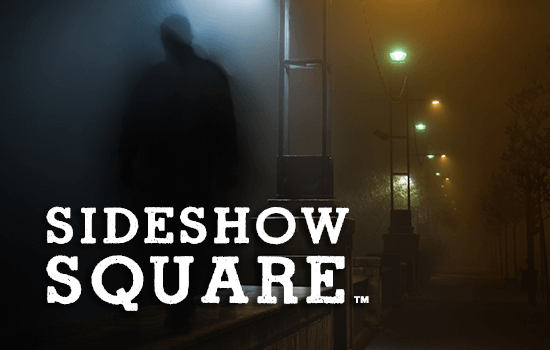 SIDESHOW SQUARE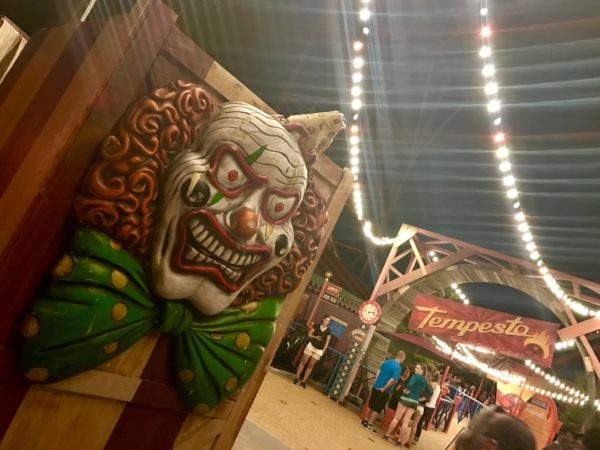 Your jaw will drop on your way to the big top. What was once only in your imagination is now a frightening reality full of haunts, curiosities and plenty of scare to make you shriek.
Very modest props and decor adorn Festa Italia for its transition into Sideshow Square. Roaming clowns wander the existing park midway, adding an enhanced flavor, but not entirely feeling like a truly dedicated "scare zone" on its own, per say.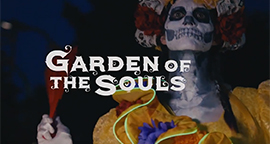 Garden of Souls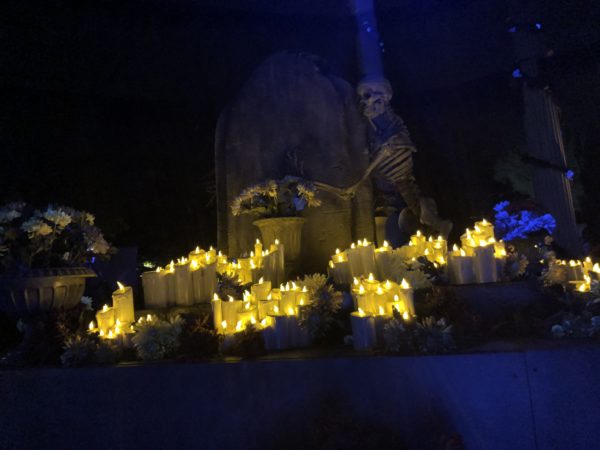 A ghastly transformation has taken place in Italy Gardens. Welcome to Funeral Gardens, the setting for Garden of the Souls™. Here guests may visit the graves of deceased loved ones, but this garden has a dark secret. The dead roam free, and they'd love to show you what waits in the afterlife.
A dark presence takes over Italy, celebrating the souls of those lost before us. Carrying an elegant cemetery flavor, Garden of Souls transforms this section of the park with moody purple lighting and scenic decor that enhances bot the spirit of the season, and the spirits that stalk us along its paths.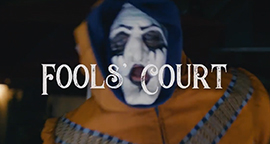 Fool's Court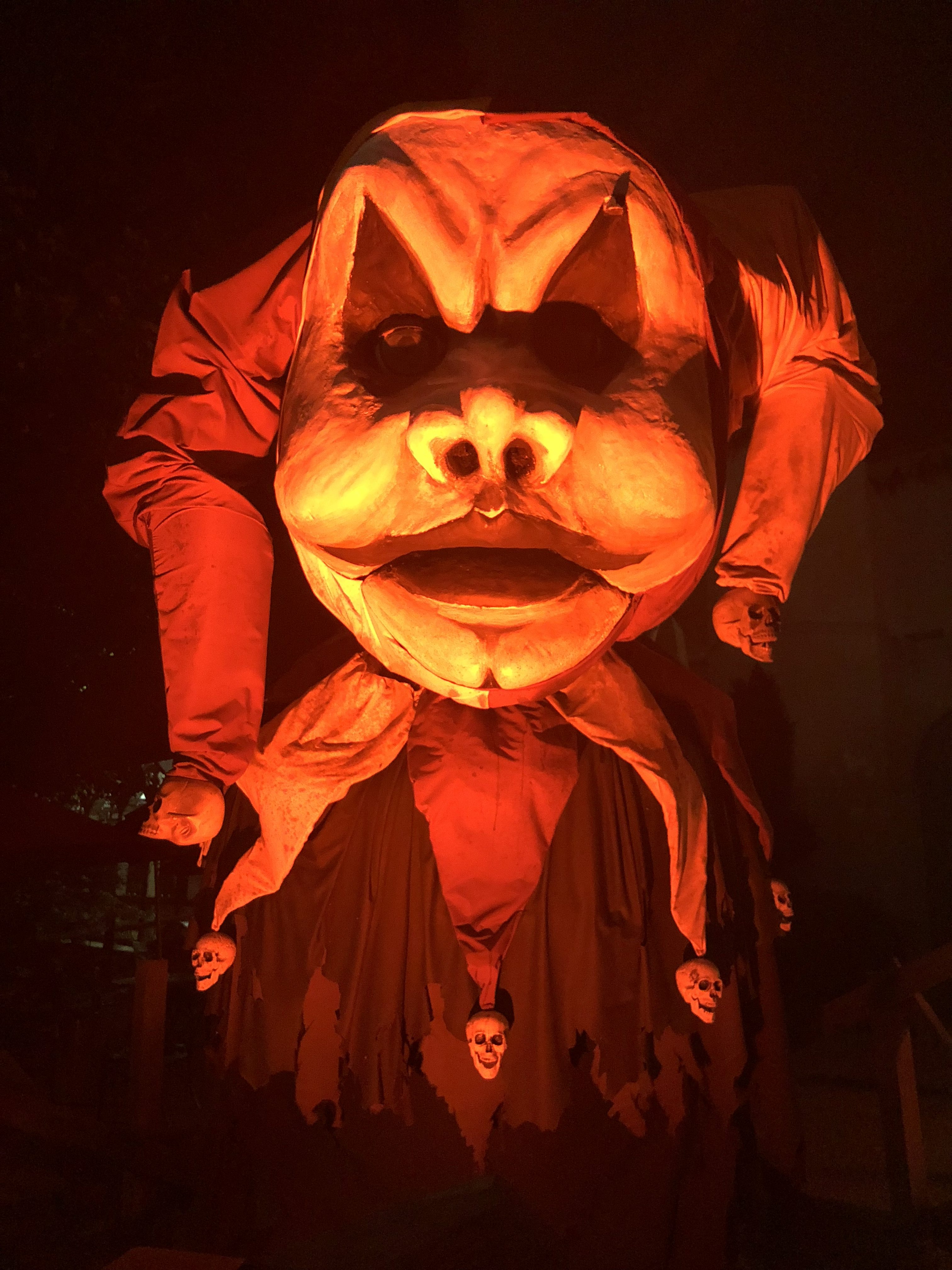 A new king has taken over the throne at the Royal Palace and he's a real Joker. Chaos reigns supreme in the Fools' Court. When the Motley Fools hit the streets, the joke will always be on you. Steer clear of the jesters, who will terrorize you under the lights of this twisted celebration.
Festive seasonal decor strung from the rooftops and across the courtyards of France evokes a "Halloween version of Christmas" flavor that really works well. Framed by an ominous-but-silly over-sized Jack-in-the-Box, Fool's Court instantly carries a different mood from the rest of the event's scare zones. Expect playful, slightly-less-spooky court jesters, mimes and other location appropriate street performers to dance past you through the fog – with minimal sets to hide in or objects to duck behind. Fool's Court is more about ambiance than scares.

Howl-O-Scream features a whopping four different live shows, although we elected to not see them. Instead we used our limited time to explore the park's haunts, escape games and killer coasters after dark. For those interested in a brief respite from the terror, here's their lineup:

FIENDS
The wacky doctor and his manic nurses are creating the ultimate Fiend, and there's not a bad seat in the lab. The voltage is high, and so is the fun as they sing, dance and bring you along on the operation of a lifetime.

MONSTER STOMP
Monster Stomp™ returns, this time on Ripper Row®. This modern rock and rhythm spectacular features Jack the Ripper like you've never seen him before. The beat is back as electrifying percussion, dynamic dance, and sensational singing return to the stage in a pulse pounding revue that is darkly entertaining.

NIGHT BEATS: REVAMPED
They might be undead, but that doesn't mean they don't know how to live it up. Shine your shoes and sharpen your fangs, you're cordially invited to the gathering of the century. So, pull up a tombstone as these creatures of the night sing, dance and party. You'll be smitten…until you're bitten.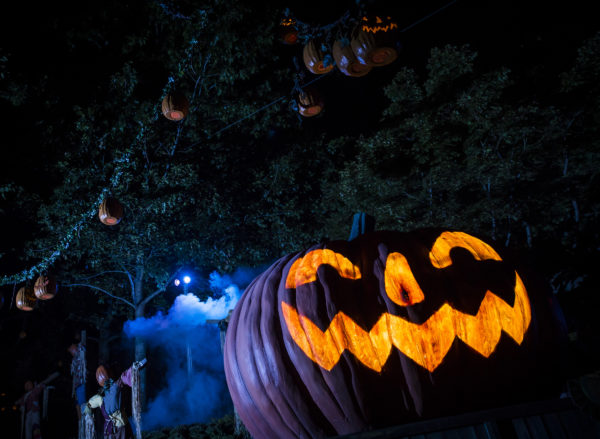 It's remarkable to think that Busch Gardens Williamsburg and Busch Gardens Tampa are under the same corporate umbrella. The differences in how they operate their respective Howl-O-Scream events are night and day (and who wants to go to a Halloween event during the proverbial daytime?)
Puns aside, that does bring us to an important timing aspect that can greatly impact your experience at Virginia's Howl-O-Scream. Busch Gardens Williamsburg offers the event included with regular admission. As such, it operates only during normal park hours. The haunts themselves do not open until around 6pm, and on the day of our visit, a Sunday in mid-October, the park was only open until 10pm. Think about that for a second — Howl-O-Scream offered barely two and a half hours of darkness for the duration of the entire event night.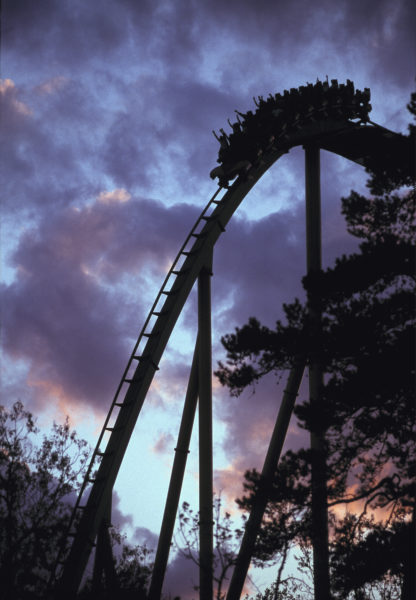 Unlike our consistent experiences at Busch Gardens Tampa, the Williamsburg event gets exceptionally crowded before haunts even begin to open in the evening. If you're strictly visiting for the park's stellar collection of Roller Coasters, those lines will be short all morning throughout early afternoon. However, if you're attending for the haunts, expect to need to purchase an up charge Quick Queue if you hope to see it all in one night due to the much earlier closing times.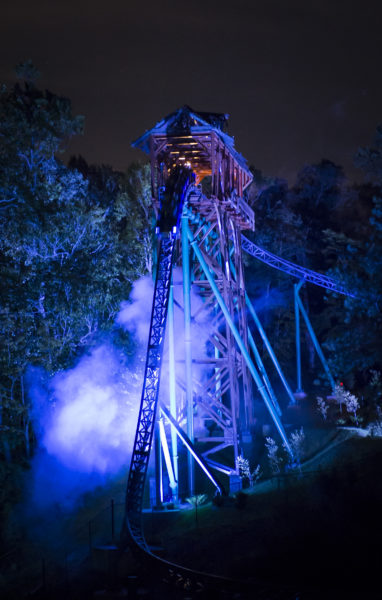 Although generally speaking, Busch Gardens Williamsburg isn't home to our favorite haunt or scare zone, where they absolutely excel is an area that many parks barely even attempt: seasonal decor. Literally every inch of the park is decked out for Halloween – with spooky-themed garland strung across nearly every building and special lighting throughout the park. In fact, Busch Gardens Williamsburg may put more effort into their Halloween decor than most parks do for Christmas.
In its twentieth year, Howl-O-Scream did boast notable improvements over past years – ones that make us excited for what may await as the event lurks forward toward its third decade and beyond. With three new haunts, two new scare zones and two new escape games added to an event that traditionally shows slower growth, it should come as no surprise that there's more excitement than ever before surrounding How-O-Scream.
The atmosphere that fills Busch Gardens Williamsburg this time of year is infectious, and easily makes returning into this shadowy forest a worth-while pilgrimage for those seeking a bit of festive fear.
You can find an extended photo gallery from our full day at Busch Gardens Williamsburg's Howl-O-Scream in this exclusive album on the Escape Authority Facebook page! While there, why not give us a "LIKE" if you haven't already? We'll give you candy!

Venue: Busch Gardens Williamsburg
Location: Williamsburg, VA
Dates: Select Nights September 21st – October 28th
Hours: 6:00PM – 10, 11 or 12AM
Cost: $90 per person at the gate, or $70 per person if purchased in advance online. Other special discounts are available.
Summary
Reviewer
Review Date
Reviewed Item
Howl-O-Scream - Busch Gardens Williamsburg
Author Rating