Universal Orlando's Halloween Horror Nights is back – to the past, that is. An event known for its ability to change things up each year thanks to its large budget and Hollywood-quality scenic is traveling back to the 1980s, and bringing its die-hard fans along for the ride (after waiting in a very long queue, of course!)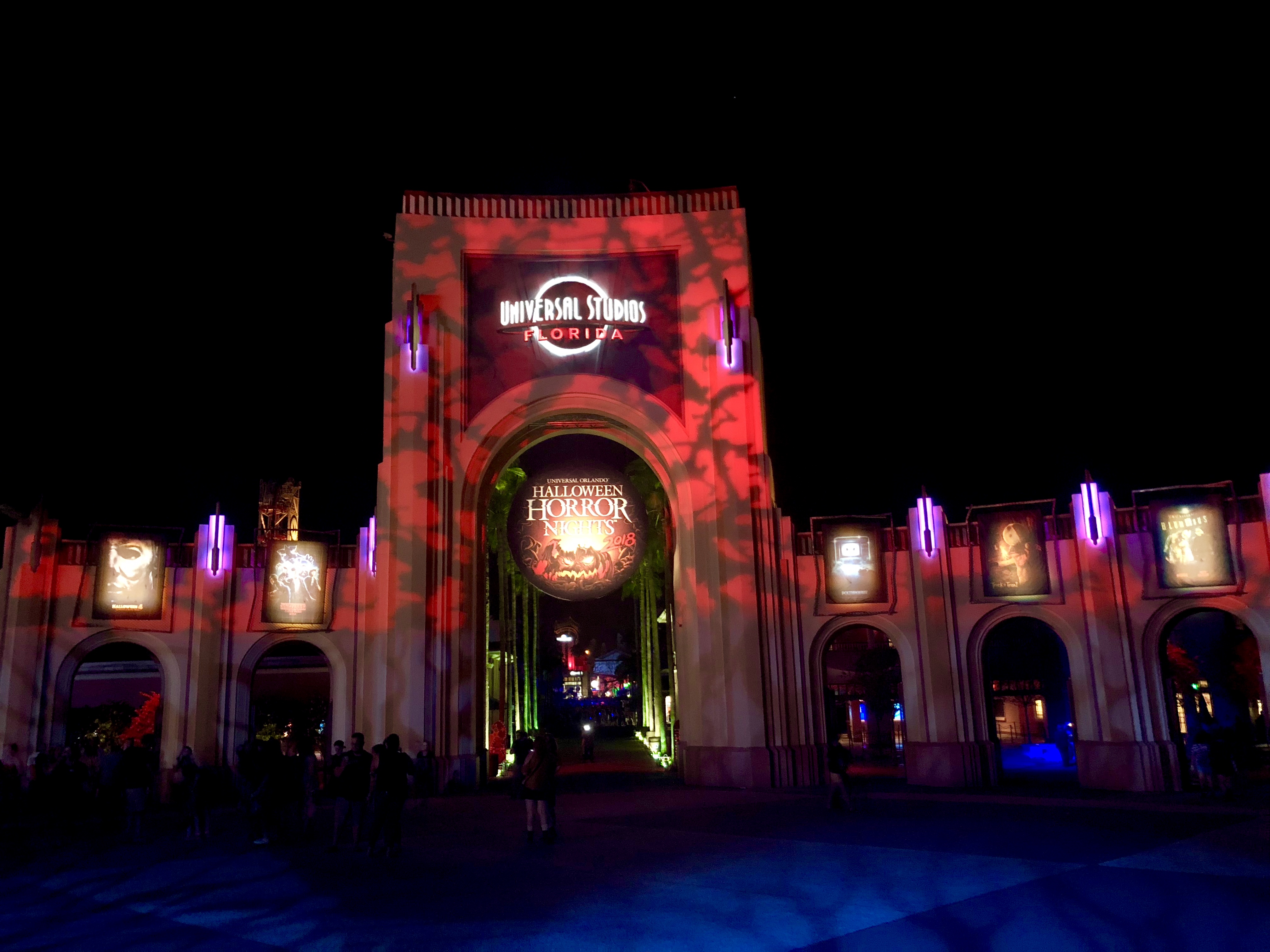 Halloween Horror Nights 28, located at Universal Studios Florida, is a separately ticketed event that runs thirty-six select nights between September 14th, 2018 and November 3rd, 2018, including every Wednesday, Thursday, Friday, Saturday, and Sunday, with the exception of Thursday, September 27th. In its 28th year, Halloween Horror Nights features ten different haunted houses, five scare zones, and one show, as well as most of your favorite Universal Studios Florida attractions, including Harry Potter and the Escape from Gringotts and Revenge of the Mummy. This year, Universal has partnered with Netflix to present not only a Stranger Things haunt, but also themed merchandise and food (did someone say Eggo Milkshake?)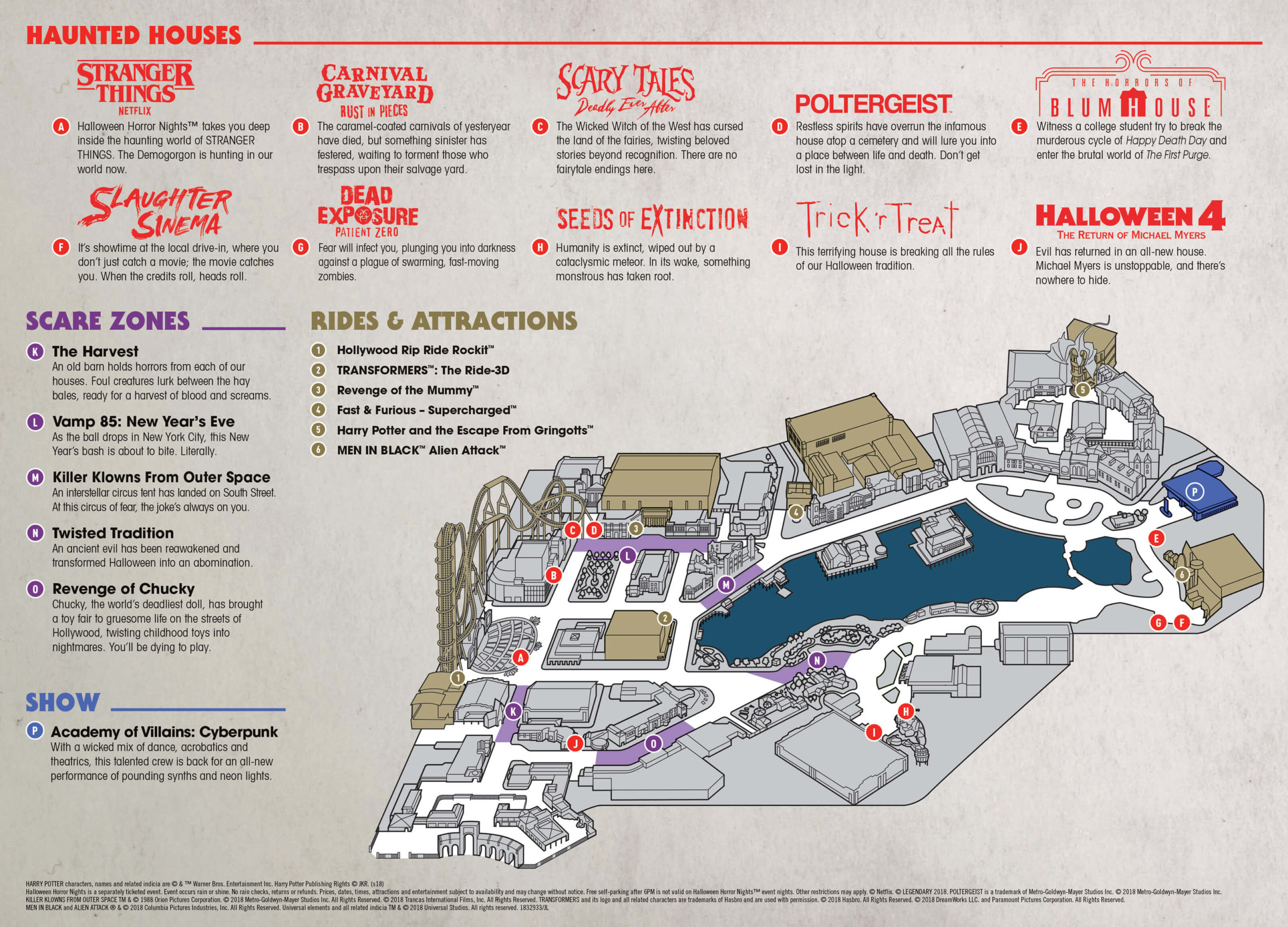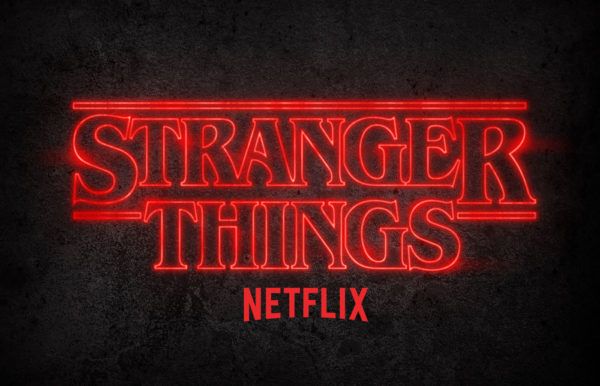 Stranger things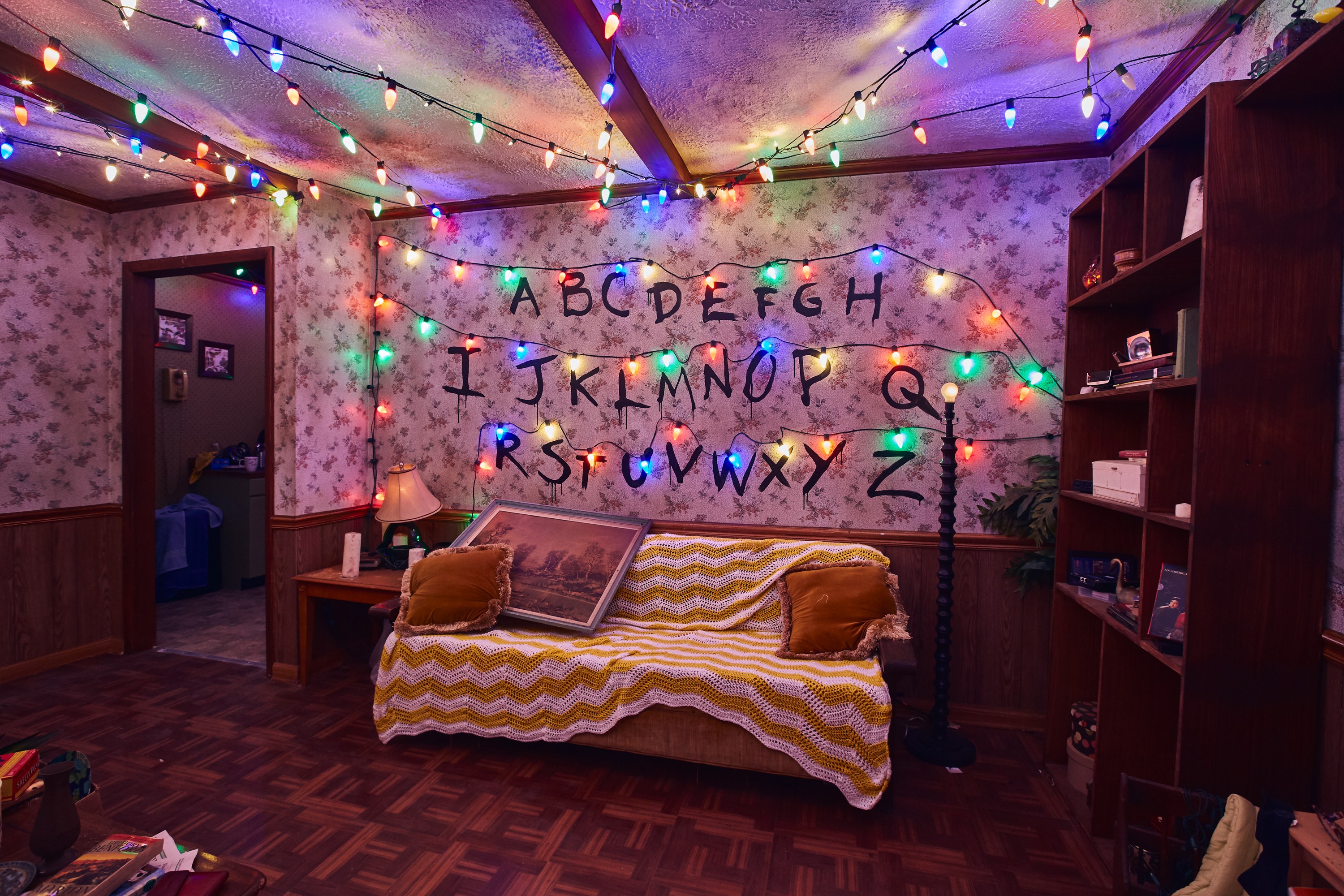 The Demogorgon is hunting in our world now. Halloween Horror Nights takes you deep inside the haunting world of STRANGER THINGS. From a secret government lab where vile human experiments have opened the gates of chaos, to the terrifying emptiness of the Void. From the darkest corners of Hawkins, Indiana, where homes and walls offer no protection, to the monster-filled reality of the Upside Down. As you try to escape these nightmares, in footsteps of the show's heroes, you are certain of only one thing—The Demogorgon is moving closer.
Stranger Things focuses primarily on season one of the mega-hit NetFlix series – transporting guests directly through the screen and into its world. Will Byers is missing – inexplicably trapped in the Upside Down. But this time it's not just Will who stumbles into a world of nightmares; we're about to join him.
The Halloween Horror Nights team hit all the high points from Stranger Things' first season in a haunt that truly plays out well in book report format. Fans of the show will find an instant connection to the narrative, while those who don't watch it will still see themselves immersed into a story that is able to stand on its own without any "IP prior knowledge."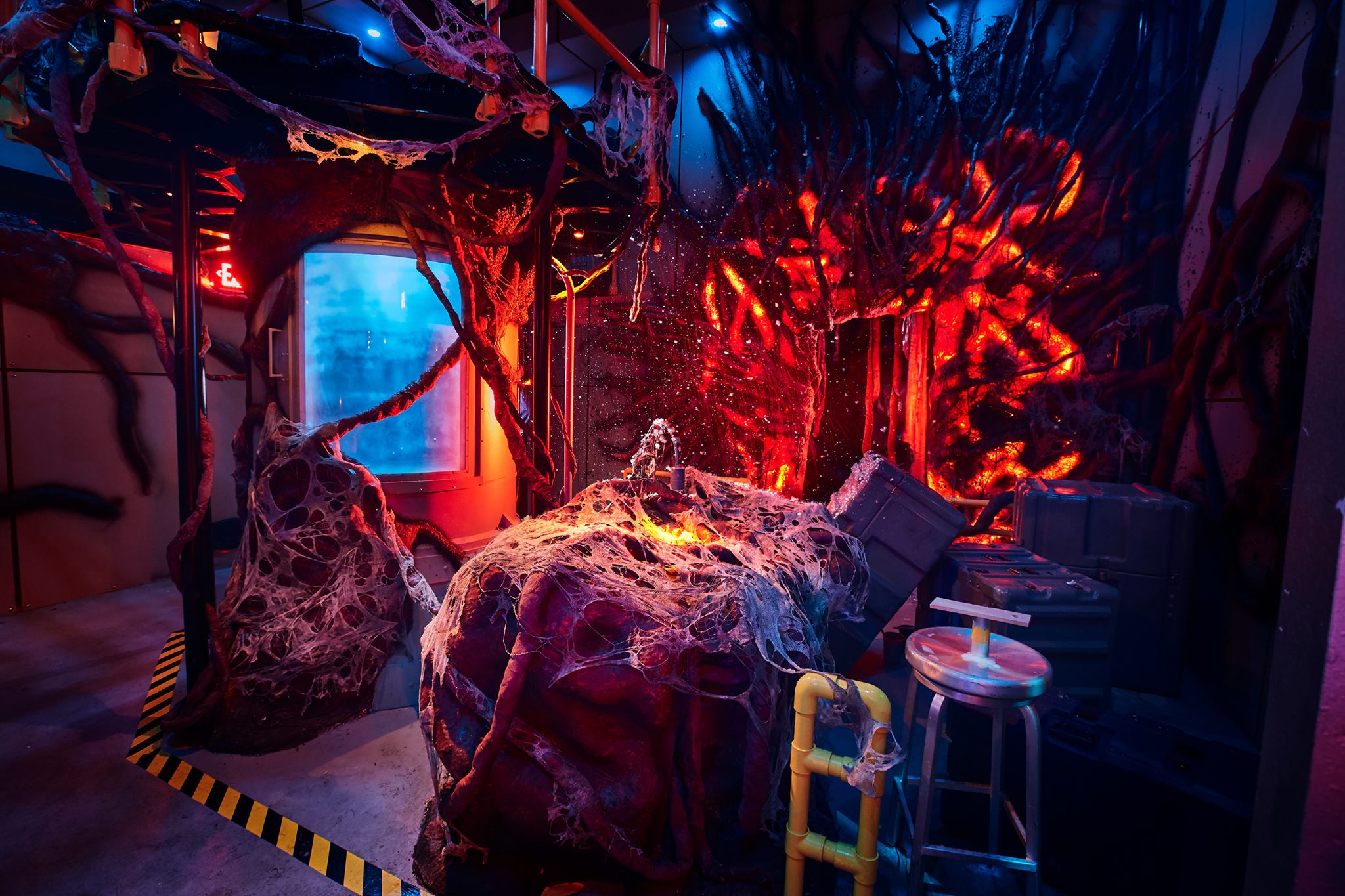 Stranger Things has some truly great scenic – highlighting everything you'd expect to see, laid out in sequence just as season one of the show played out. Beginning in the cold, concrete walls of Hawkins National Laboratory, we escape to find ourselves before the modest facade of the Byers' family home. Once inside, we're clearly too late to save young Will Byers; mismatched Christmas lights are strung across every open inch of ceiling and wall – flashing demonically, giving a clear sense that something is wrong.
Our first taste of the Upside Down brings us into the woods where Will hides in the sanctuary of Castle Byers. But it's once we return to Hawkins National Laboratory that truly all hell has broken loose. The portal into the Upside Down has grown significantly larger and more powerful, enveloping everything near it while releasing sinister spores into the air around us. At it's core, a simple effect achieved with the help of some thinned out snow machines, it matches the look and feel of the show so well that it's impossible not become immersed in the moment.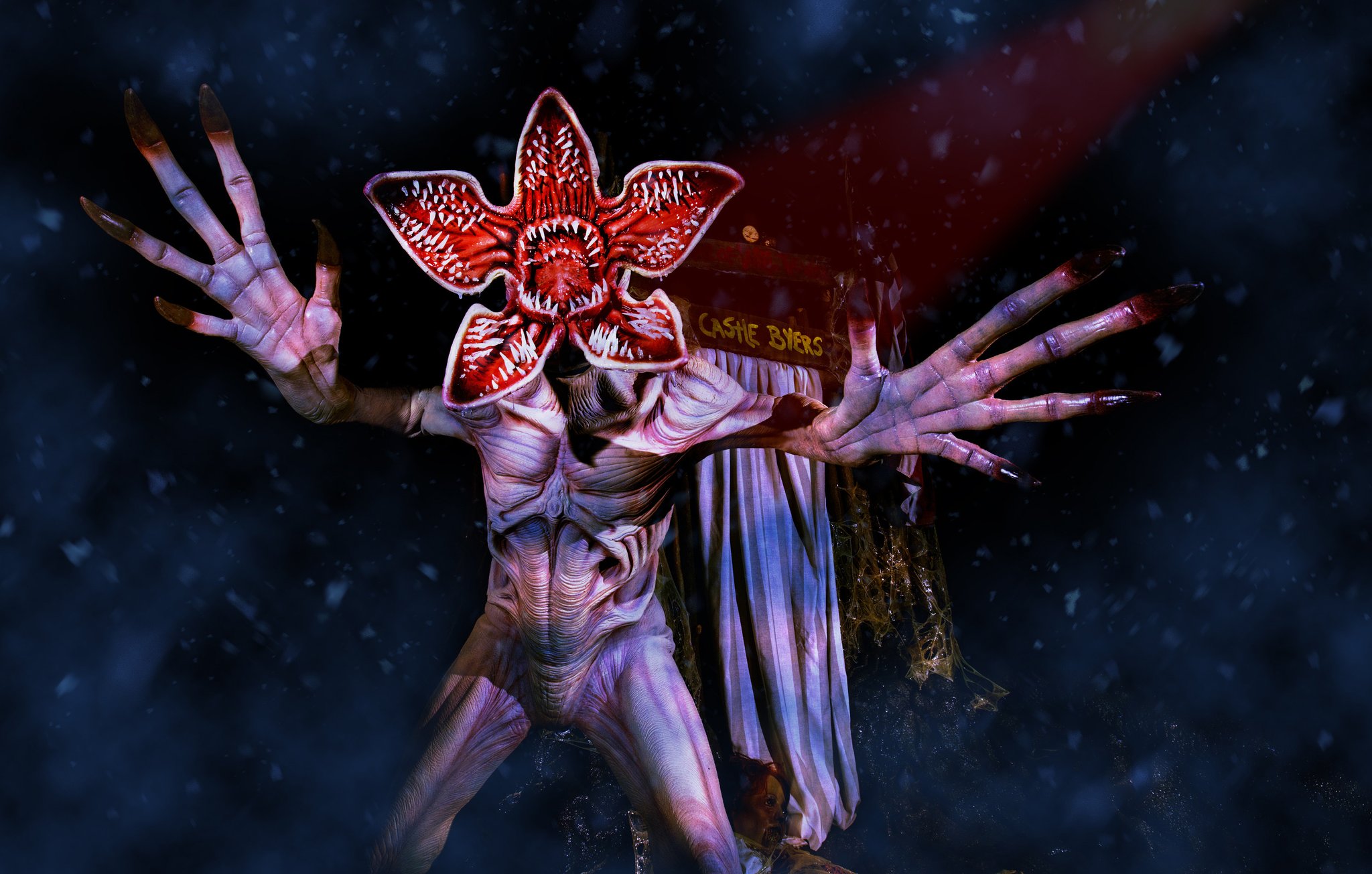 Make no mistake, Stranger things has a whole lot of things going for it. It truly stands alone as a great attraction – one that does the series proud and will no doubt send fans who finally get to live it for themselves into a frenzy. But here's the thing – as a haunt, on that level, it kind of doesn't work.
Don't get us wrong – we were as excited to see the Demogorgon live in the scaly flesh as anyone. But when that same Demogorgon pops out around every single corner, things begin to feel a bit repetitious and almost forced. Therein lies the problem of using an IP that, at its core (in the case of season one) really does only have one "main baddie."
But again – this shouldn't deter you from experiencing Stranger Things; it IS a solid immersive adventure, and perhaps its biggest flaw is that it feels more like a year round attraction than a haunted house-proper. This one is as scary as the show (IE- not very) but it has a solid flow and familiar climax of Eleven battling the Demogorgon that plays out right before your eyes.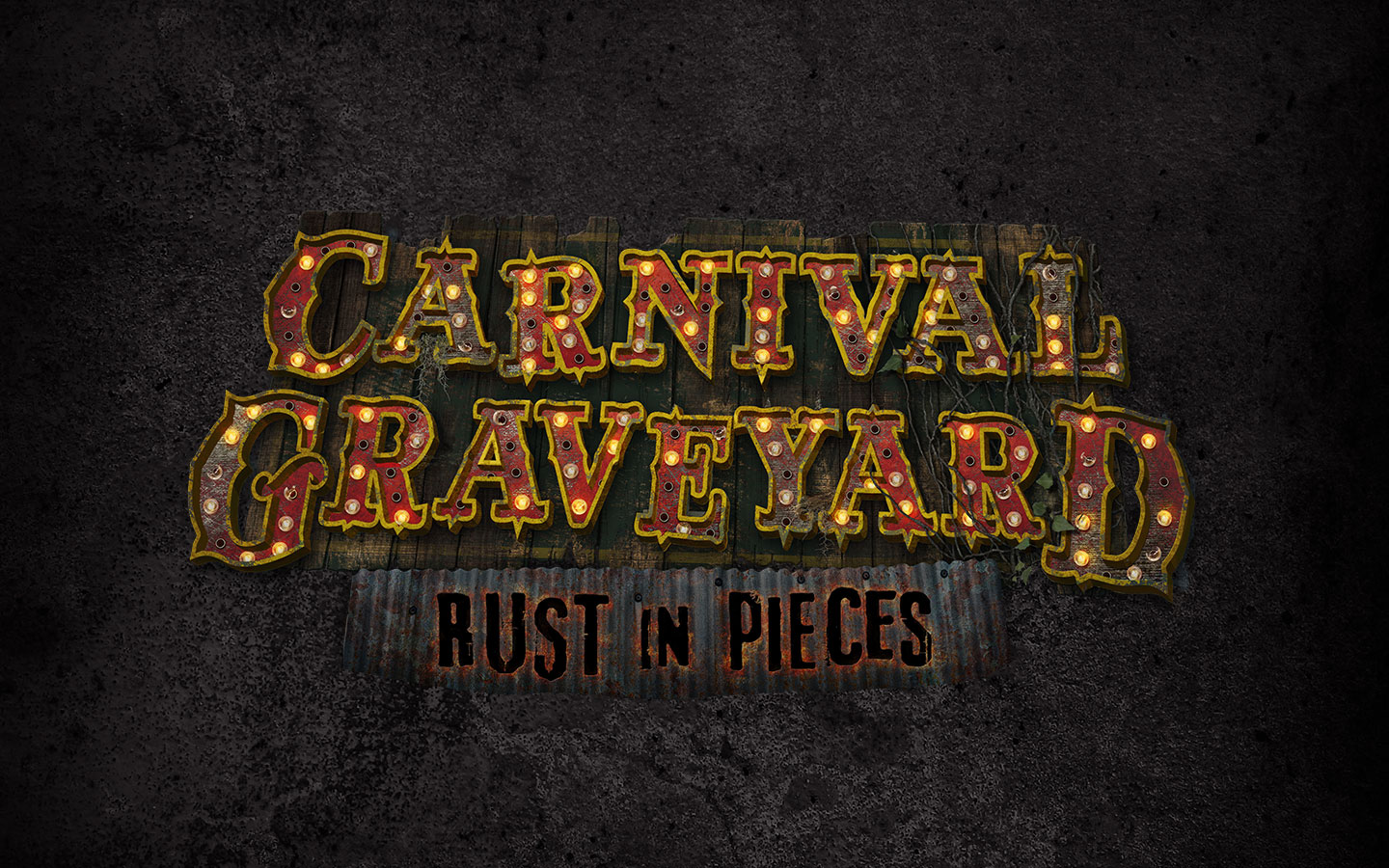 carnival graveyard: rust in pieces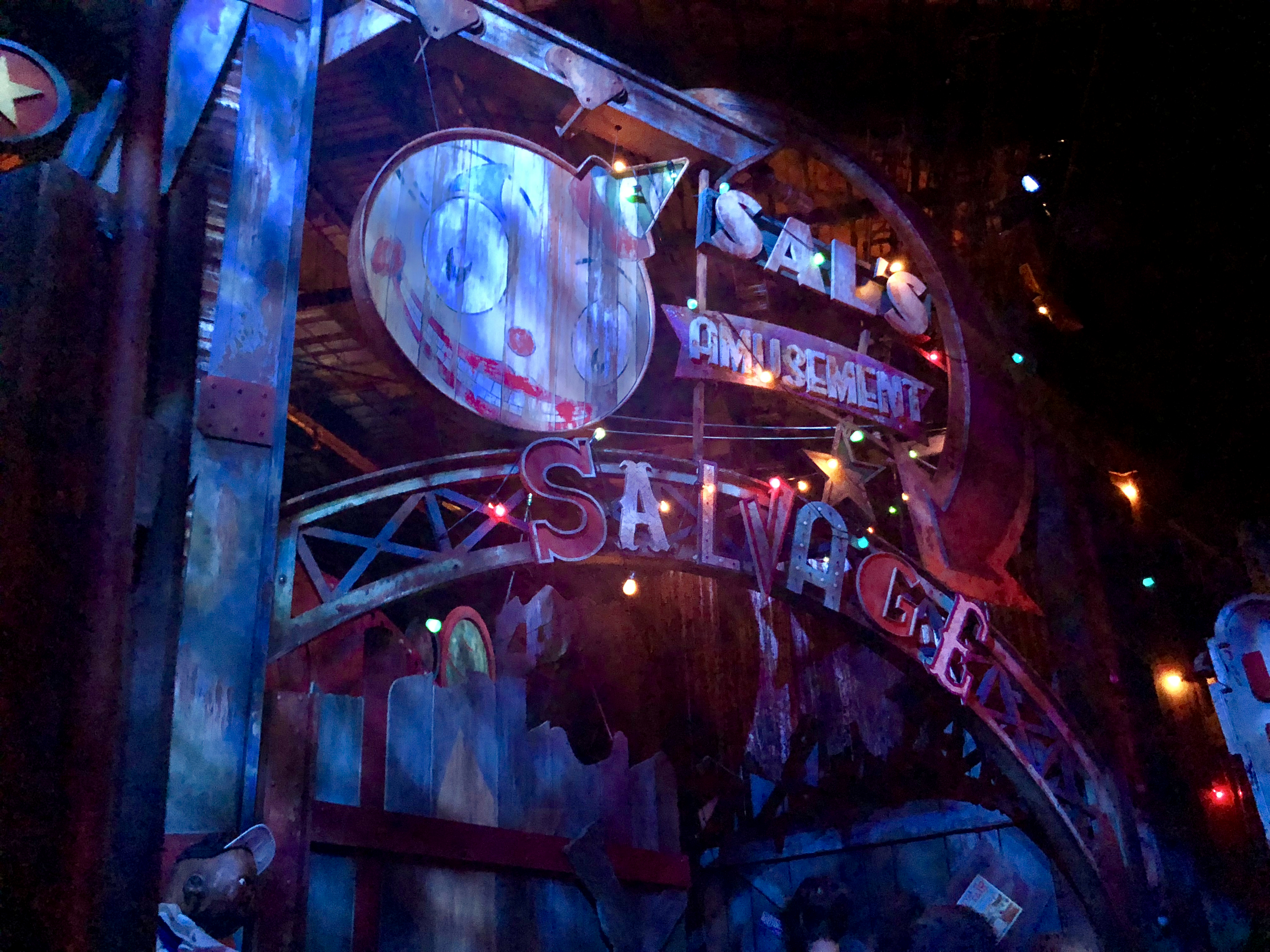 The caramel-coated carnivals of yesteryear have long died, but something sinister has festered within the decay, waiting to torment trespassers. Enter a dilapidated salvage yard, a maze of rides, games and carnival parts tainted with rust and blood. Gleefully vicious performers stalk you from the shadows, coming ever closer. Feel the first glint of terror with gory games a-plenty, where losing has a terrible price. Then your flesh will crawl as you come upon brutal automatons that quickly ensnare you. After that, you'll enter a tunnel of love where flayed lovers have been grotesquely memorialized, overwhelming you with disgust. You're in for a show-stopper.
So. Here's the thing. This is perhaps the original-concept maze we were most excited about. Early hype upon its announcement poised Carnival Graveyard: Rust in Pieces as taking place in an abandoned carnival / amusement park type setting, surrounded by rusting rides. We knew this could be a stand out of Halloween Horror Nights 28; after all, who doesn't love a good abandoned, condemned theme park, right?!
Except that's not what we received at all. Carnival Graveyard: Rust in Pieces takes place in a junkyard – something the website was just recently updated to state. It's still a unique world, and there are nods to the carnival flavor for certain – but it instantly loses some of its luster in a pitfall of "what could have been."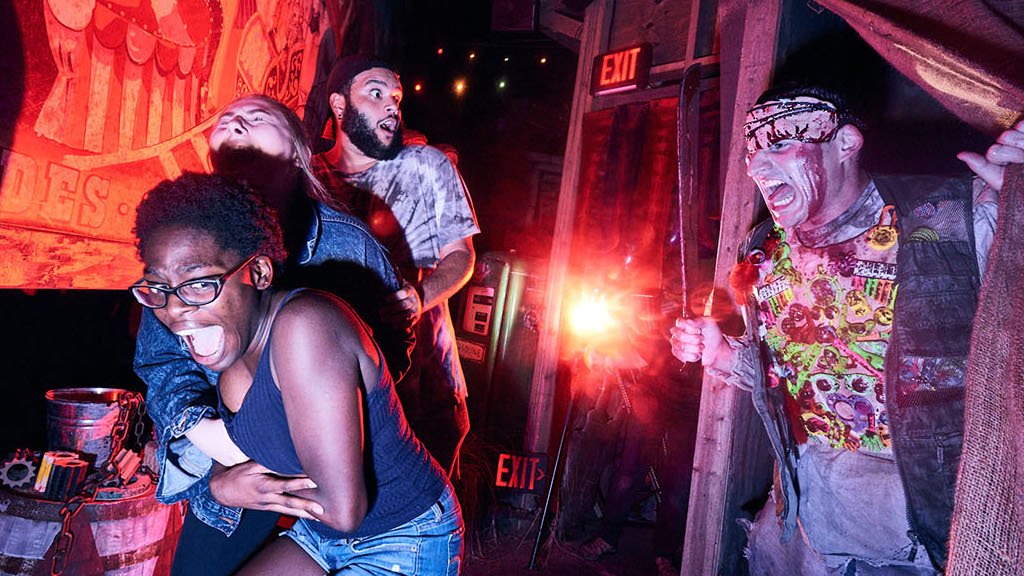 Beginning with one of Halloween Horror Nights 28's most grandiose entry statements, we find ourselves trespassing through the gates of Sal's Amusement Salvage yard. Hobbled together with used and discarded marquees of former carnival rides, we purge forward into the shadows full of hope. Unfortunately, we find much more "junk" than "amusement salvage" stored at Sal's. Although eagle-eyed fans will certainly appreciate a few hidden easter eggs that have apparently come into Sal's possession, including a "hidden Jack" and the original entry marquee sign for 2001's highly popular RUN haunt.
Towards the end, we somehow get back to the carnival theme, sort of. A lackluster section of a fun house-style dark ride (which is mostly made up of neon colored painted flats) leads us to a tunnel of love attraction – home to a higher quality of depth and detail, but a bit too short to truly appreciate.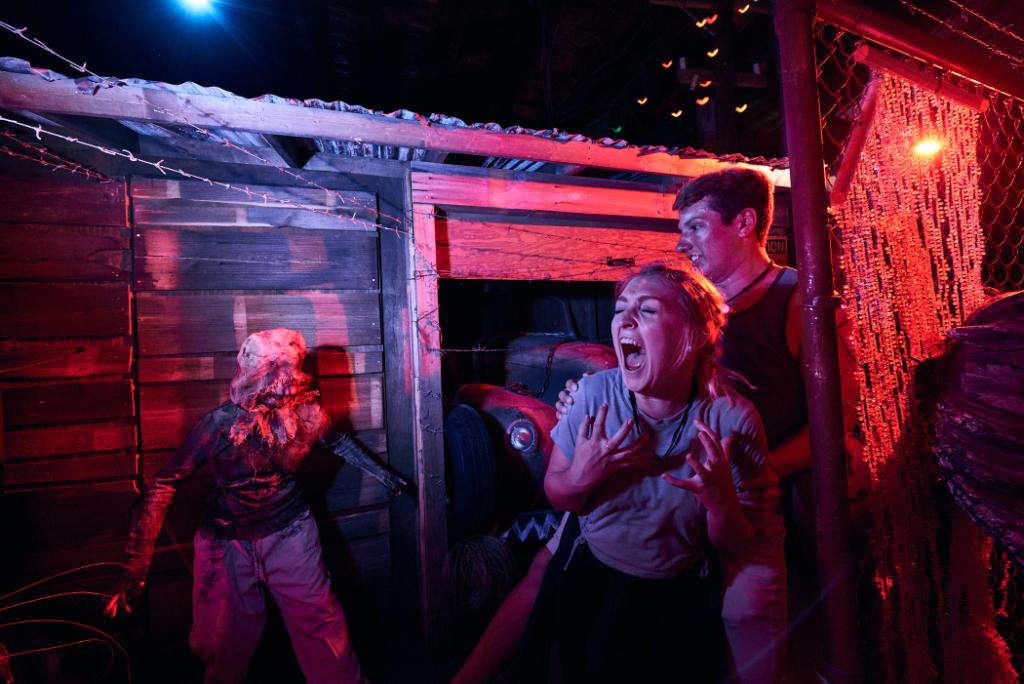 Carnival Graveyard: Rust in Pieces is a unique experience, and although it's not the execution we had expected and hoped to see, we absolutely appreciate it just the same for trying something different. Pure carnival setting or not, this haunt feels unique, and unique is fun.
Perhaps the biggest missed opportunity of this one is that Carnival Graveyard: Rust in Pieces seems like it could have been the perfect opportunity for another memorable "comedy haunt," rather than taking itself completely seriously. This haunt has an air about it of one likely to improve as the season continues and its cast get more comfortable in their unique roles.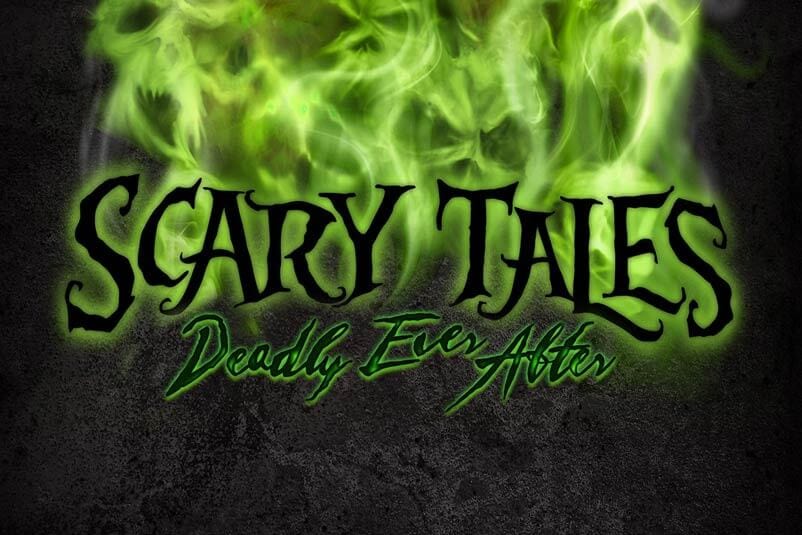 Scarytales: deadly ever after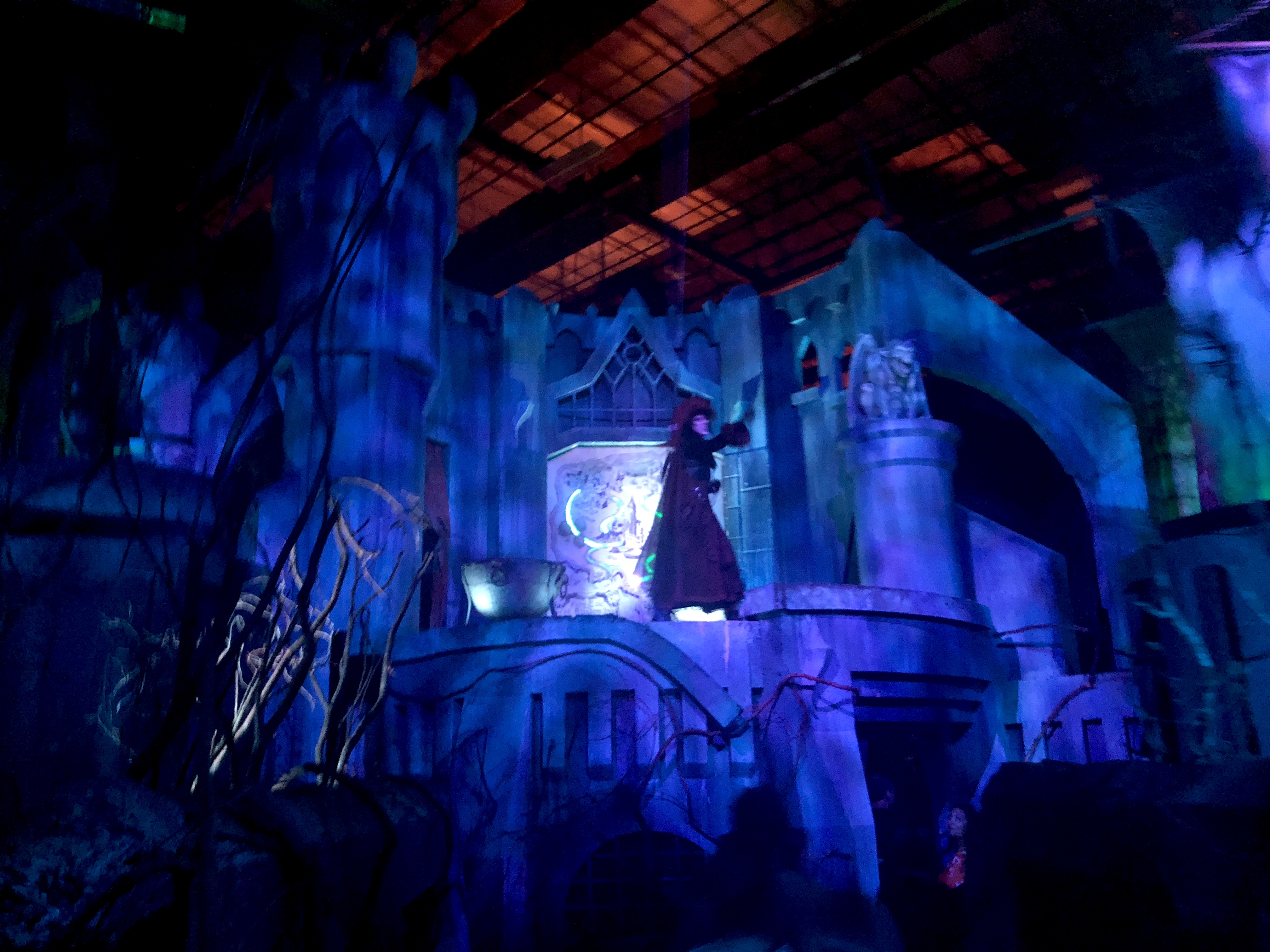 The realm of the fairies was once peaceful, but the Wicked Witch of the West has seized control and afflicted the land with a dreadful curse. Her pestilence has twisted beloved fairytales beyond recognition and bathed everything in blood and screams. Villains are crueler than ever before and the good have been infested with evil. Discover the horrific new reality of the stories you thought you knew. There are no fairytale endings here.
Dorothy has been defeated, and the Wicked Witch now reigns supreme – and we're totally here for it. ScaryTales as an original brand has a rich history at Halloween Horror Nights dating all the way back to 2001. Each subsequent version throughout the years saw Haunts and the occasional Scare Zone full of beautiful scenery and brilliant stories. This year is no exception.
In ScaryTales: Deadly Ever After, we are treated to macabre, gory, and downright disgusting retellings of several classic fairytales, perverted by the influence of the Wicked Witch of Wizard of Oz fame. As we enter her lair, we're chased by the witch and her cronies through the castle and dungeons, encountering truly unsavory versions of some of our favorite characters, from a scalped Rapunzel to a possibly cannibalistic Hansel who remarks how "It's so yummy in my tummy!" as he pats his stomach and licks his lollypop.
There's a clear beginning, middle and end that requires no explanation beyond what you find in the house, setting up a cohesive story that you'll enjoy the whole way through.

ScaryTales: Deadly Ever After is absolutely stunning. It begins with an abrupt turn into what can be argued to be this year's most impressive set: a giant castle at the end of the woods, complete with the witch literally flying overhead casting spells and brewing who-knows-what-evil in her cauldron.
From there, each room remains just as detailed as the first, offering a plethora of sights, sounds and, yes, smells, to those who slow down to take it all in.
ScaryTales: Deadly Ever After, despite its initial grand statement, is surprisingly narrow and does not include as many of the "large-scale" sets we're used to seeing in houses at Universal. Somehow, this maze remains so incredibly magical that you never notice that fact once you step foot inside, thanks to just how much work was put into each and every scene.

ScaryTales: Deadly Ever After makes great use of "ping-pong" scares, bouncing guests from one scare right into another. Many are so well integrated into the environment that you'll never see them coming.
There are, thankfully, many built-in moments of respite throughout the house with actors there purely for show, but these breaks only serve to make what comes next even more terrifying.
Although it does have a fairy tale theme, ScaryTales: Deadly Ever After makes use of some very convincing animal puppets that more than did their job in adding a surprising layer of fear. Make sure you're looking behind you, as you never know when an angry pig or bear might be on your tail!
And almost appropriately, it all builds to an epic, climatic confrontation with the Wicked Witch herself. But nasty ne'er-do-wells can't be expected to put up a fair fight – so she won't be coming alone; in fact there may be no way of telling just how many of her are out there as we are chased through a gothic mirror maze where she seemingly lurks at every single turn.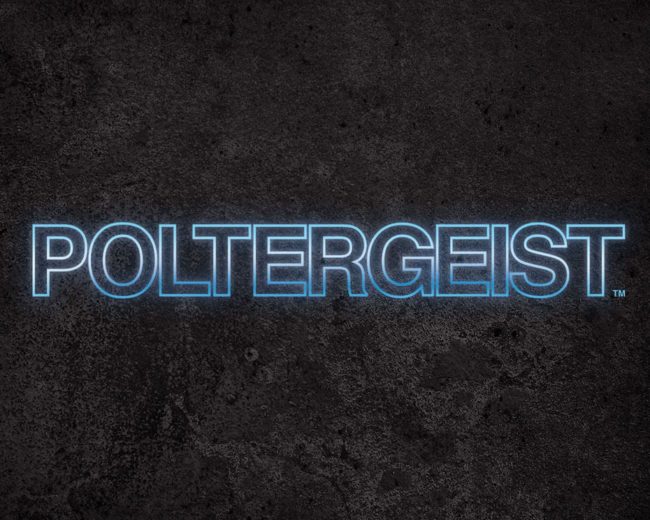 POLTERGEIST


Restless spirits have overrun the infamous house atop a cemetery, and they're drawn to your light. You'll be lured up into the house by the TV's glowing whisper and cross into the light. Enter a surreal landscape, where your brief sense of wonder will soon shift to horror as you're menaced by the Beast. Don't get lost in the light.
Poltergeist takes guests through a nostalgic journey reminiscent of virtually every important scene from the film. The haunt expands upon some moments in a way that feels unique and separate from the movie while still holding true to its many iconic scenes.
This maze carries that classic "haunted house" flavor that is distinctly suited for the Halloween season. Importantly as such, while fans of the film will sense an instant familiarity, those who have not seen it will still appreciate Poltergeist as a stand-alone attraction.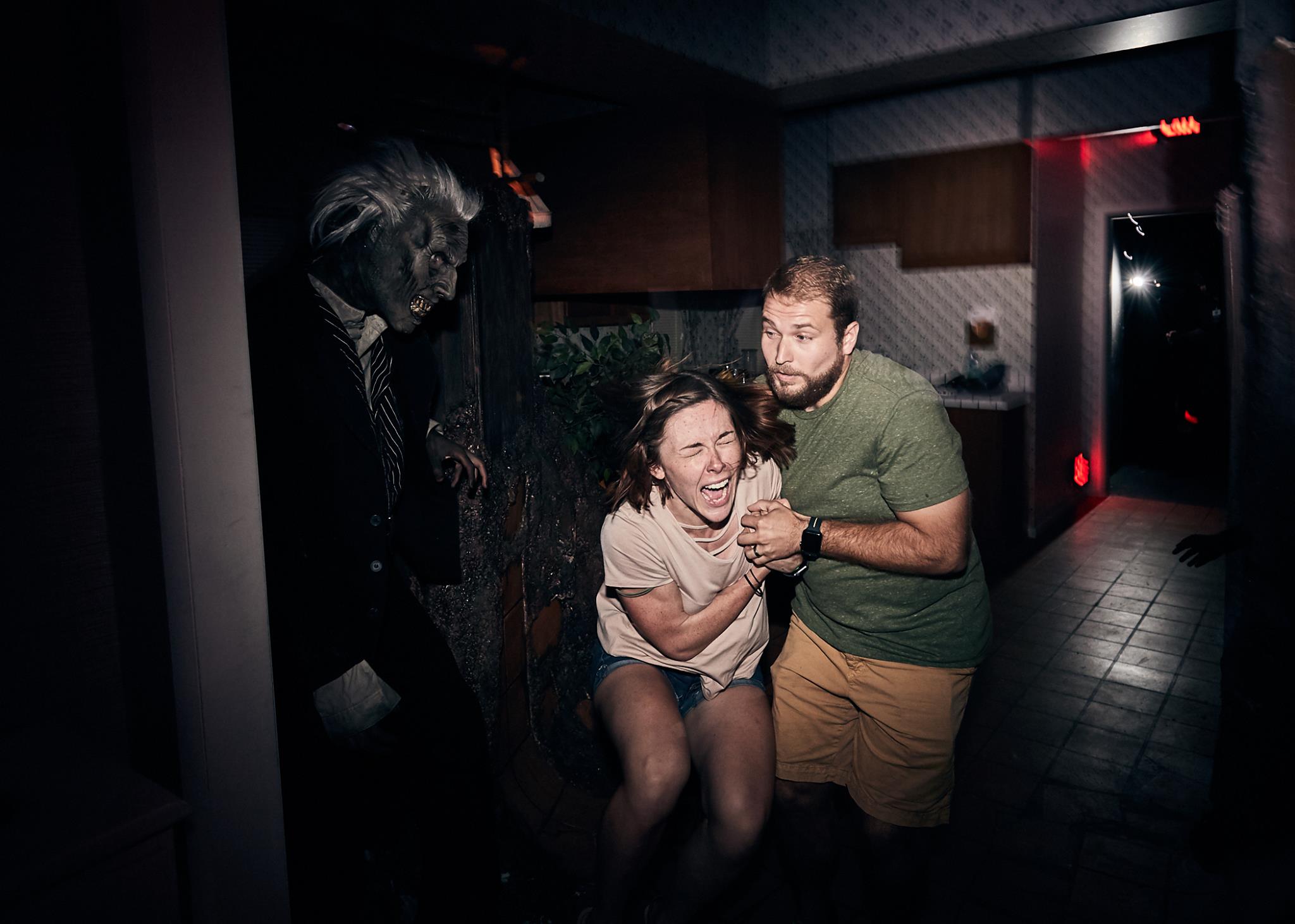 In true Halloween Horror Nights fashion, you begin this haunt by entering the house through a large set-piece: the dug-up graveyard that cause the events of the movie. It not only serves as a setup to exactly what's happening in Poltergeist, but also as a grand facade that sets the bar just a little too high for what you'll find throughout the rest of the haunt.
Poltergeist is very linear and straightforward, with few larger sets to experience past the initial entrance to the house. That's not to say what you'll see isn't high quality, and the way the haunt is set up feels appropriate to the film, lending itself to several larger-than-life scares.
Unfortunately, Poltergeist does suffer from the "black hallway" syndrome that all too often plagues Halloween Horror Nights houses, though they have been masked with some semblance of story to keep things going. One such example is little Carol Anne Freeling with her hands on the TV monitor as she says in her sing-song voice, "They're heeere." The problem is this doesn't happen in a living room with a scareactor: it happens above your head, floating in midair, in an otherwise empty, plain black plywood space.

One of Poltergeist's key scare tactics lies in the use of large puppets – big enough that for some it may be easy to be absolutely terrified by their sheer size even when you see them coming from a mile away. Their proximity to the guests' path is definitely their most terrifying aspect, especially when they come alive mere inches away from you.
The scareactors do a brilliant job of blending in to their environments, creating scares from places you wouldn't normally expect rather than the usual (and obvious) "pop out from behind a corner" scares that have become all too common.
Poltergeist features one of the most impressive scenic special effects we've ever seen at Halloween Horror Nights. We don't want to spoil this one — so be weary of any hallways that lie before you!
Despite a few scenic faults and somewhat dampened ending, Poltergeist's faithfulness to the film's story and its unique scares keep it in solid footing as a strong offering at Halloween Horror Nights 28.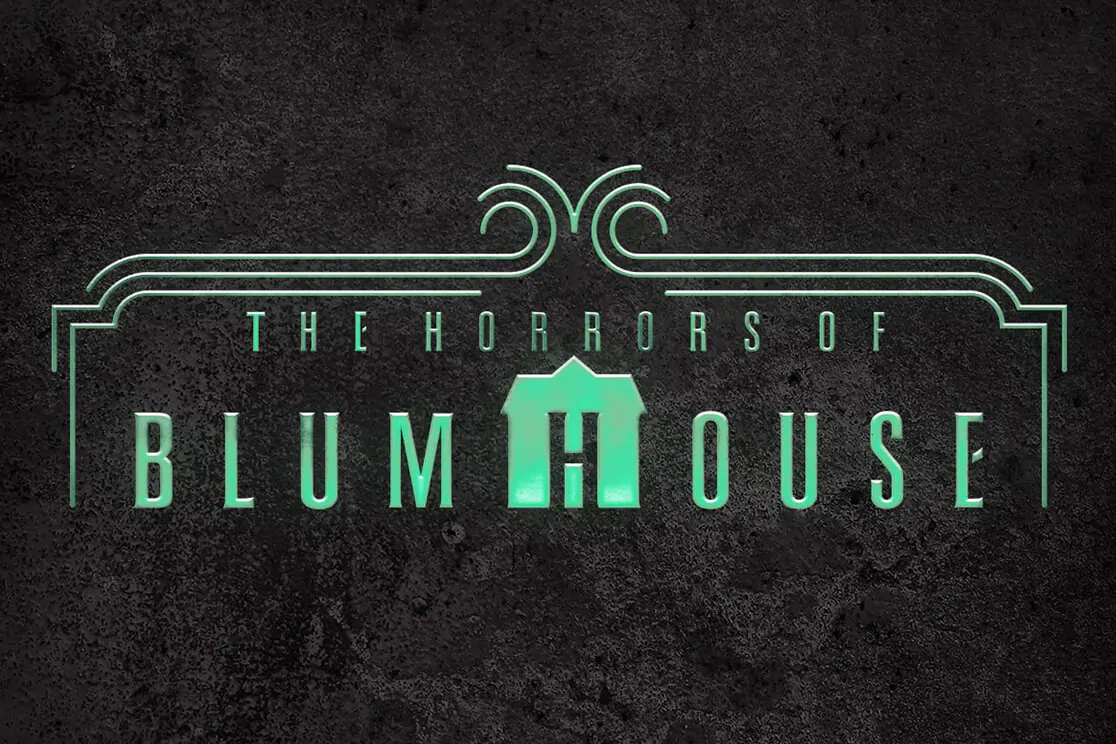 The Horrors of Blumhouse


The haunted minds behind Happy Death Day and The First Purge have spawned another horror house. Your shock shifts to alarm as you go from a campy thriller to a brutal world. It's the last day of the rest of your life as you witness a college student try to break a murderous cycle. Then enter the testing ground for a barbaric experiment, where all crime is legal for twelve hours. Will you live to see tomorrow?
A sequel to one of Halloween Horror Nights 27's marquee haunts bearing the same name, The Horrors of Blumhouse returns again in another multi-act formatted experience. While last year saw Sinister, The Purge and Insidious in that order, 2018's version centers around just two: Happy Death Day and The First Purge.
Blumhouse as a production company has a hand in some of the modern day's most iconic horror films – so it's a natural fit in an event like Halloween Horror Nights. Instantly recognizable characters are able to stand on their own, whether or not you've seen the films. This year, though, The Horrors of Blumhouse didn't quite measure up to its original, due in a large part to its opening act, Happy Death Day. Although a solid, entertaining film, it just doesn't translate well as a haunted attraction.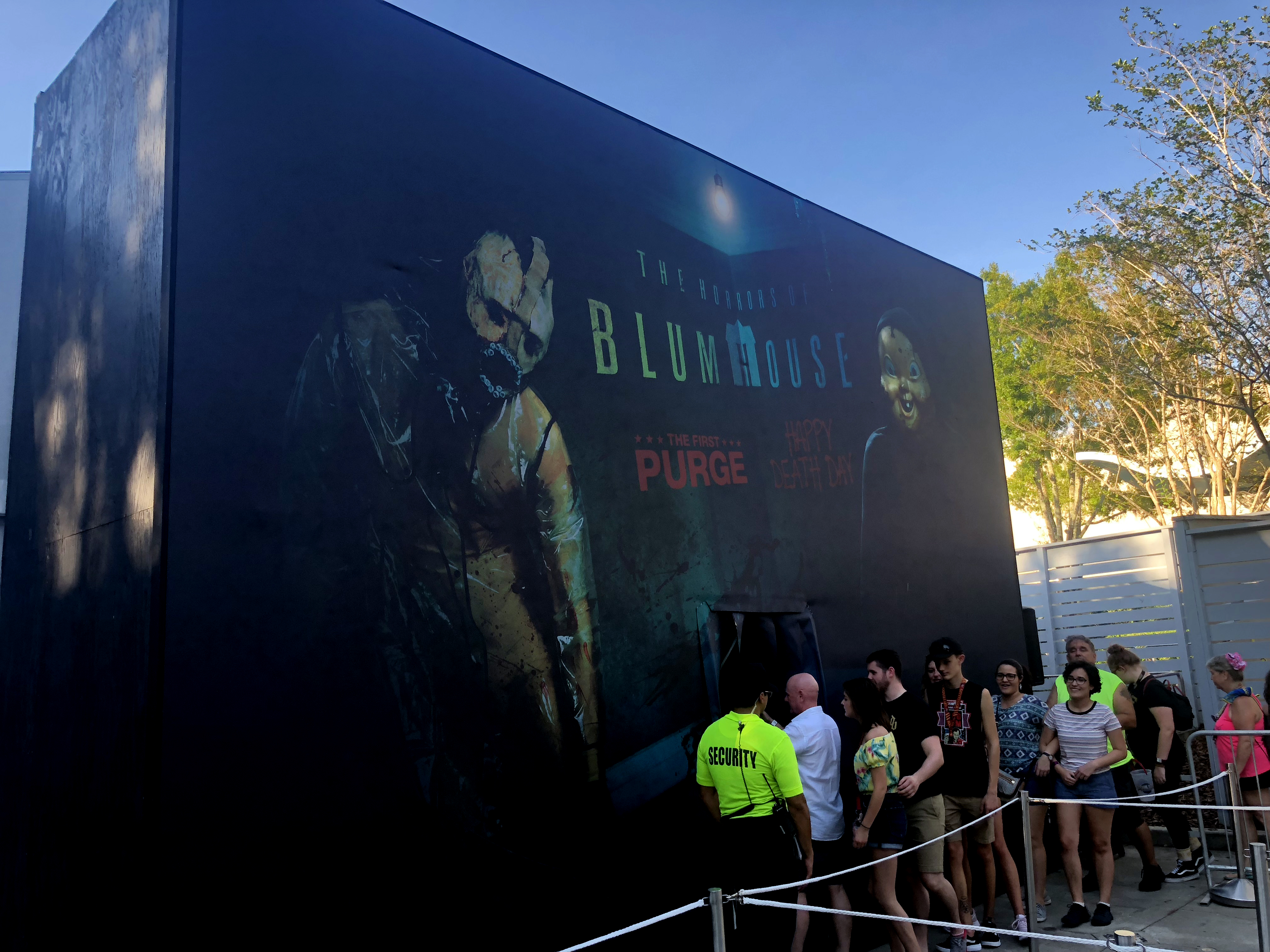 This year, first impressions of The Horrors of Blumhouse will be far less impressive. Even with 2017's somewhat modest, barely-dimensional entry statement mimicking the Blumhouse opening slate as seen before each of their films, we were surprised to see it replaced by… a box with a graphic slapped on top. Honestly, if you're going to name the haunt exactly the same thing, why not just use the already-existing facade from last year that would suit it fine? Anyway, once "inside the box…"
If you've not seen Happy Death Day yourself, its plot centers around a girl who – in "Groundhog Day" fashion, must relive the day of her death over, and over, and over, and over, and over again until she's finally able to solve the mystery of who her killer is. Although each death is unique, each day starts exactly the same way, with her cell phone ringing to wake her up in her dorm room. As such, it probably should come as no surprise that the first act of The Horrors of Blumhouse is a bit on the repetitive side. But perhaps most oddly of all is the fact that here in the haunt, one of the several dorm rooms is actually not laid out the same as the others? I do believe this falls into the "you had one job" category that the kids talk about.
Act two, focused on The First Purge, pans out scenically as one might expect – through generic looking city streets and in and out of homes. Lots of blood and lots of death, but it wouldn't be a good old fashioned Purge without it. Just the same, you might be hard-pressed to find a true scenic "wow" moment.

From start to finish across both acts, this year's version of The Horrors of Blumhouse is a bit of a jump scare fest. There's not a truly revolutionary original approach to any of its scares, making it feel a bit instantly dated in a event that constantly strives to reinvent its own wheel year after year.
Overall, The Horrors of Blumhouse will be enjoyable to fans of its respective studio – but to those who haven't seen the films spotlighted this time around, it may come across generic at best or confusing at worst.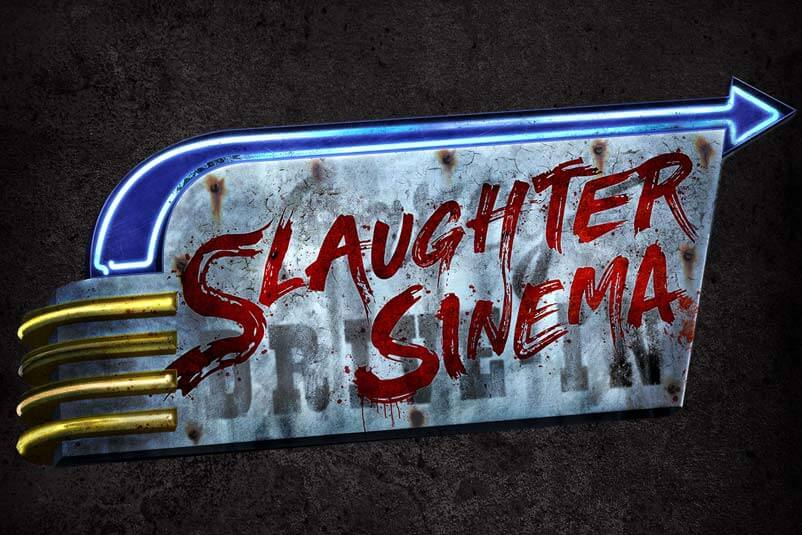 slaughter sinema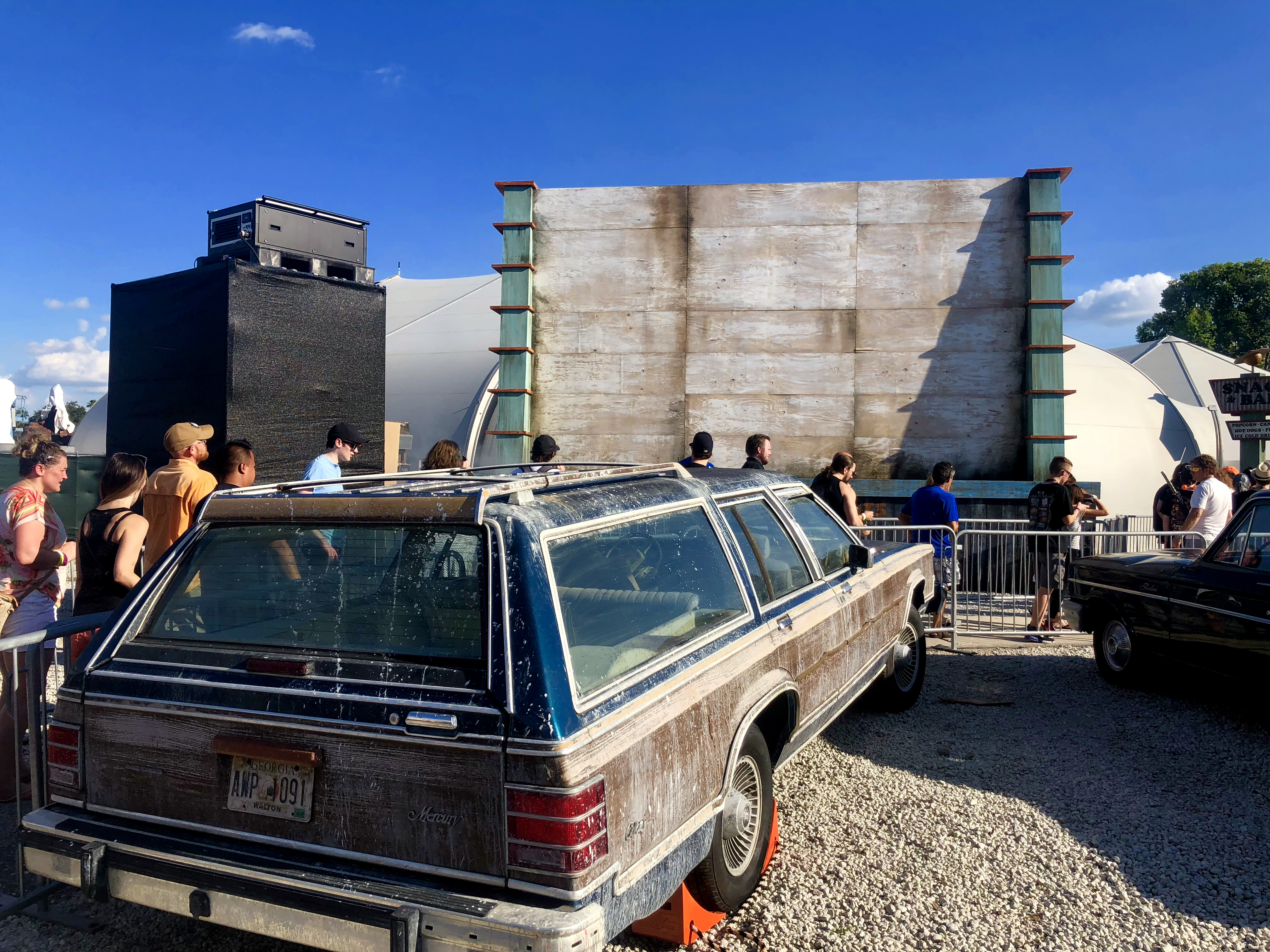 It's showtime at the local drive-in, where you don't just catch a movie; the movie catches you. Fear flickers on the screen, filling you with a mixture of dread and delight. Sorority sisters make a monstrous offering. Werewolf bikers go on the hunt. More than jack-o-lanterns are carved at a gut-strewn pumpkin patch. Bloodthirsty children come out to play at a deranged kids' arcade. As each 80s B movie screams to life, you'll shriek with terror as you try to avoid alien cannibals, a murderous barber and a ravenous swamp yeti. When the credits roll, heads roll.
Who doesn't love a good B-movie? Especially when it's a completely ridiculous horror B-movie? Slaughter Sinema comes closest to achieving the mantra of being this year's comedy house, putting guests right into the middle of the action of a plethora of film's greatest blunders, such as "Amazon Cannibals from Planet Hell" and "The Cult of the Demon Baby." The problem is nothing particularly "funny" happens within, beyond the overall absurdity of the films it showcases.
Although it's difficult to discern a full story from the snippets you're given of each film, the haunt serves as a sort of "best of" compilation from each movie. Thankfully, you'll have more than enough time to watch the advertisements that come before the feature presentation while you're waiting in line.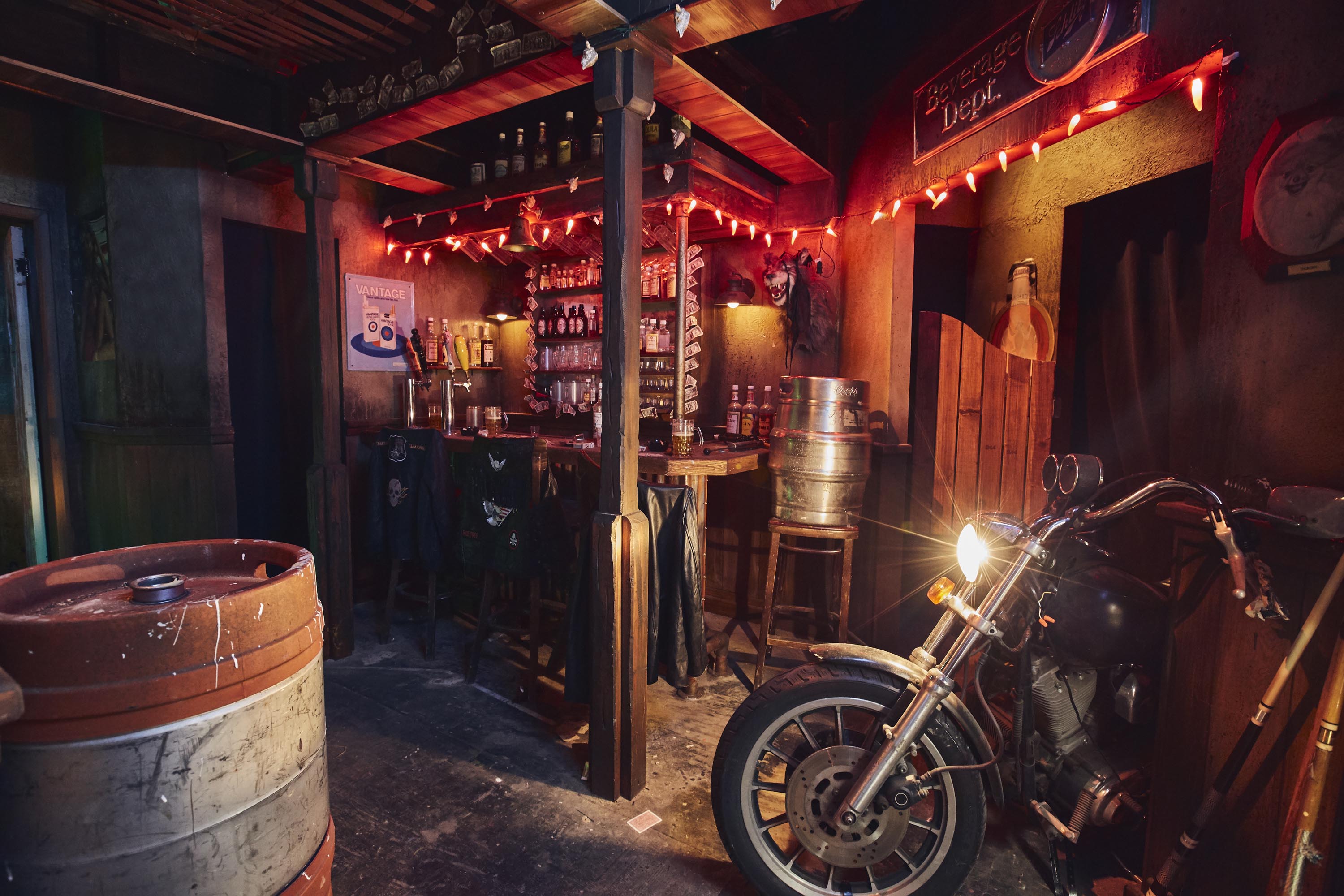 Slaughter Sinema follows the same pattern of "scene, transition, scene" that we've come to expect from any sort of compilation haunt at Universal Orlando. You'll know exactly when you're changing movies, though thankfully it is done through very much in-theme posters and sound boxes in each transition corridor.
Each room of the haunt itself feels distinct and different, with plenty of attention to detail paid to make them feel like a real-life movie set. The faint smell of popcorn also lingers throughout the haunt, mixing with the slightly less enticing aroma of blood and guts.
Sometimes seeing a haunt early in its run can be, in and of itself a bit of a curse. Slaughter Sinema is one of those examples of an attraction that truly can evolve and improve throughout the course of the event's run as its actors become more comfortable within the comedic potential this house exudes.
Embracing the pun-filled, light-hearted nature of its presentation could create a truly memorable experience in Slaughter Sinema – transforming it from mismatched clip-show to iconic comedy haunt.

Dead exposure: patient zero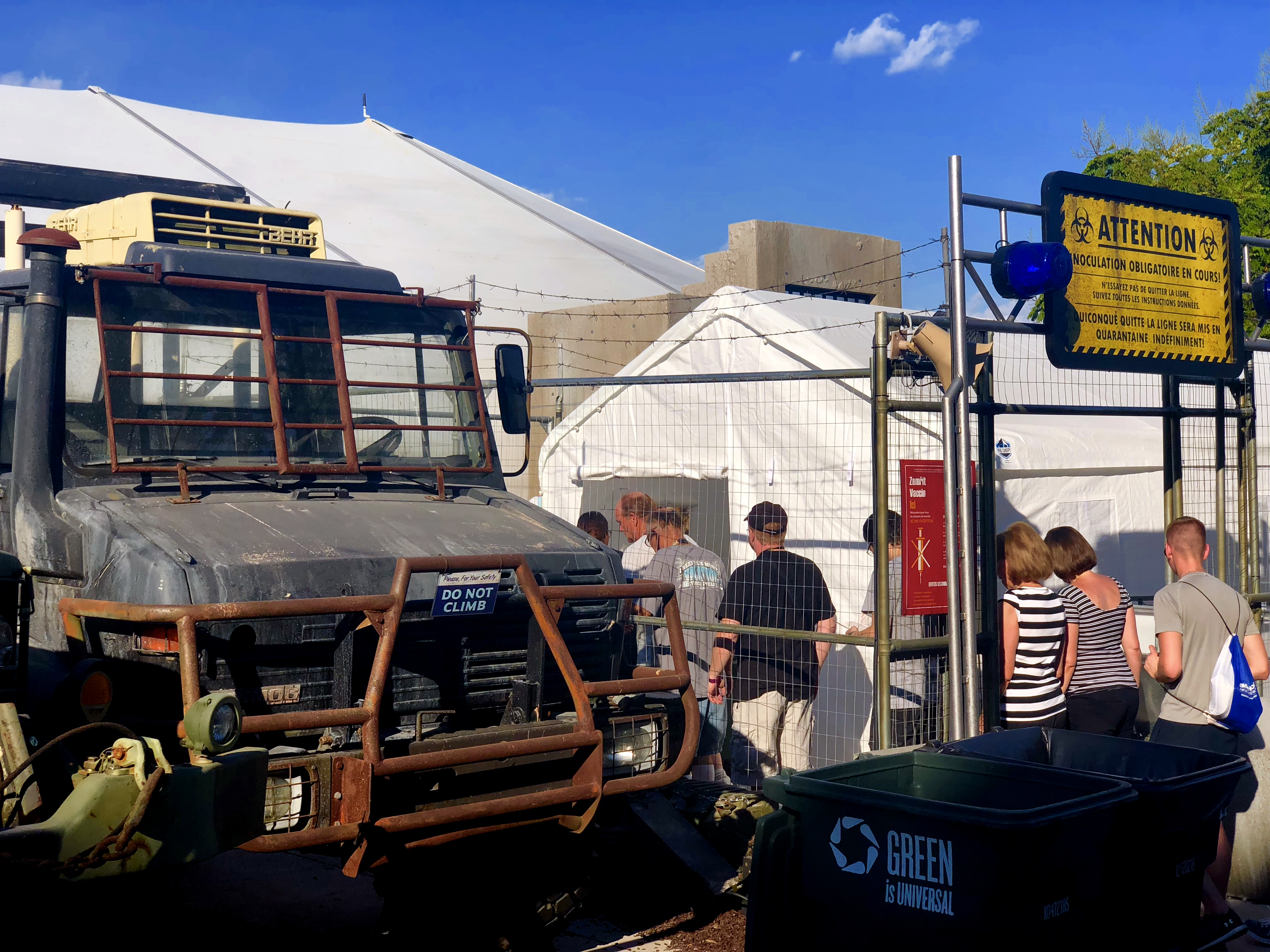 The world doesn't get any darker. The planet has been infected with the ultimate pandemic. A ghoulish biological outbreak is turning swaths of humanity into a plague of vicious, swarming zombies. In a flash, you're lost in darkness—but the zombies can still see you, and soon your growing unease will turn to screams and despair. If you're not already afraid of the dark, you will be.
Universal Orlando answered our pleas of "No more The Walking Dead attractions" with a resounding "Fine! Then here's a much, much worse, much, much more generic zombie haunt!" Frankly we're not sure what they were thinking with Dead Exposure: Patient Zero. In its opening moments, it starts off with promise before quickly becoming repetitive, bland, and did we mention generic?
I suppose every year needs a "worst house," and at Halloween Horror Nights 28, Dead Exposure: Patient Zero without question receives that (dis)honor.

Much of Dead Exposure: Patient Zero's sets – and even including some of its zombies – are completely flat, lacking real dimension. Instead, they rely on a constantly strobing blue light to briefly illuminate them with the clear intention of disorientating guests, before quickly returning to total darkness. That type of approach is always fun for a scene of a haunt. But process this for a moment: It happens non-stop for the entire duration.
That's right folks. Dead Exposure: Patient Zero is one long, obnoxious strobe light full of minimal scenic and devoid of original scares. Frankly we don't expect this to last long. This isn't Universal Orlando's first attempt at dabbling in complete darkness – something that dates back to 2001 with Pitch Black – a maze that was exactly as its name implied. For the first week, anyway. See, the funny thing about total darkness is that it causes many people to just… stop… moving. And true to that sample set from years ago, each time the strobe stopped, so did the conga line through this haunt. It not only kills what little momentum Dead Exposure: Patient Zero has, but also stands to decimate its hourly capacity.

Dead Exposure: Patient Zero relies almost entirely on its (obnoxious) lighting package to deliver scares. It becomes a repetitious game of "now you see me, now you don't" with scare actors seemingly appearing before you out of nowhere.
And again, here's the thing – that's actually an effective scare technique if done in moderation to keep it special. But when it's seemingly all you're able to do thanks to the lighting package that serves more of a hindrance than a benefit, it quickly loses its own luster.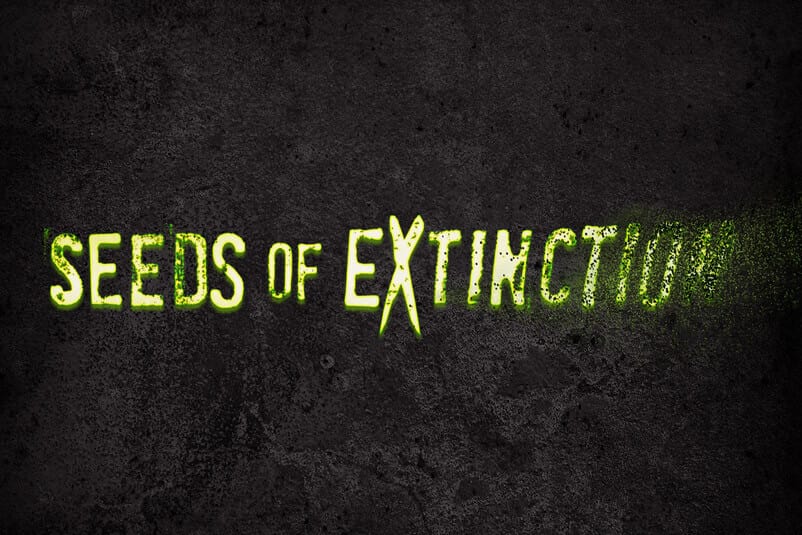 seeds of extinction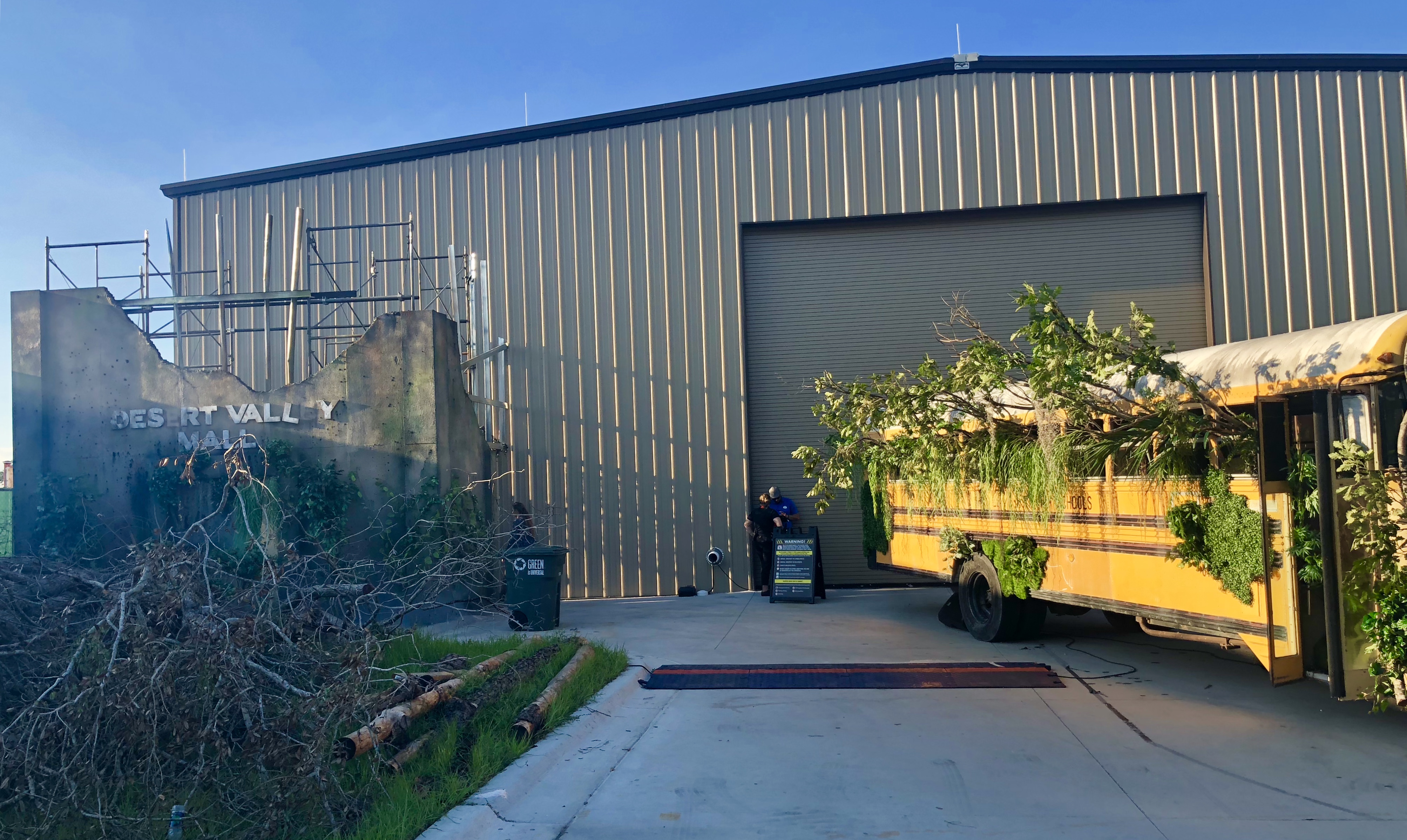 Humanity is extinct, wiped out by a cataclysmic meteor. In its wake, something monstrous has taken root. You'll be unnerved by familiar sights that have been overtaken by invasive vegetation. But soon your horror will ripen as you realize these plants are predatory, and you're easy pickings. From strangling vines, to deadly beautiful blooms, to phosphorescent plants that glow with evil, fear is fertile in this gruesome garden.
Seeds of Extinction is an original concept haunt that provides a breath of fresh air (at least until its poisonous spores take you over too.) We find ourselves in a world completely overrun by deadly, seemingly outer-worldly plants.
In a sort of "everything you know is wrong" scenario, the most innocent form of life becomes the very end of it all – leaving us on a survival mission against the planet itself.

Set within the walls of the Desert Valley Mall – seemingly our last hope outpost for refuge from this plant invasion, we quickly learn that we're perhaps already too late. Throughout the mall, down its hallways and in and out of its many storefronts, everything is completely overtaken by this villainous vegetative growth.
Expect many vines in your face as you try to find humanity's last sanctuary – and along the way, don't be surprised it you find yourself getting wet… more than once.

Without a doubt the highlight of Seeds of Extinction, beyond its clever original story, are its stunning custom-crafted costumes. Each scareactor becomes a living, breathing plant – and we're not talking a few vines or leaves wrapped around their bodies. Some bloom with giant headpieces. Others have light-hearted albeit menacing puppet-hands that stretch out right into your face.
Seeds of Extinction is less about the pure terror and gore found in many other Halloween Horror Nights haunts, but stands tall with its unique take on the genre, offering a dark look at a near future that could see the end of humankind.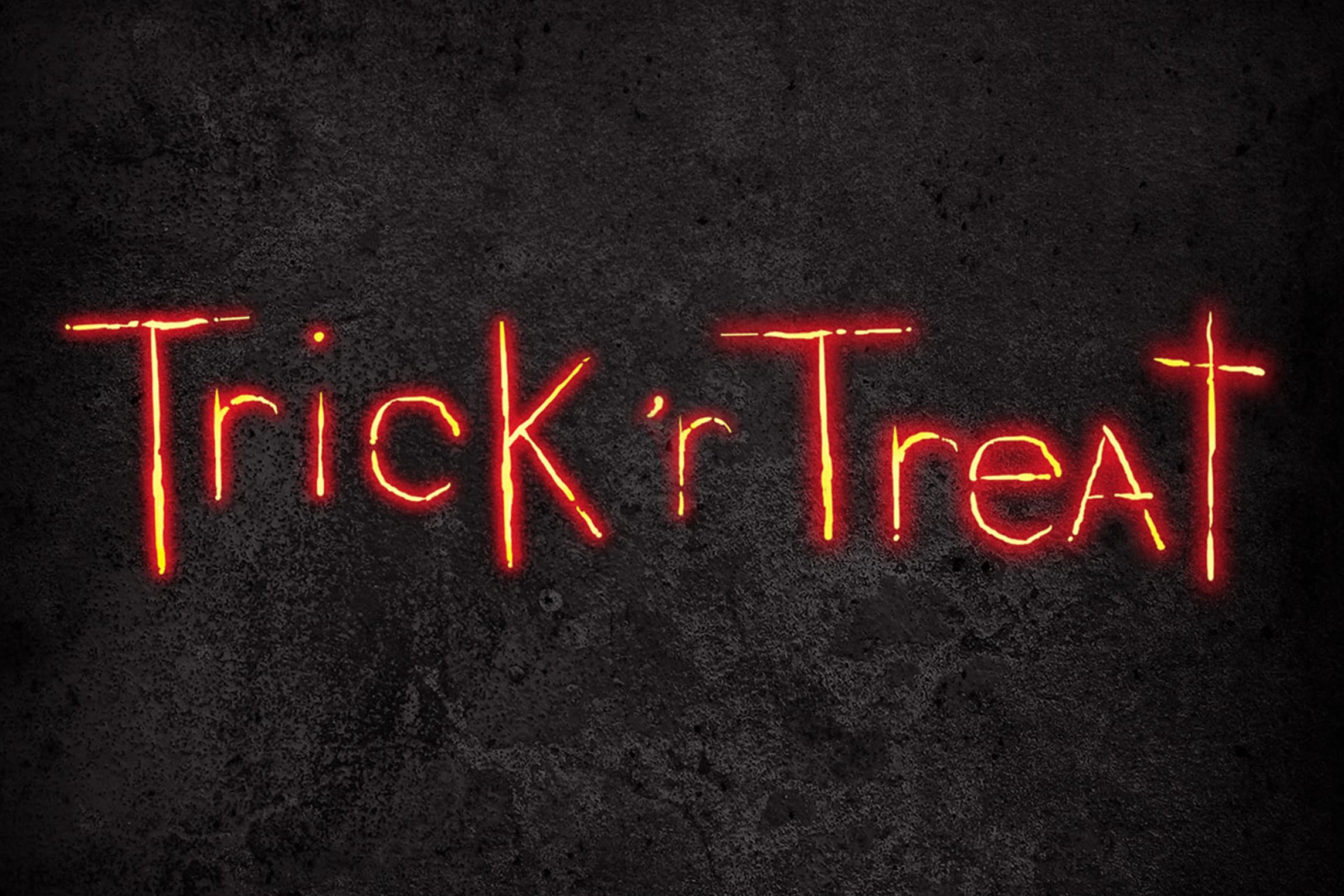 TRICK 'R TREAT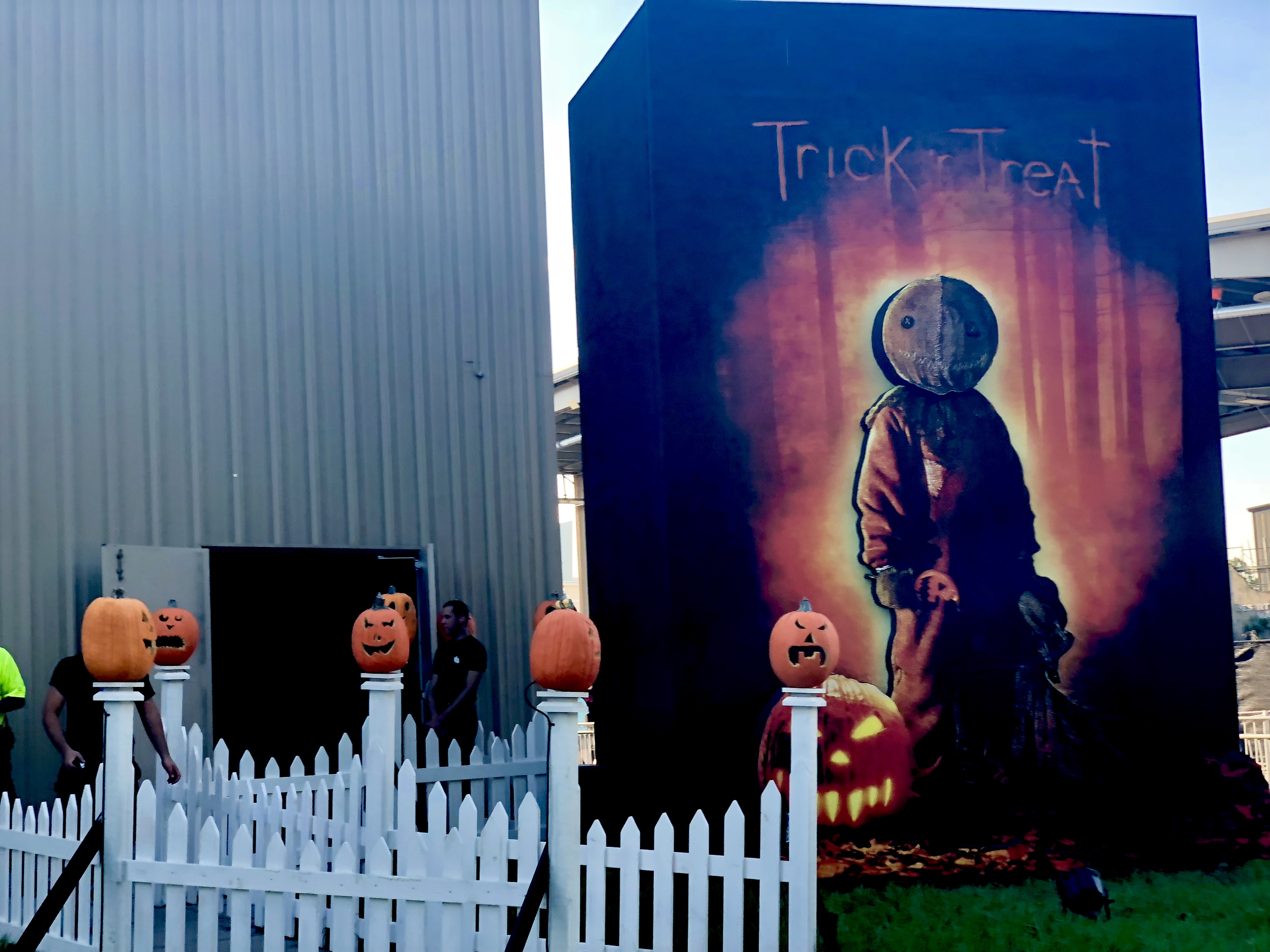 It's Trick 'r Treat time. In this house you have to play by the rules or pay the ultimate price. Your dread will grow as Sam, the vengeful trick-or-treater, waits for the moment he can treat rule-breakers to his favorite Halloween surprises: razor lollipops and sweet revenge. As you find your way through the five twisted stories of Trick 'r Treat, you'll recoil in terror when you witness the fate of those who didn't honor the tradition. Don't be caught dead breaking the rules.
After its 2009 release, Trick 'r Treat instantly became a sort of cult-classic Halloween film. Although light on story, its four inter-woven acts elicit the very mood of Halloween, embracing legends, monsters, and naturally a whole lot of candy. Following in the footsteps of that film, Trick 'r Treat, the haunt, highlights every classic moment you'd expect to find along your festive adventure to clearly odd township of Warren Valley, OH.
At its core, Trick 'r Treat, the film, focuses on the the importance of respecting the ancient traditions of Halloween itself. As such, it should come as no surprise that it creates the perfect storyworld backdrop for a haunted attraction.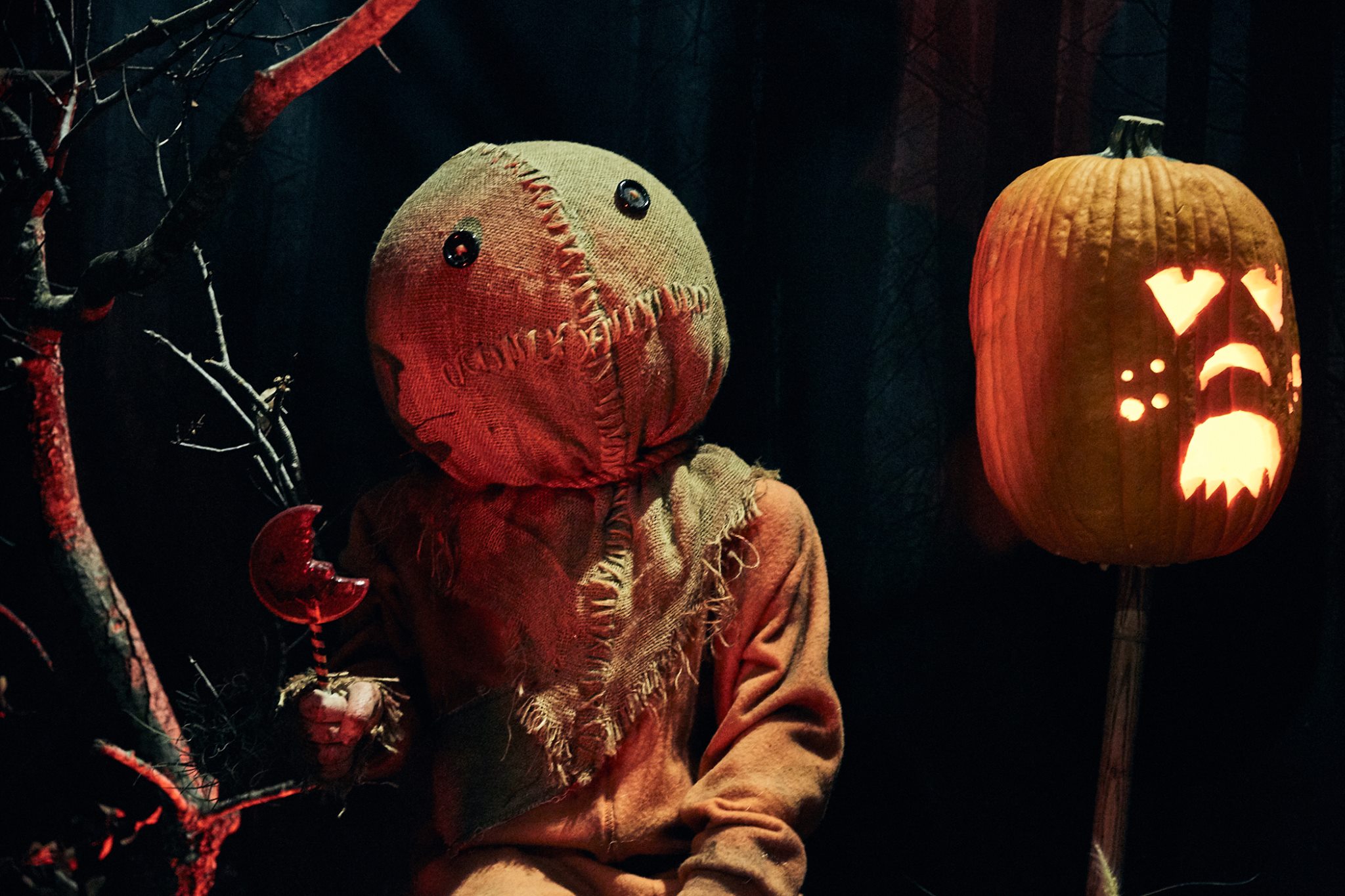 Trick 'r Treat highlights every iconic setting from the movie  – but what actually makes it work so well is just what those settings are. Taking place in the world of "classic Halloween fare," guests will find themselves instantly transported to the most spirited season of the year, even if they aren't familiar with the locales of the film.
Neighborhoods are decked out with Halloween decor, trick or treaters lurk in the shadows and there's lots and lots of candy (but you probably wouldn't want to eat it unless you like rat poison and razor blades.) To the uninitiated, Trick 'r Treat is a festive, detailed, Halloween-themed haunted house, but to those familiar with the movie, it will be instantly iconic.
I wonder what those who haven't seen it will think of its sunken school bus finale? The one moment that really only makes sense if you know the film likely will still stand on its own thanks to its massive, epic set piece theatrically lit in the most ominous of ways, with Sam naturally overlooking the carnage from the shadows.

Trick 'r Treat has some great scares, simply because they so organically connect to the spirit of the Halloween season itself. Nothing here feels like a reach; it feels like hijinx we may have gotten into ourselves when we were kids on All Hallow's Eve, just with a bit… deadlier twist.
Universal Orlando embraces the spirit of the movie so well that it's impossible not to become immersed in the adventure – and this time the tension jumps off the silver screen and drags you right back in with it as it unfolds all around you.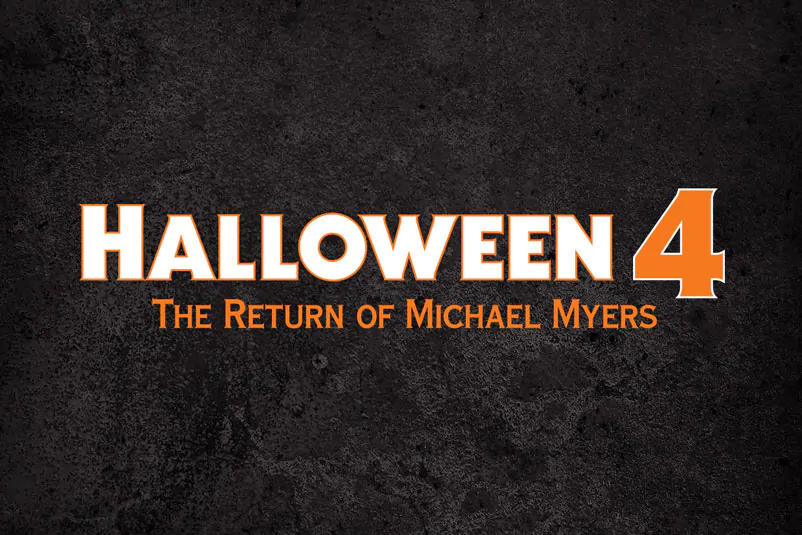 Halloween 4: the return of michael myers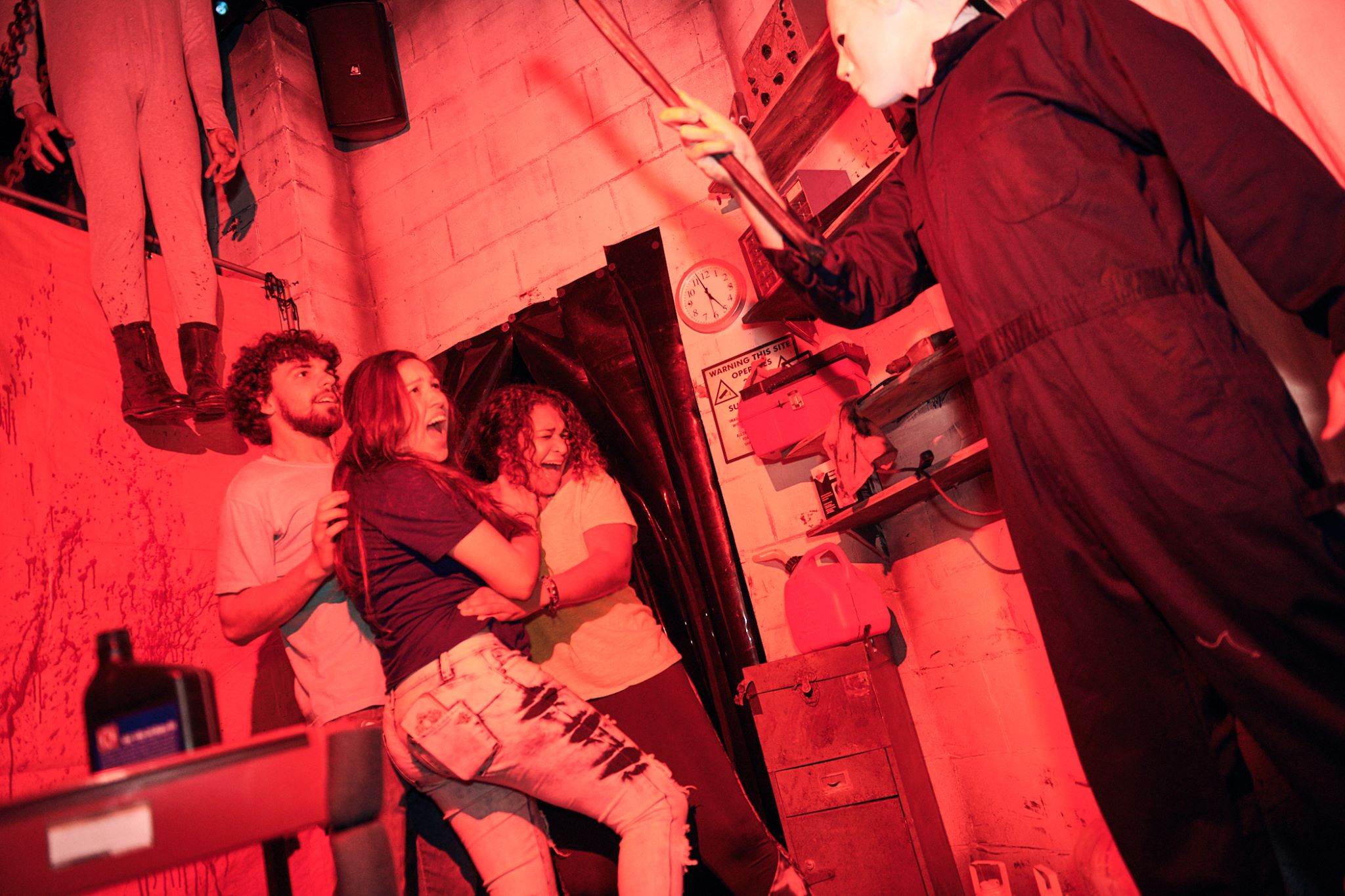 The infamous Michael Myers has escaped the sanitarium, and he's out for blood. Wherever you turn, he's moving in for the kill. From the power station, the sheriff's station, to the Meekers' house, he's relentless as he is brutal. Soon you're jumping at shadows, your heart screaming out of your chest. Your only hope is Dr. Loomis, Myers' fire-scarred former psychiatrist, but will he get there in time? You become frozen with fear as you realize this masked maniac is unstoppable, and there's nowhere to hide. 
We return to the world of the Halloween franchise with Michael Myers haunt #72. Well, sometimes it feels that way, anyway. Here's the thing – there's no denying that Halloween is one of the most iconic horror franchises of all times. There's equally no denying that Michael Myers has a cult following to rival any other horror icon you may be able to name.
The problem is that Halloween 4: The Return of Michael Myers may be the weakest haunt based on this franchise we've seen in any year from either coast.

Halloween 4: The Return of Michael Myers trades in the grand scale entry statements of past versions for a very subtle "and now you're in sanitarium" expectation of acceptance. Throughout its course, the sets do little to get any more impressive – and in some cases, it's downright odd (and not in a good way.)
Book-ended by "basic hospital," we find ourselves in what, can be assumed, is intended to be some type of shock treatment room. In reality, it's a large black room full of theatrical lighting truss structures, laced with a handful of strobe lights. It's difficult to suspend disbelief and accept this would be inside an old asylum – creating a jarring moment in what is already a middle-ground haunt.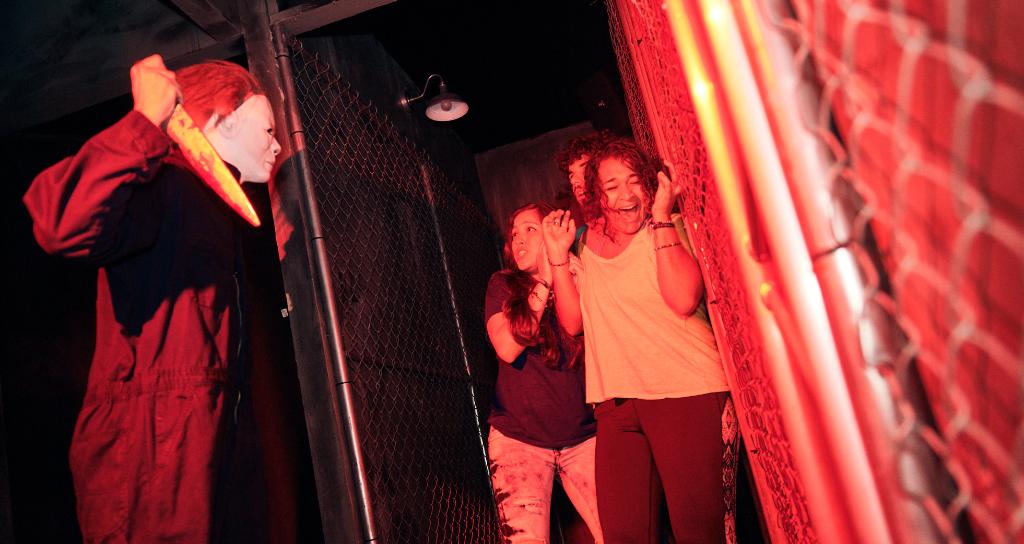 Hey, do you like Michael Myers? Well, I hope so – because he's going to swing a knife at you at least once – sometimes more – in every single room you pass for the next ten minutes.
We touched on it earlier – but one of the biggest pitfalls of an IP-based on a film with a singular bad guy – especially one with a very specific murder weapon of choice – is how repetitive it's quickly going to feel when you see it scene after scene. Make no mistake this is not us hating on Michael Myers the character – but rather the nature of the beast when it comes to this type of IP.

Five official scare zones, plus an additional roaming troop of chainsaw wielding demented circus folk make up the street entertainment for Halloween Horror Nights 28. Overall, the problem again with this event's Scare Zones actually stems from the park's daytime Universal Superstars Parade. In years prior, Scare Zones were as much outdoor stand-alone Haunts as any of the Houses themselves, full of detailed scenic and immersive decor. Unfortunately now, thanks to the parade's large clearance envelope, Scare Zones have become minimal at best; full of only small items that can be rolled in and out prior to and after each event's night. What results are Scare Zones that become less immersive, and thus less compelling. This year, five distinctive scenes take over sections of the park: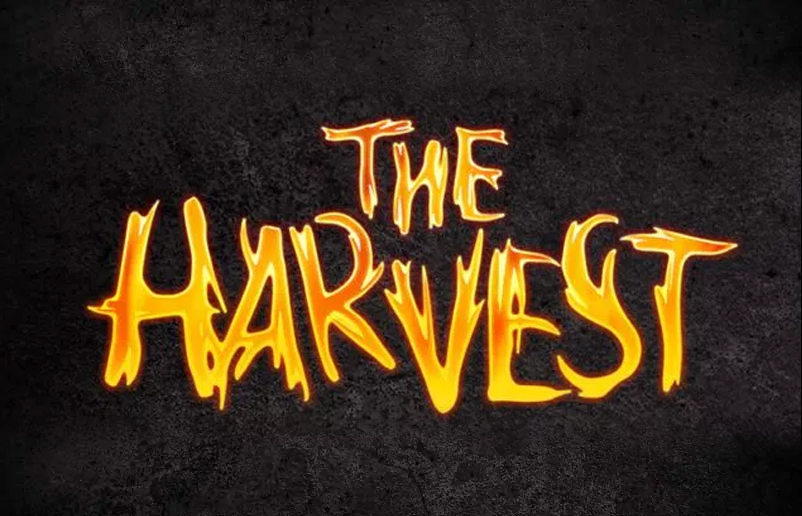 the harvest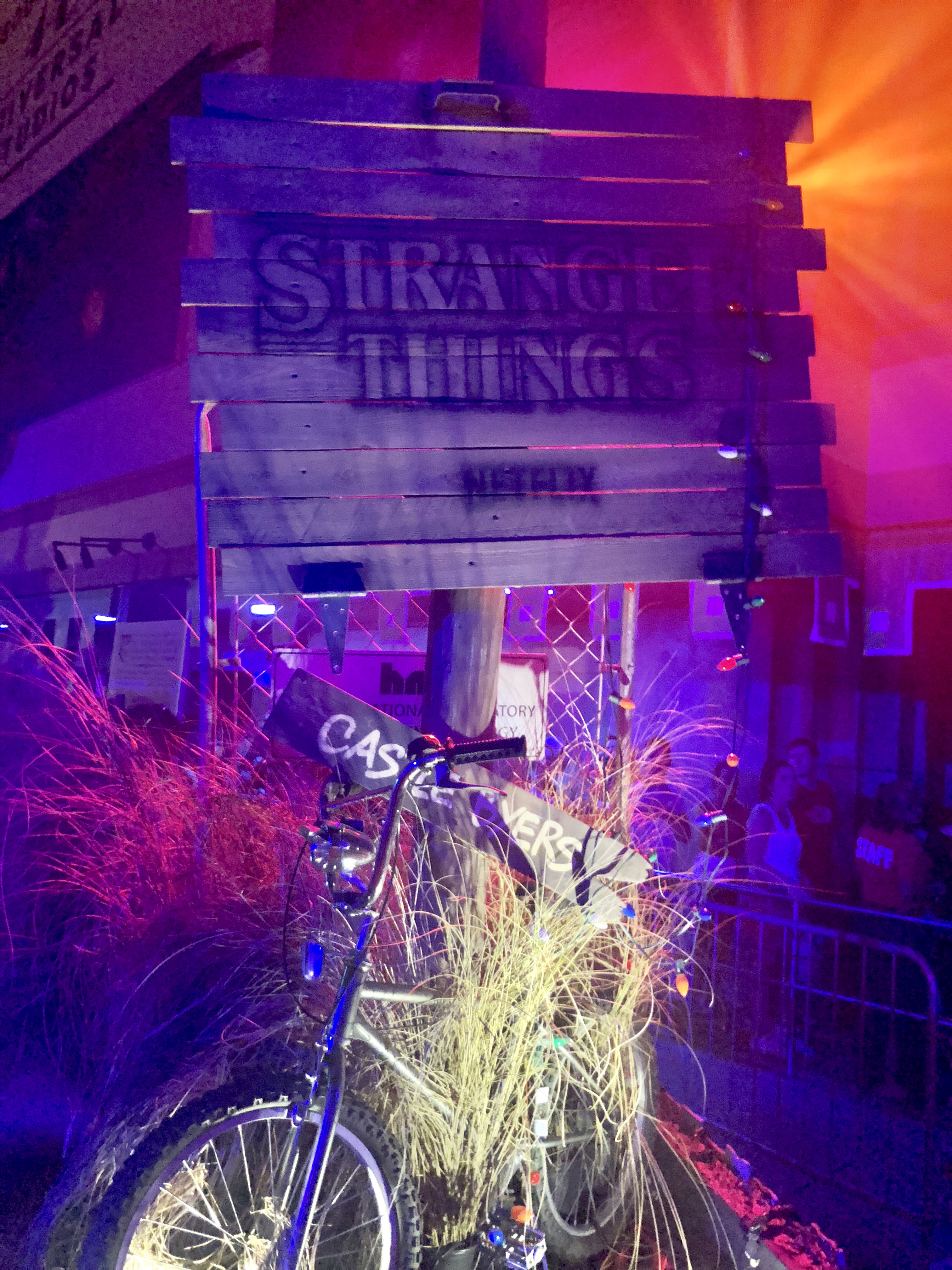 An old barn is the setting of every kind of horror, its walls decorated with objects from each house. Pose at this foreboding photo op along the Avenue of the Stars, but be wary. This barn is not as abandoned as it seems. Foul creatures lurk between the hay bales, ready for a harvest of flesh. Will you survive the reaping?
As Halloween Horror Nights 28's entry statement, The Harvest reaps itself no rewards. Based around an old barn, the one thing this scare zone lacks is… an old barn.
Instead, expect wooden fences along the sidewalks and five doors representing the five different IP-based haunts featured at this year's event: Stranger Things, Poltergeist, The Horrors of Blumhouse, Trick 'r Treat and Halloween 4: The Return of Michael Myers. And while in past years, similar entry statement Scare Zones featured a character from each of those respective haunts as a photo opportunity, The Harvest instead has a small handful of scarecrow stilt walkers and… evil bales of hay?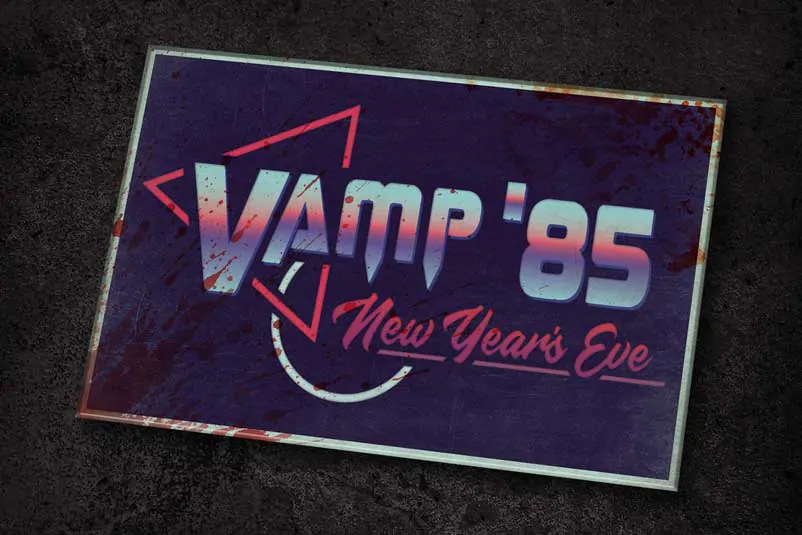 VAMP '85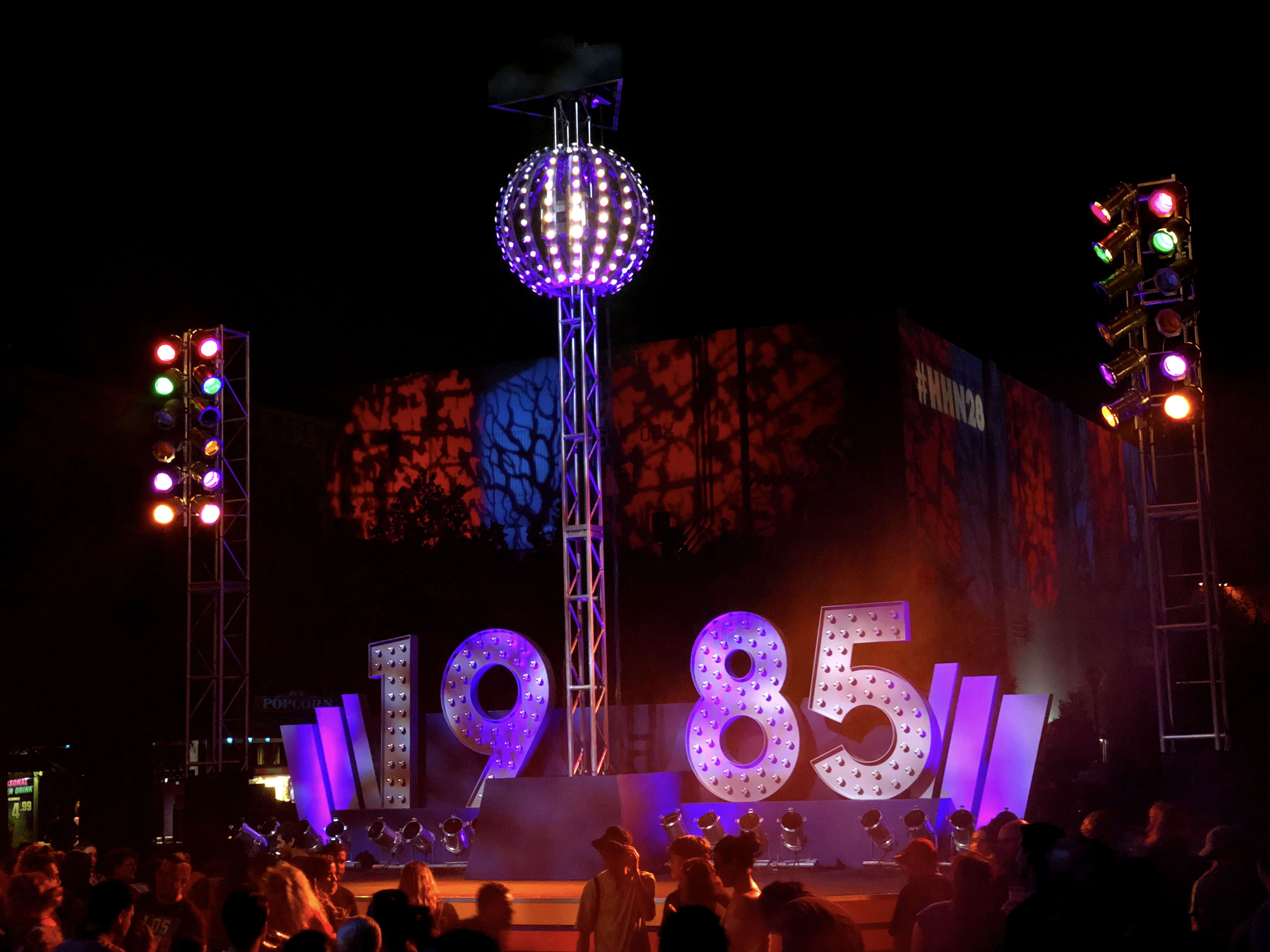 It's December 31, 1984. As the ball drops in New York City, this New Year's Eve bash is about to bite. Literally. A blood-sucking DJ counts down the biggest hits of the 80s as fanged punks, big-haired blood-suckers and lace-gloved vampires hunt down partygoers. The howl of synthesizers masks your growing screams. When this year ends, so will you.
Meant as a sort of sequel scare zone to Halloween Horror Nights 26's Vamp '55, Universal Orlando expands the premise this year on a much larger scale. Set as a rocking New Years Eve party,  Vamp '85 features a countdown to midnight several times throughout the evening, set to choreographed dance numbers straight from the 1980s, and a whole lot of sucking blood.
A mix of scareactors portraying innocent party goers and the bloodthirsty vampires hoping to feed off them, Vamp '85 plays out before the crowd as a rare Scare Zone with a clear storyline. That narrative is only further brought to life by the presence of a news van, reporter and camera man interviewing the crowd before ultimately becoming the next necks to go.
Vamp '85 might not be the most terrifying street you'll find at Halloween Horror Nights, but it's certainly among its most story-driven.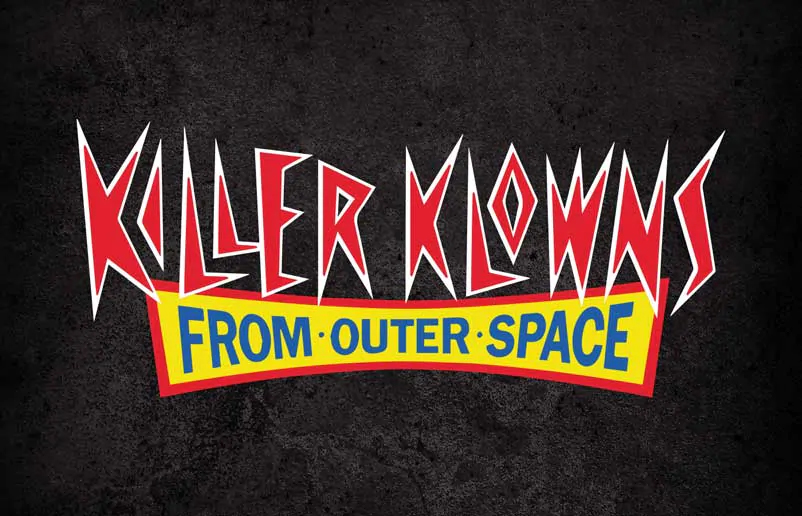 killer klowns from outer space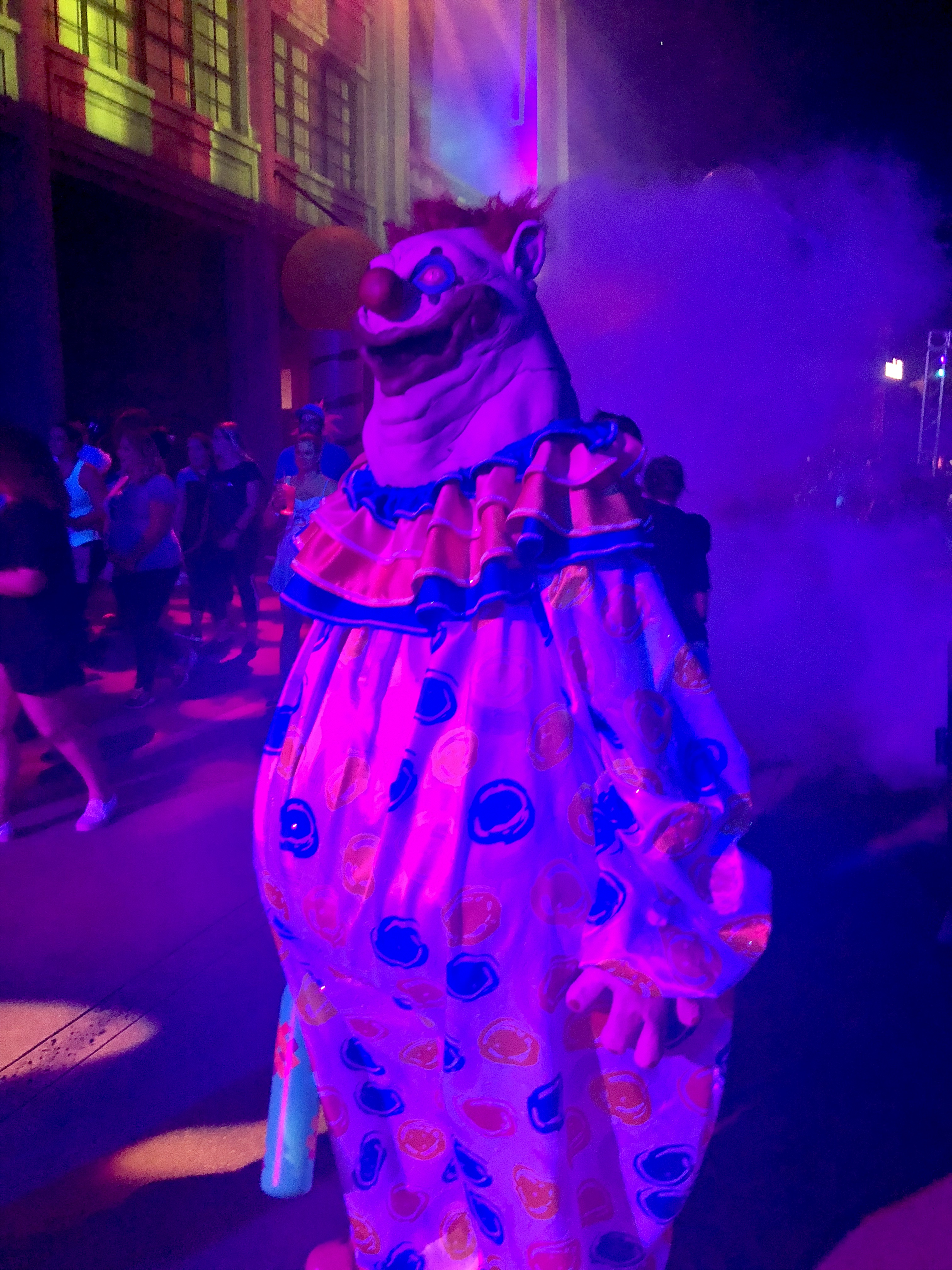 An interstellar circus tent has landed and a madcap invasion has begun on the streets of Universal Studios Florida. Step right up to the big top, where the sweet smell of cotton candy delights you. You soon realize this grotesque treat is not spun with sugar but from victims like you. Otherworldly clowns giggle madly as they zap people into cotton candy pods with ray guns and devour every grisly strand. At this circus of fear, the joke's always on you.
Killer Klowns from Outer Space was, without a doubt, one of the most hyped and highly anticipated scare zones when it was announced. Coming off the success of last year's Invasion, another extraterrestrial theme seemed only natural, and the campiness of this movie is just too good to pass up.
This is a rare chance to get up close and personal with characters from one of the 1980s most notorious cult classic films, as larger than life clowns impeccably recreated straight from the movie roam the street, playing pranks on unsuspecting guests and even occasionally stopping for a photo or two, all while set against an image mapped projection background across the existing Sting Alley and New York building facades.
The unquestionably iconic nature of this Scare Zone will make it one that's talked about for years to come. Perhaps its only downfall is its relatively small square footage, limiting the amount of action and creating a bit of a bottle neck from its own demand. We certainly hope that the popularity of Killer Klowns from Outer Space allows it to return in a future year in an expanded format – perhaps even with its own dedicated haunt.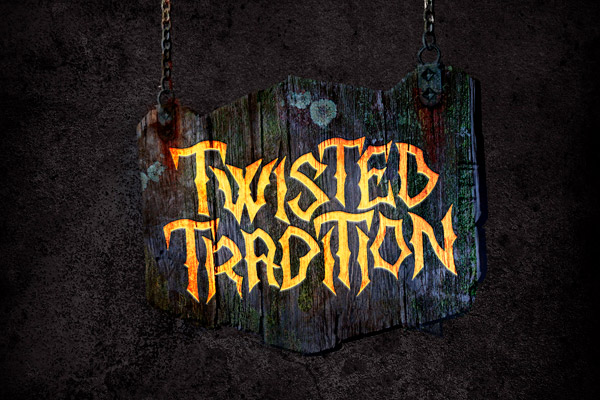 twisted tradition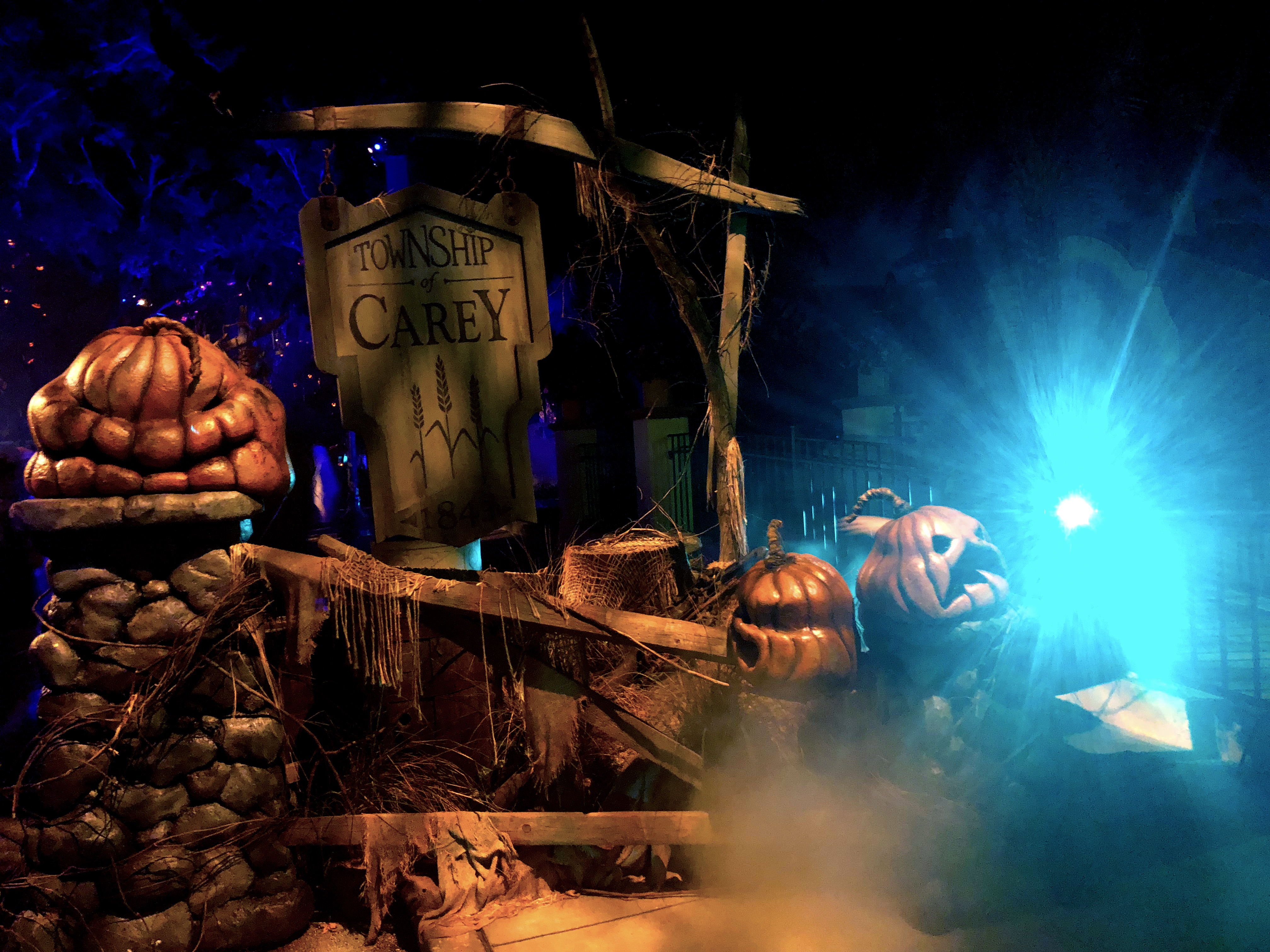 An ancient evil has been reawakened in Central Park and transformed Halloween into an abomination. Vines coil like vipers around iron fences. Rotting pumpkins molder upon the cursed ground. You're horrified to discover the larger ones hold human victims whose decayed flesh has mingled with pumpkin guts. You cringe in horror, but the worst is yet to come. Beings of blood and vine seek out human sacrifices. And you're ripe for the taking.
Occuping the same space as last year's Trick 'r Treat Scare Zone, Twisted Tradition feels just a little too similar this year (and isn't helped by its use of many of the same props to boot.) Halloween Horror Nights staple-location Carey, OH becomes the focus this year of a small town's version of Halloween twisted into an absolute nightmare. Pumpkins have completely taken over, many of them rotting and decaying, with some even coming to life to stalk the streets of this scare zone.
The darkness, fog and props offer a much more chilling experience than one might normally expect while walking through the trees, and you never know where a pumpkinhead might pop out at you from. It's a refreshing change of pace for those disheartened by the somewhat lighter nature of many of this year's scare zones, holding true to the original idea of Halloween – while still remaining different in its own right.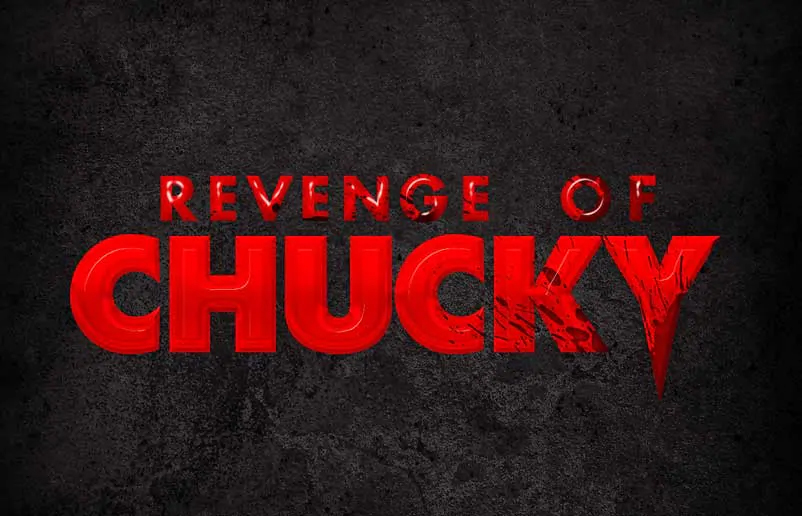 revenge of chucky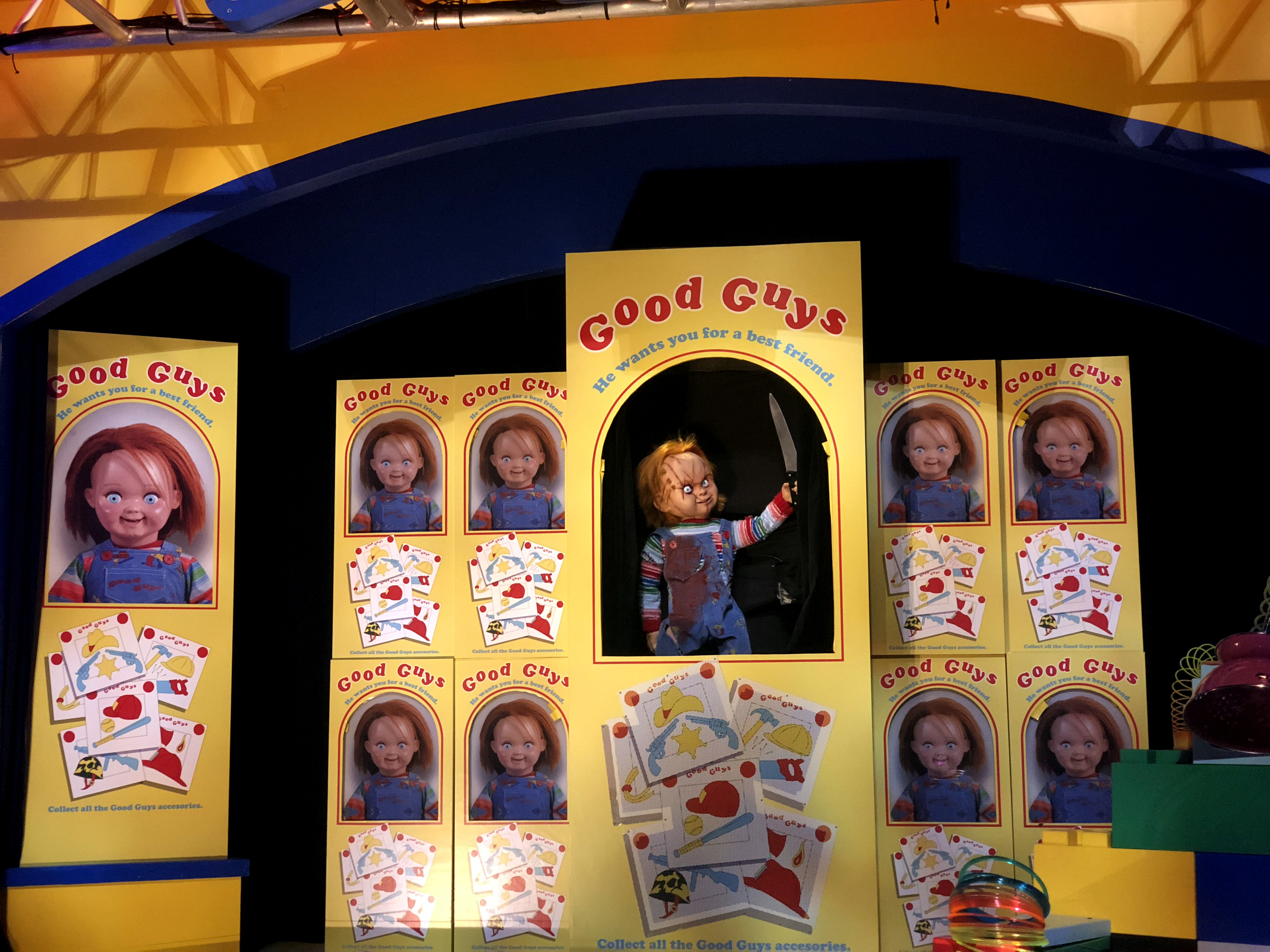 Chucky, the world's deadliest doll, is back for more after 30 years of mayhem. The possessed doll has brought a toy fair to gruesome life on the streets of Hollywood and twisted your favorite childhood toys into nightmares. You'll shudder as Chucky rips away slivers of agony and organs from unwilling victims. You'll be dying to play.
Finally, a long-running staple for many years at Universal Studios Hollywood's version of Halloween Horror Nights has made its way to the Orlando park. Chucky, live and in person (in interactive puppet form) takes stage – mint in his original packaging, mind you – to heckle the crowd. On paper, you'd think getting embarrassed in public by a talking doll wouldn't be high on many people's to-do list, but this entertainment offering – on both coasts – demands packed crowds all throughout the night.
Universal Orlando expands the California offering with Revenge of Chucky, situating his stage smack dab in the middle of a dedicated evil toys Scare Zone. And while set pieces are incredibly minimal – just two beyond Chucky's stage itself – the scareactor costumes that fill the street are sure to bring a demented laugh to anyone who grew up in the 1980s. Oversized Care Bears with angry eyebrows, murderous Cabbage Patch Kids and a Barrel of Monkeys out for blood are here to do Chucky's bidding.
And speaking of, at the end of each set, Chucky recites a familiar evil spell from the films to harness dark, sinister powers. As he chants, all the terrible toys gather in a disturbing cult-like formation, one hand raised to the sky as if to testify to his greatness.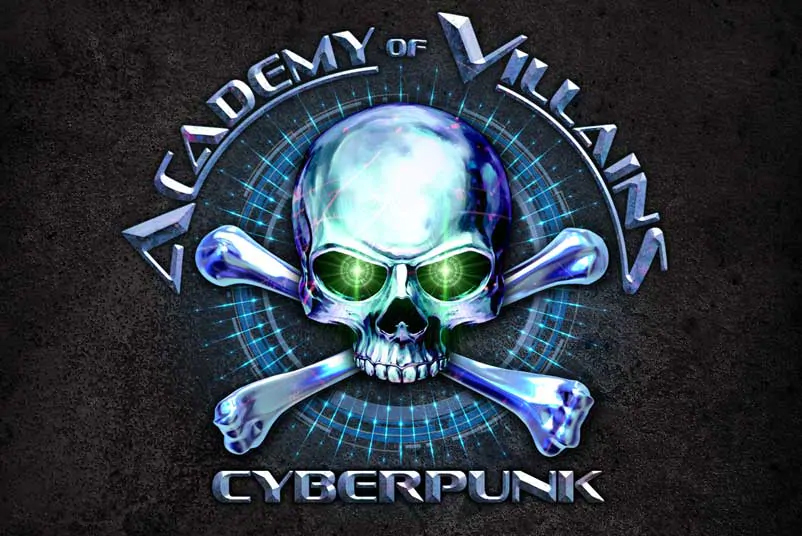 ACADEMY OF VILLAINS: cyberpunk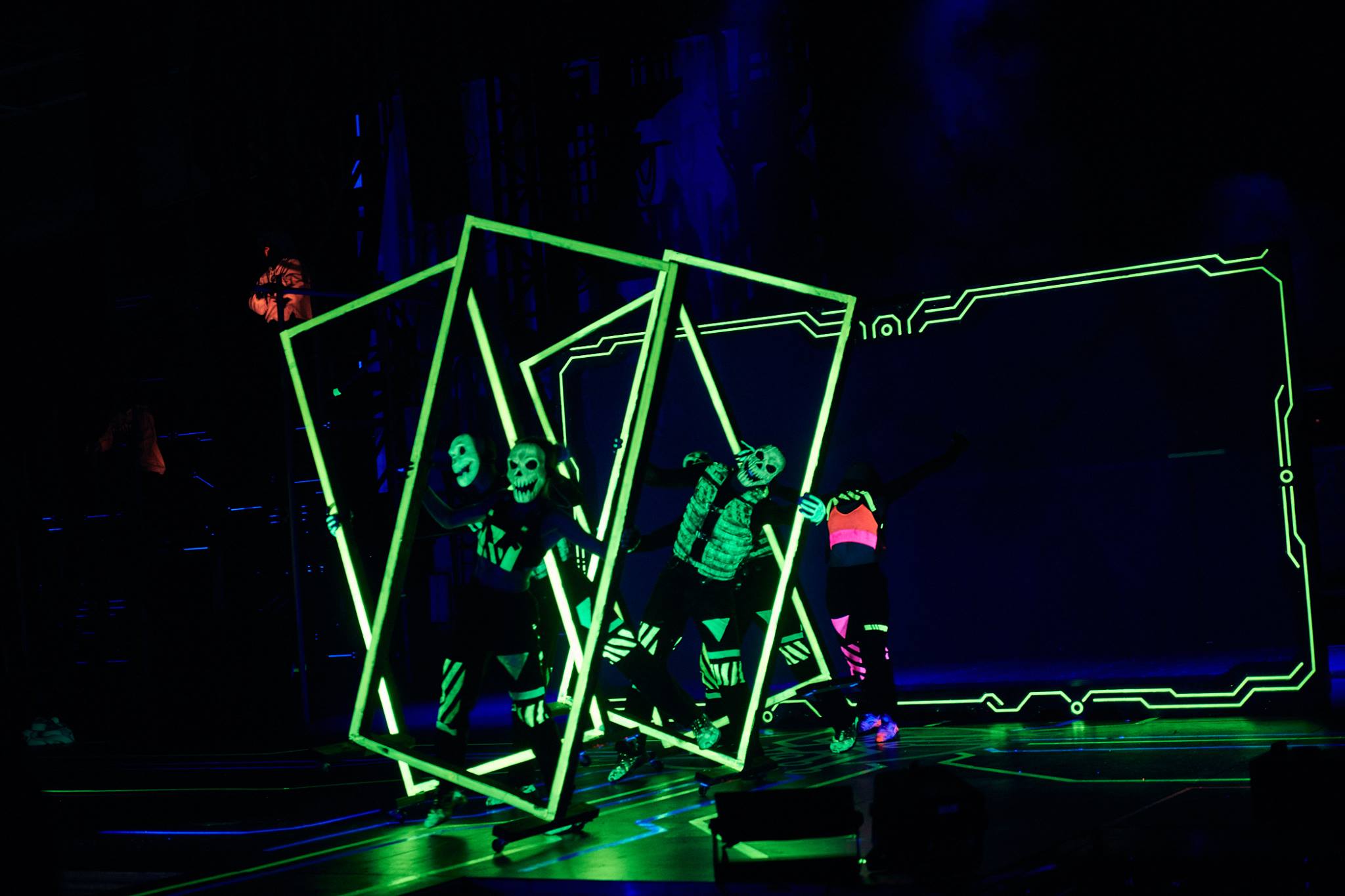 With a wicked mix of dance, acrobatics and theatrics, Academy of Villains is back with an all-new performance. Prepare for maximum overload in this test of humanity versus technology. Set in a dark and distant city of the future, Academy of Villains hack into a world of pounding synths and neon lights.
Although, at its core, a far-reach from Halloween, Academy of Villains is still an adrenaline-pumping show. This year's story revolves around two factions in a futuristic world: the cyborgs and their overlord, and the resistance who are trying to overthrow them.
Special effects, pyrotechnics, and death-defying stunts transform this show into something it never managed to be in its previous years, though it remains doubtful that Academy of Villains will be able to fill the shoes left behind by the departure of Bill & Ted's Excellent Halloween Adventure.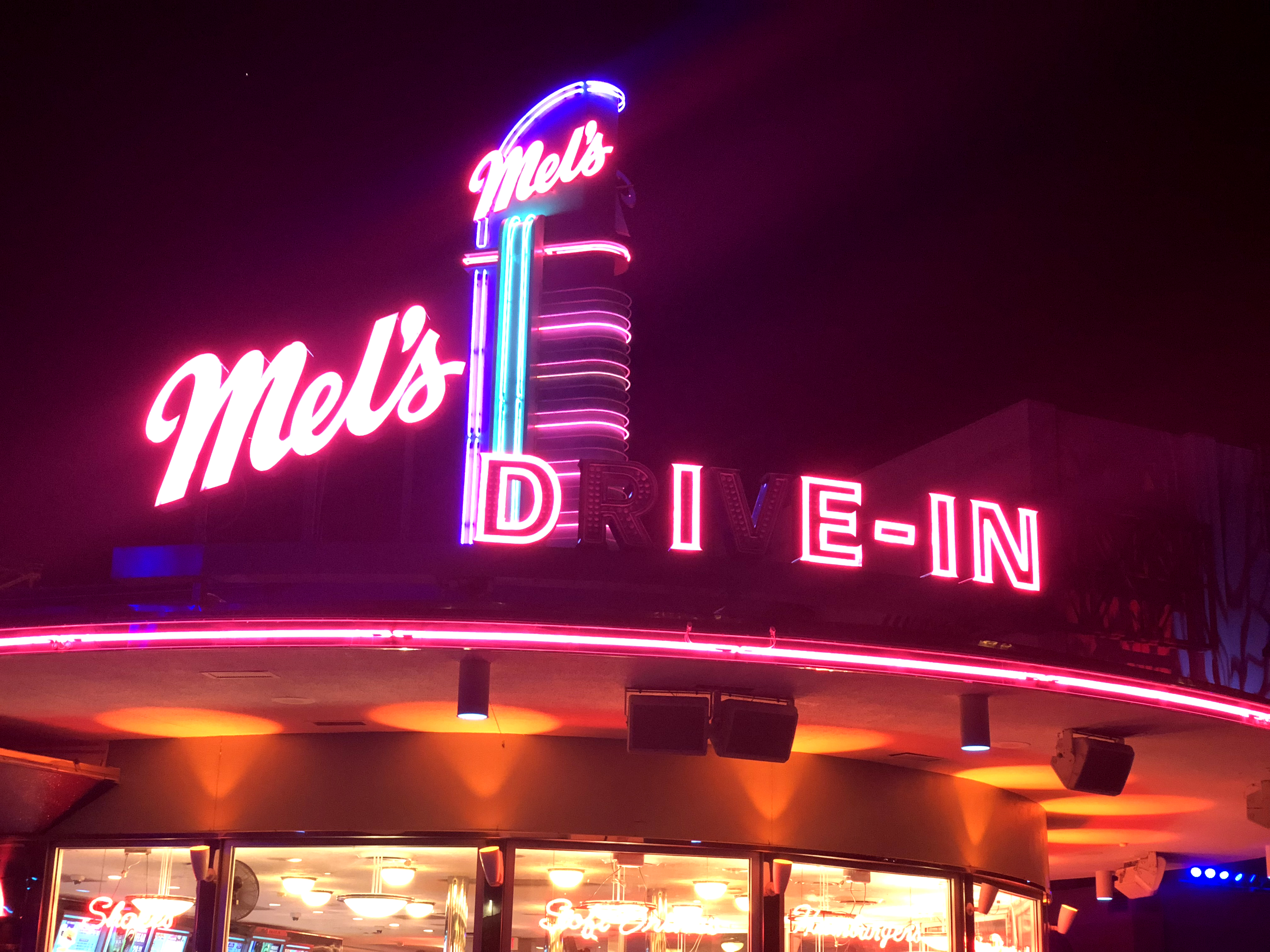 When it comes to haunts, Halloween Horror Night 28 may be a much stronger year for Universal Orlando than those in recent memory. With so many 4 Key and 5 Key mazes at the event, there's a lot to look forward to.
With 2018 being the year of Haunts for the event, we can only hope next year's event puts a bit of renewed focus on Scare Zones. Years ago, this event transformed Universal Studios Florida into what felt like an entirely new, unique theme park – where seemingly no safe space was left untouched. Over the years, elaborate Scare Zones have been watered down, and today, large swaths of the park have no decor what so ever, making it feel more like "Universal Studios at night" than "Halloween Horror Nights."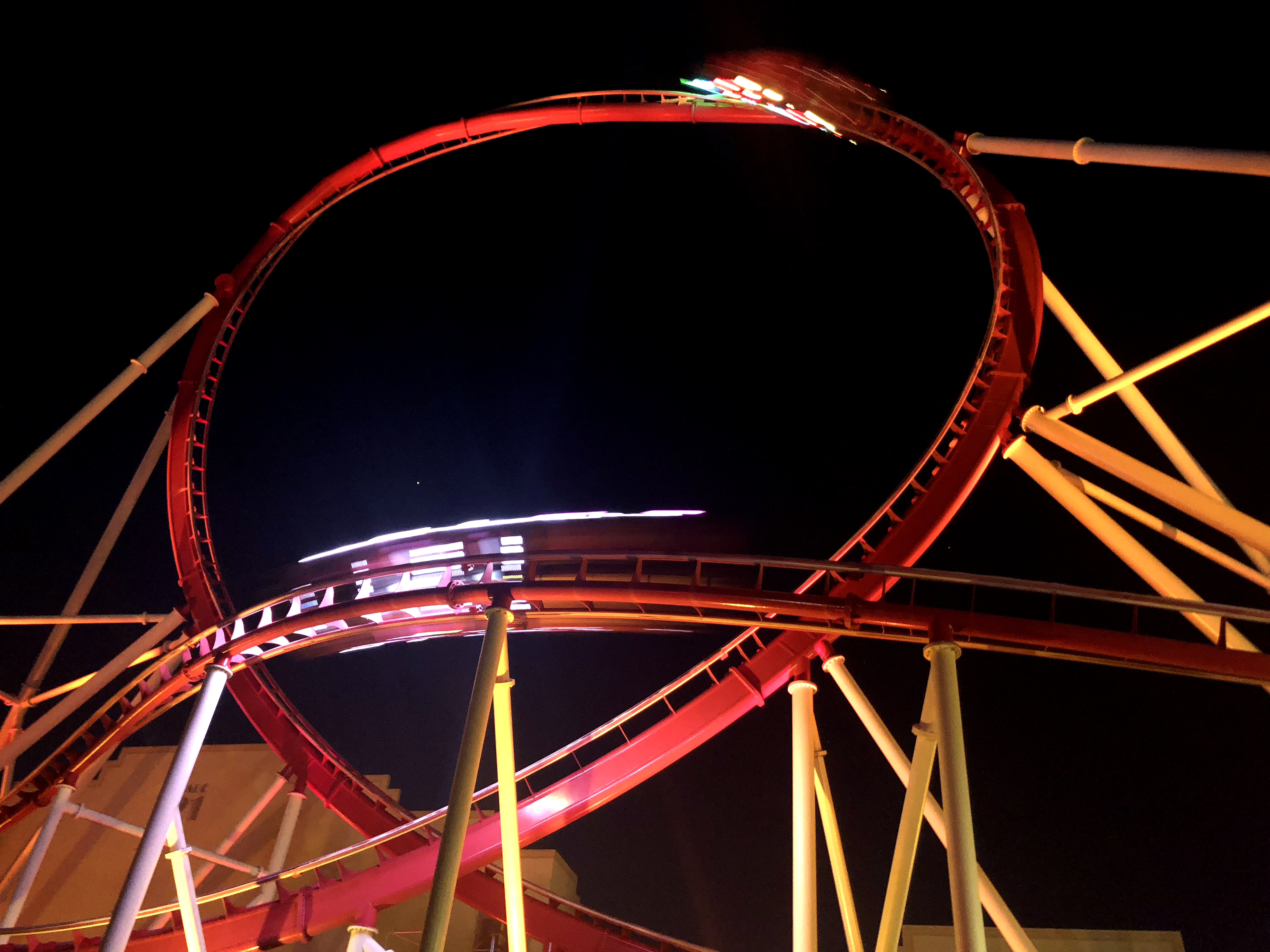 And while large sections of the park may lack decor, the one thing no square inch lacks is crowds. This would be an "elephant in the room" acknowledgement, but the truth is there wouldn't be room for an elephant during any given Halloween Horror Nights event anymore. It's difficult to not feel as though Universal Orlando is simply selling far more tickets per night than they should – and it's gone from being "crowded" to "too crowded" to "almost not fun anymore."
In the past we've discussed how this event is almost not even worth attending if you're unable to splurge on the uber-premium priced Universal Express front-of-line option. Well, it's getting to the point that even with highly priced Universal Express access, you may be waiting upwards of 45 minutes per haunt (and to be clear, that's IN the dedicated Universal Express queue) but even worse, there are just SO many people in the streets that it's a challenge to even walk from one attraction to the next.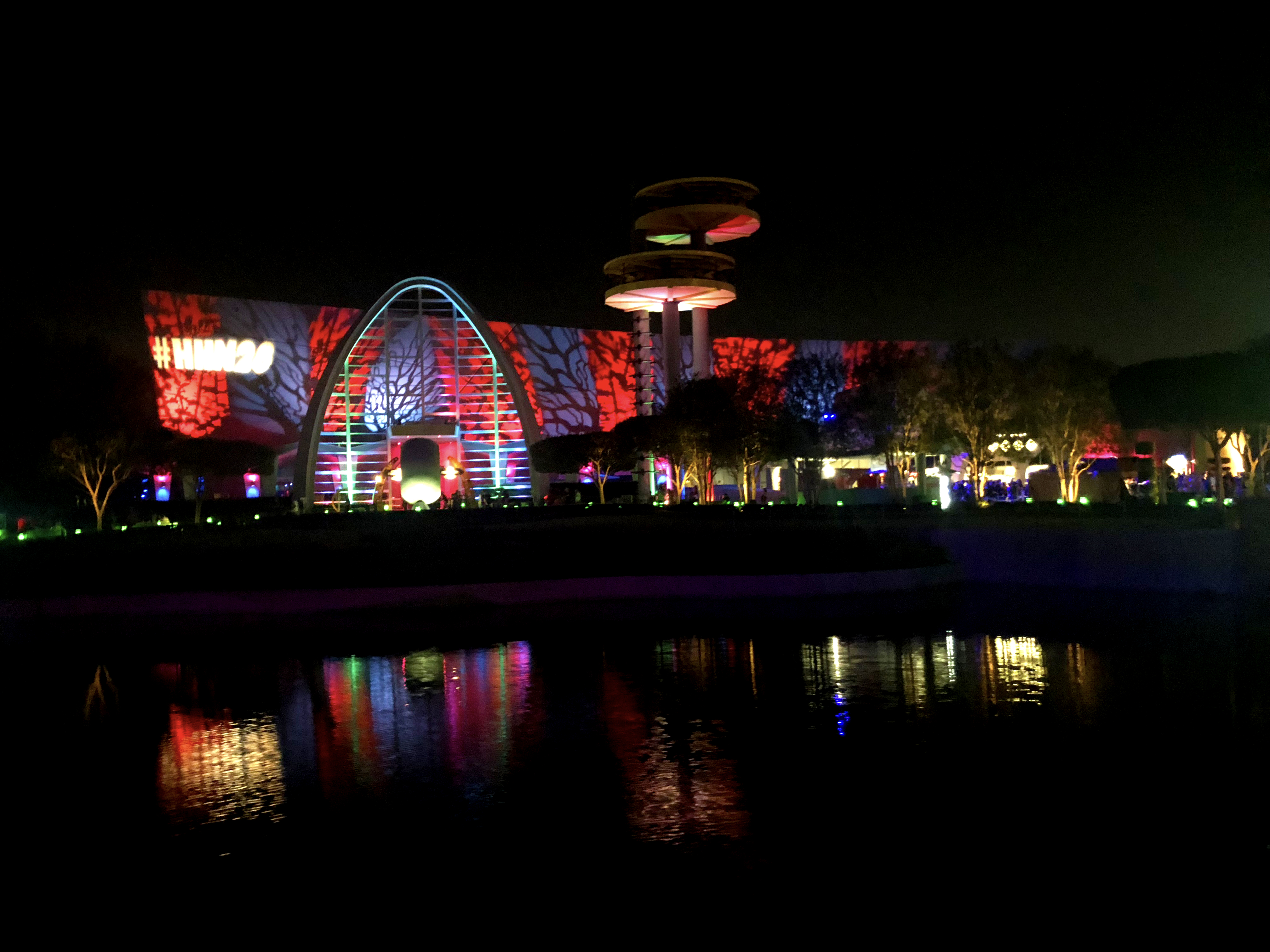 Halloween Horror Nights has been an annual tradition for us spanning two decades now – and while we still absolutely look forward to it each year, the truth is it's beginning to feel less like a fun tradition and more like an all-out endurance test just to last a full night to see everything. The "trick" to find "treats" here is bringing a whole lot of patience and even more extra pocket change to splurge as much as possible; it's become far less a matter of being spoiled and far more a conversation of survival.
This post will be updated as more official press photos are released from inside the haunts. You can find an extended photo gallery from our night at Halloween Horror Nights 28 in this exclusive album on the Escape Authority Facebook page! While there, why not give us a "LIKE" if you haven't already? We'll give you candy!

Venue: Universal Orlando
Location: Orlando, FL
Number of Haunts: 10
Dates: Select Nights September 14th – November 3rd, 2017
Hours: 6:30PM – 1AM or 2AM depending on the night.
Cost: $109.99 at the gate, or save as much as $50 per person if purchased in advance online.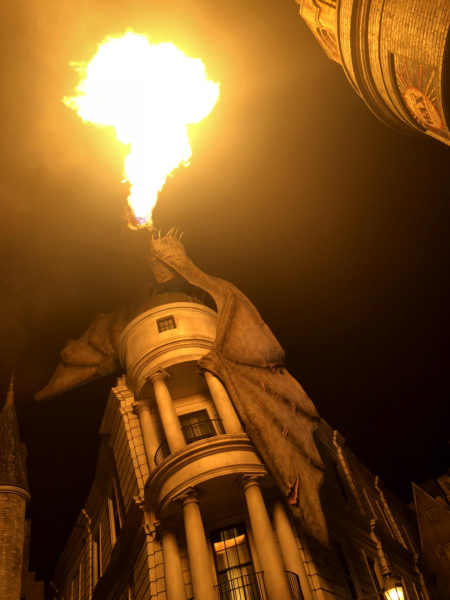 Summary
Reviewer
Review Date
Reviewed Item
Halloween Horror Nights 28
Author Rating