A legendary haunted hayride that's talked about year after year across the industry, and now, we too are believers in the hype!

Bates Motel and Haunted Hayride, located at the Arasapha Farm in Glen Mills, PA, is just one of several seasonal attractions that operate here throughout the year. For the Halloween season, the event runs twenty-nine select nights between September 21, 2018 and October 31, 2018, including weekends in the early part of the season and then operating nightly beginning October 11. In its 28th year, Bates Motel and Haunted Hayride features three different haunted attractions, including perhaps the most renowned haunted hayride in the United States, as well as a more traditional indoor haunt and an outdoor trail, in addition to entertainment offerings throughout the farm. Certainly of note to our readers, Bates Motel and Hayride also includes two short mobile escape games during the event – The Sword of Domocles and Meltdown – under their extended branding of Mobile Adventure Escape Rooms. These two mini games, along with the four full-length permanent games at the haunt's sister venue down the road, Bates Motel Escape Rooms will receive their own dedicated reviews in the near future.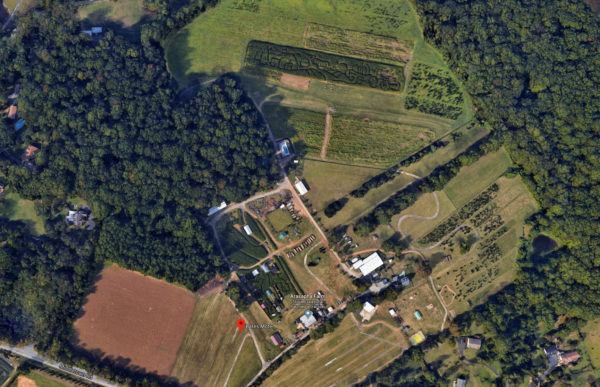 See that huge patch of densely wooded forest on the top left? That's alllllll Hayride!


Haunted hayride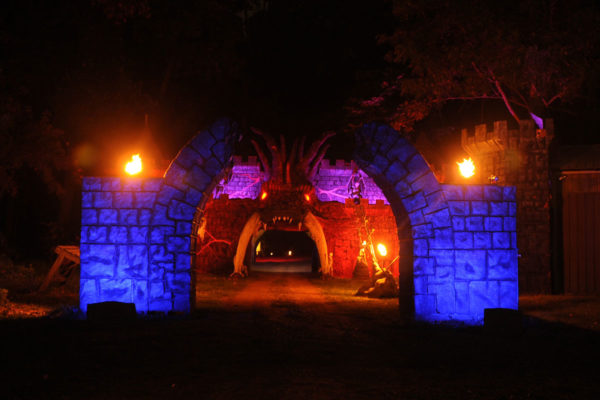 The Haunted Hayride is a 25 minute, action packed, heart pounding ride through the dark forest of Arasapha Farm, located just outside of Philadelphia PA, and is filled with huge, detailed sets, giant monsters and more pyrotechnics than a Kiss concert. With scenes like a 100' foot long, 40 foot tall drive thru insane asylum, a full scale mockup of a New England church and a 200 foot long cave, the Haunted Hayride is an amazing example of Hollywood style sets and props, all brought to life with over 75 actors and 25 scenes.
The legendary Haunted Hayride embraces a "less story, more spectacle approach." And boy oh boy does it have spectacle! It's difficult to not compare the overall experience here to the notion of "What if Disney did a Haunted Hayride?"
Structured more as random, disconnected vignette scenes, this ride is a mind-blowing 25 minutes long. During that time, tractor-pulled wagons drag you so deep through the woods that it's impossible to not feel hopelessly lost. It's equally impossible to prepare for what lies ahead, with scareactors lurking behind every shadow, attacking you from all possible angles.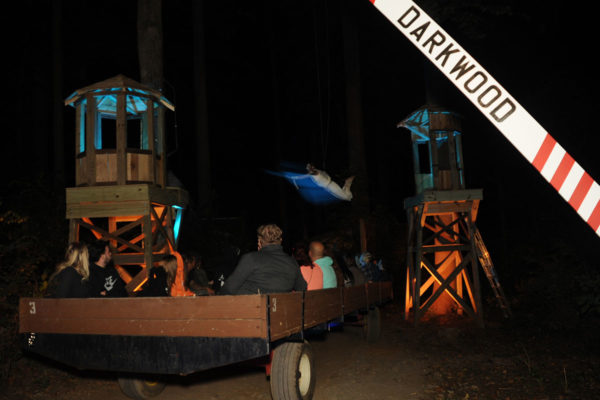 The sheer scale of the sets throughout the Haunted Hayride is unimaginable. Fully constructed, dimensional towns dot the dark forested landscape. Towering buildings and even taller rocky cliff faces stretch nearly as high as the massive trees that shadow the back half of the Arasapha Farm.
Beginning by quite literally being swallowed by a massive demonic beast, the action – and jaw-dropping scenic – is absolutely non-stop for the 25 minutes that follow. Entire haunted towns you drive past – and some intricately detailed buildings you actually drive through hide surprises around every corner. Some iconic scenes like the Bates Motel inspired by the Hitchcock classic, Psycho compliment others that you'd never expect to encounter, like traveling back in time to the prehistoric age of the dinosaurs, surrounded in a massive canyon by gigantic animatronics lunging at you from all sides – and above!
The amount of special effects easily tops any hayride we've seen before, including massive fireballs so close you can feel them, and a narrow escape through a collapsing mine shaft as it crumbles around us.
Simply put, there's just nothing like the level of production found in this Haunted Hayride.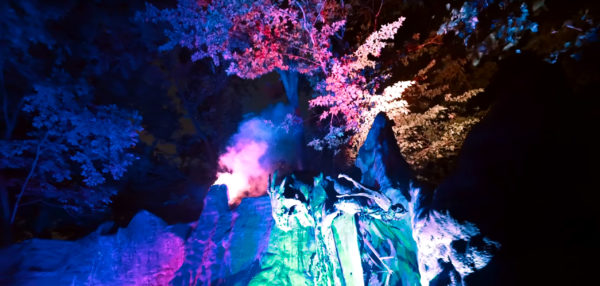 From the moment we're pulled through the demon's mouth, all hell breaks lose – literally – with massive fire balls and pulse-pounding action that just never lets up. There's. No. Safety. Here. Monsters are EVERYWHERE. What's promoted as "more than 75" feels a lot like "more than a thousand."
And these aren't your cliché variety of screaming "boo!" scares. These are some of the most interactive scareactors we've ever seen – fully embracing their roles, staying in character at all times and doing whatever they can to draw you into their nightmarish storyworlds.
The Haunted Hayride is probably the most "stalked and vulnerable" we've ever felt. Left to just… sit there.. in the very low-sided hay trailer, there's just nothing protecting you from an attack that can — and unquestionably will — come from anywhere. The monsters may grab at you, and if you think you can get find sanctuary by crawling to the center of the trailer – think again; they may just try to jump right onto the vehicle with you. Seriously.
And though this action alone would be more than enough to make for a terrifying haunt, add to it massive animatronics, theatrical special effects, startlingly sudden – and close – fireballs and even scareactors who can quite literally fly – well, I don't think I need to point out that you're in for the ride of your life. Or what's left of it.



Bates Motel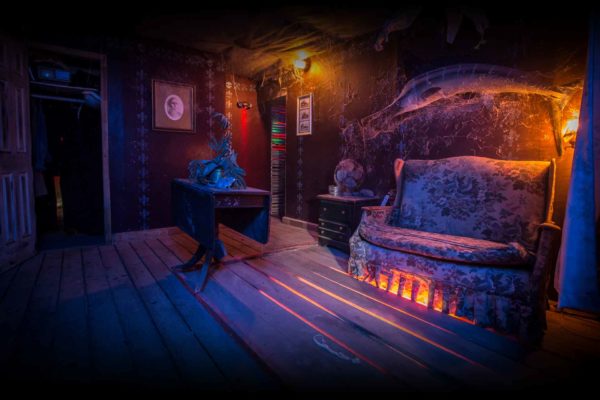 Don't forget to check into the Bates Motel, for the most incredible display of terror and mayhem this side of Hollywood. Filled with high tech special effects, digital soundtrack and lighting, the Bates Motel takes Halloween to a new level of horror…up close and personal! 
The more "traditional" haunted house of the event, Bates Motel exits within a massive, entirely foreboding mansion facade. Again more about experience than pure story, everything within this haunt feels "classic Halloween."
Breaking it down to its bare bones, it checks off the exact boxes anyone could want during this season of tricks and treats. Old abandoned house, check! Room after room full of lurking monsters, check! No way out, check! Wait, what?!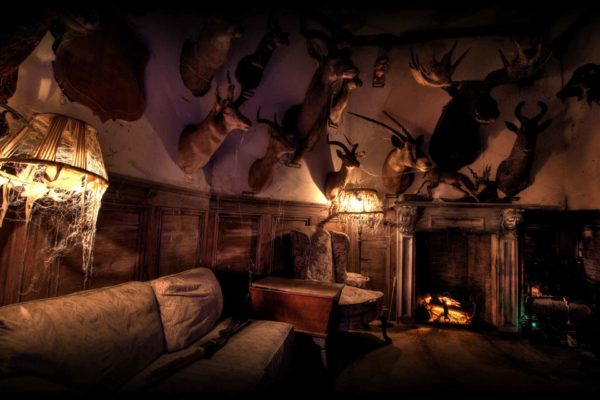 Bates Motel starts off impressively, before guests even enter its queue. A huge full scale mansion facade looms over the farm's grounds, dominating your sightlines from the moment you pass through the ticket booths. A rusty metal sign that reads "BATES MOTEL" occasionally bursts into flames, because that's not disturbing at all.
But this isn't one of those traditional theme park haunts where all you see is the front facade of the house before going into a warehouse. This is a full house – and beyond its labyrinth of disturbingly detailed rooms, you'll find yourselves eventually escaping into the yard – actually outdoors – where you'll notice the entire full scale facade of the back of the house was also constructed!
From there, a trek through an actual greenhouse offers no sanctuary, leaving us no option but to go back into the house in a classic "poor life decision" misguided move straight out of a horror film. Those lucky enough to ultimately escape will find this hellacious house's doorway has grown some massive razor sharp teeth, because of course it has.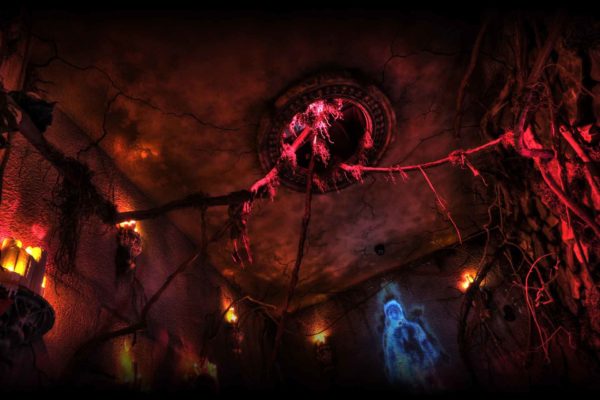 Bates Motel offers a chilling mix of highly interactive live actors, animatrics and physical effects to guarantee non-stop scares from the moment you foolishly enter its doors to the moment you run out of them – if you're lucky.
The scares on their own are great – but it's the willingness of the scareactors to truly deliver one-on-one in-world interactions that make Bates Motel so chilling. They'll taunt you. They'll lure you. They'll most certainly try to trap you -and at one point in our case, they absolutely succeeded, locking us in a cage between the walls! Some of the scares are so well hidden that they're sure to catch even the bravest haunt-goers off guard!



Revenge of the Scarecrows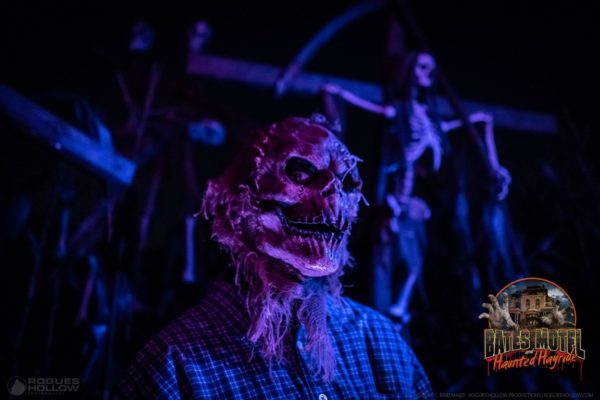 This terrifying journey through a tall corn field is filled with walk thru buildings and sets, tons of animatronic monsters and over 30 actors in full makeup and custom costumes. What evil lurks just around the next turn? Is someone or something watching you? Can you feel their bloodshot eyes your every move as creep along the trail?
The story here is simple. This farm is evil (Did it really take you that long to crack that code?) and now, you either figure out a way out of the towering corn maze – so tall that it quite literally blocks the moonlight from even glowing across the path under your feet at times – or, you know, you get mangled by the scarecrows. Because of course they've come to life too. (Seriously, what the hell happened at this land before the Arasapha Farm was built?!)
Revenge of the Scarecrows evokes the spirit of a classic Northeastern fall corn maze with a wicked, bloody spin. The path itself is so long and twisted that much like on the Haunted Hayride, you'll lose all sense of direction and quickly develop a fear of being actually trapped inside. And with bloodthirsty surprises around every corner, we're just not sure if that's a good thing or a very bad thing.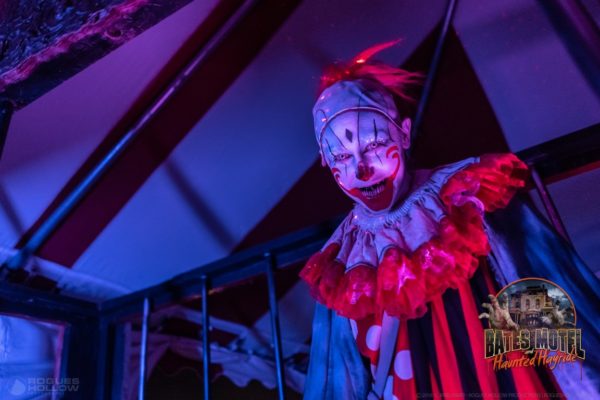 Like a classic haunted trail mutated beyond recognition, Revenge of the Scarecrows exists almost entirely outdoors, through an actual, living cornfield. The stalks that surround you are so massively tall that it almost gives the impression that we've shrunk down to the size of kids – and in turn they take away some of our adult bravery and confidence in the otherwise accepted notice that "this is only make-believe."
Weaving back and forth lit at times only by the twinkling stars above, we find ourselves occasionally stumbling upon buildings we clearly were never meant to encounter, including a crypt, several wooden farm structures, and for good measure, a traveling evil circus that set up deep in the field in hopes of luring fresh blood for its creepy clowns.
Naturally it all ends with a gauntlet of terror through a full scale blood red barn facade – and it doesn't take long to realize it might be more than just paint that's turned it that color.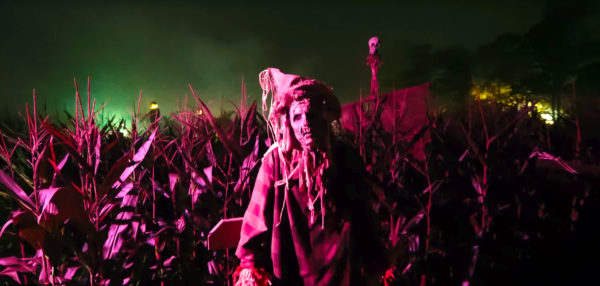 There's just something about outdoor trails – when done well – that create an instant sense of vulnerability – and it should come as no surprise that Bates Motel has perhaps executed this scene better than any haunt we've seen prior. The constant fear of the unknown for what might be lurking between the cornstalks is palpable – and sometimes it can be more frightening to find nothing there than a monster. There's something so psychological about it that kicks your own mind into overdrive, in a sense turning it against you.
But make no mistaken, there are a WHOLE LOT of monsters in this cornfield. Demented scarecrows, backwoods hillbillies, clowns and yes, even the devil himself are lurking in the moonlight to irrigate this crop with your own blood.
And if you think that old red barn is your ticket to safety, think again. It may lead to the way out – but that path goes straight through hell — and hell has chainsaws.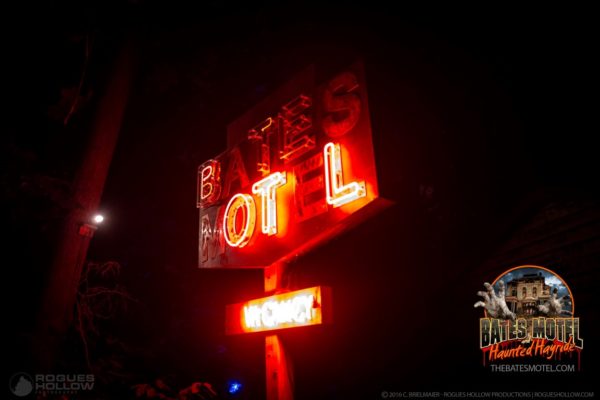 Each year, we reach out to our industry peers to get a sense of what is truly "must see" across the haunted attraction landscape. Obviously being based in Central Florida, and traveling annually as tradition to Southern California, we already have some of the more talked about markets covered. But outside those two haunted hotbeds, just a small handful of venue names get passed to us each and ever year. "You've got to see Bates Motel." "You need to go back to Pennsylvania!" "Bates Motel is one of the coolest things ever!"
At first, we of course instinctively wonder if the hype is legitimate. But the more you hear it – each time from someone different but every time a very consistent story, you realize there could be something very real there.
Bates Motel and Haunted Hayride is very real – and we're finally here to tell you, we understand the hype.
We think it's important to pause and share our actual first impression of this epic venue; When some bad weather really messed up our original plans for the evening, we got a text from the owner of Bates Motel inviting us to come out before the storm hits their area. Weather forecasts showed a few ours of safety before the skies opened up – and that should have been more than enough time to experience all three haunted attractions. Well, as any of our Florida readers can tell you, weather forecasts are quite frequently wrong, and that turned out to be very much the case for our visit to Bates Motel.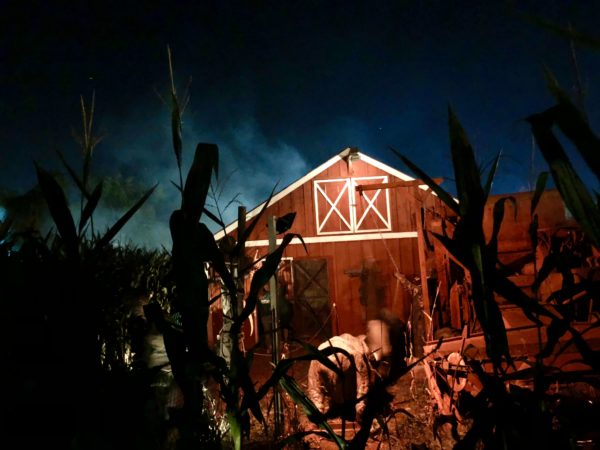 We boarded the Haunted Hayride first, knowing it would be in danger of a weather closure soon enough. As we walked through the queue, the air got misty. Once we sat down in the hay, that mist turned to a steady sprinkle. And naturally befitting of our typical cartoon lives, the very second we pulled away from the loading dock, it started to truly rain. And that demon that swallows you at the start of the ride? Right as we were about to enter his mouth the weather turned significantly worse, going full-on Florida-style monsoon which would then last the entire duration of our ride.
We thought for certain that would be it. They'd park in the tunnel, exit us and make us walk back to the station. There's no way they'll continue in such insanely heavy rains. But they did. And here's where the real magic happened — although we were trying to stay afloat in our trailer and, you know, not drown, the actors put on a full show. A full TWENTY FIVE MINUTE LONG show, without missing a single beat, getting just as drenched as the rest of us. Their energy, enthusiasm and drive to entertain us wasn't even the slightest bit slowed down by the impossibly awful working conditions they found themselves in thanks to the vengeance of Mother Nature.
That kind of pride of performance is not something you'll see often anywhere – but to have that be our very first impression of Bates Motel's team instantly solidified what makes them so highly rated, so very consistently. Fortunately, we were invited back to Bates Motel and Haunted Hayride the following evening to experience the event as it was intended to be seen, but no matter how unpleasant the weather made our first night, that initial impression of their professionalism and pride for their product will simply never be forgotten.
It's no wonder how an event to this grandeur, with the attention to detail and pulse-pounding special effects consistently ranks high among many respected lists of the very best haunts in the United States – and now, one of our best treats of the season allows us to place it among our own.
You can find an extended photo gallery from our night at Bates Motel and Haunted Hayride in this exclusive album on the Escape Authority Facebook page! While there, why not give us a "LIKE" if you haven't already? We'll give you candy!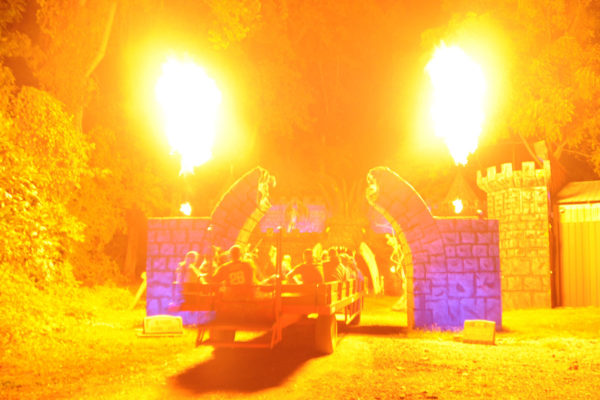 Venue: Bates Motel and Haunted Hayride
Location: Glen Mills, PA
Dates: Select Nights September 21st – October 31st
Hours: Box office is open 6:30pm – 9:30pm or 10:30pm depending on the night – with haunts remaining open later, until the last guest gets through.
Cost: Single attraction tickets cost $15 for haunts and $20 adult / $15 children for hayride. Combo passes cost $40 adults / $35 children. VIP passes cost $75.

We thank Bates Motel and Haunted Hayride for inviting us to experience this haunt. Although complimentary admission was generously provided, that in no way impacts the opinion included within this review.
Summary
Reviewer
Review Date
Reviewed Item
Bates Motel and Haunted Hayride
Author Rating