RATING: 5 Keys          RESULT: Win          REMAINING: 18:03
You'd think that after the number of prisons we've broken out of, someone would design a more secure facility.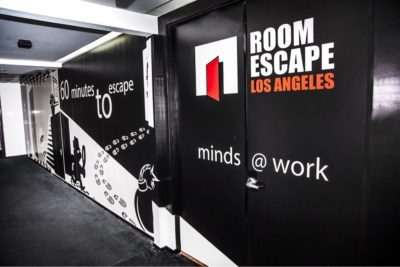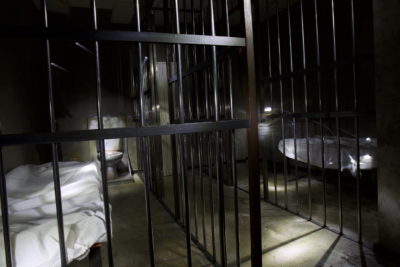 You guys, I'm going to be honest. We're seriously bad people, because we got ourselves arrested.
Again.
We are sentenced to life in (another) maximum security prison. With all appeals denied, our only path to freedom is to escape, once more.
A conveniently timed riot provides the perfect opportunity to take advantage of our favorite prison weak spot: distracted guards.  It's time to do what we do best and break free from another cell.
Luckily we have a lot of experience breaking the law (even if we clearly haven't quite yet mastered the whole "not getting caught" thing.) It's time to think like a criminal and utilize the elements in our cell to break free, else spend the rest of  our days behind bars.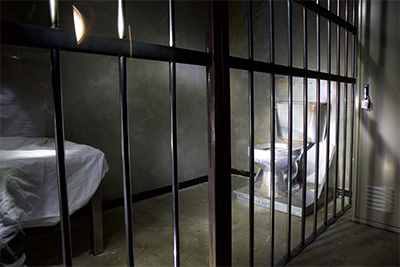 Prison Break's scenic finds the correct balance of minimal decor. It really has to. A jail cell wouldn't be an elaborate environment, and as such to be a realistic take on that scene, nor should the room you're locked inside.
That being said, nothing at Roomescape Los Angeles is ever done on the cheap – and so it should come as no surprise that this game is scenically one of the better jail rooms I've see (and again, I'm totally a bad guy, so I've seen quite a few of them!)
This multi-room space is split between two separate (and unique) jail cells, a hallway and the warden's office (which hides some fun pop culture criminal references.)
Roomescape Los Angeles takes things to another level by making the guests themselves become, in a sense, part of the scenic – issuing bright orange prisoner t-shirts players are required to wear.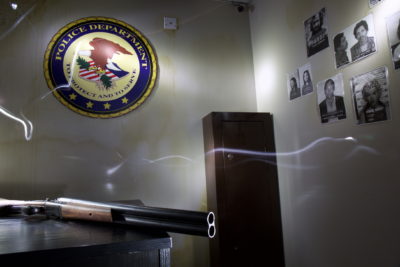 Gameplay is where Roomescape Los Angeles always shines the brightest amid all their other positive attributes, and Prison Break is no different.
Every step along the way is entirely intuitive, making a steady flow from start to finish (unless your team inadvertently breaks something multiple times – entirely our fault, and not that of design – but resulted in some very funny moments for both us as players *and* the venue's wonderful staff!)
Moreover, this game achieves the art that very few of the countless jail games we've seen manage to do: it makes you think like a criminal.
A real jail cell isn't going to just have a hidden key you can use to break free from. No – here, you need to modify your surroundings and utilize them in ways that benefit your nefarious cause, which not only makes gameplay more fun, but in turn makes you as a player a far more active participant in an immersive experience.

We often talk of what we refer to as The Four Unforgivable Themes™ – story tropes so over done that they frustrate us as players. It's no secret that Roomescape Los Angeles' four games check off each of those aforementioned four boxes – but here's the thing – Roomescape Los Angeles' four games are all so fun, so well thought through, intuitive and enjoyable that any time we even *mention* The Four Unforgivable Themes™, we immediately put the asterisk that in rare cases they can be done so well that it over-shadows the over-use itself.
It's rare that we find those games that break the common stereotype, but Roomescape Los Angeles is THE venue that shatters preconceived notions.
Prison Break itself is probably their easiest game, but that's not at all to say it is an *easy* game. It was still an absolutely enjoyable challenge for our group of experienced players.
This venue is consistently a highlight of any LA trip for me. Their games are just a blast from start to finish. The perfect balance of challenging but not too frustrating, story but never losing focus on puzzles and quality scenic to tie it all together with a bow. And that bow itself is without a doubt the venue's staff, who are easily among the most enthusiastic, friendly and welcoming we've seen in any venue across the United States. Their passion and pride for what they do is infectious, making this place the absolute perfect location to bring a first time player to. There's no way they can walk out of this experience without falling in love with the escape room genre.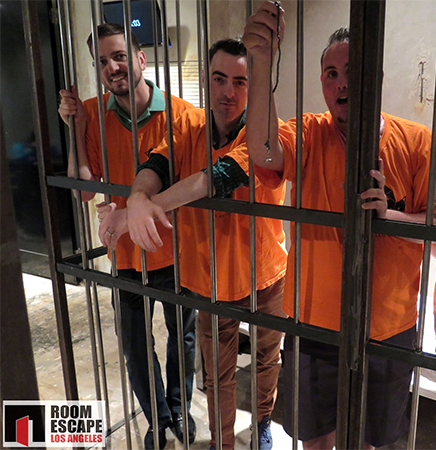 Venue:  Roomescape Los Angeles by Fox in a Box
Location: Los Angeles, California
Number of Games: 5
GAME SPECIFIC INFORMATION:
Duration: 60 minutes
Capacity: 6 people
Group Type: Private  / You will not be paired with strangers.
Cost: $99+ for 2-3 people (Price varies by group size, minimum 2)

Escape Authority readers save 15% Sunday through Thursday using code EAFRIENDS
Summary
Reviewer
Review Date
Reviewed Item
Roomescape Los Angeles - Prison Break
Author Rating