RATING: 4 Keys          RESULT: Win          REMAINING: 2:03
Following in the footsteps of a former asylum patient has never sounded so good.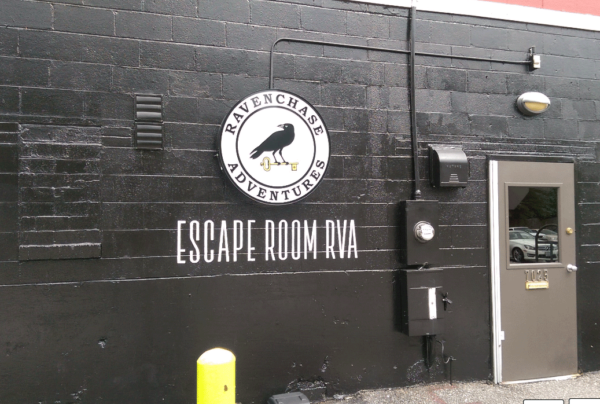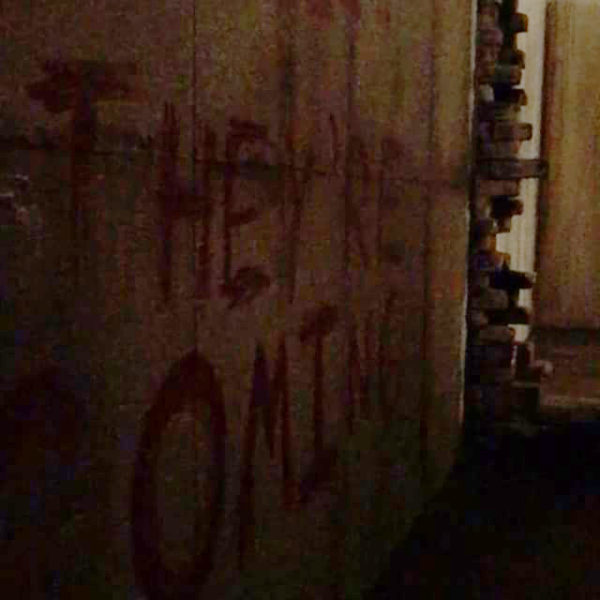 You've been falsely accused of being out of your mind and are committed to the old Ravenchase Insane Asylum. Upon arriving, you are placed into the legendary Room 213, where previous resident Julie Barnes managed to escape under mysterious circumstances. You have one hour to follow in her footsteps and escape the asylum before you become a permanent resident.
By now, we should have learned to stay clear of insane asylums given we always end up committed, but since we love a good spooky theme, we couldn't resist getting ourselves thrown into the Ravenchase Insane Asylum. Our "guest quarters" turn out to be Room 213, the site of the mysterious disappearance of a former patient. No one quite knows how she escaped. Now, it is up to us to figure out just how she did it – then recreate the same scenario to aid in our own escape before it's too late.
If you are familiar with Escape Room RVA or read our earlier review on The Lost Jewel of the James, then you know what to expect from this venue: full-blown saturation of the story from the minute you are committed to doing this room and the door closes behind you, all the way through to the finale. The Mystery of Room 213 is no exception. Players will feel and live the storyline probably more realistically and uncomfortably than they'll ever want to actually experience it in real life.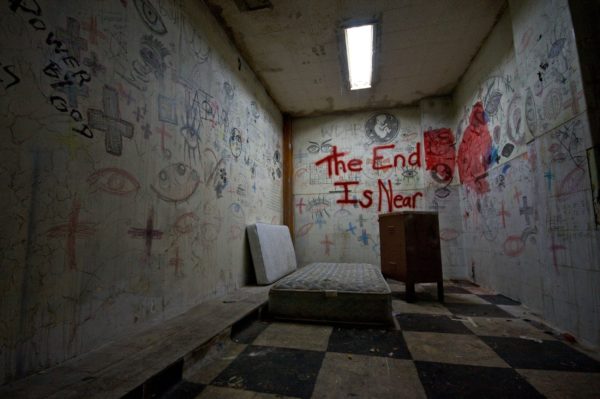 As it should be, the scenery and atmosphere of Room 213 is fittingly creepy. Before entering the first chamber, though, players must pass through a brick cutaway area reminiscent of the entryway to Diagon Alley. Although completely unrelated to wizards or anything magical, this visual accent was a nice touch and something we hadn't seen before in any rooms we had done. This creative entrance leads into the first chamber of the dark adventure – the room which Julie once called home.
The former occupant of this room must have surely had demons she was battling – or at the very least, an endless supply of writing utensils and a propensity to illustrate her perpetual stream of consciousness on the walls. Evident everywhere in the first room, was the fact that this girl was plotting and planning something, and she spent a lot of time – and wall space – trying to work it all out.
Further along in the adventure is an old operating room just as one might fear exists in such an establishment. All the surroundings feel right: there is a throwback operating table which we'd definitely never want to find ourselves strapped to, an x-ray light box and a cabinet perfect for storing medicines with which to treat patients' various conditions.
Closer to the actual exit, the depth of creepiness that lurks behind the scenes at this asylum becomes evident. Inside a cold storage locker, bodies hang lifeless in the dark, all zipped up and awaiting their final destination. Next up, a furnace room feels uncomfortably real and spooky, as it is a place most obviously where those who have passed on – or have been helped to pass on – are cremated. The ambiance of this room most assuredly speaks to the fact that our time is coming to an end, one way or another.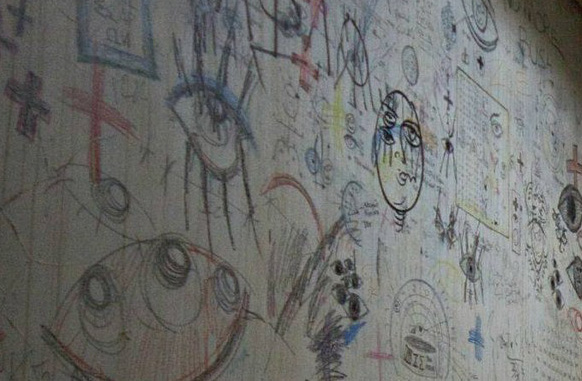 As suspected, we had to make at least some sense of Julie's ramblings on the walls of the first chamber. While this was challenging, we knew that she did manage to get out, so there must be something to it all to help us out. We also needed to figure out some clever physical tasks and put our searching skills to the test to complete the set of requirements before proceeding to the next area of the game.
We discovered that the patients' quarters are connected to a lab area. First, though, we needed to fashion a tool to grant ourselves access before we were allowed entry into the laboratory. We had to observe and use our surroundings, paying close attention to details in order to find the solution for working our way out of the lab. Once we did, we entered the cold storage locker and began what was our favorite puzzle of the game.
While we have encountered body bags before, we hadn't  seen them used in this way before – and we daresay it's pretty unlikely that you have either. We thought it was a very fresh and creative implementation of a common horror genre prop.
Past the body bag puzzle, a door leads to the furnace room, where things really start to heat up. We had to put on our mechanic's hat and figure out how to get the cremation furnace going again before we finally felt escape within our grasp. Solve this challenge as well, and you will earn a realistic and spooky journey into the afterlife (a.k.a the exit).


Given that we are huge Halloween and haunt fans, whenever rooms successfully combine horror themes with great and entertaining gameplay, we are more than thrilled. This experience was touted as the Halloween seasonal room, and although it was not scary per se by our standards, it was very well-themed, well-designed, and quite satisfying. We consider this venue to be one of our favorites to visit and have come to find them quite dependable in regards to the level of entertainment and quality they offer and one can expect.
Although this room has since been retired at Escape Room RVA, a similarly themed and named offering has been opened at the venue's sister location in Herndon, VA. Based on the differences in the story, though, we believe that room is somewhat different than what we experienced at the Richmond location. Until we play its counterpart in Herndon, though, that assessment will remain a mystery.


Venue:   Escape Room RVA
 Location:  Richmond, VA
Number of Games:  4
GAME SPECIFIC INFORMATION:
Duration: 60 minutes
Capacity:  8 people
Group Type: Public / You may be paired with strangers.
Cost:   This room has since been retired.
Summary
Reviewer
Review Date
Reviewed Item
Escape Room RVA - The Mystery of Room 213
Author Rating