RATING: 5 Keys          RESULT: Win          REMAINING: 6:23
What's creepier than a room full of dismembered doll parts? Not much.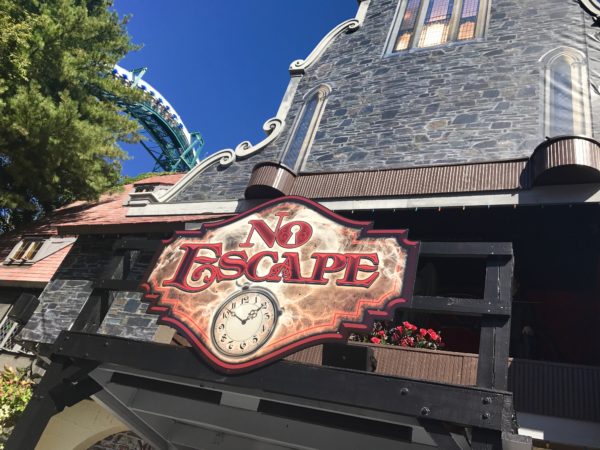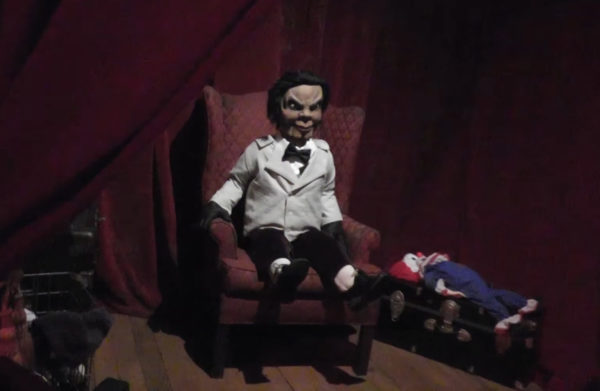 The eccentric Mr. Karver needs your help. Although quite peculiar, this fine craftsman of creepy dolls and dummies must finish his work so that he can make it to his next show. However, he is missing some key body parts before he can finish his masterpiece. It is up to you to ensure that the (creep) show does go on…
Eerie doll parts everywhere, the scariest-looking marionette we've pretty much ever seen, and a hyper-intense, crazed toy maker. Oh yeah. We're definitely in! We absolutely must make sure this dummy gets built so that this odd genius can continue breathing life – perhaps literally – into his stringed creations.
Busch Gardens No Escape absolutely nailed this first attempt at escape rooms. The story is so present and so intertwined with the gameplay, that we couldn't help but to have a thrilling, breathlessly exciting time as we raided the weirdo's warehouse of doll parts. Not only that, we were truly entertained the entire time and felt as if we were part of the show.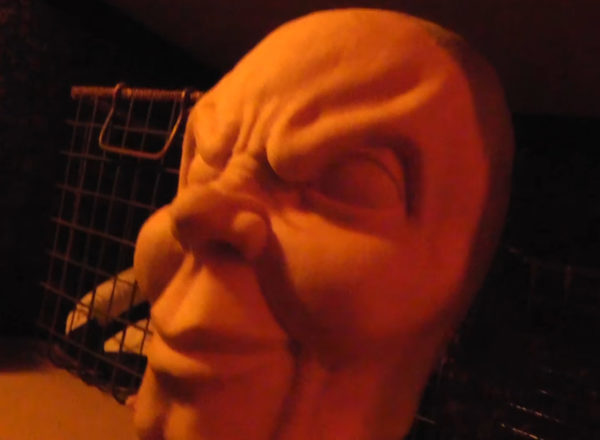 Upon entering the gamespace of Case of Mr. Karver, we were momentarily taken aback. This was one of the first – if not the very first – escape room offered inside an amusement park and we honestly weren't quite sure what to expect. Happily, we found the scenery to be very well-decorated and expertly executed.
We found ourselves in the workshop of a very unusual toy maker who was busy crafting dummies. Everywhere we looked, puppet eyes and limbs and heads littered the room, and various bins were filled to the brim with anything and everything that could be used to build a small army of nicely-dressed marionettes. Little shoes and shirts and pants provided a plethora of ensemble options for dolls geared to anyone's taste.
Tucked away in one corner of the room behind tall, velvety curtains was the toy maker himself, working near a dimly lit workbench. On the opposite wall, a small stage served as the holding area for suitcases waiting to transport their puppet passengers. Dead center of the stage in the spotlight was Georgie, a very creepy-looking dummy who we would almost swear was watching us and staring at us as we worked our way around the room.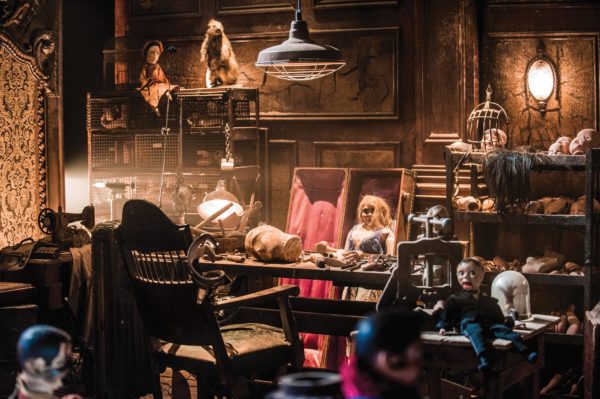 Since Case of Mr. Karver is packed to the gills with various items and other trinkets, players spend a majority of the game in the discovery phase searching for the items you need among many similar – but different – items. A small amount of nicely executed tech does exist in the room, but many of the puzzles are fittingly lock and key based, given the setting contains many compartments and cases.
As we rummaged through the drawers, we came across old newspaper clippings of past shows that led us to a few surprises. Eventually, we found a journal detailing everything we needed to build a proper puppet. As we were unlocking boxes and drawers, we found several dummy parts and it became clear that we were, in fact, building the toy maker's masterpiece ourselves.
Mr. Karver was a dominant and scene-stealing presence for the entire duration of the game. He acted as our gamemaster and spent the majority of his time in his workshop area. A very eccentric personality with a thick German accent, he was quite protective of his puppets – especially Georgie. Any players deemed to be treating his dummies without the utmost care found themselves the subjects of a intense, yet entertaining scolding.
The most memorable puzzle involved looking for a piece of parchment which included several vital clues for our mission. As time was winding down, the puppet master began acting even more strangely than before, perhaps in order to call our attention to him over in the workshop area.
After searching the area high and low, one of our team members noticed he was holding onto something very tightly. After asking politely to see it and receiving no response, we seized it and in so doing, garnered the last bit of information we needed to assemble our puppet. After placing our completed, creepy little doll in the proper location, we gained access to the exit – and the win.


We were very excited to learn that Busch Gardens was offering escape games during the 2016 Halloween event. We were looking forward to it with a great deal of excitement  – and hope. Since this was the first year the park hosted rooms, it really could have gone either way. In the end, it definitely went the right way and the result was an exhilarating adventure complete with the creepiness and masterful décor supporting the story and tone.
The in-room actor truly helped sell the story and made the experience hugely successful and enjoyable for us. We really relished our time with both Mr. Karver and Georgie to the point that we were somewhat bummed when it was over after just half an hour. Given the level of entertainment we received, we are looking forward to the newest escape offering during this year's haunt at Busch Garden's Williamsburg.


Venue: Busch Gardens Williamsburg
Location: Williamsburg, VA
Number of Games: 2
GAME SPECIFIC INFORMATION:
Duration: 30 minutes
Capacity:   6 people
Group Type:  Public / You may be paired with strangers.
Cost:  This game has since been retired.
Summary
Reviewer
Review Date
Reviewed Item
Review: Busch Gardens No Escape - Case of Mr. Karver
Author Rating