The most requested feature since Escape Authority's launch has been for an easy way to find games in our users' local areas. So, for the past two months, we've worked to create the most comprehensive and interactive map and listing tool for Escape Rooms in the United States. We felt it necessary to create our own because every service that currently exists is lacking in one way or another. They're either not mobile friendly, lacking a search functionality, missing a large swath of games, or simply difficult to use.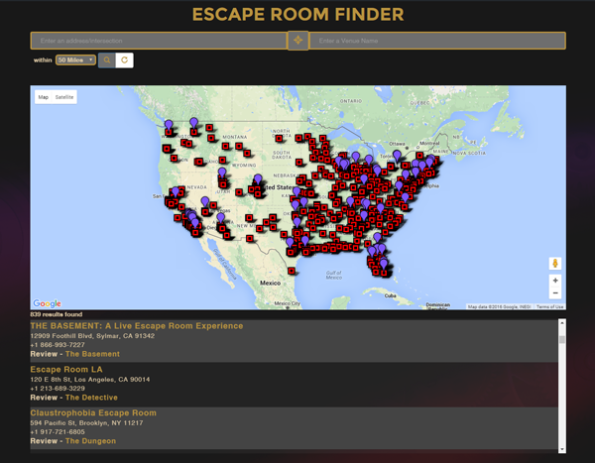 With Escape Authority's Escape Room Finder you can search for games in a certain location by inputting an Address, City, State, Zip Code, or even by using your device's GPS location. This functionality is useful for mobile users who want to quickly find a game nearby, and it all works in your browser without needing to download an app. You can also search for venues based on name. It's a great way to find locations from a specific franchise. Search results can also be narrowed to within a specific radius to better suit your needs.
On the map, you'll see some venues highlighted with a purple pin. These indicate venues we've posted a review of, including franchised games we've played at other physical locations.
Below the map, or after tapping "List View" on mobile, you'll see a listing of all the results within your search parameters and the venues' contact information. If we've reviewed it you'll see a link to our review there.
This map will become your go-to source for finding and researching games.