It's time to reveal our second mystery spot in the Readers Key Tournament! The power is in your hands now more than ever before!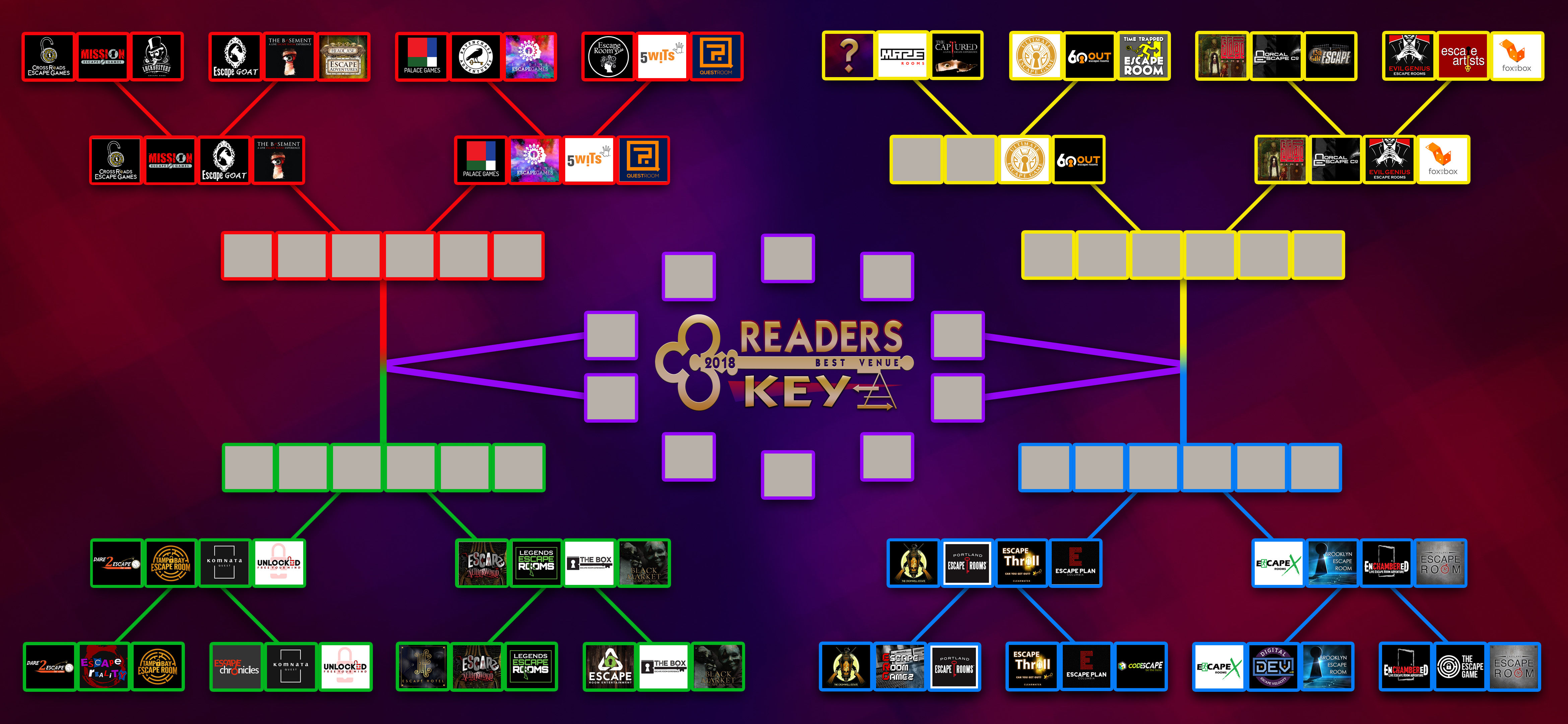 This poll has ended, and the votes are in:

*Because our Readers Key Tournament is designed to promote venues, we have elected to only display the top three vote-getters out of the fifteen available options in our Second Chance poll. We feel it would reflect poorly upon venues to display the full list, where-in a few options received zero votes.
All of the above venues originally qualified for the Readers Key Tournament, but were eliminated in their round one match-ups. Now, the power is in your hand to give only one of them a "Second Chance" at greatness!
A winner will be chosen by either the single venue receiving the most nominations, or a selection via random number generator from all qualifying venues tied with the most votes. "Second Chance" votes will only be accepted for the next 24 hours, and the winner will immediate go head to head with Maze Rooms and The Captured in our final Round 1 match-up on Friday, May 18, 2018!
Venues in our Second Chance contest are arranged by the number of votes each received in their respective Round 1 matches.

Location: Baton Rouge, LA
Number of Games: 5
Highlights: Tomb of Anubis
Location: Orlando, FL / Pigeon Forge, TN / Chicago, IL / Minneapolis, MN / Dallas, TX / Austin, TX / Houston, TX / Nashville, TN (two locations)
Number of Games: 8
Highlights: Mission: Mars / Gold Rush / Prison Break
Location: Los Angeles, CA
Number of Games: 2
Highlights: Smugglers Tunnels
Location: Sanford, FL
Number of Games: 3
Highlights: Horror Motel / Cat Burglar
Location: Melbourne, FL (two locations)
Number of Games: 9
Highlights: The Undead / Miss Ellie's Sweet Shoppe
Location: Tampa, FL
Number of Games: 2
Highlights: The Twisted Curse of Madame Antinori
Location: Charlotte, NC
Number of Games: 4
Highlights: Shipwrecked / The Resident
Location: Orlando, FL
Number of Games: 3
Highlights: Pirate Adventure
Location: Sarasota, FL
Number of Games: 4
Highlights: Corporate Spy
Location: Washington, D.C. / Alexandria, VA
Number of Games: 9
Highlights: Ghostbusters! / Friday the 13th
Location: Richmond, VA / Herndon, VA
Number of Games: 7
Highlights: The Lost Jewel of the James
Location: Los Angeles, CA
Number of Games: 9
Location: Gatlinburg, TN
Number of Games: 4
Highlights: Aztec Temple
Location: Orlando, FL
Number of Games: 2
Highlights: The Sol Solution
Location: Los Angeles, CA
Number of Games: 2
Highlights: Haunted Recording Studio