It's just your classic walk in the woods … that is, if your woods are shrouded in shadows, full of bloodthirsty monsters and, oh yeah, haunted.

A Petrified Forest is an event that runs sixteen select nights between October 5, 2018 and November 3, 2018, every Thursday, Friday, and Saturday as well Halloween night itself. Wednesday, October 17th is a dedicated Special Needs Night, where the cast of A Petrified Forest caters to those guests who need special assistance – a wonderful gesture of kindness that extends the haunted attraction industry to those who may not otherwise be able to experience it on a regular operating night. On November 1st and 2nd, Total Eclipse nights take over, where guests wander through the woods in pitch black darkness, with no lights what so ever, and only a single small glowstick to illuminate your path. A Petrified Forest features two different haunted trails, as well as occasional entertainment and roaming monsters in a very "Northeastern Fall Festival" flavored atmosphere brought to the heart of Central Florida.
Note that while there is no parking available at the venue, A Petrified Forest has partnered with several neighboring businesses to offer free use of their lots on event nights. Parking in the Adjectives Market lot will gain guests access to a free Terror Trolley that will whisk you away to the event – and better yet, a few scareactors may just join you for the ride, and taunt people walking down the public street along the journey!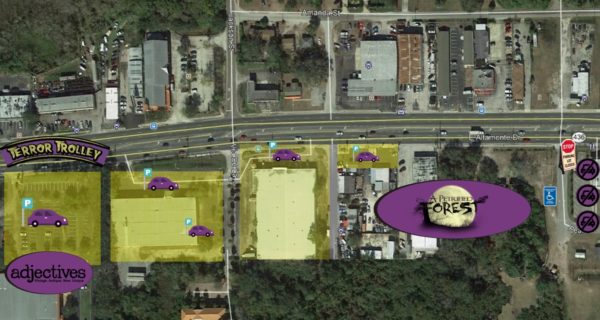 The Hunted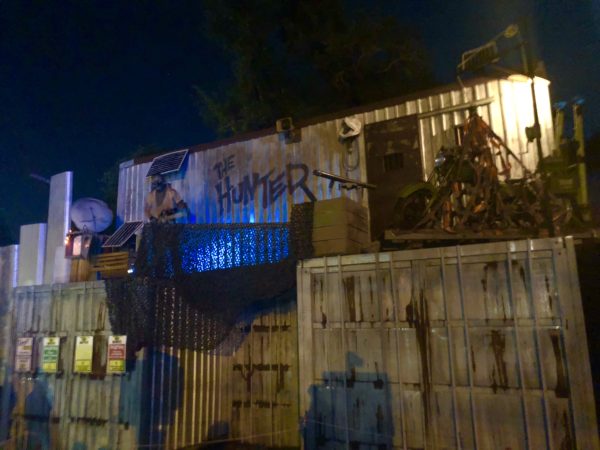 The Hunted interactive trail will bring you through the aftermath of the 2031 Contamination. Even though the public has been assured repeatedly that the contamination is no longer a threat, we will still provide each visitor with a government approved beacon to maintain your health status.
A Petrified Forest takes a zombie-flavored haunt to a whole new level, thanks to the implementation of ZTag technology from our friends at Gantom. For those unfamiliar, this interactive badge uses IR sensors as well as a color changing LED indicator light to mark the health of each individual person. If your badge glows green, you're a healthy, living human. But flash red and you've become infected – and unless you find a means of healing fast, you too will soon turn into a vicious zombie. We've seen this technology on display several times at various industry conventions, and I may or may not (but definitely do) have a couple of ZTag badges sitting on my desk to play with – but we were especially excited because The Hunted marks the first time we've actually encountered them "in the wild."
This interactive layer truly brings the story of The Hunted to life, and instantly adds tangible consequences that not only create a sense of urgency, but also immerse guests within its storyworld in a very real way.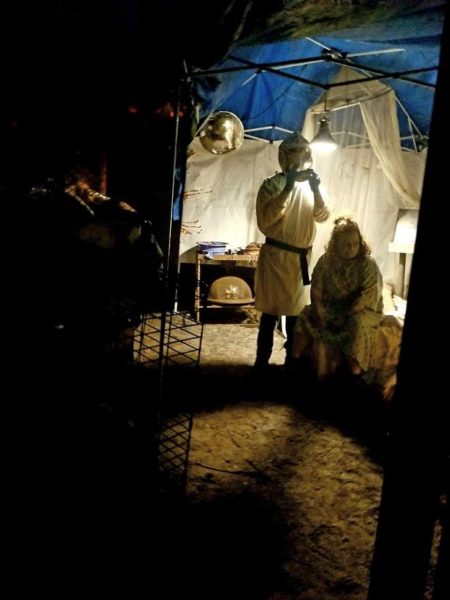 Although primarily the scenic throughout The Hunted is the woods, as is naturally the style of A Petrified Forest, there are more story-infused structures that add equity to the overall experience. Being a world of survival, The Hunted blends that terror with both an industrial and medical triage tone.
Beginning in a make-shift fortress of thrown together shipping containers and steel walls, it's clear that the uninfected have hobbled together anything they could to protect the others from the impending virus. An abandoned school bus, rusting away like a relic of a world long lost serves as a passage further into the darkness. This gritty, post-apocalyptic tone, only leads to the surrounding forest itself feeling all the more foreboding.
But those who survive through the woods will find respite at an emergency medical triage tent. It may not be the most up to date equipment, but amid a massive zombie outbreak, beggars truly cannot be choosers. Luckily, even those of us who have been infected by the virus still have hope for survival in the red, glowing decontamination tunnel.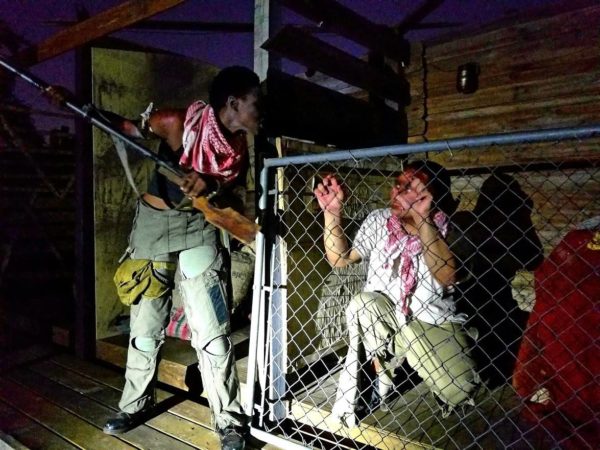 The Hunted drops guests into the middle of a battle on several fronts, leaving them the target of all.
Zombies and mutants stalk the woods, seeking prey… and brains, of course. It's so dark in the forest that in most instances, you'll never see them coming. But make no mistake, thanks to your glowing health badge, they most certainly see you.
Militant vigilantes are also on the prowl, armed with massive weapons to stop any threats they may face – zombie, or otherwise. Don't get too hopeful; they're only here to help themselves.
And then of course there's the doctors and nurses – many of whom genuinely do want to find a cure, though some are willing to stop at nothing to achieve it.


The Swamp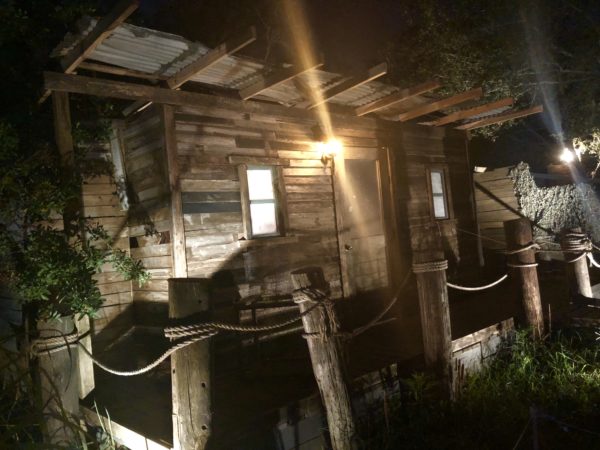 The Family's Swamp has been contaminated for as long as anyone can remember. As the drool of society has drowned out what was normal, and each generation passed, these oddities have evolved. As you find your way through their land, watch your step… and your back!
The family that inhabits this swamp certainly is… different. We're not entirely certain if they're cannibals or just enjoy the sensation of tearing human flesh, but without question, this is not somewhere we'd advise you attend for Thanksgiving dinner.
The Swamp embraces this backwoods wickedness creating a storyworld where narrative is far less vital, overshadowed by the clear aura of evil that lurks behind every leaf.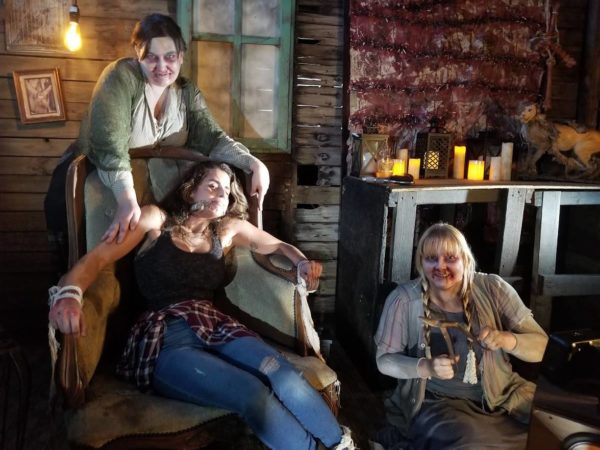 Beginning by stepping onto a dock and into a nearby shack, we're no doubt trespassing on this family's sacred land. But it's too late to turn back now; the only way out is to venture much, much further into The Swamp, and naturally we can't quite do that by foot.
The Swamp begins with one of the most surprising scenes we've ever encountered in a haunt. Guests board a make-shift airboat and actually ride it through hanging vines and into the darkness of this menacing marsh. The ride itself isn't overly long, but who cares? The tone it sets is instantly impactful, dragging us straight into its sinister storyworld.
Once off the boat, guests are left completely lost in the woods – traversing warped and crooked docks across actual swampy wetland, dwarfed by towering trees all around that almost block out the moonlight itself. At times, the path ahead is so dark that it's almost tricky to know which way you should proceed – further adding a layer of realism to this experience.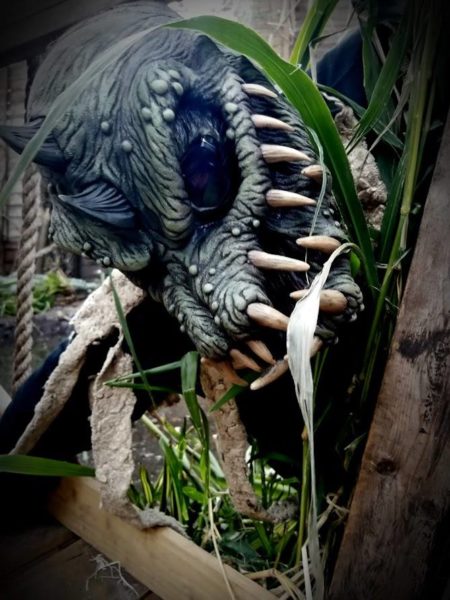 Again thanks to its setting, The Swamp comes with an instant scare factor, even before the actors lunge out of no where. The distinctly disturbing sense of being truly lost in the middle of the woods, in near total darkness is enough to make even the bravest of your group feel a clear sense of unease. But The Swamp has so many more tricks up its tattered sleeve.
Low lying fog fills a waist-deep laser swamp, inhabited by chilling creatures that occasionally pop up above the surface, but only once it's already too late to avoid them. This unquestionably creates one of the most memorable moments of the experience – and one where guests almost dare each other to brave the murky simulated waters ahead.
A maze of pallet wood, stacked on both sides high enough that it looms over all who traverse its path pulses with a foggy, ominous green glow from beyond. It won't take much wondering of just what might be on the other side to figure out it's not friendly, as furry tails brush against your legs and dismembered arms stretch through the slats, grabbing at you as you pass.
Even the swamp's exit is an active moment, with guests traversing an old wooden bridge as it rocks suddenly from side to side, almost as though it's trying to throw you into the murky waters below.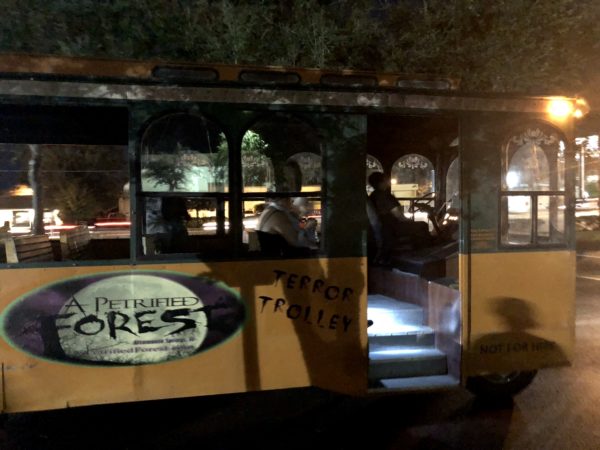 A Petrified Forest is a long-running Central Florida tradition, although somehow this was the first year we managed to visit. We weren't sure what to expect, as it's no secret that there's a pretty big Halloween hitter just down the road. From the start of the first trail, we were pleasantly surprised – and by the end of the second we were hooked.
There's an aura about A Petrified Forest that's just distinctly different from other haunts. It's very homemade – in the best possible way – not as a slight to its quality, but as a compliment to the clear passion behind its crew. We have great respect for the fact that this venue actually has deep roots to a time when it actually was a home haunt, free for the neighborhood at the owners' residence nearby.
This is not the event to visit looking for massive budgets and grandiose Hollywood-quality sets, costumes or make-up. But once you're inside, none of that matters.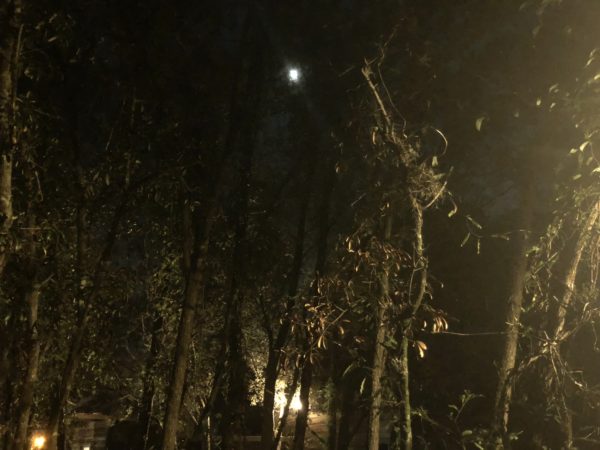 The forest setting this event embraces is very real – and from the moment you step between the trees you become instantly lost. You won't be seeing any surrounding buildings or roads. There are no passing cars. It's just you in the middle of the woods, in the middle of the night, and what results is a genuine sense of vulnerability.
But A Petrified Forest is far from a low-tech affair. There's some truly clever things hidden in those woods, including the aforementioned Z-Tag tech and an actual – albeit short – ride portion to one of their haunts. I mean, who does that?!  At times, you may even find actors swinging towards you down zipline-like cable, allowing the scares to come from all sides and above. The cast goes the extra mile to stay in character, and while some certainly rely on the more clichéd "boo!" scare, there are many others who embrace their roles and interact on a personal level, delivering themed dialogue that draws guests even deeper into their wicked world.
Another rather unique feature is the nightly ability to purchase (for a very low price) a Backstage Tour. On it, a member of A Petrified Forest's team will guide you behind the scenes of both houses, have a private Q&A session with a monster and hear stories of not only how the effects and scares are achieved, but also on the history of the event as a whole. But without question, the highlight for most will be the opportunity to actually become a scareactor. After some brief training and safety rules are addressed, Backstage Tour guests are allowed to actually be placed in one of the two haunts and given the opportunity to scare other paying guests as they pass by!
The "hometown feeling" this event creates makes it easy to understand how A Petrified Forest has been lurking in the Central Florida woods for so many years – although certainly makes it more surprising that it was only the first time we were able to see it for ourselves. But without question, a seed has been planted for our newest Halloween tradition!
You can find an extended photo gallery from our night at A Petrified Forest in this exclusive album on the Escape Authority Facebook page! While there, why not give us a "LIKE" if you haven't already? We'll give you candy!

Venue: A Petrified Forest
Location: Altamonte Springs, FL
Dates: Select Nights October 5th – November 3rd
Hours: 7:30 pm – 10:30 pm (ticket booths) with haunts closing at 11 pm.
Cost: $15 per person for single trail admission / $25 per person for both trails admission / $33 for VIP admission including Backstage Tour. Other combo options are available. Total Eclipse nights cost extra. (*Note that on-site ticket booths are cash only, though an ATM is available.)

We thank A Petrified Forest for inviting us to experience this haunt. Although complimentary admission was generously provided, that in no way impacts the opinion included within this review.
Summary
Reviewer
Review Date
Reviewed Item
Author Rating