It's time to Trick or Treat with Mickey, Donald, Goofy and a whole host of classic Disney Villains. That is, as long as your parents have a lot of money.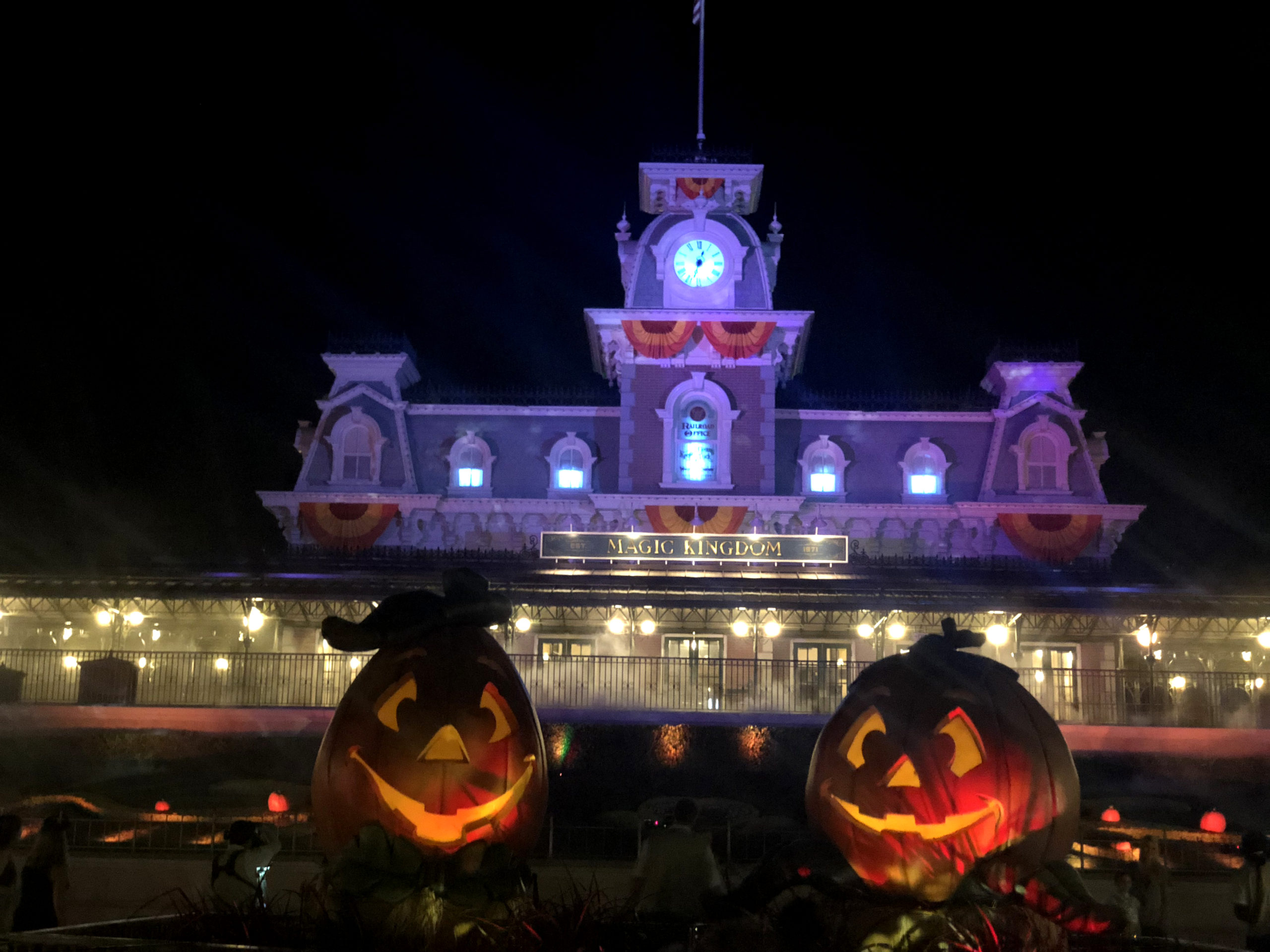 Mickey's Not-So-Scary Halloween Party is a separately ticketed event located at Walt Disney World's Magic Kingdom park that runs thirty-four select nights between August 17, 2018 and October 31, 2018, including every Friday, Halloween night itself and many other staggered additional dates throughout the fall. For 2018, Mickey's Not-So-Scary Halloween Party features three seasonal attraction overlays, the return of popular nighttime entertainment offerings, rare character meet and greet opportunities, as well as most of your favorite Magic Kingdom attractions, including Splash Mountain, Seven Dwarfs Mine Train and of course, The Haunted Mansion – typically all with significantly reduced wait times.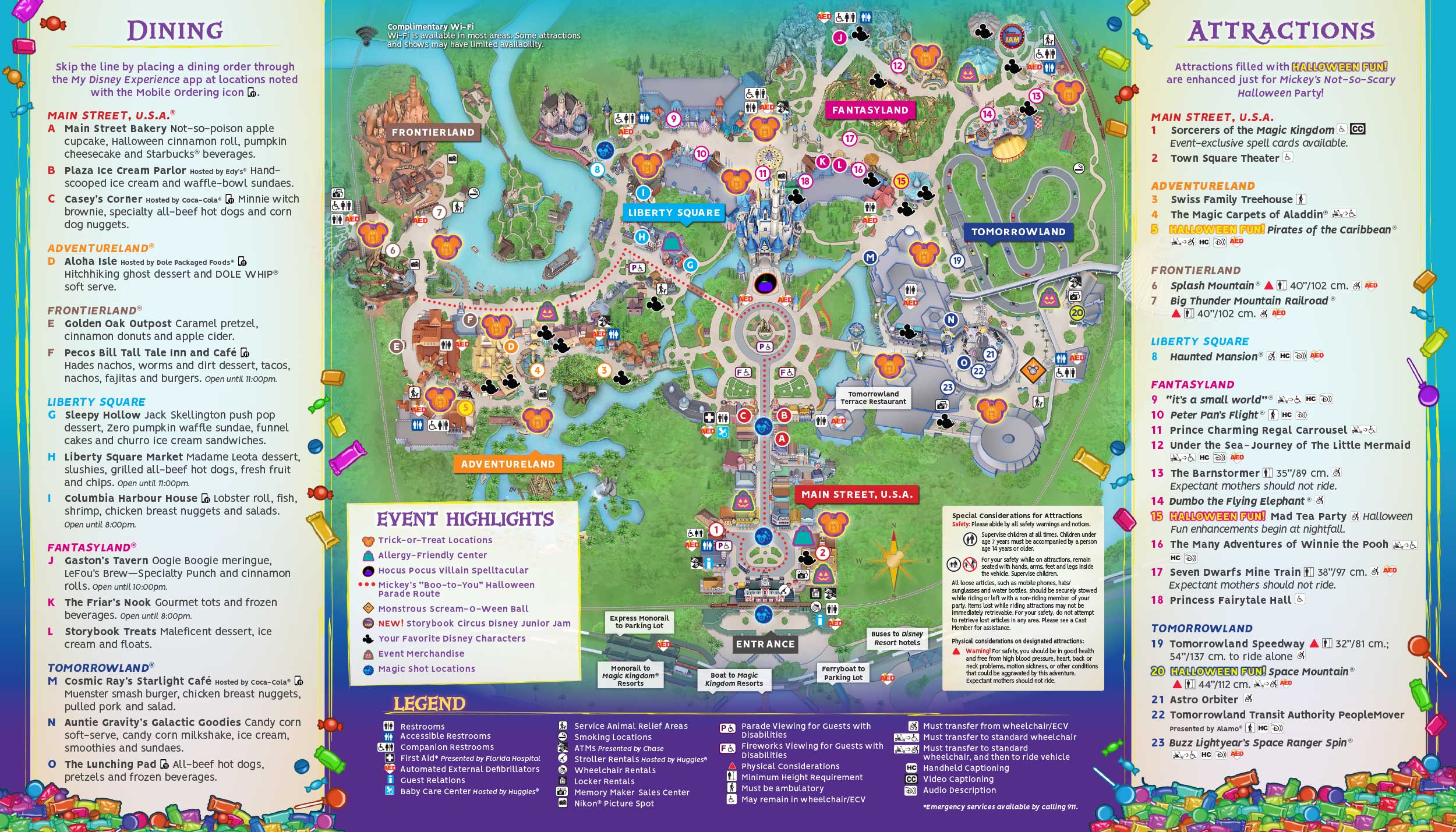 Deep Space Mountain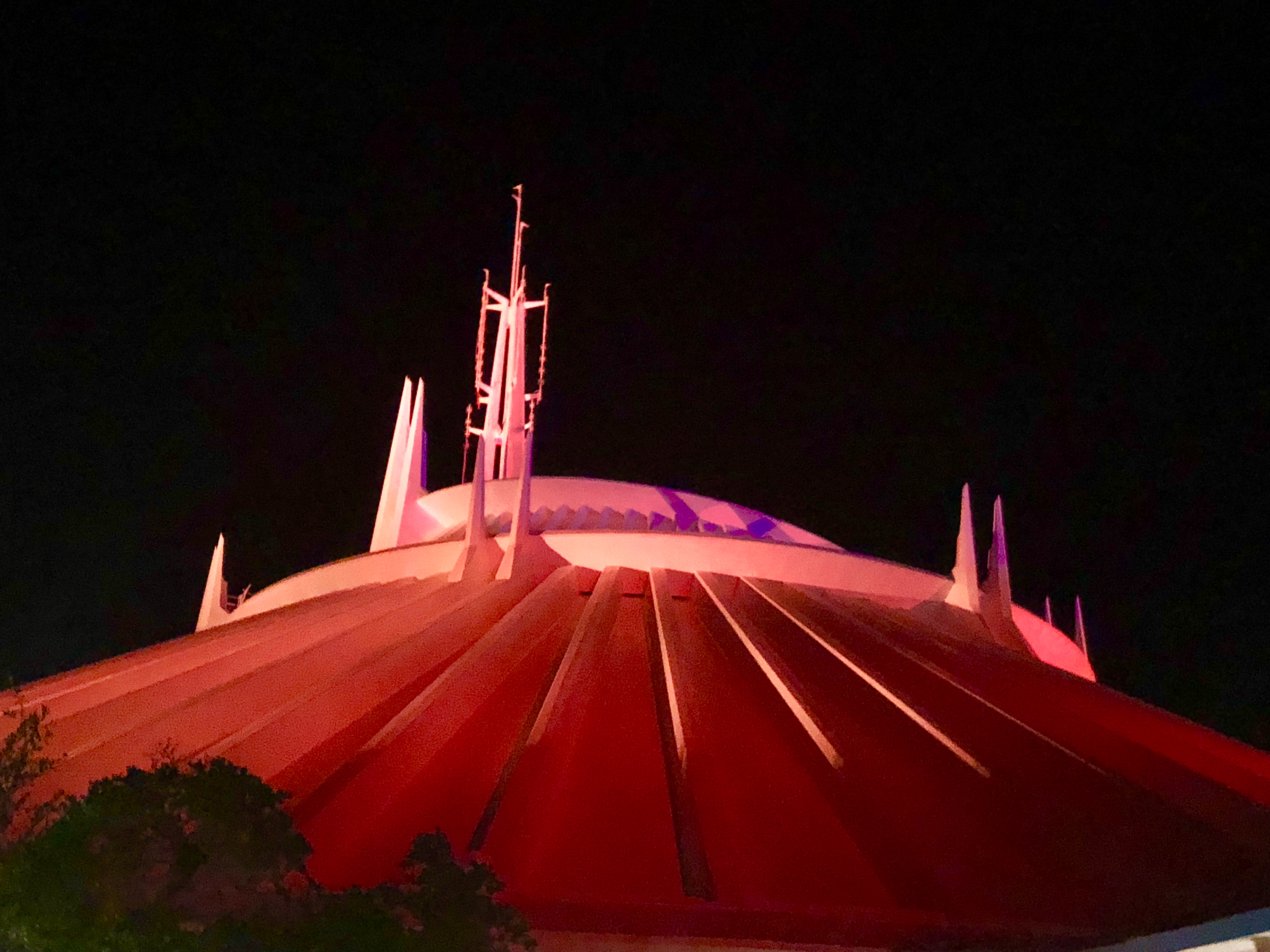 Blast off on a rip-roaring rocket through the darkest reaches of outer space on this roller-coaster-type ride in the dark. Explorers will hurtle through deep space as a new soundtrack and special effects transform the adventure.
Walt Disney World promised a whole new experience inside the confines of Space Mountain this year, with talk of added effects and a brand new soundtrack befitting the Halloween spirit. Knowing the success Disneyland Resort has had for years with their stellar Space Mountain Ghost Galaxy overlay, Deep Space Mountain was, for us, something to truly look forward to.
Unfortunately, for a lot of reasons, Deep Space Mountain cannot hold a spooky flickering candle to its seasonal sister attraction on the West Coast. While Disneyland fills their Space Mountain with unique animated projections of a supernatural intergalactic demon chasing you through the cosmos, all while sync'd turn by turn to a custom soundtrack that matches each twist and drop your rocket takes, Magic Kingdom, well, went in a different direction.
Nowhere is technically a direction, right?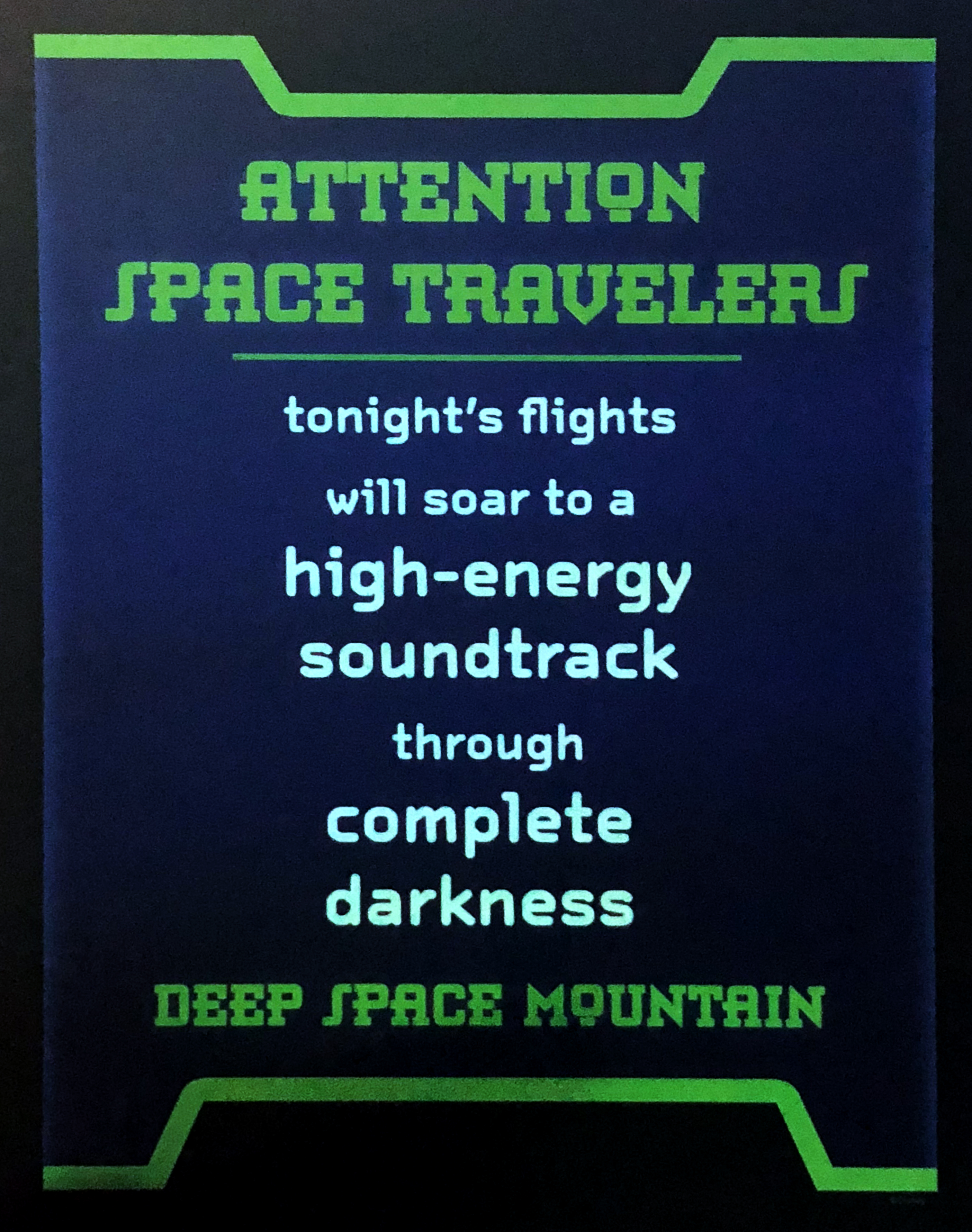 During Mickey's Not-So-Scary Halloween Party, Magic Kingdom's "festive" approach at a Space Mountain overlay is simply turn off all the lights while playing a different, unmemorable techno music track. There are no special effects within the attraction at all. None. And the music doesn't give the slightest taste of a Halloween flavor. It's just a generic techno beat in the dark.
So – I know what you're probably asking yourself. "Isn't Space Mountain always in the dark?" See – here's the thing – it's really not. The amount of ambient light all those millions of projected stars throw off makes a massive difference in experience. Turning them off puts the duration of Deep Space Mountain into "literally cannot see your hand in front of your face" territory – and ultimately is the only saving grace that gave this "overlay" a 3 Key score.
Truth be told, were it to receive an actual Halloween-themed soundtrack and some actual special effects, Deep Space Mountain could be terrifying. That is, of course, if Magic Kingdom's version of the ride wasn't so unforgivably rough.
While it's neat to be able to get a "no-show" ride on Florida's Space Mountain, nothing about it is a Halloween-flavored enhancement, and just feels like the cheapest possible band-aid to market something new for this upcharge event without actually investing in something new.

Pirates of the Caribbean: Search for Gunpowder Pete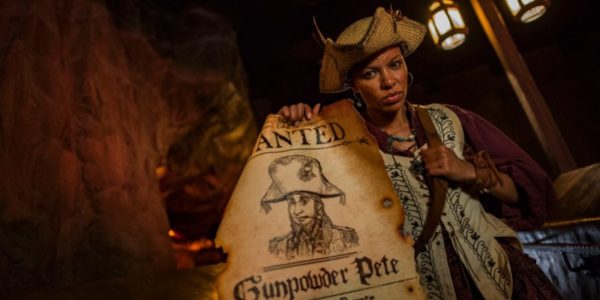 Set sail on a swashbuckling voyage to a long-forgotten time and place when pirates and privateers ruled the seas. New pirates invade the experience, interacting with sailing guests who will join the search for "Gunpowder Pete." Arrrgh!
Pirates of the Caribbean is a classic attraction by anyone's standards, and unquestionably beloved the world over. In recent years, thanks to the success of the blockbuster film franchise that the ride inspired, its story was further refined with the inclusion of Captain Jack Sparrow – making the experience less about simply sightseeing during a pirate invasion and more about hunting down Cap'n Jack as he tries to beat us to the treasure.
So you'll excuse us while our confusion derails things a bit. For reasons we've yet to be able to discern, on Party nights, another completely unrelated story is added to Pirates of the Caribbean – with total disregard for its existing story that remains intact at all times. It would seem that Gunpowder Pete – a pirate we've never heard of and know nothing about – has done… something… and now he's wanted… for something. And pay no attention to Captain Jack Sparrow. His story isn't important tonight.
Magic Kingdom takes an interesting approach in the Search for Gunpowder Pete: live actors within an attraction. Throughout its already impressively themed queue within the Castillo del Morro, three live actors are placed "haunt-style" in key spots. But the timid need not worry — after all, everything on this night is "Not-So-Scary," and they're seeking your help more than your fear. These actors – who also portray pirates – are on the hunt for Gunpowder Pete, and implore that we keep our eyes peeled for him, offering to split the reward money right down the middle for our troubles – 90/10. (They're still pirates, after all.)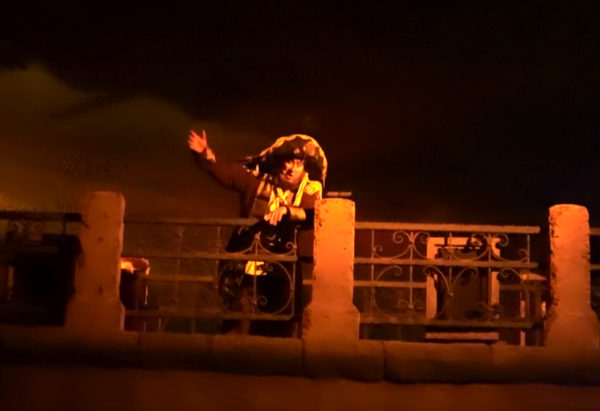 Once aboard, we ultimately do encounter Gunpowder Pete – a fourth live actor – this time standing within the ride's path, atop one of the bridges our boat sails underneath. He heckles us as we flow past, swiftly forgetting the whole thing ever happened, apparently.
Because there's no resolution. What so ever. We find Gunpowder Pete – I guess (?) – and then, nothing. It is within that moment that you realize the entire overlay serves no purpose beyond a marketing hook. I suppose it's a life lesson that some tasks really are just busy-work, kids!
We feel it important to stress here that if it were simply Pirates of the Caribbean we were rating, there's no chance it could receive less than 6 Keys. Without question, for more than fifty years any version of this ride has been a benchmark attraction for which any industry designer should reach. Unfortunately in the case of the Search for Gunpowder Pete, as an "exclusive added benefit" for the cost of your Party ticket, much like Deep Space Mountain, this addition feels like a marketing smoke screen to polish something old as new again without actually doing something to make it new again.

mad Tea Party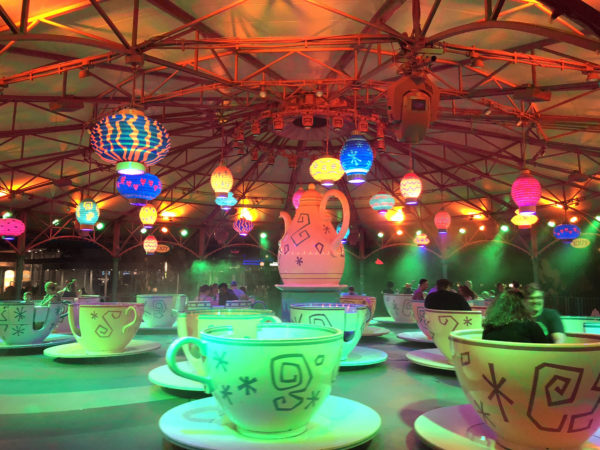 Spin 'round and 'round in a giant pastel teacup during a madcap music-filled adventure. The Mad Tea Party will take you for a colorful ride as new lighting and effects give a new spin on the night. Depending on the color of your costume, you too could transform under the new dancing lights.
On Party nights, Mad Tea Party becomes the only "Halloween Fun!" enhancement to actually enhance the experience with added effects and technology. Brand new theatrical lighting swirls and flashes constantly changing colors, dramatically drawn to life with the help of a well-placed fog machine to set the eerie tone. All this as you twirl (and try not to hurl) to several new generic Halloween-sounding tunes.
It's difficult, however, to applaud Mad Tea Party as an "exclusive enhancement" in 2018 when, in actuality, it's simply been updated with lighting technology that is still not on par with that added to the Disneyland version during the park's 50th Anniversary in 2005. And although we have no inside information on this speculation, it is our assumption that the lighting package – which was rigged and painted to match the roof of the attraction's structure making it look far more permanent than temporary – may be around for the long haul once paying for Parties goes out of season at the end of December.

The Haunted Mansion

Embark on a spine-tingling tour through an eerie haunted estate, home to ghosts, ghouls and supernatural surprises.
Who among you isn't just dying to praise The Haunted Mansion? The quintessential theme park haunted house may arguably also be the quintessential Disney attraction.  No visit to Magic Kingdom is complete without visiting these 999 Happy Haunts, especially not during Mickey's Not-So-Scary Halloween Party, where this nearly fifty-year old legend takes center stage.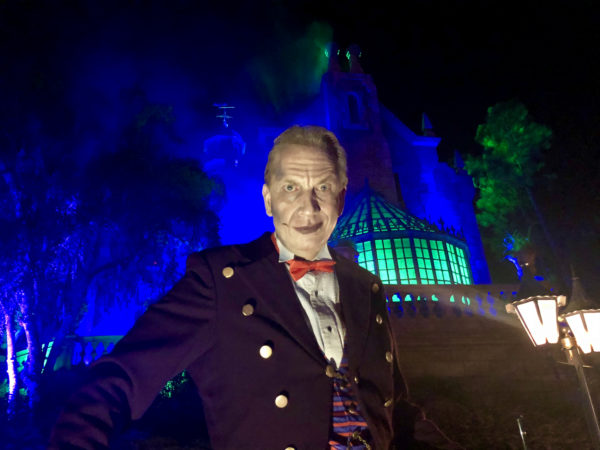 Although the ride itself sees no changes what so ever to add to the seasonal spirit, its surroundings are enriched adding quite the Halloween treat. The Mansion's iconic facade receives an ominous color-changing glow thanks to significantly enhanced exterior lighting. Fog rolls down the hillside, seemingly pouring out of the house as though the Mansion itself is releasing its spirits into the world.
The Haunted Mansions Cast Members (Disney's term for "ride operators") are allowed to get into the spirit of the season as well. On Party nights, you'll find them donning full face paint, some covered in cobwebs and carrying out their operational duties in far more creepy character than during daylight hours.
And as an added treat, two live actors – Broom the Butler and Madame Renata, "permanent residents" of the Mansion, spend their evenings on its lawn. Serving a duel purpose, they both engage spectators lurking about just to soak in some of their hilariously improvised interactions while also entertain guests waiting in line for the ride (needless to say, on Party nights, The Haunted Mansion becomes an even more popular attraction.)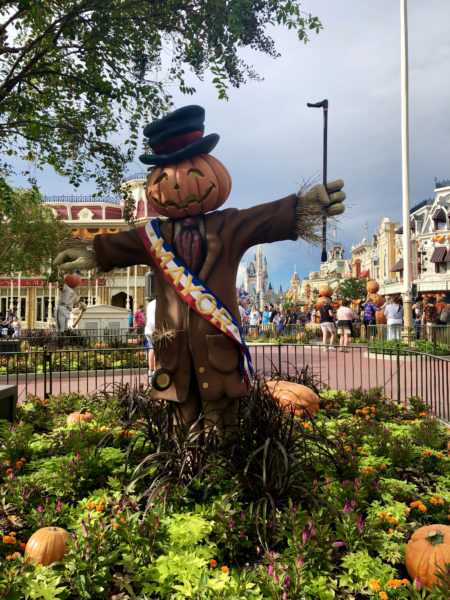 Let's be honest, Magic Kingdom – on any given day – is overflowing with atmosphere befitting of the most popular theme park in the world. However, if you come expecting fully decked out lands teeming with Halloween spirit, you might just be a bit disappointed.  Beyond Main Street USA's pumpkin decor and candy corn bunting, you might be hard-pressed to find anything distinctly "Halloween" anywhere in the park that isn't originating from a lighting gobo. This is a bit disappointing when compared to Disneyland Resort, which offers full seasonal overlays of several lands in each park.
Lighting enhancements do add to the flavor of the event, at more than just the aforementioned facade of The Haunted Mansion. Main Street USA, Cinderalla Castle and Frontierland glow in slowly changing tones of colorful lights. New this year, we were happy to see fog billowing off the Rivers of America – one of our favorite features at the Disneyland event — even if it was to a much more modest degree at Magic Kingdom park.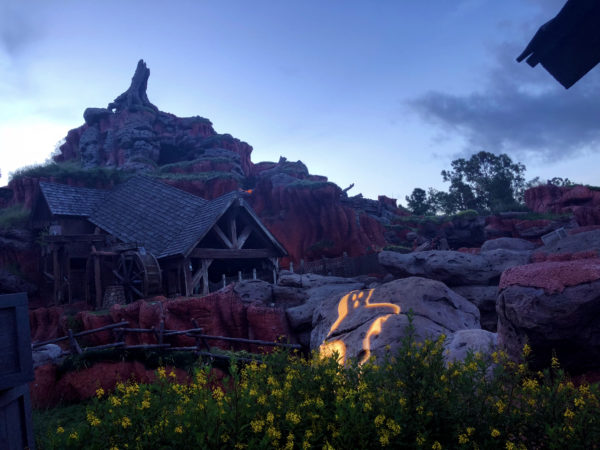 Meeting Disney Characters is always a popular pass-time at the parks, and on Party nights, a great mixture of classic favorites as well as several rarely-found faces come out to play. Beyond Mickey, Minnie, Donald, Goofy and Winnie the Pooh and friends decked out in their own Halloween costumes, you might find scarcely seen characters like Jack Skellington and Sally (who demand wait times often ranging from one to two hours!) Lots-o-Huggin' Bear, Elvis Stitch and yes, all Seven Dwarfs, together for a single picture. Oddly, beyond Lotso and Cruella De Vil, you may be hard-pressed to find may Villains mixing and mingling with the crowd – a much missed feature of years passed.
But what's Halloween without Candy? Mickey's Not-So-Scary Halloween Party invites kids of all ages (yes, that means you too, adults) to come dressed in costume and Trick or Treat throughout the park. Candy hauls will vary from station to station – and you may find Cast Members a bit more generous later in the evening so there is less sugary treats to carry backstage once the Party ends. Don't expect to receive any special "Disney" treats for free (though custom menus are available on Party nights throughout the park.) Much of what you'll receive is standard Halloween Candy-fare, from M&Ms to small Snickers or Milky Ways. Oddly, our first Treat stop of the night enthusiastically provided us with Apple-Banana Apple Sauce. It's like, what am I supposed to do with this?

Hocus Pocus Villain spectacular

With only a few hours to run amuck, Winifred, Mary and Sarah Sanderson decide to use their magic to host a decidedly wicked fun fest.
Enlisting the help of the Disney villains, the three sisters mix sinister shadows, terrifying nightmares and use the nefarious powers of their frightening colleagues to conjure the ultimate Hocus Pocus Party Potion—and cast a spell on everyone in Magic Kingdom park!
A sort-of continuation following the events of the hit film from twenty-five years ago, Hocus Pocus Villain Spectacular sees the return of the nefarious Sanderson Sisters, who once again have just a limited amount of time to regain their powers on All Hallow's Eve before turning (well, back) into dust. Classic moments from the movie are sure to tug more than a few nostalgia-strings, as Sarah sings "Come Little Children" live, before Winnie tears the castle down with a spot-on cover of "I Put a Spell On You" for the show's finale.
But evil isn't always easy – and the three sisters need a bit of help to pull off their sinister scheme. That help comes in the form of some of the most iconic Disney villains of all time, including (pre-taped) performances by Dr. Facilier (The Princess and the Frog), Oogie Boogie (A Nightmare Before Christmas) and, of course, the mistress of all evil herself, Maleficent (Sleeping Beauty.) Before the witching hour ends, more baddies join the fray, including Hades, the Queen, Cruella De Vil, Lady Tremaine, Captain Hook and Jafar leading toward a frightful fireworks finale.
Speaking from the position of "I've never enjoyed a Castle stage show," Hocus Pocus Villain Spectacular is must-see entertainment for all who visit Mickey's Not-So-Scary Halloween Party. This show is a rare mix of "something for everyone" that – at all times – stays so true to the spirit of Hocus Pocus that it's impossible to not walk away feeling enchanted.

Mickey's Boo-to-you Halloween Parade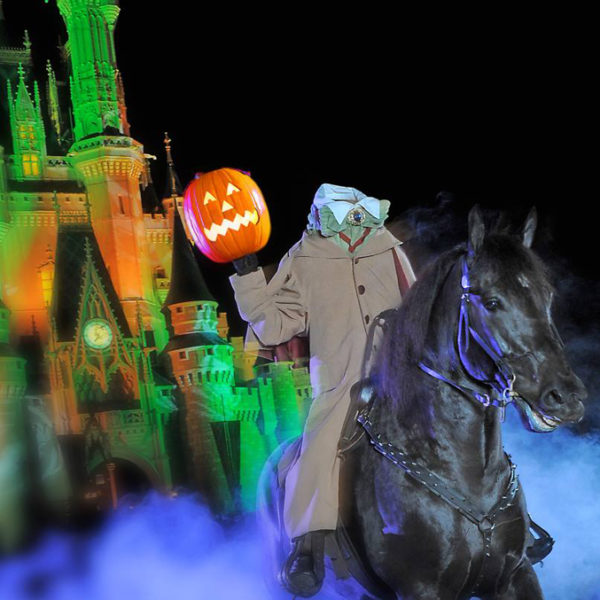 A hair-raising ride by the Headless Horseman himself will begin the festivities, followed by a collection of frightening floats featuring Disney Characters in Halloween costumes.
Prepare for a cauldron of grave-digging delights as the stars of the Haunted Mansion steal the spotlight in this family-friendly parade. Boo-lovers beware—you're sure to have one scare-tastic time…
And remember: it's really not so scary; just fiendish fun!
It's been some twenty years since my first visit to a Mickey's Not-So-Scary Halloween Party event, and in that time, Mickey's Boo-To-You Halloween Parade has changed very little (if at all, save a few character swap outs to promote current films.) In any other scenario, that might certainly be a negative tone to begin conversation – but the simple fact is that this parade has become so iconic that it would be difficult to follow with something new.
And there's likely nothing more iconic than the ride of the Headless Horseman, ushering in Mickey's Boo-To-You Halloween Parade for his only appearance at the event. Trotting past at a brisk pace, the appearance of the Horseman is quick, but no less memorable.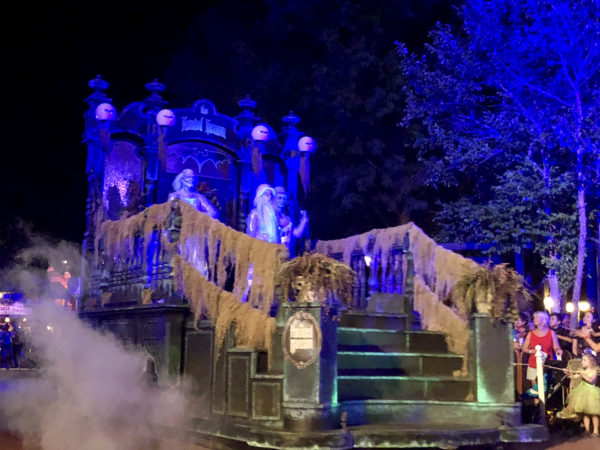 The Parade-proper starts appropriately with a costume party for Mickey and the gang, before shifting themes between its various units, touching upon all of the content you'd expect to see at a Halloween Party. From a festive fall hoedown staring rare characters Clara Cluck and Clarabelle Cow, a visit to a candy factory full of friends from Wreck-It Ralph and of course many of the happy haunts from The Haunted Mansion itself, including all three Hitchhiking Ghosts "live, in the flesh," it's all here.  And naturally, it ends with a celebration of Disney Villains, lead by Oogie Boogie, Maleficent, the evil Queen with her Magic Mirror and more.
Mickey's Boo-To-You Halloween Parade has unquestionably seen a lengthy seasonal run throughout the course of this event, but at the end of the day, it remains must-see entertainment likely to be high on the list of every party-goer. With two performances each event night, you're much more likely to find a prime viewing location along the parade route for the later show.

Happy Hallowishes Fireworks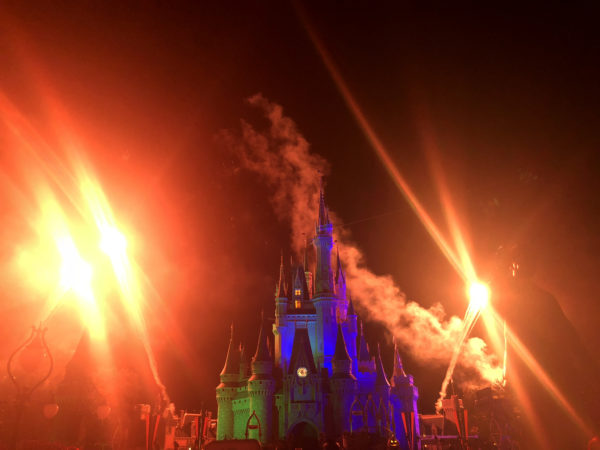 Celebrate the hallowed season with a spider web of pyrotechnic effects and haunting melodies.
The Ghost Host from the Haunted Mansion invites you to "drop in" as Disney Villains light up the night with fireworks and a wicked version of melodies from Disney's past that echo through the night—and creepy colors crawl over Cinderella Castle.
The "scare-abration" gets into full swing when some of the Disney Villains we most love to hate—including Maleficent, Ursula, Cruella de Vil, Jafar and Oogie Boogie—croon their scary tunes and do their best to steal the show.
In case you couldn't already guess from the show's official description above, the name of the game here is puns, puns, puns. Happy HalloWishes is full of them – and at times we 'wish' the show could just carry an instrumental score without narration. In a case of "catering to the lowest common denominator," the most frightening trick of the evening is how this modern voice actor was allowed to butcher the coveted role of the Ghost Host with such forced emphasis and poor delivery.
But all is not dead with Happy HalloWishes; as a fireworks show, it's actually quite spectacular, and if you can get past the pun-tacular dialogue, this show remains one of the most impressive – and easily one of the most popular pyrotechnic extravaganzas to ever be performed above Magic Kingdom park.
Perfectly in sync with the spirit of the season, Happy HalloWishes features a whole host of Disney villain theme songs, from Oogie Boogie with "Oogie Boogie's Song" to Ursula's "Poor Unfortunate Souls" and much more, naturally book-ended by "Grim Grinning Ghosts," straight from The Haunted Mansion itself.
Making this exclusive show even more special, Party nights are some of the only times throughout the year you'll be able to experience the added inclusion of perimeter fireworks – surrounding you by shooting into the sky in a 180º arc from behind all of the Magic Kingdom park and creating awe-inspiring moments you won't soon forget.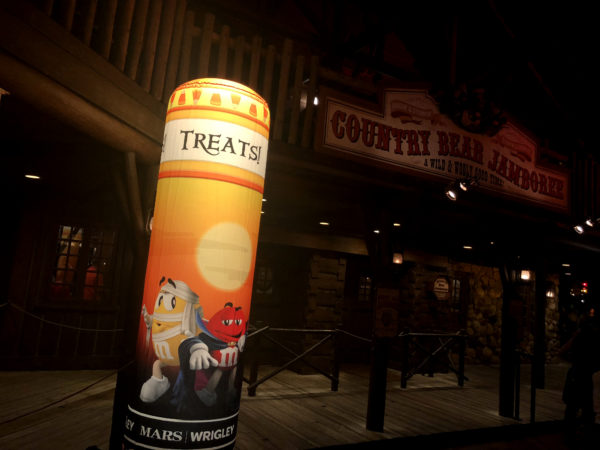 When the clock strikes twelve, Mickey's Not-So-Scary Halloween Party skates the line of staying royalty and turning back into a pumpkin itself. The event is a mixed bag of both tricks and treats – and 'tricks' isn't always implied here in the best of ways.
It's no secret that Halloween is our favorite time of year – and Disney is our favorite theme park company. One would think with a little love and attention to detail, the two should go hand-in-hand. And in many ways, they do… in California. But Florida has always paled in comparison, and sadly despite the inclusion of seasonal attraction overlays for the very first time this year, that comparison remains constant.
To call what Space Mountain, Pirates of the Caribbean and Mad Tea Party received as "Halloween overlays" is a slap in the face to park guests – park guests who absolutely do know better. Don't believe us? Just google some other reviews of this year from some well-known Disney-focused websites. Sites, mind you, that rarely find flaw in anything Disney does, regardless of what it is. There's just not a lot of love for what's been added here in a ploy to drum up more revenue for these extra ticket events. What's worse, where Disneyland offers its incredible seasonal overlays to their attractions included for everyone on every single day of their respective seasons, Magic Kingdom limits their inferior versions only to those willing to pay extra for a Party ticket. It's difficult to not feel as though this is a bit of a cash-grab.
Where Mickey's Not-So-Scary Halloween Party shines brightest is in its entertainment offerings. A top notch, season-appropriate parade and fireworks show make the event feel special. Combine that with what remains one of Walt Disney World's greatest stage shows to date in Hocus Pocus Villain Spectacular and the a night at the Party does start to feel at least a little bit different than just any other day in the Magic Kingdom.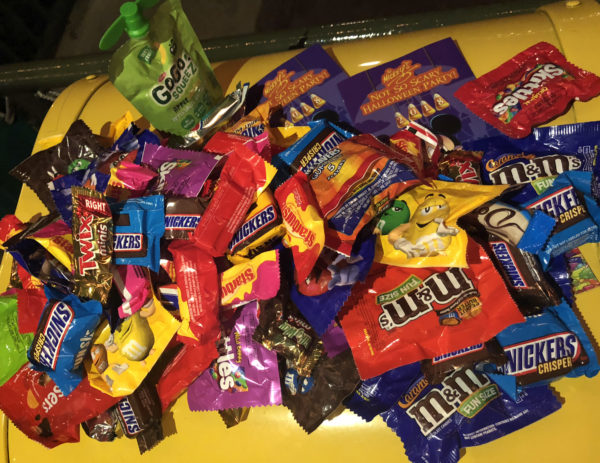 Beyond the shows, some will rave about the unlimited free candy, but for us, we think perhaps the biggest selling point is time in the Magic Kingdom with greatly reduced crowds. On the night of our visit, the longest line in the park was Seven Dwarfs Mine Train at 35 minutes – and while that might seem high, on an average day this attraction demands triple digit wait times. Many attractions maintained waits of 5-10 minutes throughout the course of the evening. This is truly a rare treat in the highest attended theme park in the entire world – a park that in just 2017 alone saw 20,450,000 guests pass through its gates. Think about that for a second – almost twenty and a half MILLION guests lasts year. Suddenly a 10 minute wait for a major attraction really does seem like a respectable perk.
At the end of the night, we left having enjoyed our time at Mickey's Not-So-Scary Halloween Party, but barring any significant upgrades, as locals we'd be hard-pressed to spend the money to return in future years. Even with discounts available to us, it just doesn't make a lot of sense to spend $75 to visit a theme park already included every single day in the cost of my $1,600 annual pass. If, however, that's not you – and you're just visiting for a week on vacation, Mickey's Not-So-Scary Halloween Party offers what essentially amounts to a full eight hour day in the park with lower crowds, added entertainment, some exclusive content (for better or worse) and all at a (slightly) lower cost than a normal day's ticket.
You can find an extended photo gallery from our night at Mickey's Not-So-Scary Halloween Party in this exclusive album on the Escape Authority Facebook page! While there, why not give us a "LIKE" if you haven't already? We'll give you candy!

Venue: Magic Kingdom
Location: Lake Buena Vista, FL
Dates: Select Nights August 17th – October 31st
Hours: 7PM – 12AM with early entry beginning at 4pm.
Cost:  Prices range by date from $75 – 125 (adult) / $70 – 120 (child 3-9) if purchased in advance online. Day-of prices at the gate are $10 more, if available. This event often sells out.
Summary
Reviewer
Review Date
Reviewed Item
Mickey's Not-So-Scary Halloween Party
Author Rating