Universal Orlando's Halloween Horror Nights is unquestionably one of the best-known Halloween events in the entire world. High tech effects, Hollywood-quality scenic and arguably the highest event budget you'll find makes it no surprise that HHN has legions of fans dying to get a piece of the screams.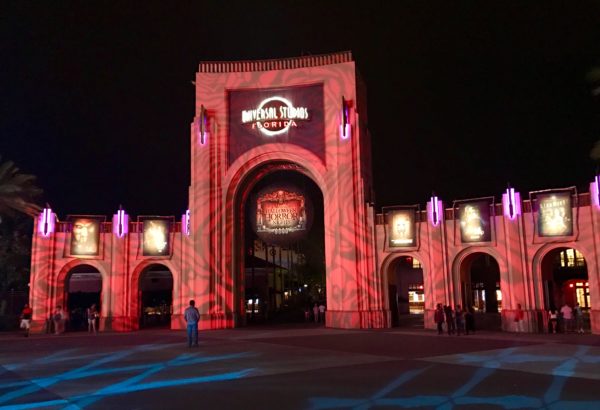 Halloween Horror Nights 27, located at Universal Studios Florida, is a separately ticketed event that runs thirty-four select nights between September 15, 2017 and November 4, 2017, including every Friday, Saturday, Sunday as well as every Wednesday and Thursday of October and Halloween night itself. In its 27th year, Halloween Horror Nights features nine different haunted houses, five scare zones, two shows as well as most of your favorite Universal Studios Florida attractions, including Harry Potter and the Escape from Gringotts and Revenge of the Mummy. This year, Universal is advertising the final edition of their annual pop culture spoof show, Bill & Ted's Excellent Halloween Adventure.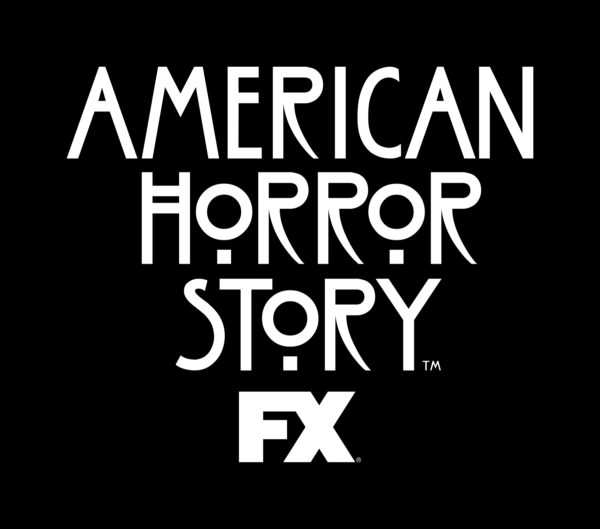 AMERICAN HORROR STORY: Volume 2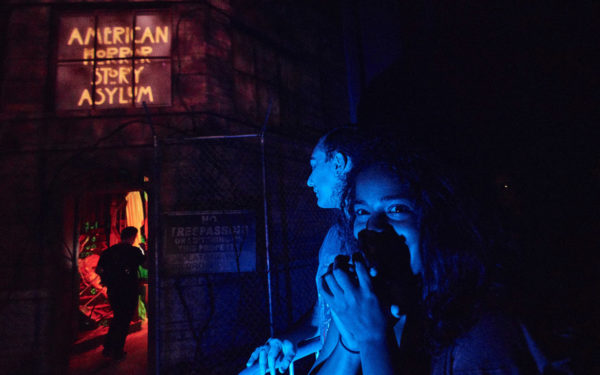 Experience three horrifying stories in one disturbing house as a deranged cast of characters seek not only your life, but your soul.
Much like last year, American Horror Story is spit into a three act structure where each act focuses on a completely different season with small clapboard vignettes to frame them. For Volume 2, attention goes to Asylum, Coven and Roanoke in that order.
Most importantly, American Horror Story: Volume 2 tells enough of a story that you don't at all need to be a fan of the TV show to appreciate it. But – if you are (I am not) you no doubt will recognize many of your favorite iconic moments recreated with stunning accuracy.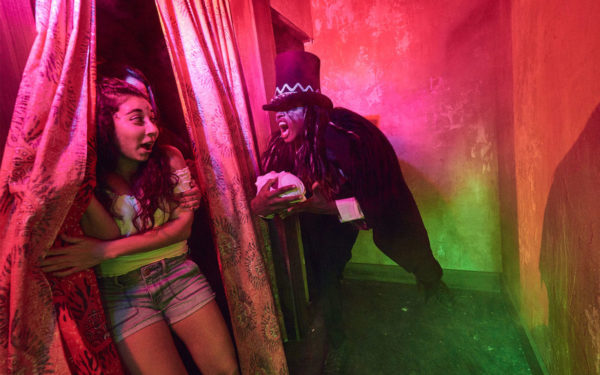 An impressive, large-scale entry facade sets up this haunt's first act by placing the Asylum from the TV show right in front of you. Entering its doors grants visitors a jaw-dropping look at its highly detailed, multiple-floor scale. This would establish the tone for what is to come throughout American Horror Story: Volume 2, as huge sets from start to finish make each act incredibly compelling.
Each season chosen this year is so distinct in flavor that this really does feel like three different haunts stitched together, yet it maintains a satisfying flow and really does work. In fact, it probably works better than last year's original pass at the IP.
Scenically there was no weak moment from start to finish in this haunt, though Roanoke may be strongest overall. Appropriately, it's also act three, allowing the experience to build to a compelling climax.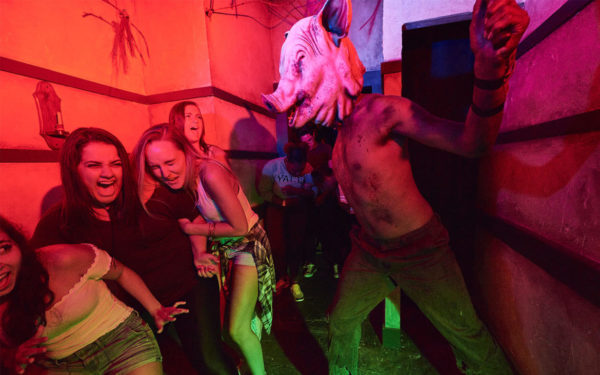 American Horror Story: Volume 2's cast are energetic and engaging. Fans of the show will instantly recognize that this haunt is not simply full of scares for the sake of scares – but artfully recreated iconic moments from the series.
Prepare for disturbing imagery in Asylum, off-putting and almost supernatural activity throughout Coven and in Roanoke, well, who doesn't love wandering through the woods alone on a dark and stormy night?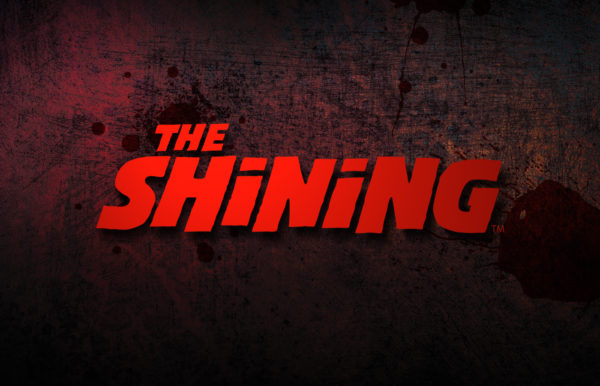 THE Shining


The visually intense psychological thriller is now the most terrifying haunted experience imaginable.
There's no question that The Shining is one of the most iconic pieces of cinema in existence. Thirty-seven years beyond its debut, it's still a measuring stick for the genre. It seemed, on paper, like an instant home run when Universal announced their plans to trap us in the warped world of Stanley Kubrick.
From a story perspective, The Shining haunt was a fairly accurate book report. It hit the major story beats, but did so in such a way that really didn't leave you excited for them. Just the same, you don't need to know the IP to understand what's happening; it's just Kubrick weirdness.

Scenically, like the rest of its experience, The Shining was rather middle-ground. We had high expectations for this one, yet they were just not met.
The Shining is a story set in a world of opulence and grandeur – the famed Overlook Hotel.  What we received instead were primarily modest sets full of painted flats on a fairly small scale.
Entering the soundstage, we expected to find a large recreation of The Stanley Hotel (filming location in Colorado for the Overlook Hotel) looming above us. What we received was a tiny portion of the hotel's hedge maze, which, after turning a corner or two put us into the hotel mid-story, well after Jack Torrence had already gone crazy.
We didn't start in the lobby. We never *entered* the hotel. We were in the maze, and then we were inside. That was, awkwardly, it. The same can be said for its finale, where, again, we just find ourselves back in the hedge maze. This lack of flow is a detriment to the overall quality of The Shining as an attraction.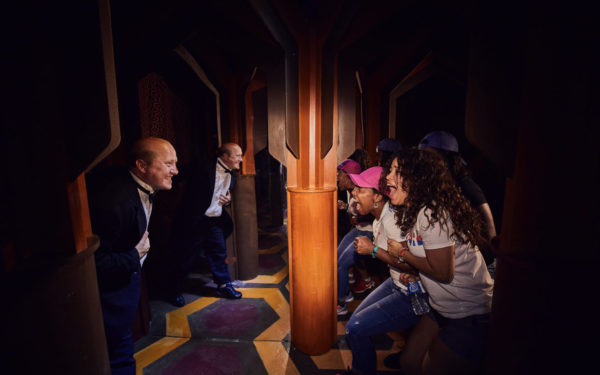 The Shining is full of exactly the scares you'd expect in an IP book report haunt.  Yes, you'll see REDRUM on the mirror. Yes, you'll see the twins, although thanks to a somewhat poorly angled placement, what should be an incredibly cool scare winds up difficult to read. Yes, the blood elevator happens, though it's honestly kind of underwhelming. Built on a very small scale, watching what should be an epic moment feels like checking out a model in a behind the scenes exhibit.
And then there's the Jack scares. There's a lot of them. And they're all awkward. First off – they're very repetitive. It feels as though he is almost always chopping through a door with an axe, and he's almost always shouting "Here's Johnny!" They do know there was more to this film, don't they?
Let's be honest – it's difficult to cast a distinctive "face character" – let alone to have to cast him dozens of times over. Many of the actors are just too young to really read as Jack Torrence. They each wear rubber balding caps to recreate Jack Nicholson's furling brow – but there is no blending (or even spirit gum to attach them.) They look cheap – and it's difficult to get past that – especially at such a high-budget event.
A few moderately disorienting scare moments happen thanks to the world's smallest mirror maze, and then a return into the hedge maze for the finale. Unfortunately,  we never see the payoff of what happens to Jack in the film.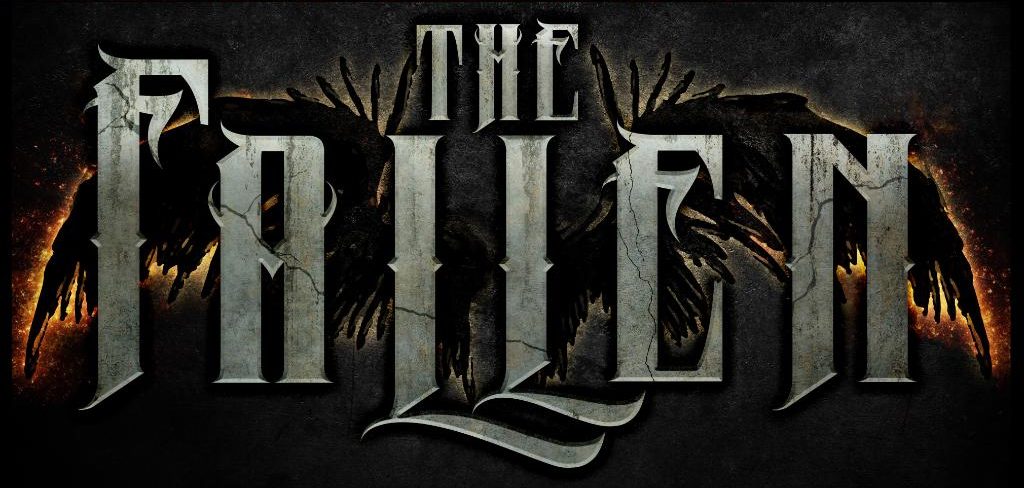 The Fallen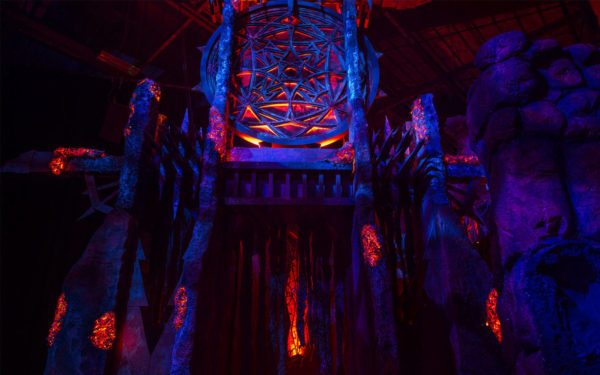 You're about to be caught in the crossfire of the eternal war of light versus dark and no one will be saved.
I literally had no idea what was actually happening, supposed to be happening or what this was about.
And to be clear, I read the story before entering the soundstage. And that's the thing – I shouldn't even need to do that. A good attraction should tell enough of a story on its own that you understand what is going on simply by experiencing it.
Nothing within this haunt reads as the battle of light versus dark; it's just lots and lots of generic demons.The Fallen, from a story perspective, is a complete miss.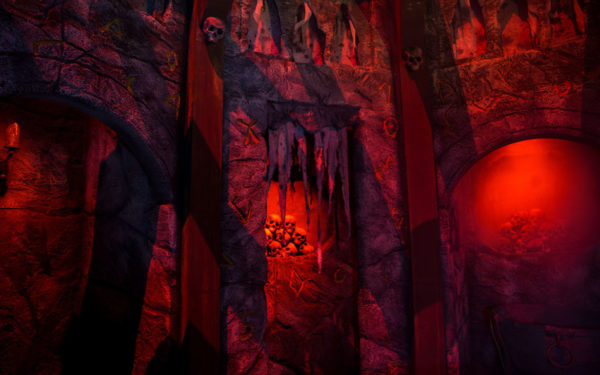 Visually The Fallen is pretty – and that's truly the reason you should experience it.
A compelling entry statement of burning castle ruins sets the tone for a gothic flavored adventure that quickly turns industrial / steampunk and, I don't know, a little bit of vampire? Again, the muddled story really cripples the flow – but if you can get past that, you're at least in for a visual treat.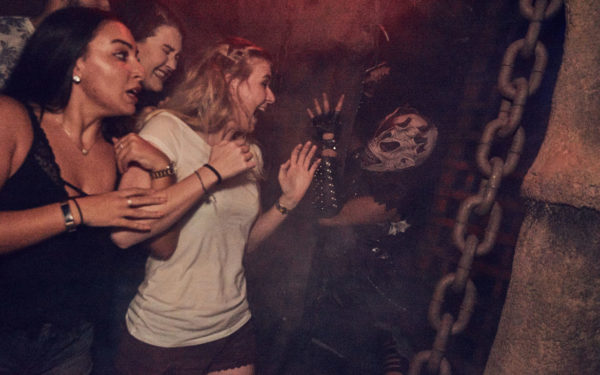 The Fallen features  some decent (albeit over used) scares – most notably one of the most obvious bungee flies I've seen in recent memory thanks to a giant, empty reach envelope around it.
Beyond that, expect endless boo-scares from the not-vampire demons during their apparent battle of light versus dark (even if it completely lacks the "light" faction.)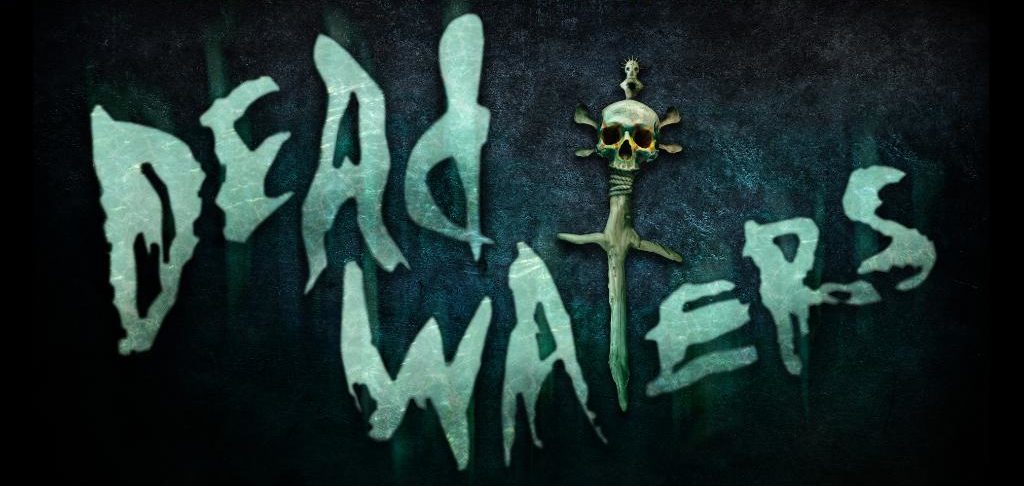 Dead Waters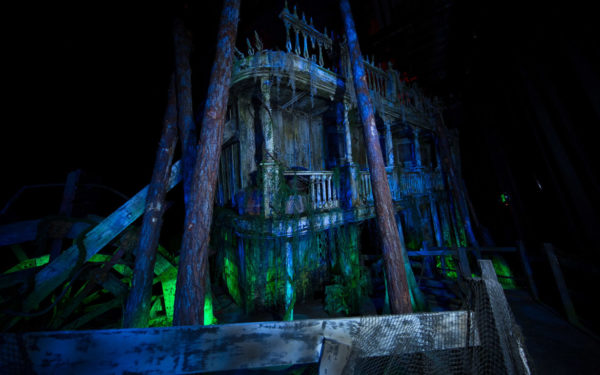 Enter a pestilent swamp that oozes evil, the hellish realm of the Voodoo Queen. If you fail to escape, you're in for a gut-wrenching sacrifice.
Dead Waters has one of the most solid story flows at the event. Given its subject matter, it's instantly obvious to guests that this is a story about voodoo and dark magic.
The settings are equally iconic, furthering the narrative and making this storyworld easy to become instantly immersed into.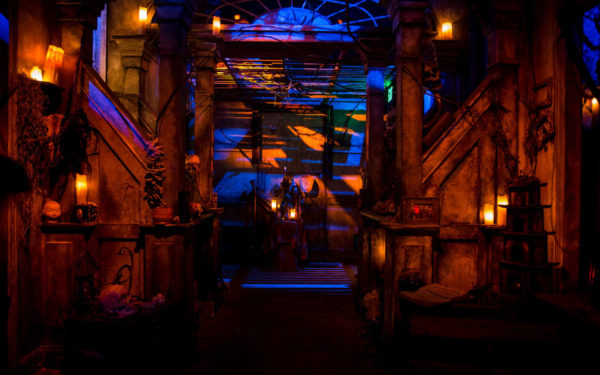 From the moment you turn the corner into the soundstage, you're greeted with one of the best entry facades Universal has ever produced.  A stunning – and sinking – steam wheeler river boat, clearly once a symbol of elegance now dilapidated beyond repair, is so believable that it tricks your mind into thinking you're walking crooked.
Once aboard, a powerfully effective mix of slanting floors and oppositely slanting walls majorly sells the illusion that you're on the boat itself as it quickly goes submerges.
Once off the boat, the woods provide a ominous respite before entering the voodoo village area. It's here that guests are met with a major wow moment in the form of a massive "outside" town square set finale.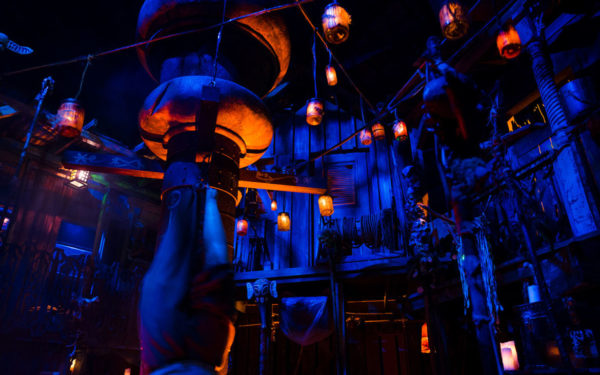 Throughout Dead Waters, the many voodoo priests, priestesses and evil spirits we encountered sported fantastic costumes brought to life by a highly energetic cast.
From a scares perspective, while it worked well enough to remain solidly one of the best haunts of the event, there was nothing truly innovative or outside the box to catch us by surprise. Although the scares were a bit scripted,  Dead Waters is still great, original haunt.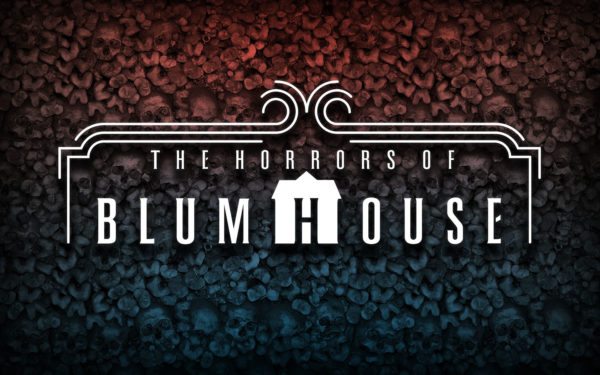 The Horrors of Blumhouse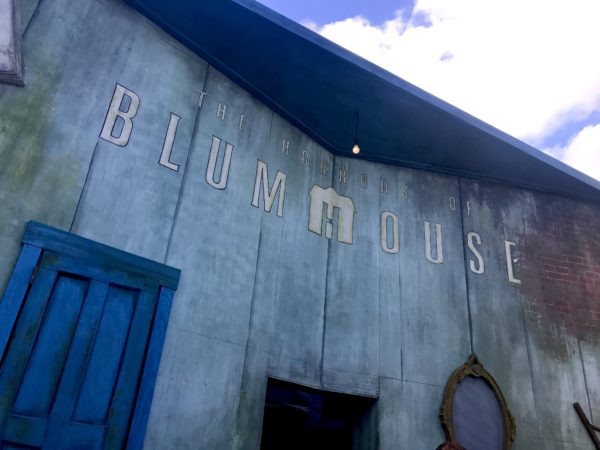 From the deranged filmmakers behind Insidious, Sinister and The Purge comes the Horrors of Blumhouse. They've all come back to haunt you.
Blumhouse makes a return to Halloween Horror Nights – this time borrowing the three act structure of the American Horror Story haunts. The Horrors of Blumhouse is, in effect three different haunts focusing on different iconic movies from Blumhouse Productions: Sinister, The Purge and Insidious in that order.
What perhaps works best for this haunt are the IPs themselves; Jason Blum understands the genre, and his films are typically "horror done right." Suspenseful, psychological stories full of iconic characters. This translates well into The Horrors of Blumhouse haunt.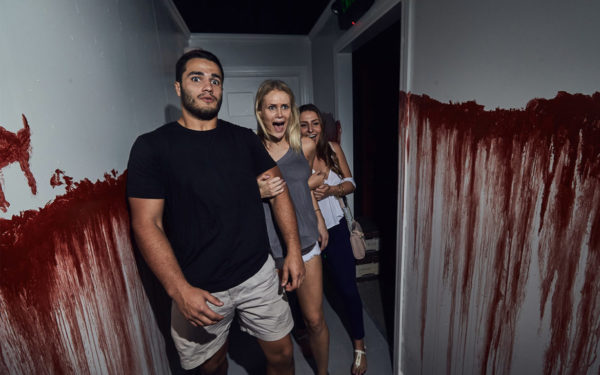 A modest but effective warped perspective entry statement frames the worlds we're about to enter by mimicking the style of the Blumhouse Productions branding. Once through it, visitors begin their journey in Sinister, then to the Purge and finally ending with Insidious.
Scenically, this is overall a great book report, and perhaps one that worked better than usual. With one asterisk.
Blum's style has always been dark, ominous and foreboding – making it one that's easy to translate into a compelling, believable haunted attraction. Throughout the first two and a half acts, you'll find some impressive scenic that really allows us to step foot directly into these well-known films.
But here comes that asterisk.
Why does it seems as though every time Universal attempts to tackle The Further – the mysterious void-like space from the Insidious franchise – they fail miserably? The Horrors of Blumhouse is no exception. Ending with Insidious, and ultimately a trek right into The Further itself, which, here is not a mysterious, wispy, foggy void but rather glowing plywood flats straight from your neighborhood Six Flags Fright Fest. Truthfully, this hurts The Horrors of Blumhouse as a total package attraction a great deal and really sends visitors out on a weak note.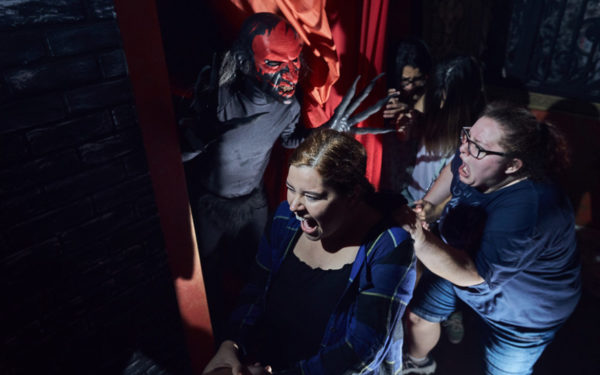 The Horrors of Blumhouse is full of scares pulled directly from their respective films – and it really does a solid job of bringing them to life. The important thing to note is that you do not need to be a fan of the Blumhouse Productions brand to understand what's happening here. The dark imagery stands on its own making this haunt compelling even to those unfamiliar with the IPs.
Throughout the haunt there are some truly effective scares, including one shadow effect on plastic tarps that proves far more impactful in its execution than it likely sounds in text.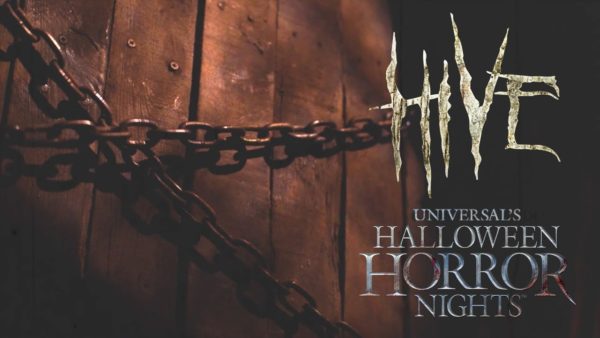 Hive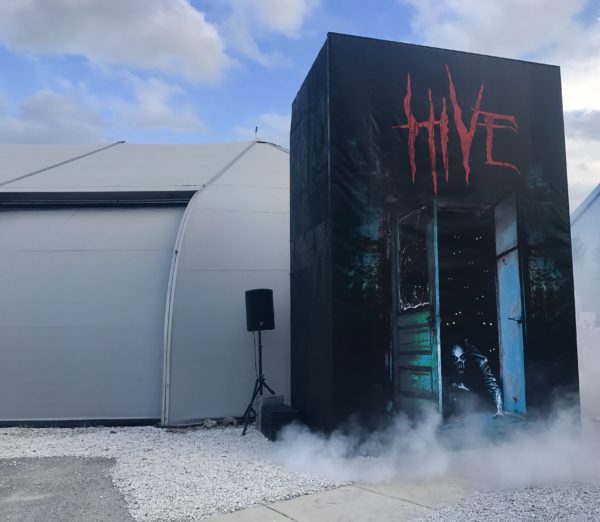 The crumbling house on 19 Hemingway Lane harbors a nest of bloodthirsty vampires. If you awaken them, you will face a savage, bestial hunger.
At the risk of stepping on the toes of our scenic section, we really do need to start there. The "crumbling house" is actually just a square plywood rectangle with a banner tacked to its front. No effort was made to construct a crumbling house facade at all – an unfortunate discovery following Universal's own marketing presentation for this one. It's only made more disappointing when one takes into account that Hive is located on the same spot as last year's Texas Chainsaw Massacre haunt, which did, in fact, have a full scale house exterior facade.
Hive is the classic example of why one should not judge a book by it's (completely torn off and missing) cover. Once inside, this quickly becomes one of the most compelling, story-driven haunts at the event. It's a truly threatening, dark storyworld which is easy to become almost instantly immersed into.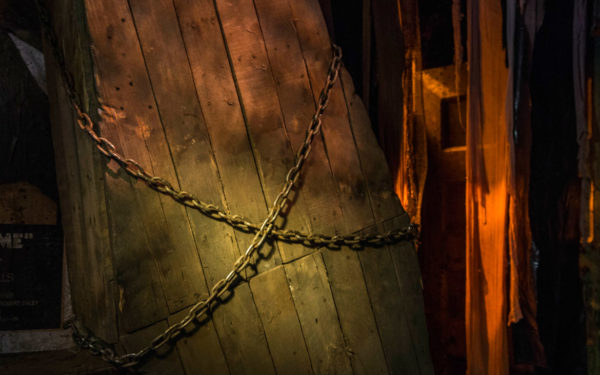 We quickly got past our rage at the entry statement the moment we stepped inside. Really great sets evoke a generally creepy vibe you just don't often find in a haunt. Hive truly felt foreboding – as though we were in real-world danger.
Grand scale sets fill out this adventure, finished to a level of detail that surpasses most other haunts at Halloween Horror Nights 27. They smoothly flow through the storyworld, painting a clear picture of us as we entered the house, ventured further through it, before descending into the basement and ultimately an underground catacomb.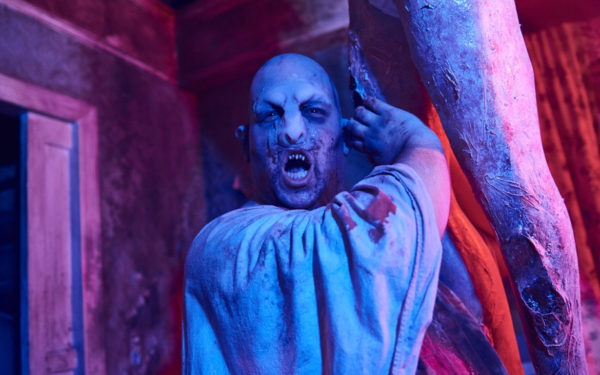 First and foremost it's no secret that vampires have become a bit overdone and cliché these days. Hive is a return to form for the genre – moving away from the "emo" Twilight-flavored styling and back to its gritty, bloodthirsty evil demon roots. These vampires are true monsters.
Hive had some noteworthy original scares. One in particular involved a vampire on stilts – which at first glance appeared to be a rehash of the original Caretaker scare from the iconic Scream House years ago. Instead, a fresh new twist caught even us off guard.
Lots of hanging fabric, webs and objects in your face throughout the space create a sense of disorientation.
This haunt has a clear, solid ending through caverns below the house, leaving visitors feeling a true sense of narrowly escaping from the danger within.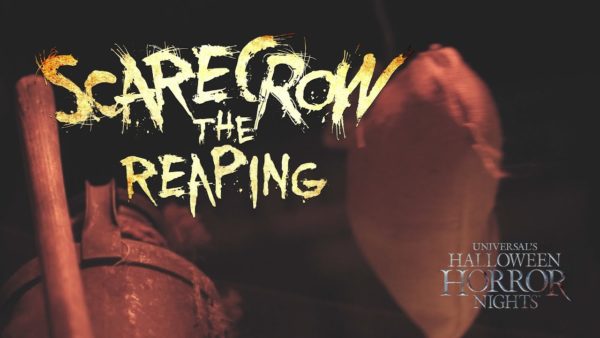 Scarecrow: The Reaping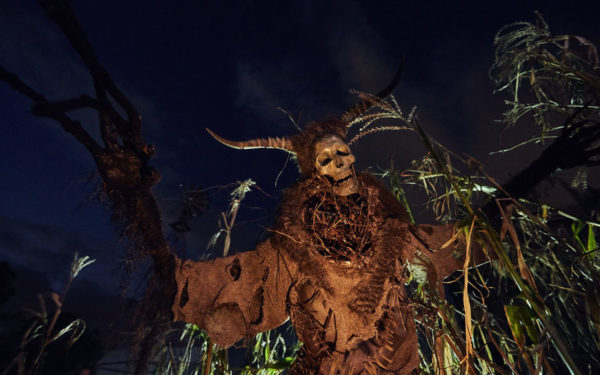 At a long-abandoned Depression-era farm, vengeance takes root, and the only harvest that will be reaped is you.
Let's start right with it – Scarecrow : The Reaping may very well be the best haunt Universal has ever produced – possibly even surpassing our previous favorite, the aforementioned  Scream House, home of the HHN XII event icon, The Caretaker.
This is a storyworld that is instantly easy to become immersed into – and one that you do not want to leave by the finale scene.
Scarecrow: The Reaping is an amazingly fresh take on what a haunt can be- in a sense returning to the "roots" of the holiday (pun intended) without relying on any over done tropes.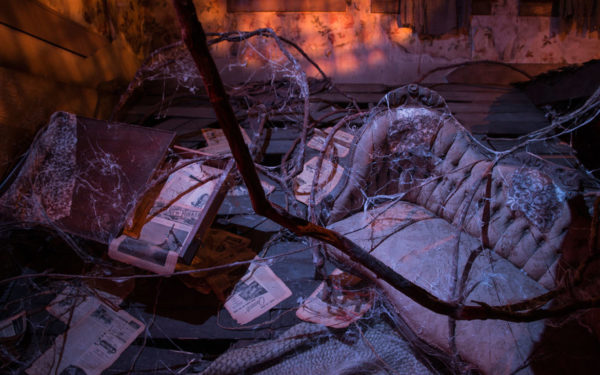 We start our adventure with an epic entry statement:  hundreds of stocks of live corn, planted into the ground and grown surrounding a burned down barn and windmill. Entering the barn, we find ourselves inside the abandoned farm house, completely overrun by corn roots.
Scarecrow: The Reaping is full of jaw-dropping sets – most notably a two story room of the house whose second floor has completely caved in. It's no secret that I'm difficult to impress when it comes to scenic – yet within this haunt there were multiple different moments where I literally stopped walking for a second and just said "wow!"
Our journey takes us further, back "outside" the house and into another cornfield – surrounded by mirrored walls to create a desperate sense of infinity making it easy to get disoriented in a fairly small space –  for a story appropriate, epic finale moment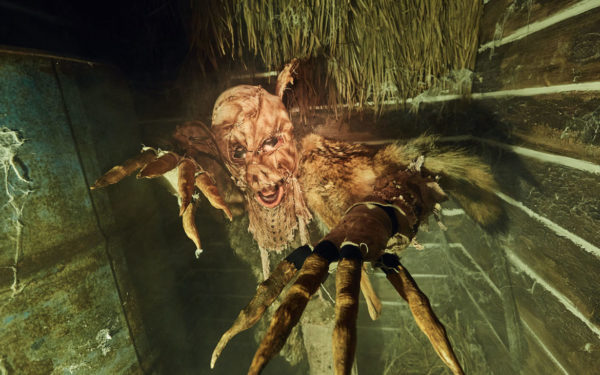 As one might expect, scarecrow monsters are everywhere, and they're truly great scares. The overgrown, dilapidated styling of the farmhouse makes for some truly unexpected hiding places, and as such, allows the actors to even more effectively catch you completely off guard.
The crow's roost scene provided a great comic relief respite before being thrown right back into the thick of it for even more terror.
The mirrored cornfield finale made for some truly solid scarecrow scares – in a classic "the exit is right there, but I need to willingly walk right into this monster to get to it" sense. It's disorienting enough to make even the most brave members of your party a bit apprehensive.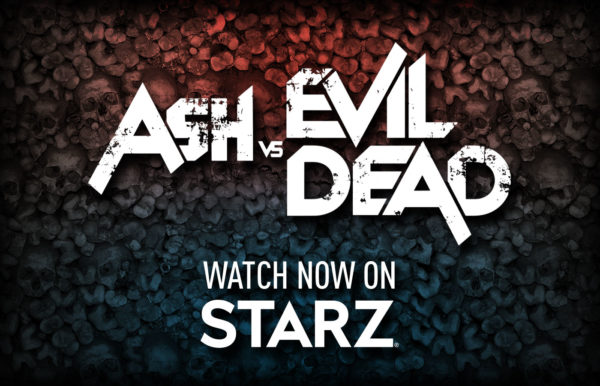 Ash vs. the Evil Dead


The STARZ original series, Ash vs Evil Dead, expertly blurs the line between horror and comedy in this horrifically hilarious addition to Halloween Horror Nights™.
Uhh, yeah. See here's the thing. You can't exactly be a comedy house if you have no comedy in your house in the first place. We're huge fans of having a comedy haunt on an event's roster, and really believe it adds a lot of value. But this one didn't elicit even a single laugh.
But there's a bigger problem with Ash vs. Evil Dead; it falls victim to the pitfall of not using an IP correctly. A guest should be able understand the story just by experiencing the attraction, even if they don't watch the show. For IP haunts, it's important that they are stand-alone attractions that do not require understanding or prior knowledge of the subject matter.
Upon exiting, I overheard a group of guests in front of me say they "had no idea what just happened. That thing made no sense." And I completely agree. I don't watch Ash vs. Evil Dead, and I spent the entire maze with no idea what was going on. I also don't watch American Horror Story, yet completely understood the stories they were presenting because in that haunt, it was designed the right way.
For this reason, Ash vs. Evil Dead, as a haunt, and as an attraction, is a miss.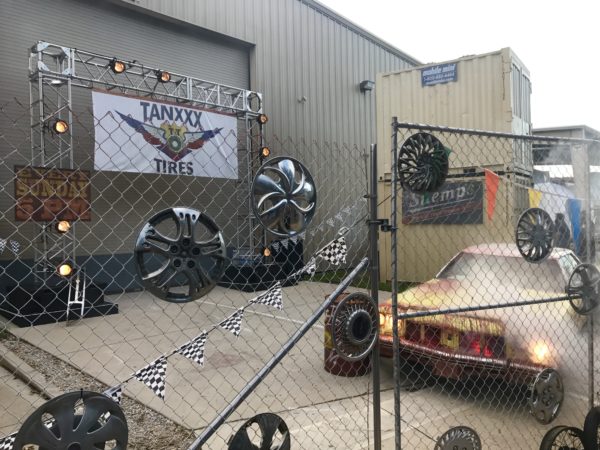 On the up side, there are some really nice sets from start to finish, including a decent exterior entry statement to set the mood. One huge "exterior" set half way through featuring a very short monologue moment with Ash is a fun bit of comic relief (albeit without the comedy) and the biggest thing close to a true "wow" moment.
It would be interesting to hear the perspective of a fan of the Ash vs. Evil Dead IP – but regardless, this is still a failed attempted because, again, it should be clear enough standing on its own.

Ash vs. Evil Dead – as a comedy house – had expectedly the weakest scares of the event. This is fairly standard practice, as the focus of a comedy house is, well, comedy – not scares.
Unfortunately as we've mentioned a few times, it also had the weakest comedy. Combine that with a muddled story only (potentially) clear to fans of the IP and you get our lowest rated haunt of Halloween Horror Nights 27.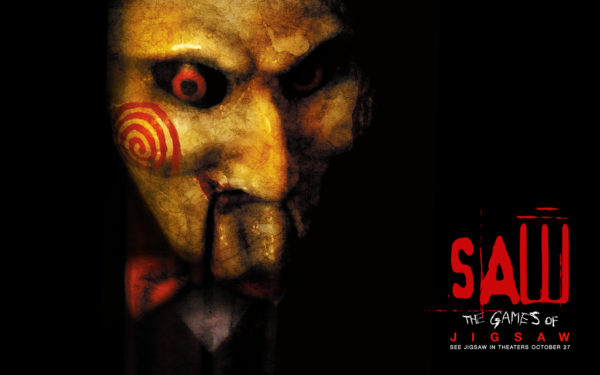 Saw: The Games of Jigsaw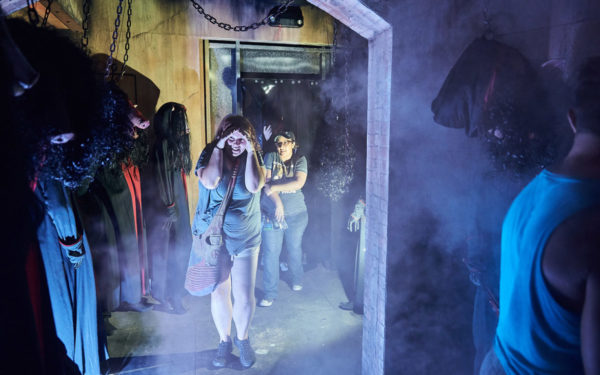 The traps are set. All that's missing is you. The Jigsaw killer has returned to torment you with his twisted take on poetic justice.
For better or worse, there's no denying the SAW film franchise has become an iconic horror classic. Far from the first time Universal has tackled this theme at a Halloween Horror Nights event – and typically with great success –  we entered with high hopes that SAW: The Games of Jigsaw could be their best yet.
Unfortunately, this one sort of reads more as The Museum of All Jigsaw's Kills™. Literally around each and every turn, you find yet another victim strapped into yet another murder-puzzle device. If that's your thing, great. But it really goes nowhere, and tells no story beyond "jigsaw crazy."

SAW: The Games of Jigsaw begins with a modest, barely existent entry statement, if you can even call it that. From there, we're treated to some decent sets.
Unfortunately, they all started to feel the same very quickly – both stylistically and with regards to content.
The finale scene is the most grand and thus most satisfying – perfectly recreating the basement from the first film where one captive was forced to saw off his leg.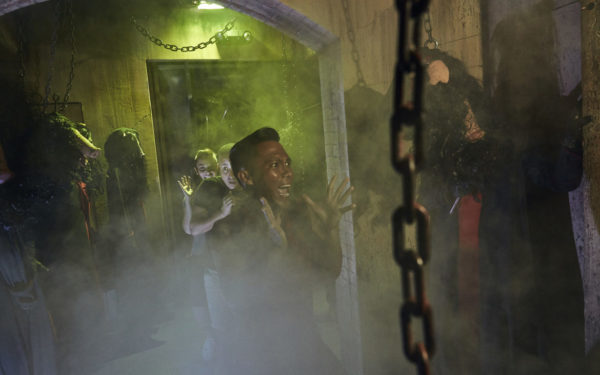 SAW: The Games of Jigsaw, from start to finish is truly just a collection of dis-attached vignettes showing different traps that killed people throughout the forty-seven different films in the SAW franchise. Beyond the cheap scare of blood and gore, there's really not much going on here from a scares perspective.
It just sort of happens around you, and that's it.
At the very least, this haunt works even if you don't know IP – because it's really just violence for the sake of violence without any true story at all.

Five official scare zones, plus an additional roaming troop of chainsaw wielding demented clowns make up the street entertainment for Halloween Horror Nights 27. Overall, the problem with HHN Scare Zones actually stems from the park's daytime Universal Superstars Parade. In years prior, Scare Zones were as much outdoor stand-alone Haunts as any of the Houses themselves, full of detailed scenic and immersive decor. Unfortunately now, thanks to the parade's large clearance envelope, Scare Zones have become minimal at best; full of only small items that can be rolled in and out prior to and after each event's night. What results are Scare Zones that become less immersive, and thus less compelling. This year, five distinctive scenes take over sections of the park: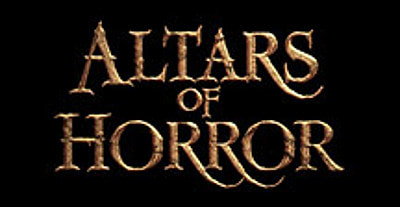 Altars of horror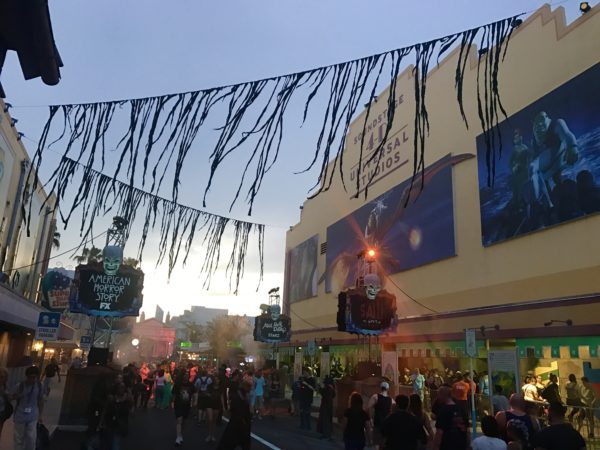 Enter the nexus of evil, where all the most fearsome characters and nefarious creatures from each of the Halloween Horror Nights™ haunted houses lie in wait.
Halloween Horror Nights 27's icon Scare Zone – home to characters representative of each of the event's nine different haunts.
We're genuinely surprised this was labeled a scare zone to be honest. Altars of Horror is literally nothing more than a few entry statement event signs (each with the logo of one of the nine different haunts) and one character from each house. Just kind of standing there. Like a window display to help you decide if you want to come in.
We actually thought, "strange they didn't do a scare zone here this year" when we first entered the park, only to find out later that was the scare zone.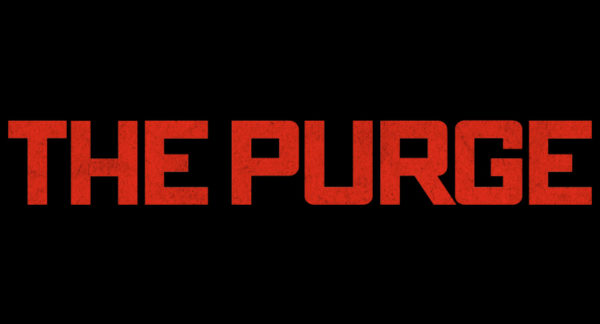 The Purge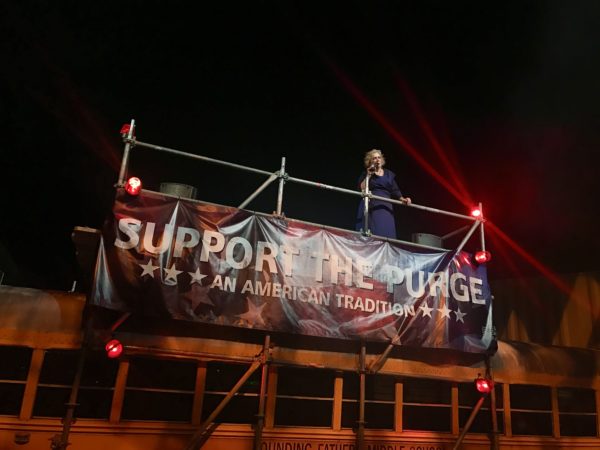 The Purge has returned to Halloween Horror Nights™ and overrun New York. No one is safe. Be a part of a proud American tradition. United we purge.
When they said "The Purge has returned," I didn't realize we should be taking them so literally. This is *exactly* the same scare zone as the last time they used the IP. Exactly.
I like The Purge, and it works, but rehashing the exact same content at an event that prides itself on being completely different every single year seems like a really strange call to make. And honestly, nothing in Sting Alley- the one part of Universal Studios Florida that's already so damn creepy on its own after dark?   Miss.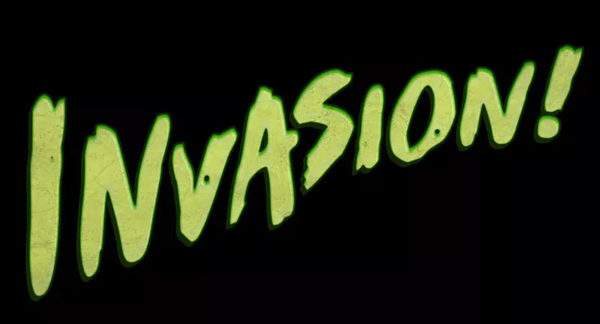 Invasion!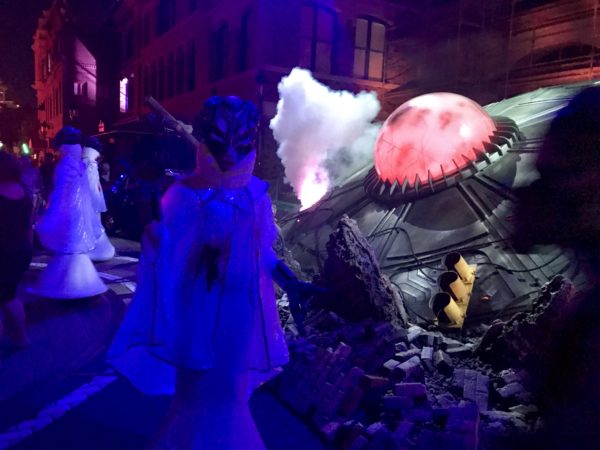 The year is 1955, and a UFO has crashed onto the wharf. Their goal: to conduct experiments upon you to prepare to invade Earth.
Invasion! is a true "wow" moment scare zone, but sadly it's also really, really tiny. It features a huge set piece of a crashed UFO, spewing fog and laser-like lighting.  Wonderfully interactive and inquisitive alien characters surround the wreckage.
Without question, Invasion! would be the undisputed #1 Scare Zone of Halloween Horror Nights 27, if there was more to it. And all other scare zones would be incredible stand-alone attractions if they were constructed to the level of detail that Invasion! possesses.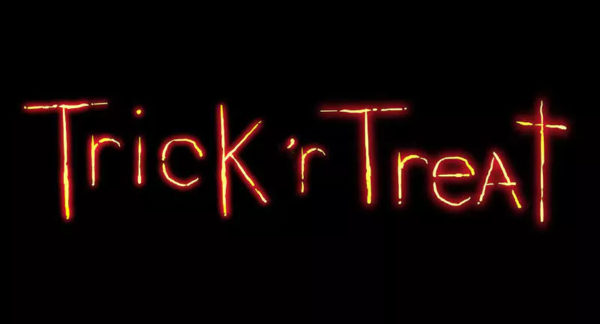 Trick 'r Treat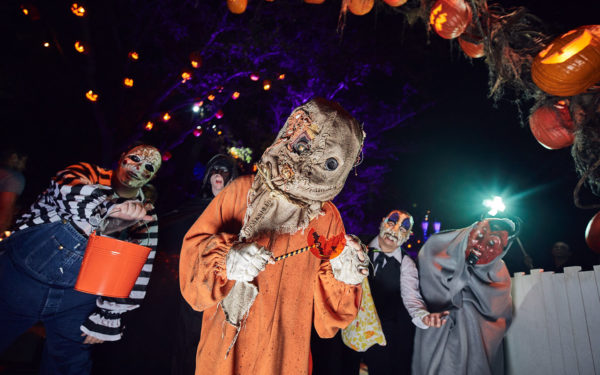 Break the rules. Pay the price. That's the murderous moral of the five twisted stories in Trick 'r Treat, a darkly hilarious tribute to Halloween.
Trick 'r Treat is a Scare Zone done right. Tons of festive Halloween decor adorns literally every inch of this area – from the mini sets to the bushes to even the trees above your head.
Playful and highly interactive actors bring their characters to life. Monsters actually go to each little house vignette facade, ring the bell and trick or treat at it. There's even a grumpy old neighbor who stands on his front porch swinging a baseball bat while screaming at passing kids to "get off his damn lawn!"
This is a really magical area that truly captures the real Spirit of Halloween.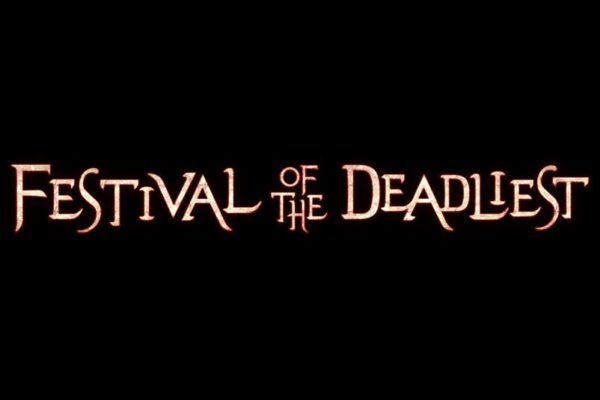 Festival of the Deadliest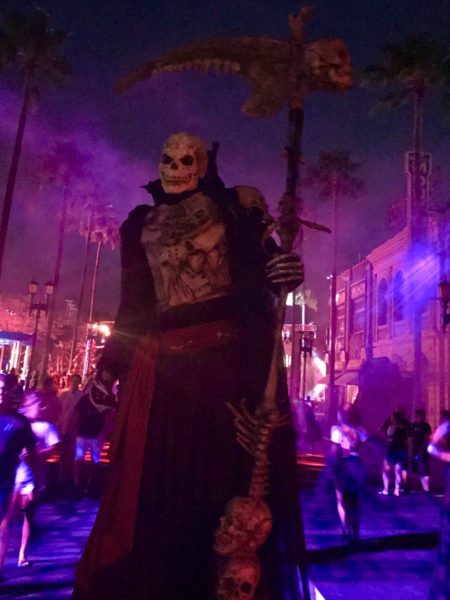 The dead are throwing a hell of a Hollywood party and you're invited. Your spirit will fuel the frenzy of this ghoulish gathering.
After passing through Festival of the Deadliest, I actually had to look on the map to see what the hell it was supposed to be.
Universal's take: a swinging party full of Hollywood oppulance.
My take: a Spirit Halloween Store display aisle.
No story. No theme. Nothing worth seeing. It's a close race between Festival of the Deadliest and Altars of Horror for this year's worst Scare Zone — but I suppose at the end of the day, I at least recognized that Festival of the Deadliest, as underwhelming as it is, was at least *a Scare Zone* in the first place.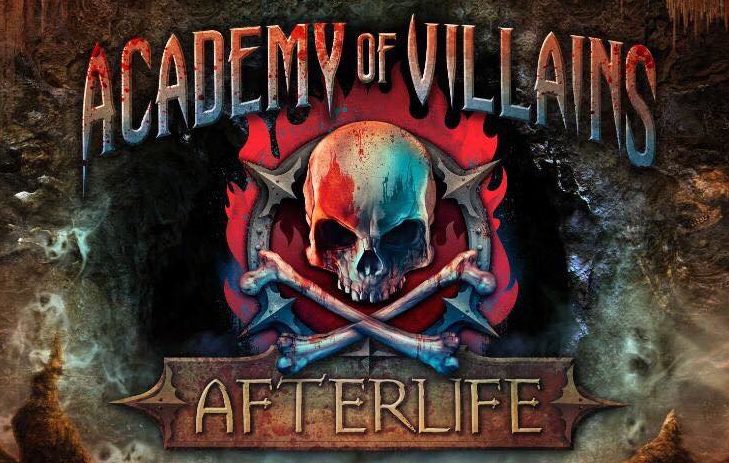 ACADEMY OF VILLAINS: Afterlife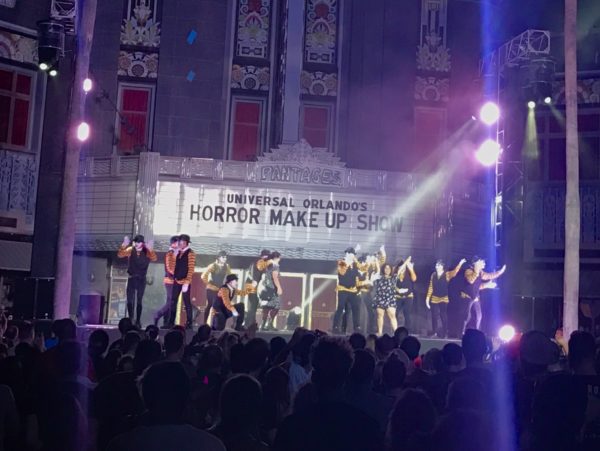 The award-winning performance troupe returns with more mind-bending dance routines and special acts.
I opted not to watch this one as it's not my style of entertainment, but seeing it in passing definitely showed there are many who enjoyed it quite a bit. At it's core, it's nothing more than a bunch of people on stage dancing and jumping around to pop music.
I just fail to see how this connects in any way with Halloween.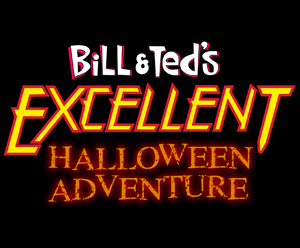 BILL & TED'S EXCELLENT HALLOWEEN ADVENTURE
After 26 years of Excellent Halloween Adventures, Bill and Ted are bringing their Farewell Tour to Halloween Horror Nights.
Ugh.
For many years now I've had a very strong love / mostly hate relationship with Bill & Ted's Excellent Halloween Adventure. Early on, this show was so phenomenally funny. Well written and highly entertaining. But the hot potato game that has become the lead writer's position for this show has seen it fall apart quickly, and barely, if ever, fully recover.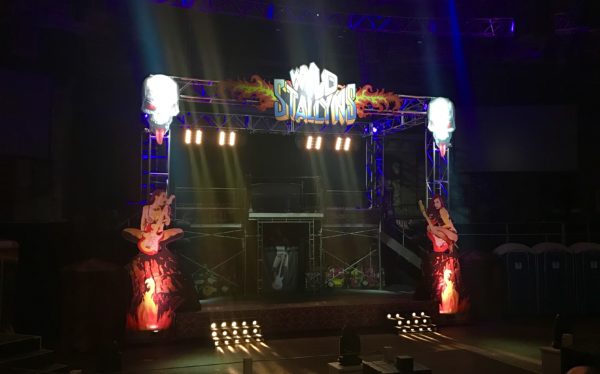 This year's installment saw some truly funny moments (mostly all centered around former White House Press Secretary Sean Spicer's depiction from Saturday Night Live.) Unfortunately, all around those funny moments were a whole lot of staring at the stage with a blank expression on my face.
The Grim Reaper, straight from Bill & Ted's Bogus Journey, was a great choice for their final villain. They did their best to tie the story of nearly three decades of shows together. It felt appropriate, and honestly had some truly touching moments that did great justice to end this long running institution of a show.  And while there is no doubt it's an institution, sometimes that isn't a compliment.
I really want to like you, Bill & Ted's Excellent Halloween Adventure, and I really used to. But you make it so very difficult. After 26 years, it's time to say goodbye, and perhaps more so, it's time for you to go. Bye.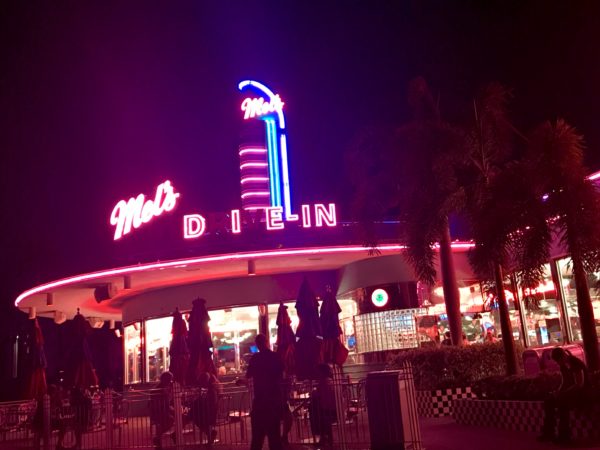 Halloween Horror Night 26 was somewhat of a renaissance for Universal Orlando, with a return to form of some truly stellar haunts the likes of which hadn't been seen at the resort for several prior years. I'm happy to report that, overall, Halloween Horror Nights 27 is a continuation of that trend of improvement.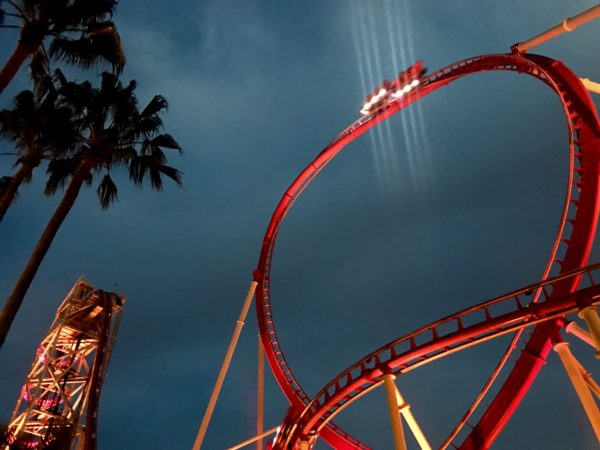 It's very exciting to really enjoy HHN again in Orlando. It's exciting to want to go a second time. Halloween Horror Nights has long been the industry standard bearer, but throughout the past decade or so, they've seemingly become a bit complacent. Clearly an evil has been let lose that is truly back to raising the bar in an effort to define what a Halloween event can and should be.
Halloween Horror Nights 27, overall, is a fantastic event. Great Haunts, entertainment and mood transform Universal Studios Florida into another world full of nightmares waiting to stalk you at every turn.

Venue: Universal Orlando
Location: Orlando, FL
Number of Haunts: 9
Dates: Select Nights September 15th – November 4th, 2017
Hours: 6:30PM – 1AM or 2AM depending on the night.
Cost: $109.99 at the gate, or save as much as $50 per person if purchased in advance online.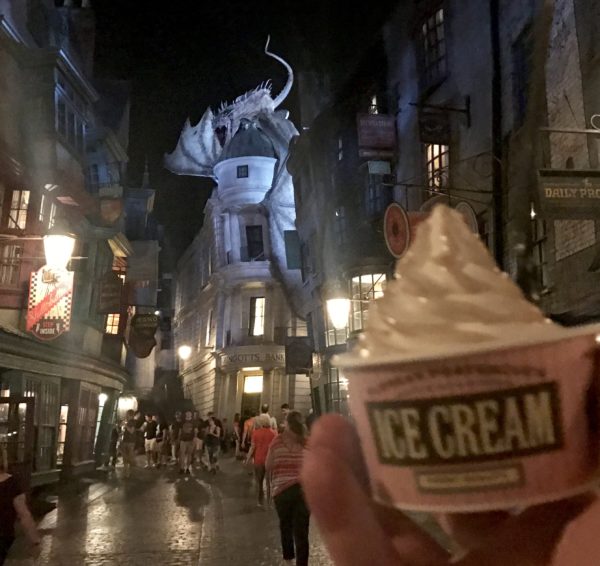 Summary
Reviewer
Review Date
Reviewed Item
Halloween Horror Nights 27
Author Rating