A 72 year old naval ship sets the scene for Central Florida's most authentic, and perhaps most creepy haunted attraction.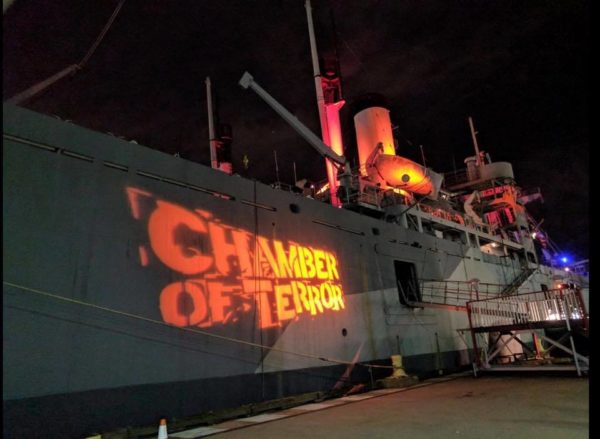 Chamber of Terror, as an event, is made all the more unique by its choice of venue – fully integrated into the SS American Victory. After being delivered in 1945, this authentic naval warship actually served in World War II, the Korean War and the Vietnam War, before retiring to Tampa, Florida to serve as a museum and cultural attraction in 1996. The SS American Victory still holds the distinction of being only one of four active WWII ships left in the United States, still occasionally offering cruises around the channels of Tampa Bay.
During the Halloween season, the ship takes on a much more ominous persona, transforming into Chamber of Terror – a specially ticketed stand-alone boutique haunted attraction that runs fifteen select nights between September 29, 2017 and October 31, 2017. including every Friday and Saturday, as well as the final two Thursdays and Sundays in October and, of course, Halloween night itself.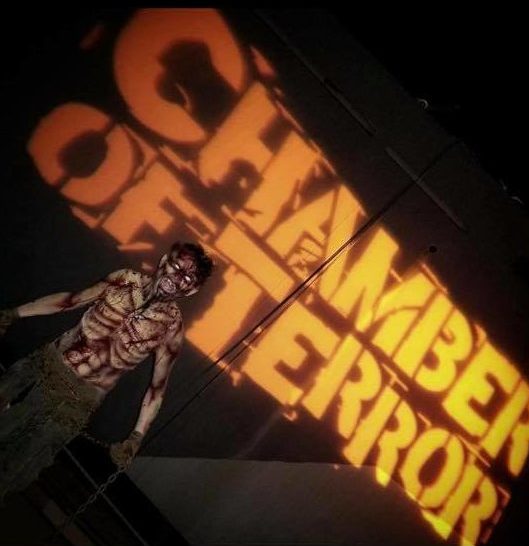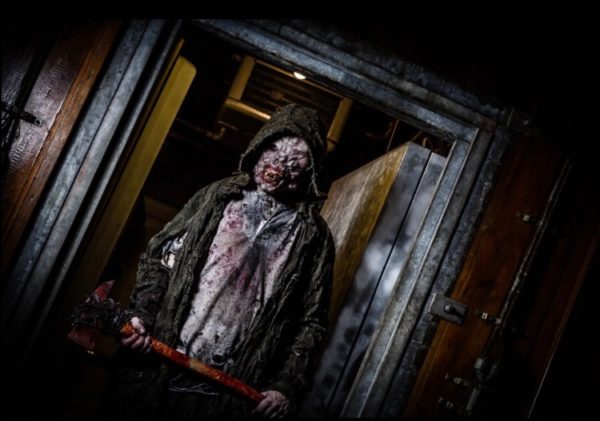 After years of heinous crimes and vicious murders, Captain Berwick and his Henchman return with evil intentions. Although the ship and its many inhabitants are in a state of anarchy, they don't dare disobey the Captain.
Once aboard, your life is at the mercy of Berwick and his malevolent crew. You will be lowered deep into the hull of the SS American Victory where evil is unleashed before your very eyes. As you tread through the dank depths of the ship's cargo hold, sinister creatures and hostile soldiers lurk ready to strike. Enter the living quarters and make your way through the corridors where lost souls wander aimlessly.
Attempt to survive hordes of undead crew members while crossing the weather deck, as you venture through the ship you will witness the mayhem that Berwick and his crew inflict on their victims as you try to keep from becoming one of them. Evil is everywhere aboard this rotting vessel.
Will you survive this nautical nightmare?
Chamber of Terror, thanks greatly in part to its incredibly authentic, very really setting, crafts a storyworld that is instantly easy to become immersed in. The SS American Victory is an iconic venue, and even from the moment you turn the corner and catch first glimpse of its smokestacks reaching up into the moonlight, you're instantly filled with a sense of familiarity. This, however, is a most unwelcome, ominous familiarity – almost as though you've seen this place in your nightmares and now it has come to life before you.
It's absolutely impossible to not get lost in Captain Berwick's storyworld. You quite literally cross the gangplank and step aboard his actual ship. The sense of foreboding urgency is strong – even before you enter – and only builds once the heavy iron hull door swings open for you – and swings shut behind you. From there, you'll descend into a hellish nightmare world that you clearly were never meant to find, but now that you have, you're never be meant to escape.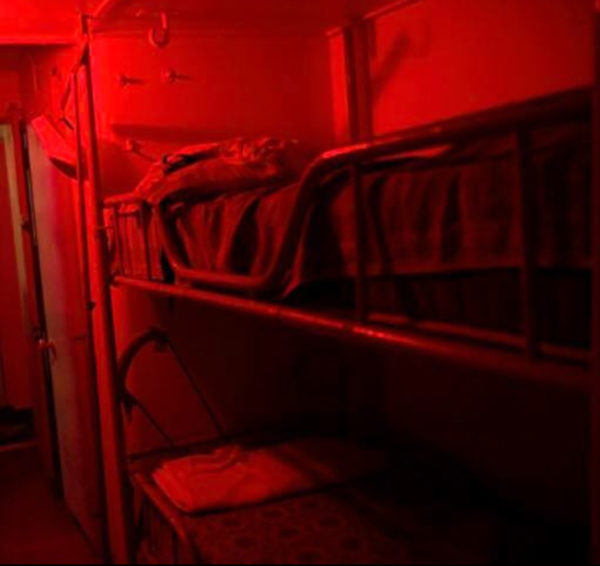 We've said this before, but it always bears repeating – even Hollywood-quality scenic can only go so far to create a world. There is simply nothing that can compare to the authenticity of a haunt set in a very real physical environment. And boy oh boy does Chamber of Terror understand how to embrace that fact.
As we mentioned above, Chamber of Terror is located quite literally aboard the SS American Victory – a 72 year old naval warship that saw battle in some of the grisliest combats our country has faced. It's old. It's gritty. This is a vessel that was never intended to be a luxury yacht; it was never intended to take on passengers. She was commissioned to carry soldiers into battle – and there's nothing pretty about that. The inner halls of the ship are unwelcoming enough on their own – and quite frankly, Chamber of Terror could have dropped in a few actors and done little to no additional set dressing to justify selling tickets to a compelling haunted attraction.
But that's not what Chamber of Terror did. At all.
Every scene is decked out with decor that feels as authentic as the actual deck of the ship it's on. Crew quarters are lined with cots and bunk beds. The kitchen is fully stocked, with a demented chef ready to serve you. (Read that how you wish.) Even the muster station is fully prepared with life vests — though there's unquestionably something much less safe about this ship's safety drill.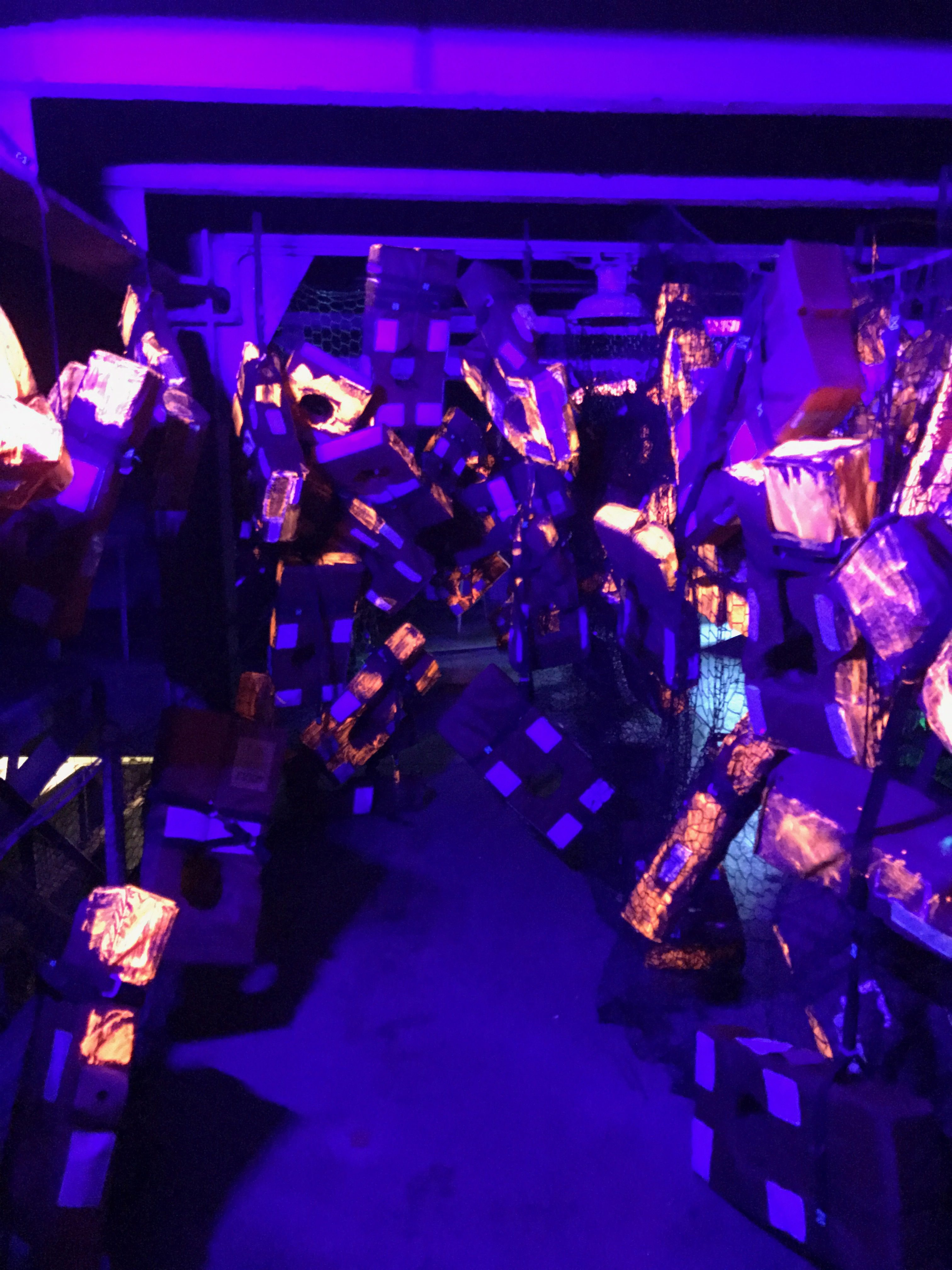 Chamber of Terror artfully breaks up the high-paced intensity – injecting a few intentionally more calm moments at key points in the your journey where passengers will find themselves walking across outdoor upper decks of the ship, with beautiful views of the Tampa Bay's ocean waters below. Not only does this help pace the scares and allow those less brave in your group to catch a much needed breath, but it also solidly sells the notion that we are on a ship, out at sea, trapped by the sinister crew.
And it is again that its location becomes one of Chamber of Terror's greatest allies; being on this old naval vessel allows them to design a haunt that is not required to adhere to ADA standards. And while this may admittedly be bad news for those members of your party who may travel in a wheelchair, what results in the haunt itself are many narrow passageways that absolutely and instantly take you out of your comfort zone, as well as the ability to have many steep flights of stairs. You'll literally find yourself going up and down, and up and down – all over the ship. What results feels more like a terrifying adult playground than your typical, flat walk-through haunted house.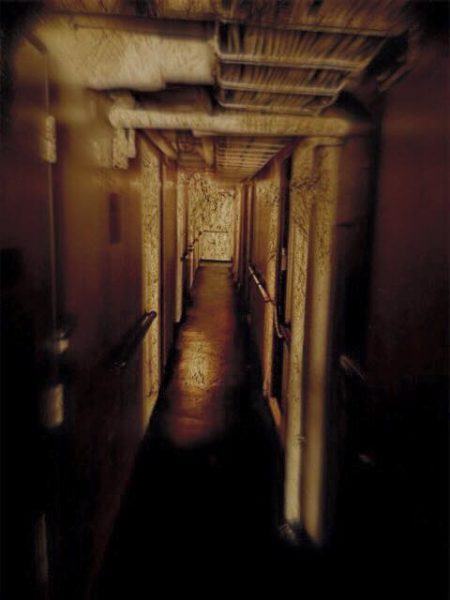 The authenticity that automatically comes with Chamber of Terror's location, coupled with its solid, engaging story makes its scares instantly believable. Nothing about this experience feels like a simply "tour of the ship." The immersive nature of this experience leaves us feeling lost, almost trapped, aboard the SS American Victory – with our only option left being to search the halls in hopes of finding a way out.
And speaking of those halls… one epic haunt perk that comes with the ship are several long hallways, lined with doors on both sides. There's few things more intimidating in a well-designed haunt than walking down a hallway of doors. It's impossible to not wonder which one might have something evil lurking behind it. And I'm here to tell you — there's quite a few things lurking in this old ship.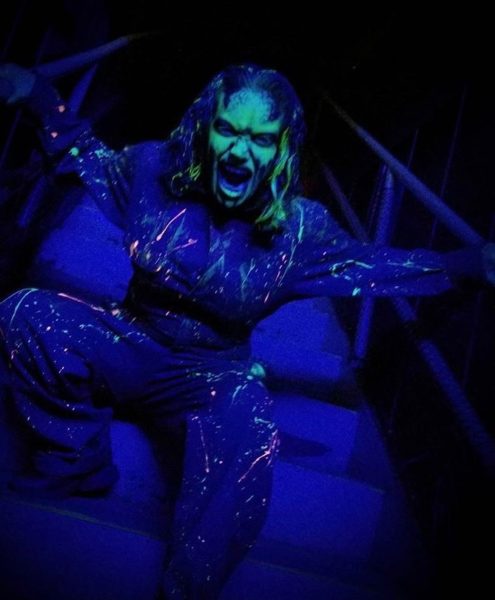 From start to finish, Chamber of Terror's scareactors are highly engaged, energetic and always in character. In fact, it would be more accurate to say "from before start to finish," as they were already quite literally stalking us at the ticket counter while we were attempting to check in! This type of personalized interaction is a rare treat and a welcome, refreshing change of pace from the massive capacity big theme park haunts the area is known for.
But the ultimate enhancement to scares comes thanks to the operational policy of sending very small groups – no more than six people at a time – into the haunt. This instantly creates an exclusive, boutique haunt feel that elsewhere often demands a much higher ticket price than Chamber of Terror asks, leaving guests to feel like they got a major bang for their buck. There's simply no comparing the sense of being "just you" in a haunt versus being one of several hundred slowly trudging forward in a conga line. It creates a real life movie-type mood, where each guest is an active participant in the story as it unfolds around them in a very real way.

We've several times now touched on all of the aspects that make this attraction special – but there's one that I think needs an equally special acknowledgement: passion. The passion of Chamber of Terror's owner is so evidently clear. And to learn the story behind it all only makes you appreciate it all the more. Chamber of Terror actually started as a home haunt – and grew, and grew, and grew quickly into becoming the massive public event that it is today. And trust me when I tell you, there's nothing easy about designing a solid, story-driven home haunt. In fact I run my own, free for our neighborhood to enjoy each year – so I perhaps know better than most how stressful and time-consuming it can be. To be able to expand that passion into a for-profit, honest to goodness attraction is both impressive and inspiring.
Chamber of Terror is a hidden gem in Central Florida's world-renowned haunted attractions crown. Everything about this venue feels authentic, because simply put, it is. From start to finish, your flow through the haunt stays tightly interwoven with its storyworld, ensuring each and every character you encounter on your voyage would make logical sense existing in that environment.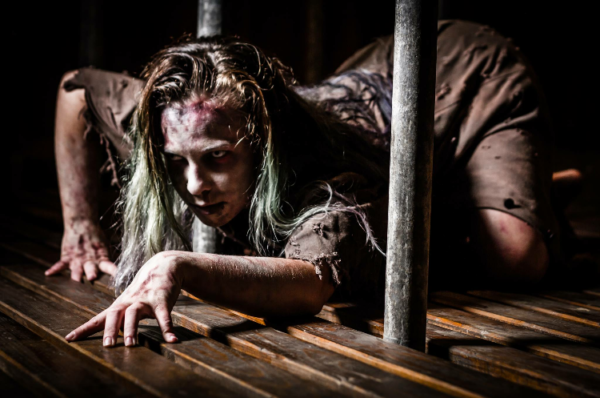 This was our very first visit to Chamber of Terror; they made it onto our radar last year simply because of their new (for 2016) location aboard a ship in Tampa Bay. Unfortunately, we were unable to fit a last minute visit in to our always busy October – and we honestly struggled to make it happen this year as well. We expected something unique to Florida. What we didn't necessarily expect was to find our newest must-see annual tradition.
Chamber of Terror, in just one visit, has become perhaps our favorite haunted attraction in the Central Florida market, period. And while we won't name names, just take a moment to think about some of the industry heavy hitters within no more than an hour's drive, and then let that sink in. Simply put, Chamber of Terror is unique, refreshing and entirely fulfilling. Every bit of this experience felt like just that — an experience. The boutique style of operations allows each and every guest to feel like a VIP, in their own specially tailored horror movie. It's just not something you'll find at one of the larger events.
But after our first visit – there's one thing you're guaranteed to find: Escape Authority returning year after year moving forward to set sail aboard the ominous SS American Victory each October!

Venue: Chamber of Terror
Location: Tampa, Florida
Dates: Select Nights September 29th – October 31st
Hours: 8PM – 11PM (8PM – 12AM on October 13th, 21st, 27th and 28th)
Cost: $24.99 (plus $2.25 fee.)

We thank Chamber of Terror for inviting us to experience this haunt. Although complimentary admission was generously provided, that in no way impacts the opinion included within this review.
Summary
Reviewer
Review Date
Reviewed Item
Author Rating