Immediately after launching our Escape Room Map it quickly became one of our most used features, making Escape Authority the undisputed home to internet's most extensive listing of Escape Room Venues across the United States. Shortly there after, that same map grew to include the rest of North and South America. Today, we take our first step into the new year with one of the most requested additions to our site since day one.
Welcome to the single most comprehensive directory of escape games across all of the United Kingdom (Ireland and Iceland too!)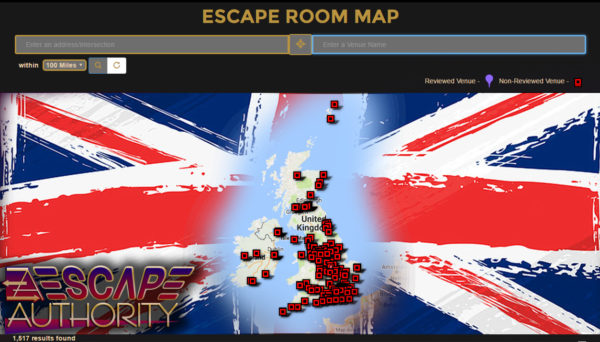 At long last our friends 'cross the pond get a taste of the most reliable game finding tool online. With its easy to use interface, you can quickly search by location, venue name, or GPS position to find escape rooms near you or your travel destination. With the list functionality, all of the venues' contact details are in a glance-able format so you don't have to click away to another page to find an address or phone number.
Escape Authority's dedication to excellence consistently leaves us ranked #1 – and as part of that commitment, we've painstakingly clicked on each venue one by one while coding our U.K. update, ensuring their information is current and that the venues are each still open business.
Keep an eye out on further map expansions in the near future, as we work our way across Europe and into the rest of the world.
Notice a venue we've missed? Use the link below to click over to our forum to let us know!