Escape Authority is proud to partner with the newly expanded Escape Room Entertainment for our next EA FREE PLAY! Escape Game Giveaway. This is your chance to win a free PRIVATE game for up to ten (10) people* to either Escape Room Entertainment location in Melbourne, Florida! (*Capacities vary between six and ten people depending on the game you select.)
This contest is hosted exclusively on Escape Authority's official Facebook page. To enter, simply both "like" our Facebook Page if you haven't already done so (the page itself, not the contest post) and comment on the contest post with your name. Additional bonus entries can be earned by tagging the friends you'll bring to play at Escape Room Entertainment when you win this EA FREE PLAY! Giveaway, gaining you one additional entry *PER* friend you tag. You will also receive a whopping TEN additional bonus entries just sharing the official contest post to your own Facebook wall!
We ask that you limit to one entry per person – however, there is no limit to the number of bonus entries you can receive from within that single entry.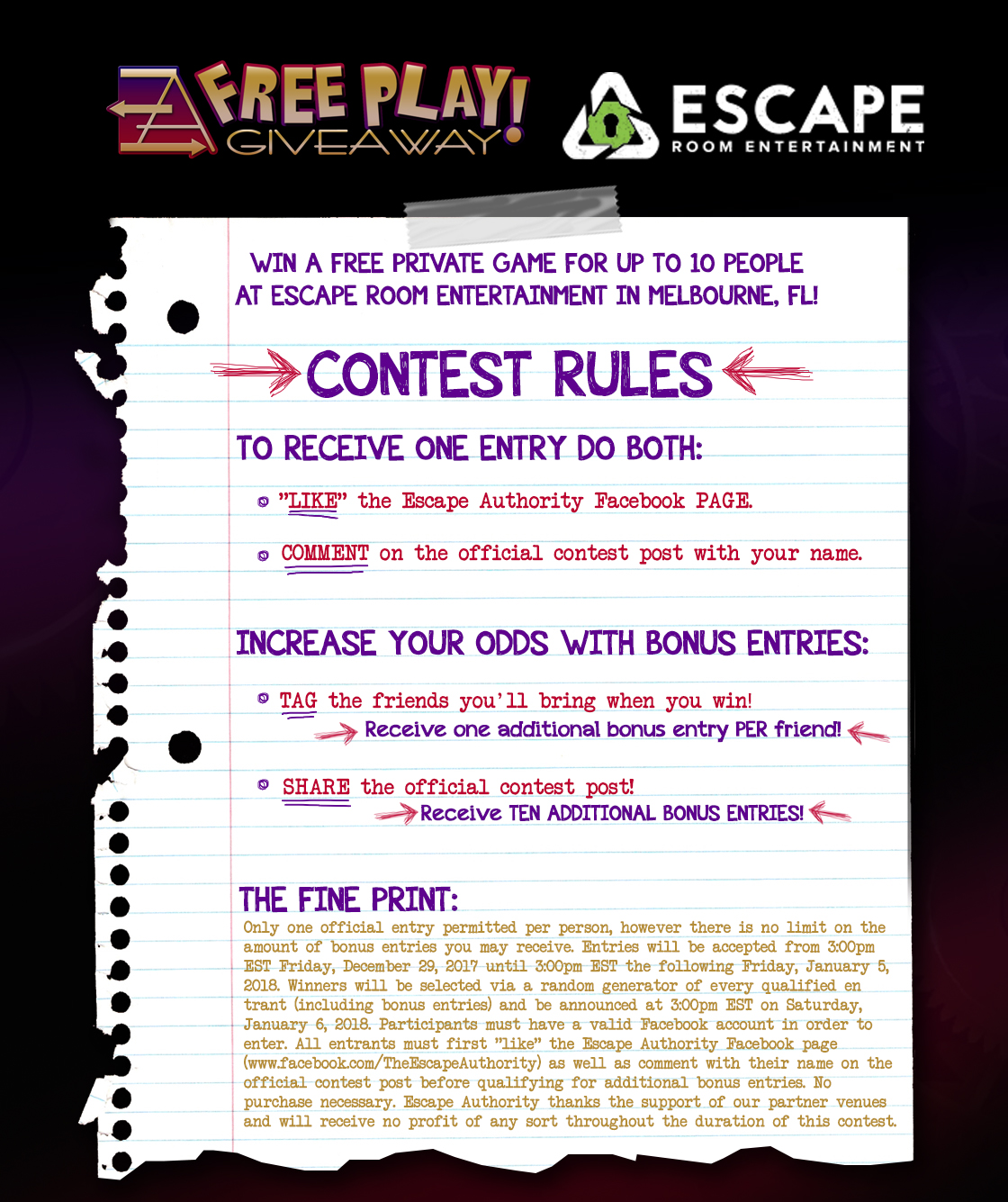 This EA FREE PLAY! Giveaway is now officially open! Valid entries must be time-stamped prior to the contest end at 3:00pm EST on Friday, January 5, 2018. A Winner will be randomly selected from all valid entries (including additional bonus entries) and announced the very next day, at 3:00pm EST on Saturday, January 6, 2017!
You can find the reviews we've featured for just a few of Escape Room Entertainment's games – past and present – right here on Escape Authority:

Venue:  Escape Room Entertainment
Location: Melbourne, Florida
Number of Games: 8
GAME SPECIFIC INFORMATION:
Duration: 60 minutes
Capacity: 6-10 people (depending on the game you select)
Group Type: Public  / You may be paired with strangers – however EA FREE PLAY! Giveaway winners are always guaranteed a private game!
Cost: $28 per person