Yet another continent officially joins our aggressive push to rapidly expand and improve what had already been one of our most popular and most used features, our Escape Room Map. Originally launching as the most comprehensive collection of venue listings in the United States, it quickly grew to include the rest of North and South America, and then crossed the Atlantic to add England, Ireland, Northern Ireland, Wales, Scotland and Iceland. We next traveled into mainland Europe to include Portugal, Spain, France, Italy, Switzerland, Luxembourg, Austria, Germany, Belgium, The Netherlands, Denmark, Norway, Sweden and Finland followed by the entirety of the African continent. Today we say "G'day, mate!" to all of the Australian continent!
WELCOME TO THE SINGLE MOST COMPREHENSIVE DIRECTORY OF ESCAPE GAMES ACROSS ALL OF Australia!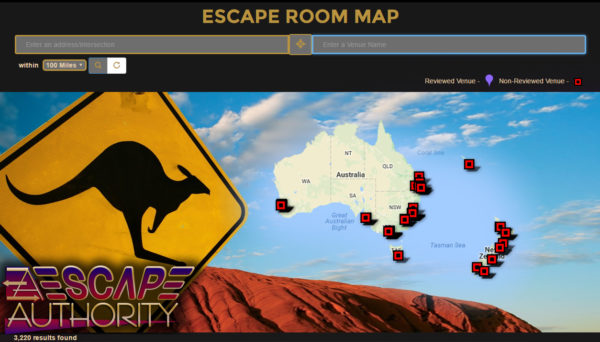 We continue our world-wide expansion ever by offering an even more reliable game finding tool that is instantly the single most comprehensive collection of venues across Africa to be found online. With its easy to use interface, you can quickly search by location, venue name, or GPS position to find escape rooms near you or your travel destination. With the list functionality, all of the venues' contact details are in a glance-able format so you don't have to click away to another page to find an address or phone number.
Escape Authority's dedication to excellence consistently leaves us ranked #1 – and as part of that commitment, we've painstakingly clicked on each venue one by one while coding our Australian update, ensuring their information is current and that the venues are each still open business.
Keep an eye out for additional official announcements on map expansions in the near future. In the mean time, you may catch a "work in progress" peak at the future as we work our way across Eastern Europe and  Asia!
Notice a venue we've missed? Use the link below to click over to our forum to let us know!